It's important to maintain a normal human body ph level. Diseases thrive in an acidic environment so an alkaline diet may improve health.
Do you know the benefits of maintaining a balanced body pH? Learning the methods of keeping a normal body pH level is important. It can help you live a healthier and more fulfilling life.
The standard scientific measure for levels of acidity or alkalinity in organic material is known as pH, which stands for potential hydrogen. A measurement of our general state of health can be determined by our body's pH balance.
The pH levels range from 0.0 to 14.0 with a pH of 7.0 considered neutral. A pH level above 7.0 indicates an oxygen-rich environment, which is referred to as being alkaline, while pH levels below 7.0 indicate an oxygen-deprived environment, which is acidic.
The human body pH level varies. Different parts of the body have different pH ranges. To live, our bodies must maintain a pH very close to 7.4, which is slightly alkaline in respect to being neutral.
If your body's pH differs too much from this ideal state, it becomes challenging for innumerable enzymes to function properly. Keeping pH levels within the specific narrow ranges can have extreme benefits to our health whereas any minor fluctuations can cause a various array of detrimental consequences.
Why is maintaining normal human body pH level important?
When there is an absence in proper soil pH, crops and vegetation growth will slow down. This leads to a state where the plant can no longer process vital minerals and nutrients efficiently. As they succumb to funguses and disease, these plants will soon weaken and die.
For aquatic animals, improper water pH levels are a direct cause for detrimental physical damage to the skin, gills and eyes. Simple variations of pH can be harmful and even damaging to many organisms on the earth and the same applies to humans.
It is crucial to have internal balanced when it comes to human body pH levels. If levels are off, we too will cease to properly process necessary minerals and nutrients. Specifically, in order to function properly, our cells need to be slightly alkaline. In addition, diseases, bacteria and viruses tend to grow in a more acidic environment but fight to endure an alkaline situation.
Increasing low pH levels with an alkaline diet
It is no surprise that by increasing our alkalinity through a more alkaline diet, it will help fight off outside pathogens. The problem in today's society is that people tend to be more acidic which in turn leads to inadequate body functioning and vulnerability to illness. It is also important to note that an unsuitable pH balance can not only have an influence on your "quality of life," but over time it can also shorten your life.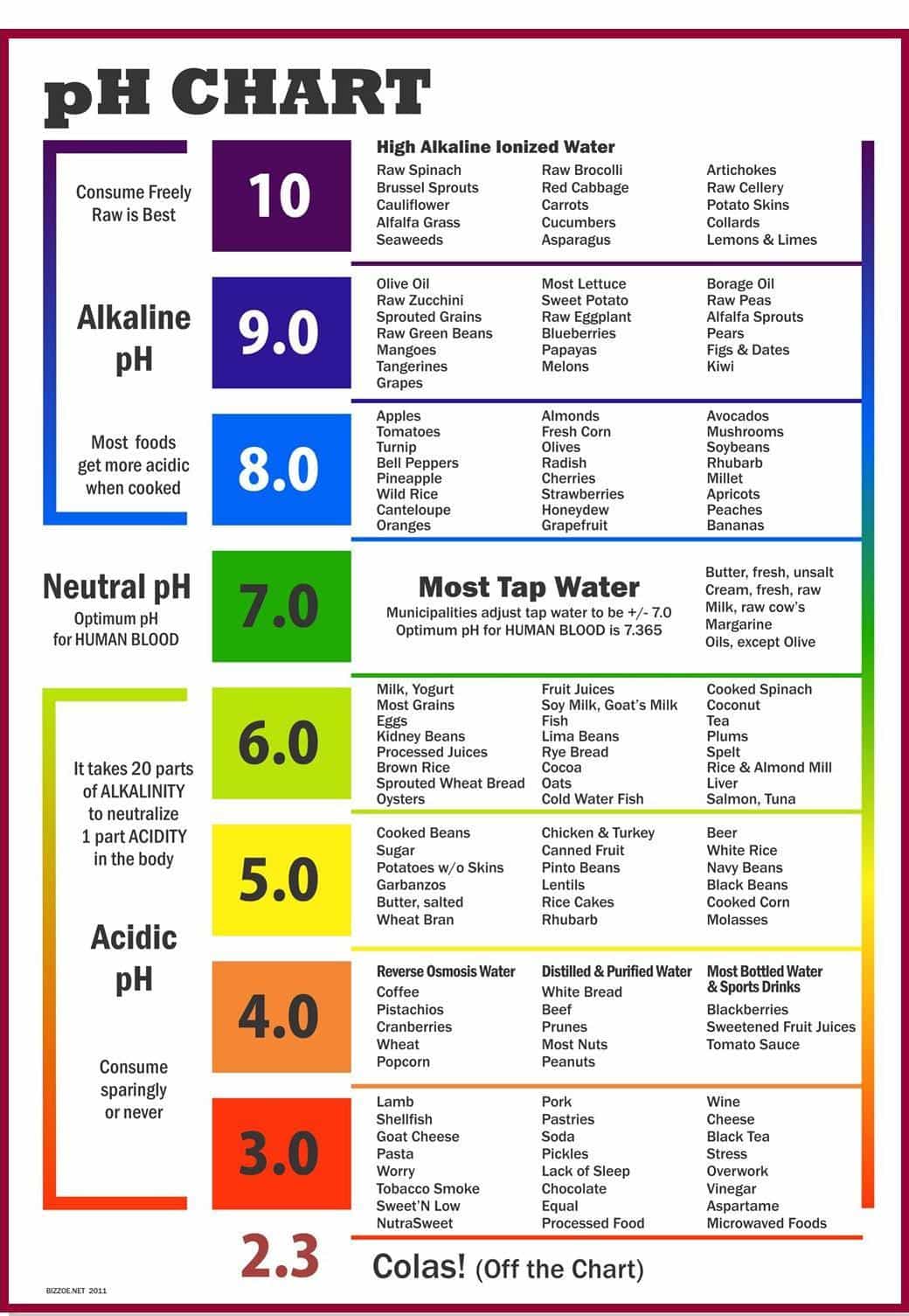 Unfortunately in today's society of eating on the run there is greater exposure to toxins, less sleep, and high stress. This leads to most people functioning in an unhealthy acidic internal state. Many doctors believe this has a direct correlation factor to increased illness and disease.
When the human body pH level is too acidic, it will attempt to equilibrate this environment by using present alkaline reserves. However, if your diet does not have adequate amounts of alkaline materials, it will either construct an even more acidic state or take nutrients from other vital places. For example, if not available, the body may steal calcium from your bones which in turn leads to diseases over time such as osteoporosis.
After considering the detrimental effects of variations in pH levels, it shows the vitality of keeping a balanced pH in your body in order to be healthy. As discussed there are many risk factors and disadvantages of not keeping a proper pH. Subsequently, there are copious amounts of benefits of keeping a healthy pH.
Benefits of an alkaline diet
Some of the benefits of eating a more alkaline diet include:
Fewer colds
Fewer headaches
Less susceptible to flu viruses
Increased abundance of physical energy
Enjoying a more deeper and restful sleep
Better digestion
More youthful and elastic skin
Less prone to arthritis and osteoporosis
Overall increase in mental acuity and mental alertness.
What is a good rule for eating a more alkaline diet? Your diet should consist of only 20-25% acid forming foods/liquids and 75-80% of alkaline forming foods/liquids on a daily basis. Some examples of alkaline foods are many fruits and vegetables, milk and seeds such as pumpkins seeds. Click on the pH chart above for a more complete list of foods and the associated pH.
Conclusion
A proper alkaline diet is a direct correlation to proper human body pH level. Just by monitoring your daily diet, you can move towards improving your overall quality of life through better health.
As you can see, there are many benefits to maintaining a balanced body pH. For further reading you can check out the Benefits of Alkaline-Forming Nutrition.
Related Posts