DIY bath crayons can make bath time more fun for kids. Learn how to make your own bathtub crayons that double as bath soap. It's easy!
Bath time with the kids is a great bonding experience. But you take care of your kids all day. The last thing you feel like doing is entertaining them while they bathe.
You've got to get their pajamas ready, squirt toothpaste on their toothbrushes, and you'd love to tidy up a bit. And a relaxing bath for the kids may get them to sleep faster.
What can you give your kid(s) to occupy them during bath time? Have you heard of DIY bath crayons? Do-it-yourself bath soap crayons aren't difficult to make.
If you're willing to take the time to make these bath soap crayons, you'll free up lots of precious time before bed. That means more time for you to relax after the kids finally go to sleep.
Of course, you can always buy pre-made ones on websites like Amazon. Or, you can find natural bath crayons in several retail stores. However, isn't it more fun creating your own? Although you might not save time initially, you'll certainly save money.
What are bath crayons?
Does the thought of having your kid sketch doodles all over your shower walls or tub with crayons frighten you? Don't worry, the scribbles on your bathtub wall are not permanent. In fact, they are easy to clean and wash away instantly.
After bath time is over, you wipe away the marks from the tub walls with warm water. Or, you can have your kid clean up. And tell them that the following night, they can do it all over again.
Can they make a mess?
Not all parents are ecstatic about natural bath crayons. Just read this hilarious blog post to see the messy results.
For example, the colored-water may splash over the tub. And the crayons may fall apart. Moreover, the wax from the crayons can gets on your clothes. However, these complaints stem from chain-store bath crayons.
All natural ingredients in homemade bath crayons are safe and non-toxic. They shouldn't stain your clothes or floor or furniture.
Can they be used outside of the bath?
But one caveat of using bathtub crayons is that it could teach your kids a bad lesson. And that lesson is that it's ok to draw on surfaces they're not usually allowed to draw on.
However, give your kids a quick disclaimer. Tell them these crayons are only safe for the bath. And nowhere else.
Actually, that's not true. If you can make DIY bath crayons successfully, your kids can use them like regular crayons on paper.
Ingredients needed for DIY Bath Crayons
To make natural bath crayons, you'll need the following ingredients:
Glass bowl
Silicone mold
Small bowls
Soap base
When it comes to soap, white bars are best for creating bright bathtub crayons. However, keep in mind many white soap bars contain synthetic ingredients.
Learn how to make all natural DIY antibacterial soaps. Liquid all-natural soaps like Dr. Bronner's unfortunately will not work. Neither will dark bars of nag champa soap or other colorful scented bars.
Getting back to the soap, it should be like a hardy brick. And the first step to making DIY bath crayons is cutting a two fingers-width slice from the soap bar.
ParentingChaos.com suggests cutting up the soap into dice-size chunks. This will make it easier to melt the soap.
Next, microwave the soap on high until it melts. Set your microwave for a minute. If it's not completely melted, stir.
Then microwave again for a minute.
Coloring
As for the dye, stick to a non-toxic natural food dye. And go for ones that are skin safe too.
There are various brands that sell natural coloring that's baby and kid friendly. And they work for other homemade projects like bath bombs, homemade slim, playdoh, and bath salts!
Adding Scent
You can even add essential oils to the soap. Your DIY bath crayons will hopefully mellow out your kids.
Although, to be sure, there's no guarantee that lavender and other essential oils that promote relaxation will wind your kids down. Nonetheless, they will be having fun!
Molding the DIY Bathtub Crayons
Once the soap is melted, you'll want to divide it among several small bowls. Then, add in a different food coloring to each bowl. Mix very well.
To shape the soap into crayons pour the mix into a crayon shaped silicone mold. Then let them sit until hardened. You know the natural bath crayons are ready when they are hard and pop out of the silicone mold.
Don't worry if you don't have a mold to crayon shapes. Any mold will do and you can even use an ice cube tray. However, don't fill the melted colored soap all the way up the rim of the ice cube tray. Instead, fill it up about two-thirds.
Twist Out Crayons
The advantage of twist out crayons over regular bathtub crayons is you skip the molding process. And each crayon is stored inside an enclosed container.
First, choose a clear soap base that's all-natural. Most include ingredients such as coconut oil or glycerin soap.
To easily make melt and pour bath crayons, you'll need several lip balm tubes. In addition, you can opt for a lip balm pouring tray.
You also need super concentrated liquid dyes. And if you want them to smell nice, you can once again add your own fragrance or essential oils.
For the melt and pour method, once again, microwave the soap base. But this time, use only 15 second increments.
In a small container (Pyrex is best) put the melted soap (about half an ounce) with about one milliliter of dye. Mix completely.
The melted colored soap is then poured into a few lip balm tubes. You can add some rubbing alcohol to the dispensing part of the tube to eliminate air pockets.
After about half an hour, your twist out DIY bath crayons will be ready. Repeat the process for the other colors.
DIY Bath Markers
Many DIY bath marker recipes use a cheese grater to slice the soap. One good practice of making your own natural bath markers is to separate the soap evenly. This is especially true if you're making several colors.
Use a different bowl for every color. Bright colors will naturally require more dye or food coloring than plain hues. Some people recommend placing the molds into the freezer. This will give the diy bath markers extra protection from breaking apart.
Without doubt, making DIY bath markers will require trial and error. You can surprise your kids by presenting these natural bath markers as a gift. Or, you can involve them in the creative process.
No matter which recipe you choose, your kids are going to love bath time when there's bathtub crayons available. And you'll love the free time that comes with DIY bath crayons.
But remember that you should never leave your kids unattended in the bath. Instead, read a book in the bathroom while they are creating masterpieces in the tub.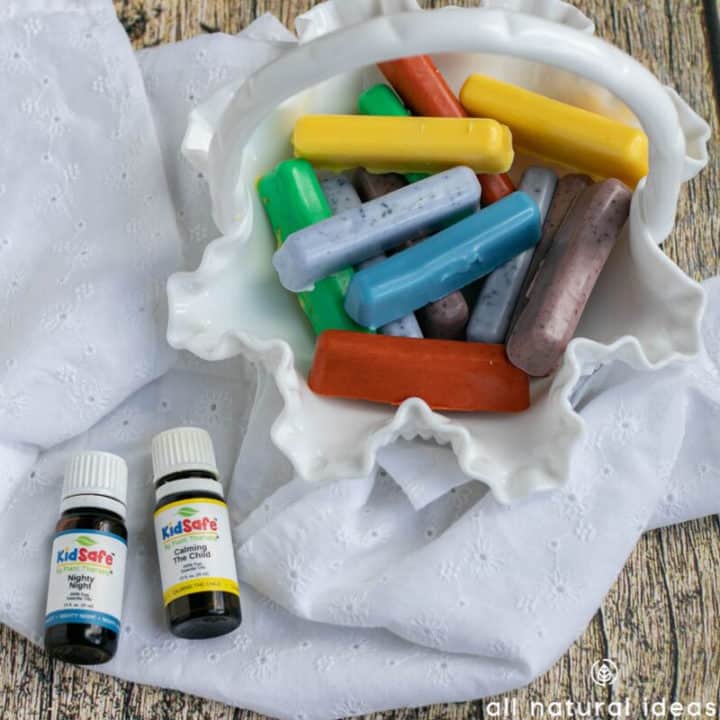 Yield:

1 Dozen
How To Make Bathtub Crayons
Additional Time:
30 minutes
Easy to make homemade bath crayons to keep kids entertained during bath time.
Materials
1 pound soap base
natural food coloring
essential oils (optional)
Tools
Glass mixing bowl
Small mixing bowls
Silicone mold or ice cube tray
Spoons
Instructions
Dice up soap base and place into glass bowl
In glass mixing bowl, melt soap in the microwave by checking each minute on high until fully melted.
Divide soap into small mixing bowls and stir a different color food dye into each. Add an optional drop of kid safe essential oil for a relaxing scent.
Notes
Powdered food dyes do not work well and will clump up the soap base. Look for natural liquid food dyes that are safe for children.
Recommended Products
As an Amazon Associate and member of other affiliate programs, we earn from purchases at no extra cost to you!
Related Posts