The foods you eat can create hormone imbalances. Luckily, these imbalances can be corrected by a moving to a hormone balancing diet plan.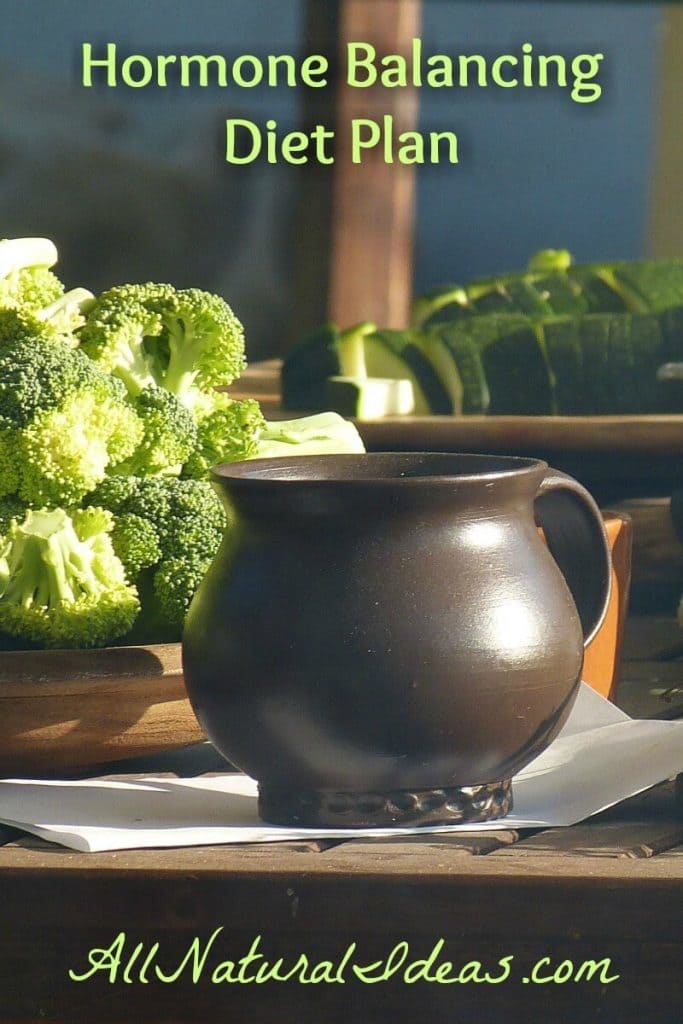 Is it possible to rebalance your hormones through diet? Can you really use food to rebalance hormones?
Quick disclaimer: consult with a naturopathic doctor to have your hormone levels tested.
If you're just doing some basic research on how to balance hormones, there's good news. It is possible to use a hormone balancing diet plan to restore hormone balance.
Getting Started on a Hormone Balancing Diet Plan
Stress is often to blame for hormones becoming imbalanced. Some stress is absolutely normal. Cortisol is more than able to help the body adapt to limited amounts of stress. It's your body's primary stress hormone.
Adaptogens help rebalance hormones and deal with stress
Are there foods to help the body adapt to stress? Adaptogenic herbs help rebalance hormones. They are usually taken as a supplement or raw herbal tea. Adaptogenic herbs are also called 'adaptogens.' Adaptogens are perhaps the most powerful all-natural substances on Earth to help rebalance hormones.
You've probably heard of some of these adaptogens. There's ginseng. Ashwagandha is another popular one. Shatavari is another that's beneficial for balancing female sex hormones. Shatavari has been used for centuries to help women rebalance progesterone and estrogen postpartum. It's also been used during menstrual cycles.
Indigenous cultures have used adaptogens since prehistoric times. But the scientific properties of adaptogenic herbs have only been proven since the mid-20th century. Jiaogulan is another popular adaptogenic herb. It's perhaps the best all-around adaptogen for rebalancing hormones. You can buy jiaogulan leaves and easily brew a tea.
Researchers have discovered over 80 compounds in jiaogulan. These compounds are called "gypenosides." Four of them are identical in composition to ginsenosides. Jiaogulan has similar medicinal compounds to ginseng. But it's also got 50 more medicinal compounds, including 30 ginsenosides. Ginsenosides are active medicinal compounds that, among other functions, help balance hormones. Therefore, these herbs should be considered in any hormone balancing diet plan.
A little stress here and there is ok. We're wired for that. But, chronic stress can throw hormones out of balance. One common cause of chronic stress is years of bad eating choices. Adaptogens like jiaogulan are mother nature's all-natural herbal hormone balancers. It's a good idea to include adaptogens in your hormone balancing diet plan.
Chronic stress and hormonal imbalance
Many people have sluggish thyroids. They're tired all the time and have very low libido. One of the root causes is chronic stress. Here's what happens when chronic stress occurs….
Your adrenal glands work overtime to produce cortisol. As mentioned earlier, cortisol is the stress hormone. Under chronic stress, pregnenolone is used to produce cortisol. Pregnenolone is a master hormone. In a healthy person, it's used to produce sex hormones and thyroid hormones. But in a chronically-stressed out individual, pregnenolone isn't doing its main job of metabolizing into sex hormones and thyroid hormones.
Eating fast food and lots of sugar and carbs is a form of chronic stress. When you eat an unhealthy diet, pregnenolone will make cortisol at the expense of your thyroid hormone. That's why you may feel tired much of the time.
But if you eat a clean diet, your hormones may start rebalancing. This diet consists of lean protein, all-natural smart fat and lots of low-starch vegetables. A little bit of low-sugar fruit like berries is also recommended. With a clean diet, pregnenolone won't produce as much cortisol to help you deal with stress.
Adrenal support
Besides adaptogens there are other supplements that can help support your adrenals. Remember, your adrenals produce cortisol for stress management. They also produce adrenaline, when you go bungy jumping. If you're undergoing chronic stress, your adrenals are going to really struggle to make cortisol.
Bioidentical hormones such as wild yam extract may also help rebalance hormones. Magnesium is also a beneficial supplement to take. Many people are deficient in this vital mineral. When you're undergoing stress, your body uses up magnesium. Many of us experience more stress these days. It's no wonder most people are deficient in magnesium. Zinc is also a mineral that many of us are deficient in.
Individual foods for rebalancing hormones
The healthy foods that you'd eat for other health benefits also help rebalance hormones. So eat plenty of cruciferous veggies like broccoli. Also eat natural fats with Omega-3 acids such as chia seeds and flax seeds. Other healthy fats include avocados and olive oil. If you're trying to lower your carb intake, try baking with coconut flour. Coconut flour won't spike your insulin levels like wheat flour. Regular wheat flour is highly inflammatory and potentially allergenic. When your body undergoes inflammation, your hormones use up more progesterone to produce cortisol.
Food is a powerful drug. You take it three times a day. Food has the power to rebalance hormones. Eat three balanced meals a day with lean protein and low-starch carbs. Carbs should come primarily in the form of veggies. And, make sure you eat natural fats with every meal. Ask yourself the following questions before you eat something. Was this food around 25,000 years ago? Was it at most minimally processed? If the answer is yes to both questions, then the food is likely good for a healthy hormone profile. Want to learn more about how to move to a hormone balancing diet? We recommend reading this book: The Hormone Diet: A 3-Step Program to Help You Lose Weight, Gain Strength, and Live Younger Longer by Natasha Turner, ND.
You will also need to partake in other stress reduction and stress management activities. Try meditation, walking in nature, journaling and counseling, and yoga. These may help your overall hormone-balancing strategy.
Related Posts