Tea tree essential oil has benefits that make it a popular ingredient in health and beauty products. Let's look at some of the tea tree essential oil uses.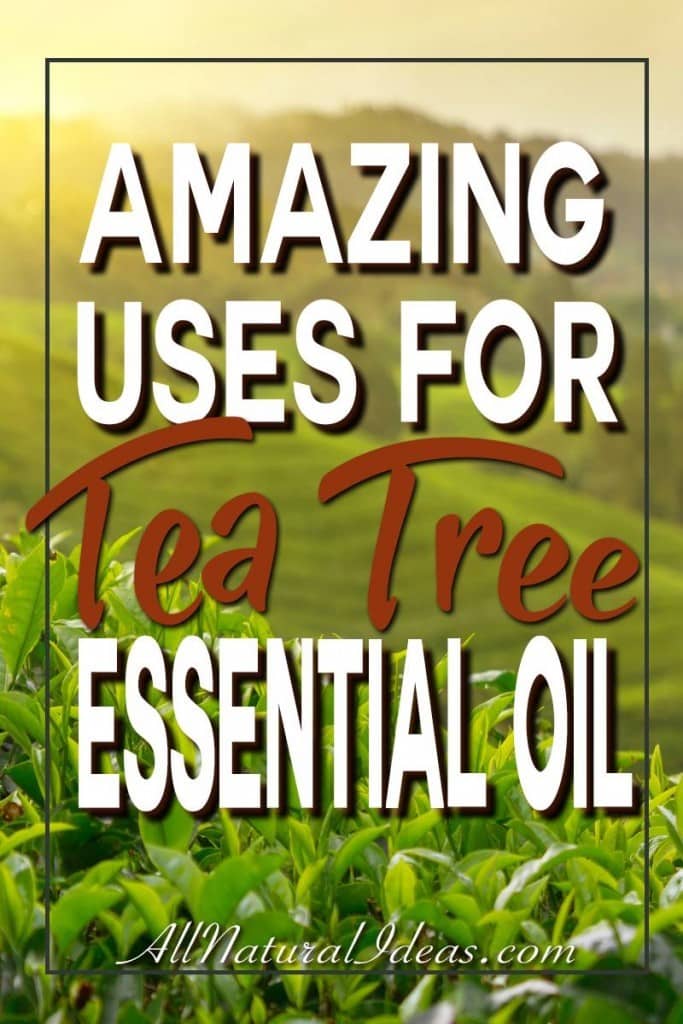 Tea tree essential oil, also known as melaleuca essential oil is quite popular in health and beauty products. Derived from a native plant of Australia, this oil has been used for over one hundred years. In that time period numerous studies have been tested with tea tree oil. The results are fascinating. These studies show tea tree oil to successfully kill numerous bacteria, viruses, and fungi. Let's look at some of the tea tree essential oil uses for every day.
Tea Tree Essential Oil Uses
Healthy Hair and Scalp
Tea tree is very beneficial to hair and scalp. One very common and effective tea tree essential oil uses is in treatment for head lice. Now that I've got you itching you heads (I promise it wasn't to be mean), let's move on to some other wonderful uses for tea tree essential oil!
Are you suffering from dry, itchy scalp? Have dandruff issues? Don't waste money on buying shampoos that will dry out your hair or contain ingredients bad for your health. If you want to make your own shampoo mix several drops of tea tree and lavender essential oils with coconut oil and aloe Vera gel. Your hair will be shiny, thick, and moisturized!
Soothing Occasional Skin Irritations
Tea tree essential oil a great solution if you are trying to relieve the discomfort felt by skin irritations. There are many ways you can apply it to your skin:
Mix 1-2 drops of tea tree essential oil with 3-4 drops of a carrier oil (I recommend jojoba oil for skin as it is very moisturizing) and apply to the irritated area.
Put 1-2 drops onto a cotton swab and apply directly to the affected area. This method works well for small areas, such as between your fingers.
Mix up a roller bottle with 8 drops of tea tree oil and 6 drops of lavender essential oil and fill the rest of the 10ml bottle with a carrier oil (i.e. jojoba oil or grapeseed oil). Roll the blend on the affected area. This blend will help to reduce the irritation as well as redness.
Tea tree essential oil is also a great way to combat your blemishes. Add a few drops of tea tree oil to a few teaspoons of honey (manuka honey is our favorite) and rub on your face. Wash off after a few minutes! This will help clean your face and remove blemishes. You can also make your own homemade body lotion. Mix tea tree oil, lavender oil, and coconut oil for a body wash. Apply it all over your body. It works for removing bacterial and fungus skin infections.
Immune System Support
It seems that we are all looking for ways to help support our immune system to help keep us healthy through the winter! Here are some ways to use tea tree essential oil for immune system support:
Add 3-4 drops of tea tree essential oil to your diffuser so that the entire family can benefit from immune system support!
Apply 1-2 drops of tea tree essential oil to the soles of your feet. If you have sensitive skin, you may react to tea tree if applied undiluted. To dilute mix 1-2 drops of tea tree oil with 3-4 drops of a carrier oil such as fractionated coconut oil or grapeseed oil.
Cleansing Properties
Illness and sickness do not just come from the outside world. You can have bacteria, viruses, and fungus waiting to get you sick from the comfort of your home. You should incorporate tea tree oil into your cleaning products. Why? Because tea tree oil is a very powerful antiseptic. Use it on your counter-tops and sink tops by mixing tea tree essential oil with water, vinegar, and lemon essential oil to make a powerful cleaning agent. Just wipe onto surfaces to clean!
Another culprit of a sick house is mold. Many people suffer mold infestations and are not even aware of it. If you do not own a diffuser, I recommend you buy one to purify your air. If you have mold on surfaces, not a problem. Spray tea tree oil onto your shower curtains or in your toilet bowl to kill off mold.
Combating mold is one of the best tea tree essential oil uses. The properties of tea tree oil make it a great essential oil to use when creating all natural cleaning products for your home. You can see more wonderful DIY cleaners you can make with tea tree and other essential oils here.
Safety Precautions for Using Tea Tree Essential Oil
As with most essential oils, it is recommended that you speak with your doctor if your are pregnant or nursing.
Some people use essential oils on their pets. However, tea tree essential oil can be poisonous to your furry family members if they come into direct contact with it. Please refer to this article and be mindful of this when using essential oils with your pets!
While it is recommended that this essential oil be diluted for those with sensitive skin, as with any oil it is extremely important that it is diluted in a carrier oil before use with children due to the powerful potency of essential oils.
What is your favorite way to use tea tree essential oil? Need more
Related Posts