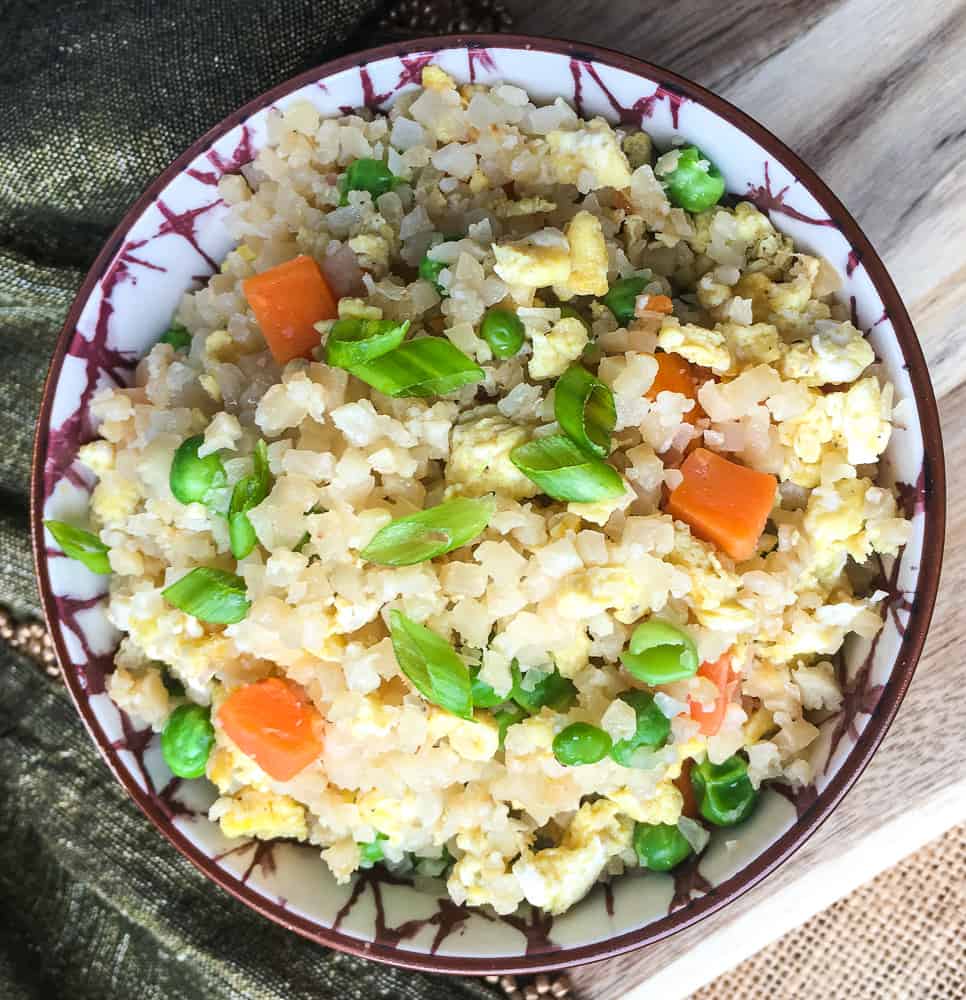 Rice has always been my go to. It pairs with almost anything and is so easy to make. Fortunately, you can substitute traditional rice with keto rice! And what's better than keto rice? Fried rice! Lazy keto meals are the best and this keto friendly, low carb rice doesn't take much effort to make.
This Keto Cauliflower Fried Rice only takes about 15 minutes to prepare and make. It's perfect for wanting to cook a quick keto meal after a long day or having it as a side dish. I personally love making it for my lunch to bring to work and having leftovers for the next day. Sometimes I'll even pair it with some chicken or shrimp for some extra protein!
You don't need much for this recipe. All the ingredients can be found at your local grocery store. Enjoy this delicious recipe!
Keto Cauliflower Fried Rice
Ingredients
3 Tbsp. unsalted butter, divided
4 large eggs, lightly beaten
4 cups frozen riced cauliflower
½ cup frozen peas and carrots
2 large green onions, sliced
1½ tsp fresh ginger, finely minced
1 tsp garlic powder
½ tsp crushed red pepper flakes
3 Tbsp tamari or coconut aminos*
2 Tbsp toasted sesame oil
Sea salt and black pepper, to taste
Optional garnish: Additional sliced green onions
Instructions
Heat one tablespoon butter in a wok or large high-sided skillet over medium-high heat. Add eggs and season with salt and black pepper, to taste. Cook, stirring constantly, for 1-2 minutes or until eggs are cooked through. Transfer eggs to a plate and set aside.
Add remaining butter, frozen cauliflower, peas and carrots, green onions, fresh ginger, garlic powder, and red pepper flakes. Season with salt and black pepper, to taste. Cook, stirring constantly, until frozen veggies are heated through and tender, approximately 5-6 minutes.
Add tamari, sesame oil, and scrambled eggs to the wok or skillet. Cook for 1-2 minutes, stirring constantly, or until all ingredients are thoroughly combined and heated through. Remove from heat and top with additional green onion, if desired, and serve immediately. Enjoy!


Notes
Carbs/Serving:
Total Carbs: 6.92g
Fiber: 2.6g
Net Carbs: 4.32g

CalorieBreakdown:
Protein:12%
Fat: 71%
Carbohydrates: 17%
*Nutritional information based on using tamari, rather than coconut aminos.
Related Posts