Chicken adobo in the slow cooker comes out perfect every time. It's guaranteed to produce juicy, tender, and flavorful meat thanks to gentle cooking in the tangy marinade.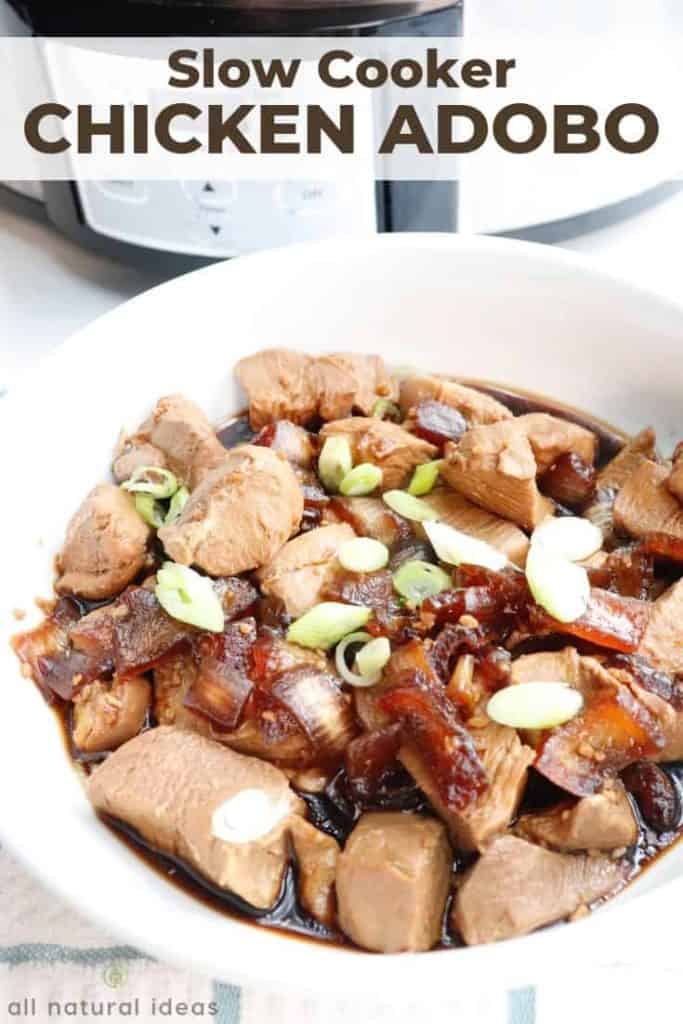 Filipino dishes are some of my favorites. But there's much more to them than seafood and rice.
What is Filipino Chicken Adobo?
Adobo is a dish with meat and or vegetables simmered in a marinade made of soy sauce, vinegar, garlic, and black peppercorns. Although chicken and pork are the most popular, adobo can be made with any meat or seafood with or without vegetables. And it's much different from the Spanish dish with the same name.
Most Filipinos make a chicken adobo recipe using meat with skin and bone intact. However, I prefer using boneless and skinless chicken in my version because it's easier to eat.
Breast meat is used in this recipe, but thigh meat works well too. And the darker meat has more fat and less protein which makes it a better choice for those following a keto diet.
I love making adobo in the slow cooker because it takes some of the work out of making dinner. With this cooking method, I can start it in the morning before going about my day. And when I come back home, I'll have an amazing meal all ready to go.
How to Make an Adobo Chicken Recipe in the Slow Cooker
The best part about slow cooker chicken adobo is that it's a quick dump and go recipe. To start, you'll need to gather the following ingredients:
Vinegar (white is fine, but apple cider vinegar provides more flavor)
Soy Sauce or Coconut Aminos (for those avoiding soy)
Chopped Onion
Minced Garlic
Cubed Chicken Breasts (or Thighs)
To prepare the dish, you just pour the vinegar and soy sauce into the crock. Then stir in the onion and garlic. The chicken is added last and stirred into the marinade.
I find it's best to cook on the low setting for 6 to 8 hours. But if you're in a hurry, you can use the high setting and it should be done in 2 to 3 hours.
Variations to the Recipe
While this slow cooker Filipino adobo recipe is perfect the way it is, you can change it by:
Using chicken pieces with bones and skin. If you find a deal on whole chicken, drumsticks, or chicken thighs, use them instead.
Add some additional spices. If you prefer to add a little heat to this recipe, you can add cayenne pepper or other hot peppers. Or add in the traditional black peppercorns and bay leaf.
Use coconut vinegar. An authentic Filipino chicken adobo recipe usually uses coconut vinegar. That's because coconuts are plentiful in the Philippines so it's a staple for many foods.
Make it with pork. Boneless pork chops can be cubed and used instead of chicken.
Allow the meat to marinate first. Marinate the chicken in the sauce for 2 to 3 hours in the refrigerator before cooking helps the flavor to penetrate each piece better.
If you don't have time to wait for slow cooking and need to get dinner on the table quicker, you can use the stove top instead. Just dump everything into a skillet or large pot and bring to a boil. Cover and simmer for 10 minutes then uncover to brown the chicken.
Can I Start It Ahead of Time?
Since this is a slow cooker recipe, you can get everything together for chicken adobe in the slow cooker the night before. In morning, simply put the slow cooker inner piece into the cooker and turn it on. It is ready to go.
How to Reheat Chicken Adobo?
You can reheat chicken adobo in the slow cooker, in the oven or the microwave. You can also reheat it on the stove top in a pot.
How to Store Chicken Adobo Slow Cooker
You will want to store leftover chicken adobo in the refrigerator. You can store it in the slow cooker, air tight container or a freezer bag. Make sure it is covered to keep it as fresh as possible.
Can Chicken Adobo be Frozen?
Yes. You can freeze chicken adobo either uncooked or cooked. If you are freezing it before it is cooked, put everything into a freezer bag. Then just add an extra half hour to the slow cooking time.
After it is cooked, you can freeze it much the same way. Wait for it to cool down and put the chicken and the sauce into a freezer bag. It will stay fresh for up to 3 months.
What to Serve with Chicken Adobo
Chicken adobo is a great tasting dish, but you want to have something to serve with it. Serve it over cauliflower rice or zucchini noodles. It can also be used in a lettuce wrap, low carb bread or low carb tortilla.
Other Easy Recipes to Try
Need a few more ideas for feeding your family some wholesome foods? Here's some of our family favorites:
Enjoy this simple dish and be sure to let us know what you thought of it in the comments.
Yield:

4 servings
Chicken Adobo (Slow Cooker)
Total Time:
8 hours
10 minutes
An easy Filipino chicken that takes little time to prepare in the slow cooker. And it results in juicy, tender, and flavorful chicken every time.
Ingredients
1/4 cup vinegar, white or other
1/2 cup soy sauce or coconut aminos
1/2 cup chopped onion
4 tablespoon minced garlic
1 pound boneless chicken breasts, cubed
Instructions
In the slow cooker place vinegar, soy suace, onion and garlic. Give a stir.
Add in chicken breasts and coat each chicken breast.
Cook on HIGH for 2-3 hours until chicken is cooked through.
Serve over cauliflower rice, zucchini noodles
Notes
Pork can be used in place if chicken if desired.
For a more traditional Filipino dish, add in black peppercorns and a bay leaf or two.
Nutrition Information:
Yield:
4
Serving Size:
1
Amount Per Serving:
Calories:

233
Total Fat:

4g
Saturated Fat:

1g
Trans Fat:

0g
Unsaturated Fat:

2g
Cholesterol:

96mg
Sodium:

1860mg
Carbohydrates:

7g
Fiber:

1g
Sugar:

2g
Protein:

39g
Nutritional information for the recipe is provided as a courtesy and is approximate only. We cannot guarantee the accuracy of the nutritional information given for any recipe on this site.
Related Posts