Is low carb yogurt even a thing? If you're on a keto diet, can you have your yogurt and eat it, too? If so, should you go no-fat, 2%, or whole fat? And is Greek style best?
Is Yogurt Low Carb?
When following a ketogenic diet, you may think yogurt is off limits. That's because there are few brands advertising their products as low carb. This fact is surprising. Considering how marketable the term is, you'd think there'd be one.
But do the following: Click on the "shopping" tab while doing a Google search for either the terms "low carb yogurt" or "low sugar yogurt."
The results yield only one brand that prominently displays the sugar content: Light & Fit's "Two Good" brand of Vanilla Greek Nonfat. On the label it says, "2G Sugar."
So is Light & Fit's 'Two Good' a good low carb option? Does it fall it line with the keto diet?
In terms of being low sugar, yes, it does. However, the rest of the ingredients may not be keto friendly. The reason why will be explained in a bit….
Is Yogurt Good to Eat On a Low Carb Diet?
Usually, no. Most often, low carb yogurt is an oxymoron. Like jumbo shrimp.
Despite the rise in popularity of low carb diets, most store bought options are sweetened with added sugars making them high in carbs.
The average cup contains about 30 grams of sugar. Consider the fact that if you're on a strict keto diet, you're only allowed about 25 net grams of carbs.
That means if you ate one little cup of, say, Dannon, you wouldn't be able to eat anything else with sugar for the rest of the day. Not even so-called healthy sugars like berries or low-starch veggies.
Keto-Friendly Plain Whole Milk Yogurt
If you're eating the average cup of yogurt from a convenience store, it's probably not keto-friendly. But there's good news about eating plain yogurts….
The method of figuring out carbohydrates in fermented products is not the most accurate. The method done is "by difference".
The difference method adds up all the parts of the product. This includes water, fats, and proteins. It is then assumed the rest of the content are carbohydrates.
But in finished cultured dairy, the active bacteria are busy at work consuming the lactose for energy.
Lactose is then converted to lactic acid which is NOT a carbohydrate. The bacteria eat almost all of the carbohydrates!
Thus, it can be assumed according to this article that half a cup of plain whole milk yogurt contains 2 grams of carbohydrates.
For a full cup of no-sugar added cultured whole fat dairy, expect approximately 4 grams of carbohydrates.
This nutritional data was tested and proven in a laboratory by Dr. Goldberg, co-author of the Go-Diet.
And by the way, the reason cultured dairy tastes sour is precisely because of the bacteria eating the sugar.
Low Carb Yogurt Brands
One brand that appears to be going after the low carb segment is Kroger. Kroger has a line called "Carb Master." Like Light & Fit's Two Good, it also contains just 2 grams of sugar making it one of the brands lowest in carbs.
If your main concern is carb counts, Kroger's Carb Master seems like a good choice. The net carbs in this product is 6 grams per 8 oz. serving.
Chobani brand's Less Sugar Greek yogurt contains 9 grams of sugar per serving. And it's a low carb yogurt Walmart sells.
Fit & Active's plain nonfat contains 16 grams of sugar. That's a lot of sugar for a little cup. However, the parent company, Dannon, offers a low carb option called "Two Good" which has only 2 grams of sugar per cup.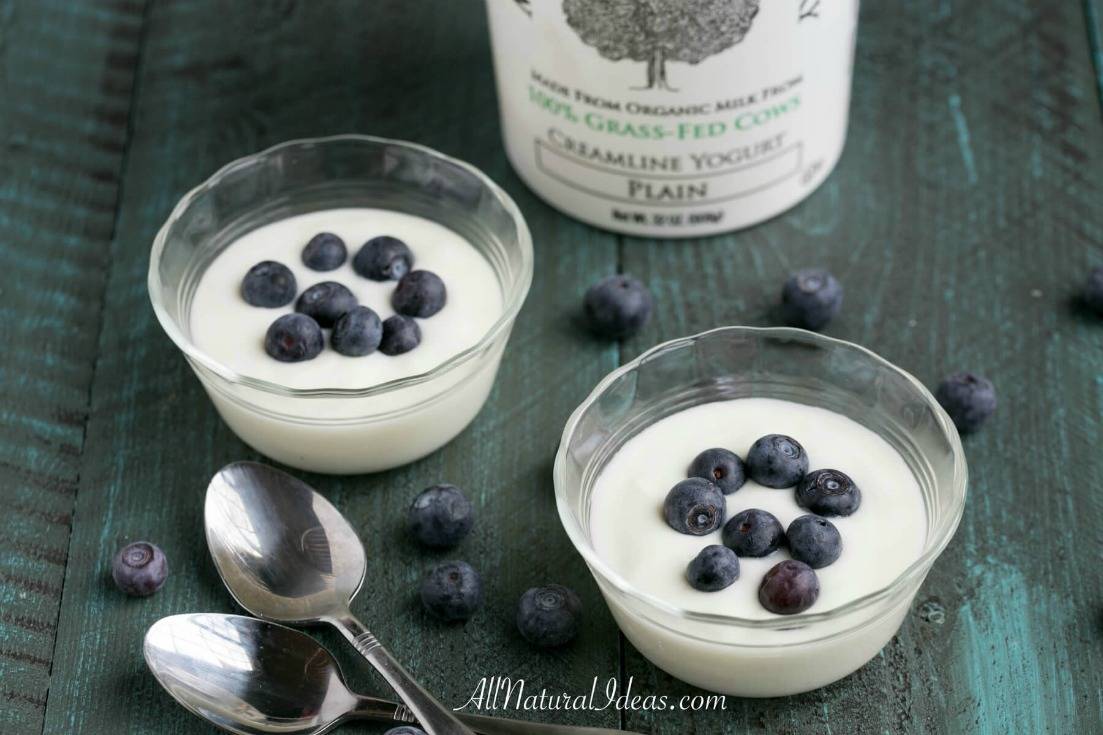 How Many Carbs in Greek Yogurt?
Is Greek-style yogurt better if you're following a low carb diet?
Not necessarily. Greek simply refers to a style of yogurt. Greek yogurt has a thicker mouthfeel. It's usually more sour and has the whey protein removed. (Whey is the liquid stuff that's left over after cheese is made.)
(You can also strain the yogurt yourself to remove the whey and obtain the thick Greek style.)
Some brands of Greek are very high in sugar. Others have more modest amounts. So look at the labels for the sugar amount in each serving when assessing brands of low carb yogurt.
Trader Joe's whole milk plain Greek has 12 grams of net carbs, with 10 grams sugar. Vanilla Greek by Light & Fit contains 9 grams net carbs, 7 from sugar.
Let's throw in a brand that has even less sugar: Dannon brand's Oikos Triple Zero Blended Greek. It has just 6 grams of sugar.
Which is the best yogurt for keto? Clearly, the one with the least amount of sugar, right? Shouldn't the best one be sugar free, if such a thing exists?
Full fat Greek style will have about 4 grams of carbs. That's keto friendly!
Ingredients in Low Carb Yogurt
The answer is that the yogurt with the least amount of sugar isn't necessarily the healthiest. Remember, just because one brand has more sugar doesn't mean it's not keto-friendly. This is because the bacteria in the finished product will gobble up most of the sugars.
Still, if you're buying strictly based on carb counts, keep the following in mind….
Finding a commercial brand with 0 net grams of carbs or 0 grams of sugar is close to impossible. There is one brand that has just 9 grams of net carbs with only one gram from sugar. But it's not traditional dairy.
Instead, it's made from cashews.
Cashews? That's right. Forager is an up-and-coming dairy-free brand alternative.
But let's stick to conventional dairy.
Besides, sugar, you should also look at the amount of fat in the nutrition label. If you want to burn your own body fat for energy, you've got to eat a lot of dietary fat.
That's why Trader Joe Greek Whole Milk Plain is one of the best choices. Even though a serving of it has 10 grams of sugar, it contains 22 grams of fat. (Remember: the carb info is inaccurate; the net carbs will be much lower because of the culture.)
Saturated Fat in Yogurt
As a nutritional side note, 14 of those 22 grams are saturated fat. Many doctors suggest limiting saturated fat intake. Fourteen grams is 70% of the suggested daily limit of saturated fat.
But some nutrition experts think natural, saturated fats are healthy smart fats. If you're concerned about saturated fat and are lucky enough to be able to shop at Trader Joe's, the chain has a low-fat Greek option.
Say No to Nonfat
If you're on a keto diet, do not eat nonfat yogurt. Even if it's ultra low in sugar. If you have no other option besides nonfat, add some heavy whipping cream, cream cheese or sour cream to it. For an extra dose of healthy fats, you can add small amounts of chia seeds.
Is Low Sugar Yogurt Good For Keto?
Low sugar doesn't mean it's good for you.
Compare Trader Joe's whole milk Greek yogurt to other low sugar yogurts. It's 5 times higher in sugar than Kruger's Carb Master and Light & Fit's Two Good.
But if the rest of your food intake for the day keeps you in ketosis, TJ's is a good choice. For two reasons. First, as mentioned, it's got plenty of fat. Fat helps keep you full. And it's a good source of fuel for your body.
And secondly, Trader Joe's is more natural. It contains just milk, cream and cultures. Compare that to Light & Fit's Two Good product. It contains the following ingredients: modified corn starch, glycerine, natural flavor, salt, gelatin, tricalcium phosphate, pectin, agar, cultured dextrose, sucralose, acesulfame potassium.
You don't need to have a degree in nutrition to realize Light & Fit is far from all-natural. In fact, it contains artificial flavors.
The lowest amount of sugar isn't always the best for keto.
There is something interesting about Dannon brand's Oikos Greek option. Dannon is notorious for being high in sugar. However, its triple zero Greek options contains chicory root fiber. This reduces the net carbs per serving to eight.
The actual amount of sugar is much less because of the cultures.
However, Dannon's Triple Zero has no fat. If you're eating keto, approximately 70-75% of your calories should come from fat. If you're going to eat Triple Zero, add a bunch of healthy fats to it.
Low Carb Yogurt Conclusion
Don't just pay attention to the amount of sugar. The actual amount of sugar will be much lower than what the label says. Also be mindful of the fat content. If nonfat is your only option, add lots of healthy fats to it.
Look for a brand that contains just a couple ingredients: dairy and bacteria strains.
If possible, look for a brand that contains grass-fed milk. Maple Hill Creamery is grass-fed and contains no other ingredients other than the active cultures (bacteria).
Or, learn how to make your own low carb yogurt.
Yes, you can eat yogurt if you're following a ketogenic lifestyle.
Related Posts