An easy chicken soup recipe for colds and flu that helps relieve common symptoms. Keep some chicken broth handy to make this low carb chicken soup any time.
Natural methods for relieving cold and flu symptoms have been around for centuries. Echinacea, elderflower tea, and elderberry syrup are just a few of the ones I've tried. But when I feel a cold coming on, I always make a batch of my best chicken soup recipe for colds and flu.
Why Is Chicken Soup Good For Colds?
Most people agree that chicken soup alleviates the symptoms of colds and flu. However, it won't cure a viral infection.
Instead, the soup may stimulate the body's own immune system to fight the onset of an infection. But the effect works best if the soup is consumed at a consistent rate. Therefore, once the body naturally excretes the chicken soup, the benefits go away as well.
There are some aspects to the soup that seem to play a role. So I want to talk a little bit about that before sharing my keto soup for colds.
The Warmth Factor
There is the warm aspect of chicken soup. Nobody consumes soup cold, correct?
Studies show that drinking or consuming warm liquid has a powerful effect on the upper respiratory tract. Drinking warm water or tea will have a similar effect.
But with a chicken soup recipe for colds, it has been studied that it opens the airways and increases the functionality of the cilia that line the nasal passages. Thus, the congestion disappears and you are once again able to breathe and communicate normally.
Temperature is just one aspect of chicken soup that makes it a great food product to consume to feel better when contracting the flu or the common cold.
However, the other proponents of chicken soup play the larger role when it comes to immune system response and health.
Ingredients in Chicken Soup That Make it Good for Colds
Most chicken broths, like my chicken bone broth, contain portions of garlic and onions. These two ingredients contain organosulfides which are organic chemicals that react in the body to stimulate macrophage. These macrophages are immune cells that fight infections.
There are other components of the broth that are equally as important. Typically there are hints of carrots in the chicken soup recipe for colds.
Carrots contain Vitamin A and carotenoids, both important to stimulating antibody production for immune system response. These antibodies are important for combating disease.
Vitamin E and zinc are other important components of the broth that stimulate lymphocytes, an important white blood cell that is first in line to fight infections.
My easy chicken soup recipe is a better alternative than taking each of its components separately, either by food or supplements, because the vitamins and nutrients are more easily absorbed in broth form.
Can chicken soup cure a cold?
If you want to make this easy chicken soup recipe better for fighting an infection, try adding a small amount of olive oil. The olive oil will aid in getting the fat soluble vitamins to the cells that need it most in your body.
Although chicken soup cannot prevent or cure your infection, the nutrients that make up our easy chicken soup recipe have shown to lessen the symptoms of the common cold or flu.
The reason being is chicken soup is dense in vitamins and minerals and are easily absorbed due to its liquid nature. You may just love this easy chicken soup recipe so much that you'll want to enjoy it even when you aren't sick.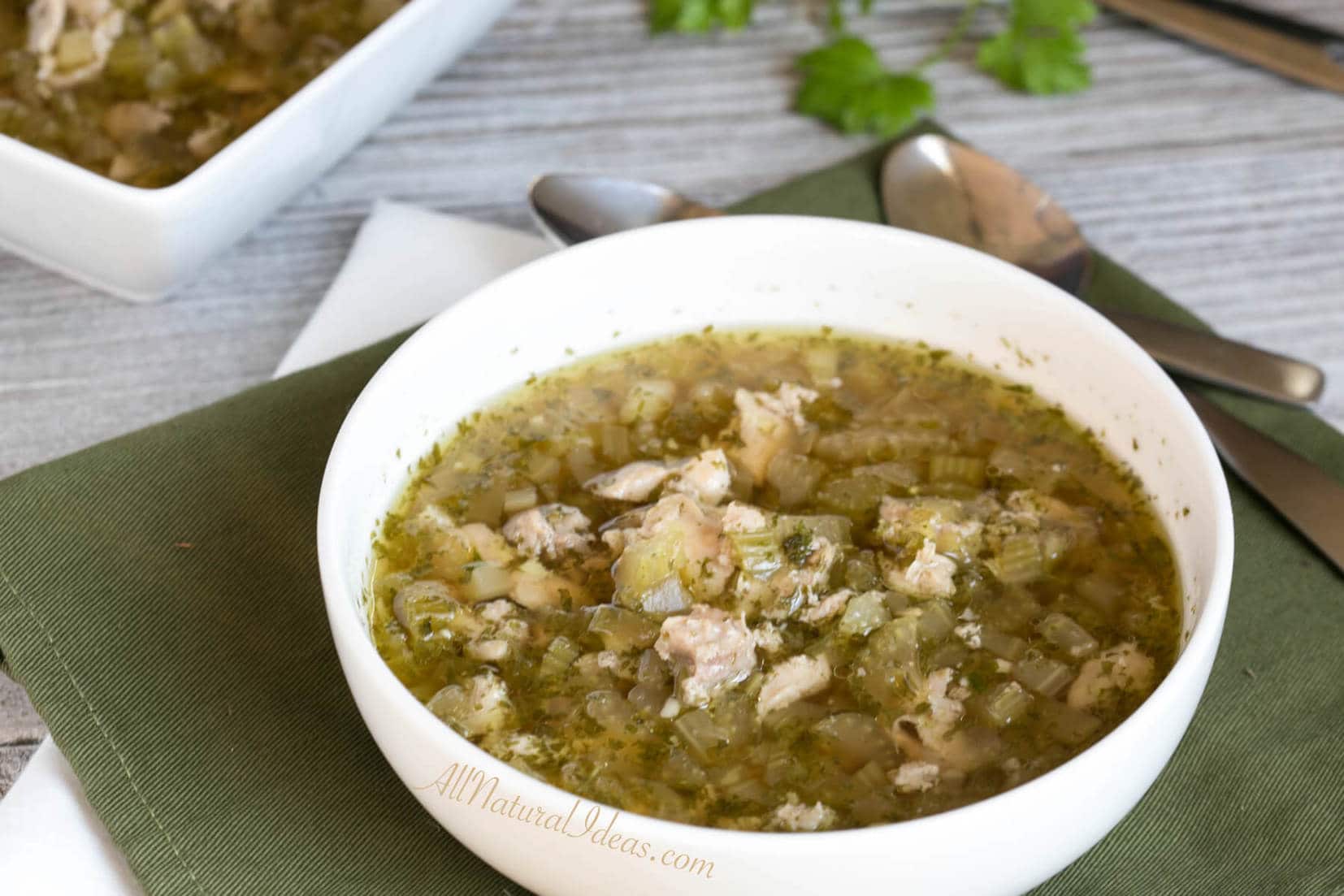 How To Make Chicken Soup from Scratch for Colds
Making homemade chicken soup for colds is quick and easy. And it's something that shouldn't take much effort. So even if you're not feeling your best, it's definitely a recipe that's doable in under 30 minutes if you have broth and cooked chicken on hand.
The recipe does call for cooked chicken so it's a great way to use up leftovers. However, if you need to cook it first, Diabetes Strong shows how to bake chicken in the oven so it's always juicy!
You never know when you'll be sick so you might want to keep some pre-cooked chicken breast or thigh meat in the freezer that can be used to make soup when needed.
To start the soup, just melt some fat (I like to use butter, but coconut or avocado oil work well too) in a large pot over medium high heat. Then sauté chopped celery, chopped onion, and minced garlic in the hot fat until the onion is soft.
The next step is to add broth, water, chicken and seasoning and simmer on the stove top until completely heated. The broth should have already been slow cooked so there's really no need to simmer the soup any longer.
The soup can also be pressure cooked for a shorter period of time in an Instant Pot. And all the ingredients are low carb so it's a great addition to keto diet meal plans too.
Easy Add-Ins
If you'd like to change up the soup, feel free to add in zucchini noodles to make a keto friendly chicken noodle soup or riced cauliflower for a low carb chicken rice soup.
Yield:

6 people
Easy Chicken Soup for Colds
An easy chicken soup for colds and flu that helps relieve common symptoms. Keep some chicken broth handy to make this low carb chicken soup any time.
Ingredients
4 tablespoons butter
8 stalks of celery, see note
1/4 cup chopped onion
4 cloves garlic, minced
32 ounces chicken broth
2 cups water
2 cups cooked chicken, chopped in small pieces
1/4 cup parsley
salt & pepper to taste
Instructions
Melt butter in large pot, then add celery, onion, and garlic. Cook, stirring frequently until onion is soft.
Add broth, water, chicken, and seasonings.
Simmer about 20 minutes, or until completely heated.
Notes
Carrots are a good addition with the celery, but adds additional carbs.
Nutrition Information:
Yield:
6
Serving Size:
cup
Amount Per Serving:
Calories:

193
Saturated Fat:

6g
Cholesterol:

55mg
Sodium:

799mg
Carbohydrates:

3g
Fiber:

1g
Sugar:

1g
Protein:

12g
First Published: November 21, 2015…
Last Updated: September 27, 2019
Related Posts