Blackstrap molasses may be healthy for you inside and out. And, there may be blackstrap molasses hair benefits that combat hair loss.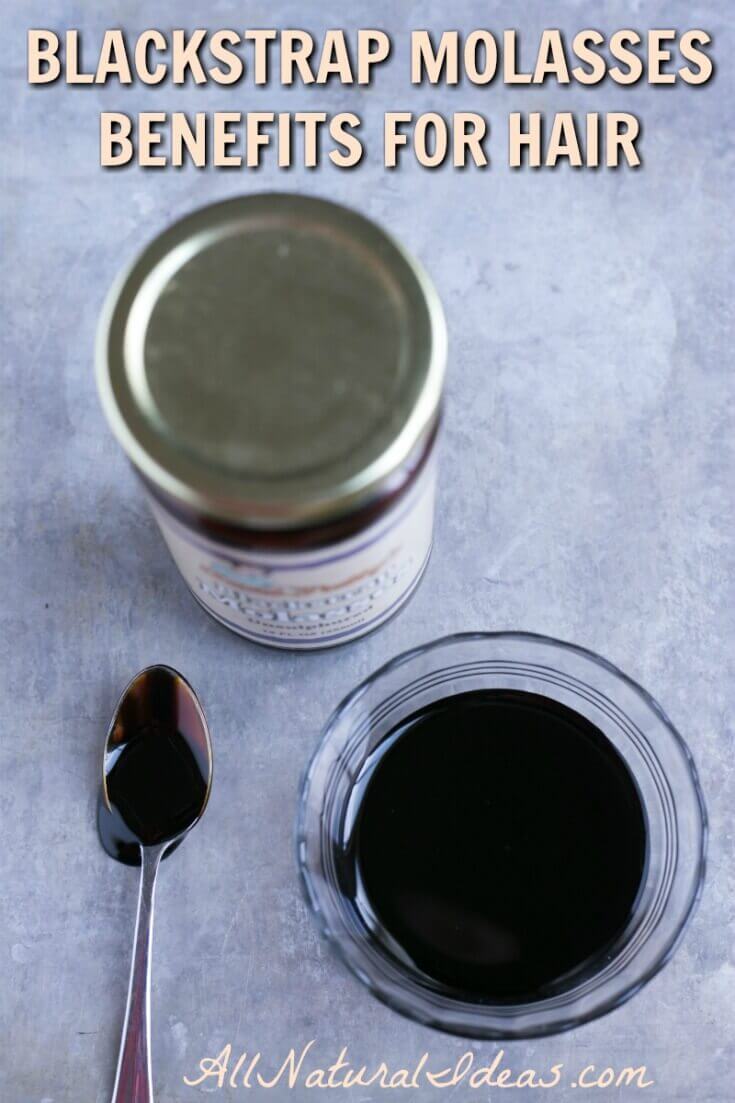 Back in 1951, there was a popular song about blackstrap molasses. It was sung by Jane Wyman (former President Reagan's first wife) and actor/comedians Groucho Marx, Jimmy Durante and Danny Kaye. It went something like this:  
"Blackstrap molasses and the wheat germ bread
Makes you live so long you wish you were dead
You add some yogurt and you'll be well fed
With blackstrap molasses and the wheat germ bread….
I gave up cherry pie and T-bone steak
Chicken fricassee and ice cream cake
I don't need vitamins or pills at all
I even mix it with my Hadacol
I was thinner than a pencil line
Had no muscles and I had no spine
But now I'm friskier than a pup
All you have do is prop me up
Just feed me blackstrap molasses and the wheat germ bread
Makes you live so long you wish you were dead…."
….Is blackstrap molasses a superfood? Judging by the lyrics of this song made popular over 60 years ago, it would appear so….
What is blackstrap molasses?
Blackstrap molasses is a byproduct of making sugar. It's a syrup. It's made from refining raw cane sugar. The juice from sugar cane, which is low glycemic, is boiled. Then it's super concentrated. This step creates sugar crystals.
After this step is repeated, what's left is the thick, brown, tar-like syrup that's left after the sugar has been removed from the juice. Blackstrap molasses specifically is the syrup produced after the third boiling.
You might think that because blackstrap molasses is processed a few times, it would lose nutritional value. But the opposite is true. The production of blackstrap molasses is a natural refinement. As a result, it's the thickest and darkest in color and most importantly very rich in vitamins and minerals.
The nutritional composition of blackstrap molasses is the reason it was popularized in the hit song. Because blackstrap molasses is the most concentrated form of cane sugar, its vitamin and mineral portfolio is highest among all sweeteners.
It's for this reason that blackstrap molasses, more than any other natural sweetener is said to offer the most health benefits. And, there's even some blackstrap molasses hair benefits!
But you might not want to drown your pancakes in the dark thick syrup. Many people think the taste is very bitter.
Don't expect to see bottles of blackstrap molasses on the table of your local Denny's anytime soon. Like dark, amber maple syrup, though, blackstrap molasses is very high in minerals.
Many people are mineral deficient these days. Having one tablespoon a day of this sweet superfood may be enough to get your daily dose of essential minerals.
Blackstrap molasses for hair growth
One of the many benefits of blackstrap molasses is hair growth and hair loss prevention. But let's get this out of the way first. There's no solid research you'd be able to find in a scholarly journal about blackstrap molasses hair benefits. That being said, though, there are many testimonials and anecdotes on websites about blackstrap molasses being effective for hair health.
And here's why, from a scientific point of view, there might be some truth to this….
Blackstrap molasses contains copper. Copper is a trace mineral. It can be toxic if consumed in large doses. So don't down a whole bottle of blackstrap molasses!
But here's why it's important to get enough copper in your diet. You would die without it. It's necessary to maintain life's everyday functions. Copper helps form collagen. Collagen is one of the most abundant proteins in the human body, including your hair.
Copper-rich foods like blackstrap molasses may help nourish your hair because it helps give structure to collagen.
Blackstrap molasses may also encourage melanin production. Melanin is the pigment that gives your skin and hair color.
Part of the normal aging process is having less melanin in the hair. Less melanin leads to graying hair.
Some people have had success with using blackstrap molasses to darken hair. From a scientific perspective, if blackstrap molasses encourages melanin production, it could theoretically darken hair.
The minerals in blackstrap molasses also provide structural integrity to the cells in our epidermis (skin) and hair. Because of this, it's possible that blackstrap molasses can make your hair look shinier and more moisturized.
Blackstrap molasses hair loss
Because of its high nutrient content, think of blackstrap molasses as a multivitamin for your hair. One of the reasons people lose hair is because of nutrient deficiency. It makes sense then, that if blackstrap molasses is regularly consumed, the minerals, antioxidants and other vitamins could help regrow hair.
When you consume blackstrap molasses, you're getting a lot of zinc, manganese, selenium and other trace minerals. These minerals are antioxidants. When oxidation occurs in the cells, our bodies are vulnerable to the effects of aging. The minerals in blackstrap molasses helps prevent oxidation.
Another common cause of hair loss is anemia. One cause of anemia is low iron. If you have anemia, a blackstrap molasses hair benefit may be hair loss prevention because it's rich in iron.
Here are a couple of anecdotal reports of using blackstrap molasses for hair loss prevention and regrowth:
"I'm 67 and about 20 years ago my hair started falling out in clumps because of stress. Working crazy hours so I would get maybe 3 to 5 hours of sleep each day. My barber told me to try molasses. I started taking one tablespoon a day until the bottle was empty. My hair grew back in and it almost seemed like a miracle! I still wasn't getting the proper amount of rest, but the molasses STILL worked and my hair filled in pretty quickly. Took about a month or less, but it did work."
And here's another one:
"I can tell there is regrowth is because the frontal hairline and temples look better and I know it is not my imagination."
Just two testimonials is not proof that blackstrap molasses hair benefits include support for hair growth. But more and more people interested in natural solutions are crediting blackstrap molasses for hair growth.
How to take blackstrap molasses for hair care
Remember the advice to think about blackstrap molasses as a multivitamin. That's the easiest way to use blackstrap molasses for hair. You can simply consume 1 or 2 tbsp of it (get the unsulphured variety; it has more nutrients than sulphured).
If the taste repulses you, don't slurp it straight. Mix it in water. Or add it to your morning smoothie or green drink. If you're going to add it in a blended mix, add stevia to neutralize the bitter taste.
If you're really willing to go the extra mile, do this with blackstrap molasses for hair growth: use it as a shampoo. This method isn't for everyone.
Much the same way pouring tar on your head doesn't sound appealing. But if you want to give it a try, do this: mix the molasses with some water. Massage into scalp. Let sit for several minutes. The longer the better. If you let it sit 10-15 minutes, this will really let the trace minerals absorb into your scalp and hair follicles. Needless to say, wash it out when done.
Blackstrap molasses health benefits
Blackstrap molasses isn't just for hair. Here are some of the possible health benefits of this nutrient-rich syrup.
Exercise recovery: Intense exercise robs the body of sugar and minerals. Blackstrap molasses is high in sucrose. The sucrose in molasses is an optimal carbohydrate source for refueling the body.  
Nutrient-rich: We have already covered blackstrap molasses' nutrient composition. But some other nutrients it's high in are magnesium, calcium, potassium and B vitamins.
Insecticide: This study identified compounds in blackstrap molasses that might be attractive to house flies.
Increases ferritin: Ferritin is a protein that stores iron. If you take a blood test for iron, it can come back normal. That doesn't mean, however, your body stores iron effectively. Many women experience menstrual cycle problems because of insufficient ferritin.  
Here's what one woman said on an online forum about blackstrap molasses:
"Even though the taste of molasses is bad enough to choke a corpse, I guess I need to use it to boost my iron stores."
Again, you might want to dilute the molasses or mix it with other ingredients in a blender.
Side effects of taking blackstrap molasses
Taking just 1-2 tbsp per day of blackstrap molasses is not likely to yield negative side effects. One person who tried it, however, commented on a forum:
" I did this[took blackstrap molasses] for about 3 weeks, and my [menstrual] shedding really decreased. Afterwards, however, I started having some stomach trouble."
Other possible side effects of taking blackstrap molasses may include making symptoms of irritable bowel syndrome worse, and causing general digestive discomfort. This includes diarrhea and loose stools.
Blackstrap molasses hair mask
If you want to make your own conditioning hair mask with black molasses, there are several ways. Typically,  you'll need just a few ingredients. Apple cider vinegar is great for skin and hair. So you might want to consider using it for a blackstrap molasses hair mask. For a natural thickening agent, you can also use whole-milk plain yogurt and your favorite essential oil to nourish hair. And of course, last but not least, blackstrap molasses.
For this hair mask, you'll want to blend all four ingredients. You just need a quarter-cup of the yogurt. And just 1 tsp apple cider vinegar, a couple drops of essential oil and 2 tbsp of blackstrap molasses like this one. Whisk the ingredients together as you would egg yolks. Then, simply rub and massage into your scalp and hair. Leave on for 10 minutes or so before washing out and using your regular shampoo.
Want more natural solutions for hair loss? Check out this post for ideas to reduce losing hair and this article on how vitamin E can support hair growth.
Related Posts