Using neem oil for skin and hair is gaining in popularity. Discover more about this remarkable essential oil and the powerful compounds it contains.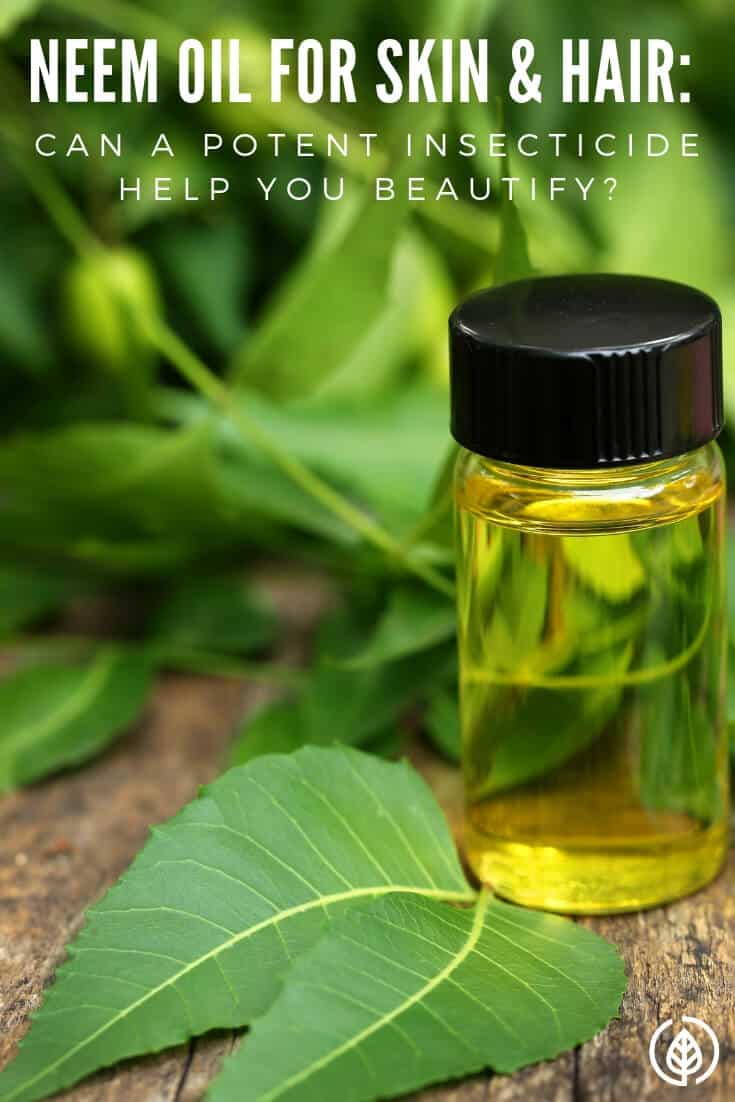 What is Neem Oil?
There are approximately 50,000 medicinal plants on Earth. If you had to pick one that can do it all, neem is high at the top of the list.
Why should you consider this plant's essential oil for your natural medicine cabinet? Here's why:
effective natural insecticide
kills very harmful bacteria
reduces inflammation
lowers blood sugar
high in antioxidants
Perhaps you've heard about using neem oil for skin and hair. We'll get to why it's good for both in a bit. But first, let's learn more about this plant's background….
The plant's botanical name is Azadirachta indica. It's in the mahogany family of trees. Native to Sri Lanka, it can now be found in several countries around the world. It's a common plant in India, Pakistan, Bangladesh, and Nepal.
India has an ancient, rich tradition of using therapeutic plants. And in India, neem is a very important herb.
What is Neem Oil Used For?
Using neem oil for beauty isn't a new health trend. In fact, women have been using it for centuries as a beauty ingredient. Traditionally, it is added cosmetics. Even men use it as a hair-growth and hair-darkening serum.
This isn't a long-lost herbal ingredient that's just being rediscovered. On the contrary, you can find it in dozens of products. Do an online search for "products with neem oil." You'll discover that it's found in everything from toothpaste to soap to shampoo and more.
There's even honey with it (from Heavenly Organics). But most of the products you'll find online relate to beauty. Thus it seems, there's a growing interest in neem oil for hair and skin. It's in lotions, facial creams, aloe gel, facial cleansers and toners, and more…
Traditionally, skin problems in India were treated by mixing parts of the plant with ghee. And in developing countries that don't have access to modern dentistry, small twigs from the tree are still used as toothbrushes.
Aside from its use in cosmetics and hair care, neem oil is best known as a natural bug killer.
What are the benefits of neem?
From a scientific point of view, the main therapeutic benefits of neem are due to its particular antioxidants. The potent antioxidants in this plant scavenge free radicals. When you have too many free radicals in the body, this leads to premature aging or disease.
It seems to be one of the best plants not only for hair and skin but also for preventing disease. In fact, research says it "plays a pivotal role in anticancer management."
In addition to killing bacteria, fungus and preventing inflammation, the herb has other impressive benefits. Research suggests it may help with arthritis. It can also help reduce fevers. Other research shows it can lower blood sugar. It may also prevent or treat stomach ulcers.
One reason neem for hair and skin is beneficial is because of its ability to kill harmful bacteria. Lab research shows it helps kill Staphylococcus aureus, E. Coli and MRSA, the latter of which kills 20,000 a year in the U.S.
In addition to containing antioxdiants, the plant is also rich in Omega-9 fatty acids. Omega-9 fatty acids help lower blood pressure, help burn fat and help treat ulcerative colitis, among other things.
How do you use neem oil?
There are extract supplements you can take internally. However, most products are for topical use.
Many people who use pure neem oil combine it with a carrier oil. Carrier oils such as almond, jojoba, coconut and olive, are used to reduce skin sensitivity.
As mentioned above, the it's very popular as a natural insect killer. To use it in this way, you can simply mix it with water and spray it directly on plants.
How to use neem for skin
To use it directly on your skin, dilute it with a carrier oil. The ratio should be one drop neem to 10 drops carrier oil. You can also apply it to your nails.
Just as with purchasing any other plant oil, quality matters. For best results, choose an organic, pure, cold-pressed oil. It's not going to have the best scent, like, say, lavender.
Remember, the compounds in the plant are quite potent. If you recall, in studies, it's been shown to kill some pretty nasty pathogens. This makes using neem oil for skin problems such as acne very promising. Skin tags, warts, and other skin problems may be improved by simply applying a small amount.
Make sure the oils from your own fingers don't pollute or dilute oil. So apply it with a cotton pad.
If you're diluting neem with a carrier oil for problem skin, you may not get the best results. Instead, use the pure oil right on the skin. But make sure you test a very small amount of it first directly on your skin. Wait several minutes, and then if you have no allergic reaction, you can dab problem skin with it. Allow it to soak for several minutes before washing with warm water.
But if you want to use it over a big area, say your whole face, it's better to dilute neem with a carrier oil. If you don't like it's pungent, Earthy smell, add some sweet-smelling citrus oil.
And if you don't like the oily sheen on your face, you can dilute it with something more acidic such as aloe vera.
Finally, another way to use it for your skin is by adding several drops to warm water in a bath.
Neem oil for skin conditions
Because of its anti-inflammatory properties, neem may be able to improve serious skin conditions. This includes ulcers, inflammation of the uterus, gum disease. As folk medicine, it's a remedy for leprosy.
There's even evidence it can help with skin conditions in dogs. In one study, it helped dogs with atopic dermatitis. The researchers of the study concluded it can help dogs with flea and tick bites, as well as mites and intestinal parasites.
How to use neem oil for hair
If you have problems with your scalp, such as dandruff, neem oil may help. There's research showing it can lower the inflammation that causes dermatitis, psoriasis and other scalp issues. There's even research showing it can kill head lice.
An easy way to get the benefits of the neem oil for hair is adding a few drops of it to your shampoo.
You can also dilute it with a carrier oil and give yourself a scalp massage. For best results, leave the diluted blend in your hair for up to one hour before washing it out.
ARE THERE SIDE EFFECTS OF NEEM OIL?
If you swallow pure neem oil, you may experience some toxic side effects. In one case study, an elderly male experienced vomiting, seizures and brain swelling because of it. Thankfully, the patient completely recovered.
Studies suggest there are more serious risks of neem poisoning in children.
However, if you're just using neem for skin and hair, you should be fine.
CONCLUSION:
Neem oil is mostly safe. But it's an extremely strong plant oil. It may not be the best choice for those with sensitive skin or excessively oily hair.
References:
Related Posts