Have you ever taken a baking soda bath? It's surprisingly beneficial for relieving skin issues like itching and irritation. But what else can adding baking soda to your bath water do?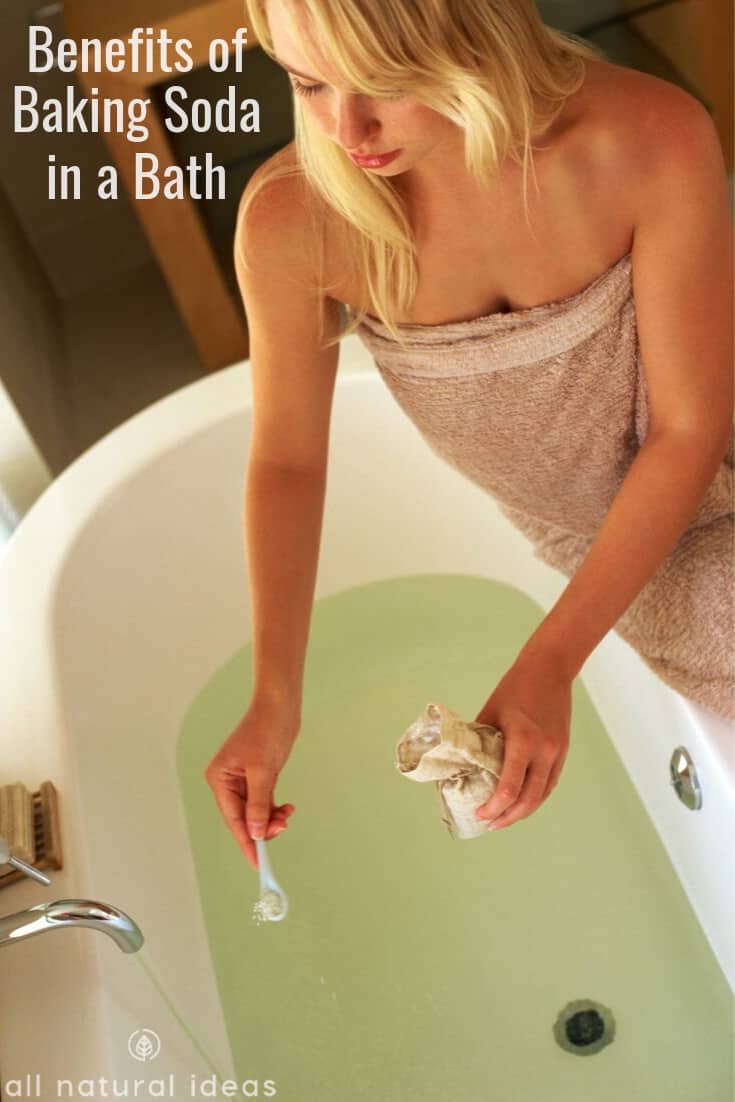 When people think of a relaxing bath to nourish and nurture their skin and body, the thought of pouring baking soda likely doesn't come to mind. In fact, many people may be thinking of an oatmeal bath instead.
But the more that you can educate yourself on the benefits, you may discover this soothing bath idea is something worth trying. And the mixture of sodium bicarbonate and water not only soothes skin, it may help the body detox.
How much baking soda in a bath?
It's a pretty simple home remedy. Anyone can make this DIY solution. You just fill a tub with warm water and add about 1/2 cup of baking soda.
You don't need to add anything else! But the key is to have the bathwater warm so that the baking soda dissolves properly.
Taking a baking soda bath
Once the baking soda has dissolved completely in the water, you just settle in the warm bath and soak. For maximum benefits, a person can soak for up to 30 minutes.
You may need to add hot water if it cools too quickly. But those with sensitive skin, including young children, need to limit the time to only 10 to 15 minutes.
Some people like to add essential oils, particularly relaxing ones like lavender. Feel free to add various blends depending on the aromatherapy benefits you desire.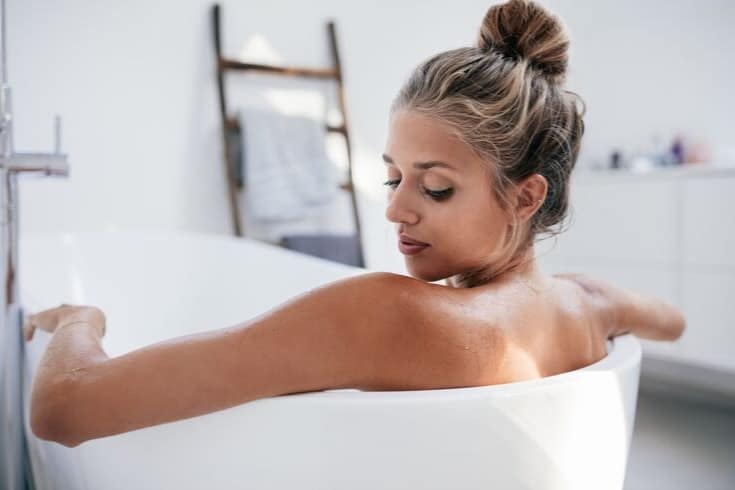 What does a baking soda bath do?
For some people, it's a super simple and efficient way to relieve itching from their skin. However, there is a slight chance that the baking soda might irritate the skin. Therefore, be prepared to look out for those symptoms as well.
The main purpose of taking this type of bath is to alleviate the itching and irritation of the skin. And baking soda can help to dry out possible rashes or other skin issues.
Are There Any Side Effects?
While these might be low risk, it's important to understand the possible side effects of taking a baking soda bath. Some of the things you want to keep an eye out for include, but are not limited to:
nausea
vomiting
diarrhea
cause complications with those who have high blood pressure
As a good rule of thumb, if you're ever uncertain if something is safe for you, always check with your health care professional first. They can address any and all questions answered before attempting a home remedy for the first time.
Can it help a yeast infection?
According to research in 2014, there is proof that baking soda can actually help get rid of cells that are known to cause yeast infections. This study prompted many people to start taking baking soda baths.
It also seems to help relieve some of the swelling and the itching associate with yeast overgrowth. So you might want to add this into your routine along with probiotics for candida.
Baking soda bath detox
One of the biggest reasons that people love taking a bath with baking soda is because it may help with detoxing. There are cleansing properties in it that help build immunity and make people feel as though they're creating the purest form of their own body.
You can also add baking soda to an epsom salt detox bath for added benefits.
Is baking soda harmful to the skin?
For the most part, the biggest complaint that people have is that it irritates their skin. However, there are plenty of others who use sodium bicarbonate and water on their skin with no ill effects. Therefore, it generally depends on the person and how sensitive their skin is.
What is the best thing to put in your bath for dry skin?
This answer will vary, but there are many people that turn to use baking soda to help alleviate their dry skin needs. The great part about using this method is that it's a cheap way to get relief for skin issues.
Most people already have the ingredients in their home or kitchen pantry. So it's a simple solution that can be used quickly when needed.
Should you give it a try?
Now that you know a little more about how a baking soda bath works, think about how it might be beneficial to you in your life. Talk to your doctor as well if you have worries or concerns and then make a plan to give it a try. You may find comfort in your itchy skin within mere moments of getting into the tub.

Related Posts