Shirataki Noodles Recipes are perfect for those on a keto diet that miss pasta. The yam noodles are made from konjac root and contain no digestible carbs.
Are you on a ketogenic diet plan and looking for low carb noodles to use in your favorite whole food recipes? Or maybe you love twirling fork-fulls of pasta into your mouth but hate the bloating that happens after.
So what's a pasta lover to do if they want to cut down on carbs? They need to learn how to make shirataki noodles recipes!
What Is Shiratake?
These Japanese noodles are made from konjac yam. So technically, they aren't real pasta because there's no wheat, gluten, or carbs.
A more accurate term for this diet food is konjac noodles. This is because the noodles are made from a glucomannan fiber which is known in Japan as konjac flour. And since the fiber is indigestible, the pasta typically has zero net carbs.
This dietary fiber comes from the root of a wild yam-like vegetable. And "yam pasta" is certainly a more marketable term than "Devil's Tongue," which is the translation of the Japanese yam-like veggie.
How Are Shirataki Noodles Made?
There's a couple different ways the noodles are made in Japan. But the kind sold in the west are generally made when the glucomannan fiber is mixed with water and calcium hydroxide (quicklime). This mix is then shaped into thin noodles.
What Do Shiratake Noodles Taste Like?
In a single word, nothing. There really isn't any flavor to the noodles. They are basically tasteless.
Just as you likely don't eat pasta plain, these Japanese diet noodles aren't meant to be eaten plain either. But when you prepare them correctly, they have a similar texture to regular noodles. As such, when you add extra ingredients to the noodles, the noodles take on the flavor of the sauce and seasonings.
Although everybody's taste buds are unique, most people will be able to tell that shirataki noodles recipes don't taste exactly like those made regular pasta. And, the noodles certainly don't have the same texture. However, if you properly prepare them, it's close enough to the real thing.
Whatever differences these keto noodles may have from the conventional high-carb counterpart, it's a small price to pay. To be able to eat a couple servings of pasta without driving up your blood sugar levels is key on a ketogenic lifestyle.
How To Cook Shiratake Noodles
Konjac noodles are low in calories and carbs. They also take less time to prepare than regular pasta. Cooking regular spaghetti al dente takes 10-12 minutes. In comparison, shirataki takes only a few minutes of lightly boiling.
However, there are a couple important steps to add to the cooking of the noodles. First, before you place the noodles in boiling water, you may want to wash them. Most varieties of shirataki come packaged in liquid to have a longer shelf life.
When you open the package, there will be a strong off-putting smell. The odor is totally natural but in order to get rid of it, you'll need to rinse the noodles in cool water for about a minute and then boil.
But after the noodles are done boiling for 2-3 minutes, you'll want to dry roast them. To dry roast, first drain the noodles as you would with regular pasta.
For optimum results, after draining, pat the noodles dry with a paper towel. And finally, place the noodles in a dry frying pan (no oil) on medium heat for a minute. At this point, you'll hear the noodles squeaking. That's when you know the they are done and ready for shirataki noodles recipes.
From here, you can add whatever sauce you want. Or, if you're making a stir fry or soup, you can add the noodles at the very end of the cooking process. There's no need to cook the noodles any further after dry roasting.
Does Shirataki Have Soy?
Some brands do contain soy while others don't. There is some concern about whether or not soy is beneficial for health. For instance, traditional nutrition experts at the Weston A. Price Foundation list several ways in which soy can actually be damaging to your health. This organization and other experts claim that only fermented soy is healthy.
Tofu shirataki is not fermented soy. But keep in mind there are plenty of other health experts that believe adding soy is healthy.
However there's another reason why you may want to avoid soy based shirataki. The chemical process of making the noodles is done in an alkaline environment. As such, the protein in soy can become denatured. If you're interested in reading more about this, check out this Science Daily article.
What Are The Ingredients in Konjac Noodles?
If you'll be making shirataki noodles recipes, you may want to know what's in konjac pasta. These gluten free yam based noodles typically contain:
Water (97%)
Fiber (glucomannan)
Calcium hydroxide (trace amount)
Some brands of shirataki also add a tiny bit of spices and vegetables to create different noodle styles.
Is There Any Nutrition in Shirataki Pasta?
There's really no nutritional value in eating Japanese shiratake. As you can see above, it's mostly water.
There are no vitamins, minerals, and antioxidants which would classify this food as nutrient-dense. There is a trace amount of fiber in the noodles and that's what gives this low-carb pasta its health benefits.
What Are the Health Benefits of Shirataki?
Even a tiny amount of fiber can bind with water. Therefore, when you eat these noodles, the mix of glucomannan fiber and water does two beneficial things.
First, it slightly expands your stomach. This action helps make you feel full faster than regular pasta. And second, it slows down your digestion.
When your digestion slows down, you're less tempted by cravings for high-carb treats after a meal. In addition there are other health benefits of this yam fiber pasta:
So although shirataki noodles contain virtually no nutritional value, they can contribute to overall health and help you get slimmer. Because they have almost no calories or carbohydrates, shirataki noodles help regulate blood sugar levels. And many diseases are the result of high blood sugar and inflammation.
Shirataki is generally considered safe for ketogenic diets, Paleo diets (if it's soy-free) and virtually any other low carb diet program.
Shirataki Noodles Vs Real Pasta
Let's take a look at how a leading brand of Angel Hair shirataki noodles compares to a leading brand of regular pasta (shirataki, regular).
| | | |
| --- | --- | --- |
| | Shirataki Noodles | Real Pasta |
| Calories | 0 | 210 |
| Net Carbs | 0 gram | 41 grams |
| Protein | 0 gram | 7 gram |
| Fiber | < 1 gram | 1.5 grams |
| Iron (daily recommended) | 0% | 10% |
| Fat | 0 gram | 1 gram |
As you can see, the big difference between the two pastas is the carbs and calories. Shiratake is also lower than many homemade keto pasta noodles.
Are There Any Side Effects To Eating Konjac Noodles?
Yes, there may be some unpleasant side effects. The big selling point of shirataki is that it's virtually calorie free. However, you shouldn't eat as much as you want.
You should stick to one or two servings at most. This is because the fiber in konjac is insoluble which means you can't digest it.
Consequently, eating a lot of these noodles can cause issues in your gastrointestinal tract. If your system is not used to a lot of insoluble fiber, you can experience a lot of gastric distress.
Where Can I Buy Shirataki Noodles?
Two popular brands are Miracle Noodle and Skinny Pasta. Some people refer to shirataki noodles as "Miracle Noodles." This is because of the name of the brand.
Founded in 2006 by a medical doctor, Miracle Noodle is believed to be the first brand of shirataki in the U.S. The founder of the brand, Jonathan Carp, M.D., was introduced to the noodles while on a visit to Japan. He discovered them at a Buddhist monastery outside the city of Kyoto.
Since Miracle Noodle entered the market, however, several other brands of zero calorie veggie pasta have come to market. Most notably, Skinny Pasta has become available and it claims to be the only odor free 100% Konjac Noodle.
Most supermarkets these days carry the noodles. You might find them in a refrigerated section while others are found in the regular dry pasta aisle.
Most people need a little help using these Japanese noodles at first. So I'm sharing my top ten healthy recipes…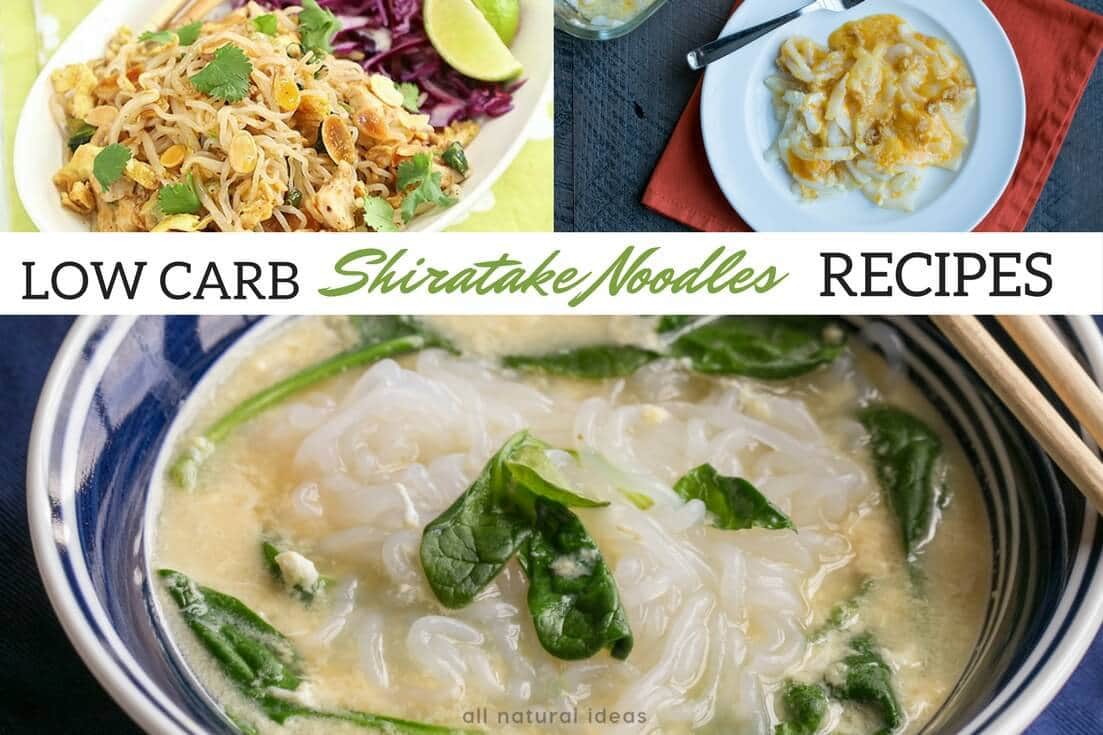 10 Amazing Shirataki Noodles Recipes to Try
Here are s
Most of the negative reviews for shiratake noodles are based on not preparing them correctly. Dry roasting them before adding them into your recipe will give the best taste and texture.
If you'd like to give this near zero carb pasta a try, we've put together a collection of low carb shirataki noodles recipes for you to try. Just take a look at some of these amazing dishes you can make…
First Published: May 16, 2017…
Last Updated: July 17, 2019
Related Posts