Shirataki pasta is an ultra low-carb alternative to regular pasta.  If you're cutting carbs, you'll want to start making shirataki noodles recipes at home.

Perhaps you have a love-hate relationship with pasta. You love the ritual of merrily twirling fork-fulls of it into your mouth … and maybe washing it down with a sip of red.
But a couple hours after your indulgent pasta meal, you begin feeling guilty. Your pants feel tighter. And you feel like you want to pass out. You're in a carb coma!
Sound familiar? For many people, pasta awards the pleasure center of the brain. However, this activation of the pleasure center is a misfiring. You know you're going to hate yourself for having pasta, so then why do it?
Addiction is not easily explained. And for the pasta addict this vicious cycle of pleasure followed by pain is hard to break.
In light of this, the question then becomes, what's a pasta lover to do? Especially if you want to cut way down on carbs. The answer: shirataki noodles.
What are shirataki noodles?
If you've never heard of shirataki noodles, basically they are an ultra-low pasta that has a similar texture to regular noodles. And when prepared the correct way, shirataki noodles recipes can be very similar to those regular pasta dishes.r.
Shirataki noodles are made almost entirely from water, 97% to be exact. The remaining three percent is vegetable fiber and a tiny bit of calcium hydroxide lime to keep the noodles intact. Those are the only three ingredients in shirataki noodles.
Because more people are going low carb, shirataki noodle recipes are proliferating on the web, including  Low Carb Mac 'N' Cheese and Spinach Egg Noodle Soup.
In English, shirataki means "white waterfall," which describes the appearance of the noodles as they are processed through a noodle-shaping cutting apparatus. There are several other terms that you might here instead of shirataki. These include "konjac noodles," "glucomannan," "konjac mannan," "konnyaku," as well as the brand name of shirataki, Miracle Noodles.
The vegetable fiber that's found in shirataki noodles come from a wild yam-like plant found in Asia. This plant is called konjac. The bulb root of the konjac plant contains a lot of water. This water and the fiber from the root are the primary constituents of shirataki noodles. The specific fiber that comes from the konjac yam root is called glucomannan or konjac mannan. You can buy this fiber in flour form and use it for low-carb baking recipes.  
Nutrition Facts
Many people who are familiar with shirataki noodles mistakenly refer to it as high-fiber noodles. But the truth is, there isn't that much fiber in a serving of shirataki noodles. In fact, there's less than one gram per serving. Even the aforementioned Miracle Noodle brand's own website claims on its health benefits page, "Our noodle is made mainly of fiber." That is simply incorrect. As stated earlier, shirataki is almost all water.
However, regular spaghetti contains zero grams of fiber and nearly 30 grams of carbohydrate. And because shirataki noodles contain lots of water and some fiber, it offers several health benefits….
Health Benefits
The combination of water and fiber helps slow digestion. When digestion is slowed you feel full for longer. This, in turn, prevents cravings for sugary snacks when you regularly eat shirataki noodles recipes.

Glucomannan, which as you recall, is the type of vegetable fiber derived from the konjac plant, has been shown in research studies to improve blood cholesterol levels and improve satiety in obese patients. In addition, the fiber found in shirataki noodles has demonstrated the ability to serve as an effective dietary intervention for people with type 2 diabetes. Another study concluded this fiber is beneficial for those with insulin resistance syndrome.  
So although shirataki noodles contain virtually no nutritional value including vitamins and minerals, they can contribute to health. Because they have almost no calories or carbohydrates, shirataki noodles help regulate blood sugar levels. Many diseases are the result of high blood sugar and other inflammatory root causes.
Some brands of shirataki noodles contain tofu. Fans of tofu shirataki like the fact that they're getting a protein source with the low-carb noodles. However, as this Miracle Noodle blog describes the processing of shirataki noodles is done in an alkaline environment (the calcium hydroxide). And when you introduce a protein like tofu in this alkaline environment, the protein becomes denatured.
If you really want to know if that's true or not, consult with a food scientist who can speak to this….
How to cook this zero carb pasta
To be honest, shirataki noodles might take some getting used to at first. When you open the package of the noodles, which are packed in purified water, there's an off-putting odor. This odor originates from the vegetable fiber. To get rid of the odor, you have to rinse the noodles in cool or cold water for a minute.
That's the first step to preparing shirataki noodles recipes the right way. Cooking this low carb alternative takes less time than conventional pasta. Whereas high-carb pasta takes roughly 10-15 minutes to cook, shirataki pasta takes only a couple minutes of light boiling. That's a big advantage in our pressed-for-time society.
After lightly boiling the shirataki noodles, you strain them just like regular pasta. The key to getting the them to mimic the authentic texture of regular pasta and holding on the flavor of the sauce is to dry-roast them.
Dry roasting is very easy. All you do is put the noodles in a pan without any oil or coating and fry them over medium heat. After a minute or so, you'll start to hear the noodles make a squeaking sound. Although it may sound a bit unsettling at first, this is a culinary necessity. The squeaking means the noodles are no longer retaining any water and are now ready to absorb whatever sauces or oil you want to use.
Many people who cook shirataki noodles either use it as a replacement for traditional pasta recipes or low-carb veggie stir-frys. You can simply add the shirataki noodles to a wok or pan of stir-fried veggies at the very end of the cooking process. Shirataki noodles are also popular in soups.
Are they really zero carb?
There are approximately 40 grams of carbohydrates in one serving of egg noodles. By comparison, there is less than one net gram of carbs in shirataki pasta. As you can see, there's good reason why many people adopting a low carb lifestyle are bullish on making shirataki noodles recipes.
Although there's virtually no carbs in shirataki, because they are made mostly of water and some fiber, they make you feel like you're eating regular pasta. Though there are virtually no calories and no carbs, you'll probably only feel like having a couple portions, even though if you ate 10 servings, you wouldn't gain weight.
But because of the fiber content and how it binds with water, if you're not used to shirataki noodles, if you eat a lot of it, you might experience bloating or gas. However, if you eat a regular-sized portion, you shouldn't feel bloated, but rather, pleasantly full.
What are the ingredients in these zero calorie noodles?
As mentioned earlier, shirataki noodles usually are comprised of two main ingredients: water and vegetable fiber. This vegetable fiber is from the wild yam-like plant called konnyaku imo in Japan, where shirataki is quite popular.
There are virtually no carbs and calories in these noodles. Yet, if prepared correctly, shirataki noodles have a similar texture to high-carb pasta. This makes them ever increasingly popular in low carb kitchens and blogosphere.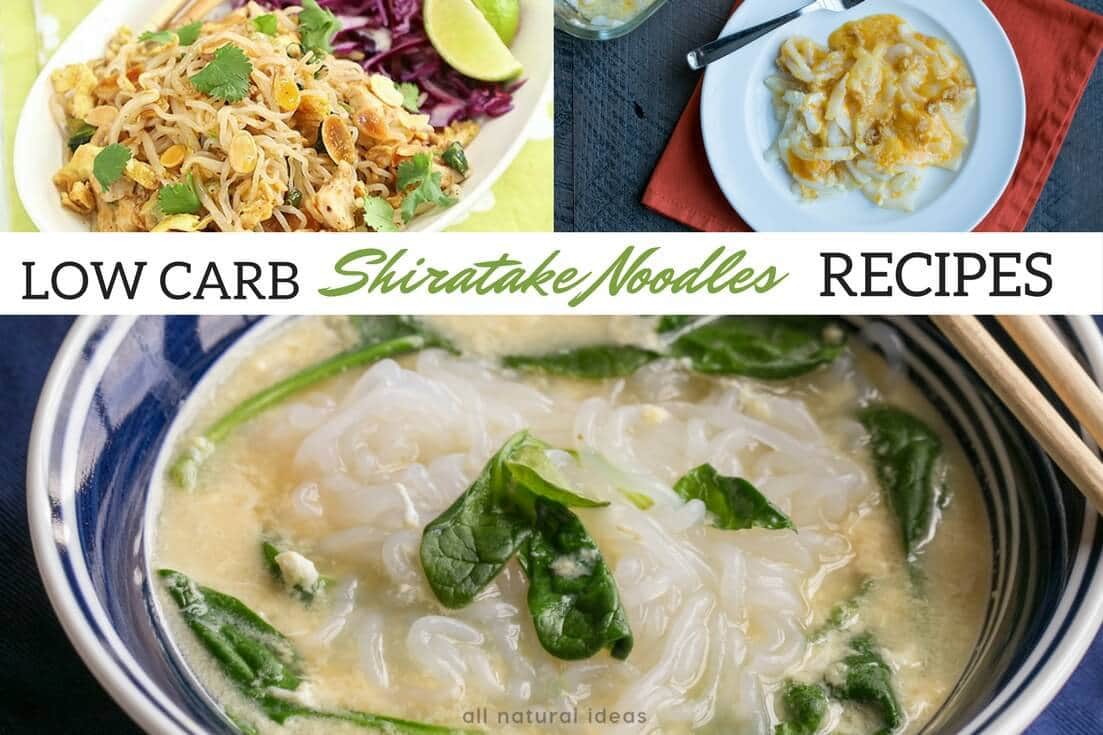 10 Amazing Shirataki Noodles Recipes To Try
Most of the negative reviews for shiratake noodles are based on not preparing them correctly. Dry roasting them before adding them into your recipe will give the best taste and texture.
If you'd like to give this near zero carb pasta a try, we've put together a collection of low carb shirataki noodles recipes for you to try. Just take a look at some of these amazing dishes you can make…
Low Carb Macaroni and Cheese
For the ultimate comfort food, try this Low Carb Macaroni and Cheese made with Miracle Noodle Ziti. It's got all the flavor without all the carbs!
Spinach and Egg Miracle Noodle Soup
Shiratake is the perfect low carb replacement for ramen noodles. If you're looking for a good recipe to try, check out this Spinach Egg Noodle Soup.
Tuna Noodle Casserole
Using the right noodle makes all the difference. This yummy Tuna Noodle Casserole will become one of your favorite shirataki noodles recipes.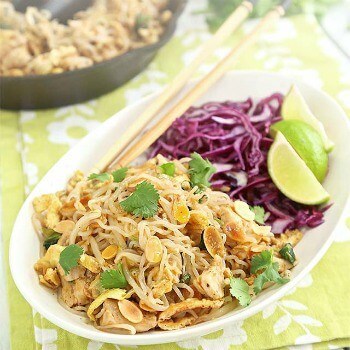 Paleo Pad Thai
Shiratake is the perfect noodle for Asian recipes. This Paleo Pad Thai makes a winning low carb lunch or dinner.
Sausage Goulash
It's doesn't get much easier than this tasty Sausage Goulash. After prepping your shiratake pasta and browning the meat, this classic skillet dish cooks up in 20 minutes.
Family Style Baked Ziti
A favorite Family Style Baked Ziti can be made low carb by simply switching out the high carb noodles with shiratake. This one is great for potluck gatherings.
Chicken Fettuccini Alfredo
Alfredo sauce blends well with shiratake noodles in this simple Chicken Fettuccine Alfredo dish. It's soon to become one of your regular shirataki noodles recipes.
Ham and Cheese Macaroni Salad
Make up a bowl of this Ham and Cheese Macaroni Salad to share at picnics in the summer. It's also a filling lunch to bring enjoy at work.
Lemon Garlic Shrimp
A simple Lemon Garlic Shrimp recipe that's super easy to make using low carb noodles. The garlic and herb noodles blend are perfect for this dish.
Crock Pot Low Carb Rice Pudding
If you don't want to turn on the oven, you can make a batch of Crock Pot Low Carb Rice Pudding in the slow cooker. Miracle Rice is the secret to keeping this treat low in carbs.
Related Posts