A DIY sugar wax recipe requires only 3-ingredients and can be a great method for natural hair removal. Many people also say that's it's a painless wax treatment that can easily be done at home. And it can last for about two weeks.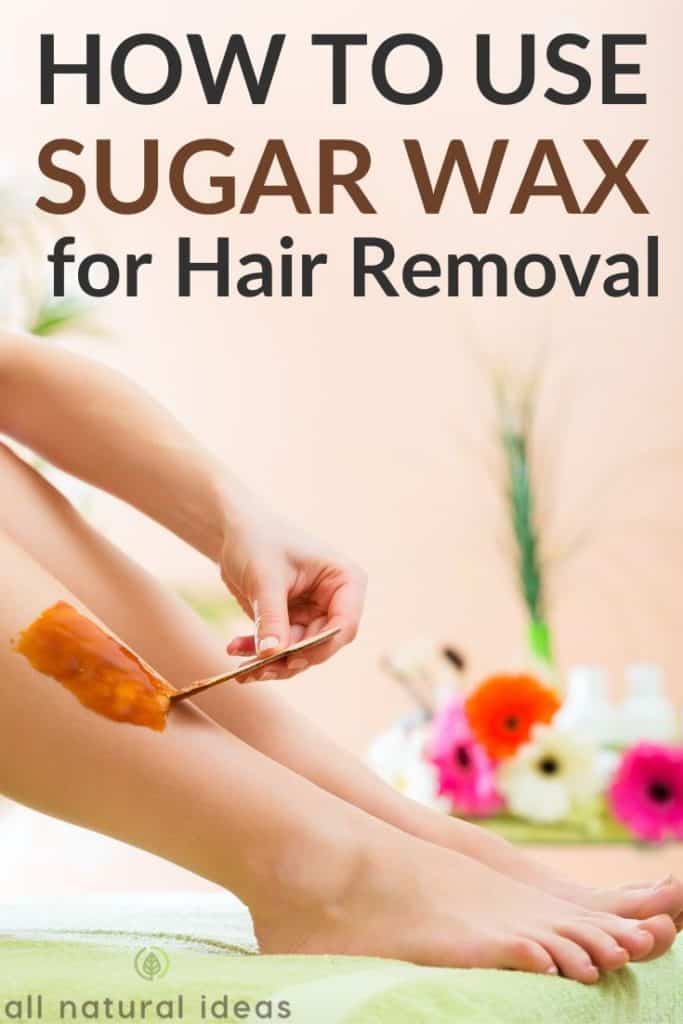 Are you looking for a natural and simple process to control hair growth? If so, sugar wax is where you should turn your effort and attention.
Thousands of people find that this process for removing hair naturally results in amazing results. And it's done without a lot of pain and overall prepping.
You might be on the fence about whether a sugaring session is right for you. Below you'll find some simple reasons why you should consider giving it a try.
What Is Sugar Wax?
What's the whole point of using a DIY sugar wax? It creates an effective way to remove the hair from different parts of your body.
The process is actually quite simple and typically only uses three natural ingredients to create it. These are sugar, lemon, and water.
It might sound a bit like you've just prepared and created lemonade. However, the combination actually results in a paste that can easily remove hairs from various parts of your body. And because it pulls the hair out of the hair follicles, hair regrowth is controlled much better than shaving.
The way you use it is similar to waxing with other sticky substances. Simply apply the wax to the surface of the skin. Then press to ensure it's sticking to your hairs and pull to remove the hairs.
If you have sensitive skin, sugar wax shouldn't irritate it. But the process of pulling hairs out may redden the skin temporarily.
Is sugar waxing painful?
Curious about how sugar waxing compares to other forms of waxing? Those who've tried it claim that it pulls less harshly on the skin. And most also didn't see as much leftover irritation either. (If you do have skin irritation, you can always try Emu Oil to help alleviate the pain)
It's also important to note that every single person's body is different. Therefore, it might not be the best option for all.
Sugar waxing is a great way to try natural hair removal. And it's done without the expense of a professional wax job or buying a wax kit. It also lets you compare the difference between waxing vs shaving.
How long does it last?
The max time that a sugar wax can last is about 2 weeks. You'll notice that everyone's hair just grows a bit differently. Therefore, this is just an estimation on the amount of time that it will last.
Sugaring hair removal tends to last a while compared to other types of waxing or forms of shaving. So you should have smooth skin for over a week.
Can you use it on your face?
Absolutely. Since there isn't a worry about heat burning with sugar waxing, it's safe to apply to your face. Many people use it to remove the indications of a mustache or even to help wax their eyebrows.
What do you do if you notice that it causes an issue on places that you use it on your body? You can always follow up with the use of Aloe Vera or witch hazel to see if that can help to provide any type of relief. Or try some of these remedies.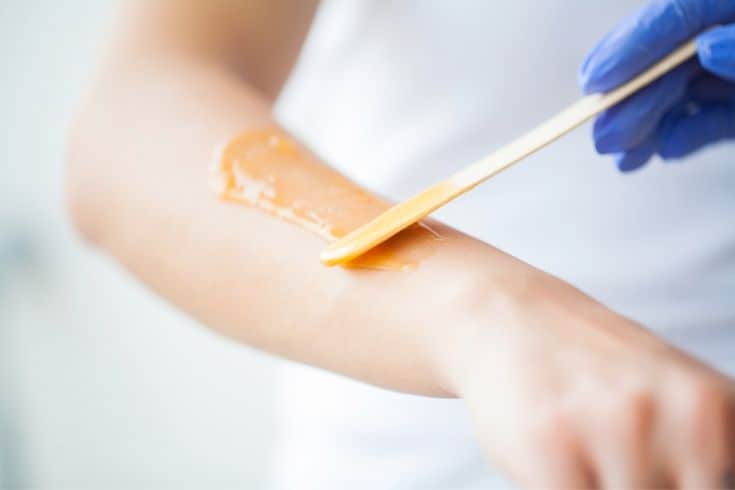 Is sugaring better than waxing?
This just all depends on what you like. Some people swear by traditional waxing ways while others tend to like the more natural and easy approach. It's a way to try to see if you can achieve a painless wax.
What's the best way to determine which one you like better? It's always a good idea to try them both out and then make a decision based upon your results.
How to Make Sugar Wax
You'll find that making your own sugar wax recipe isn't really all that complicated at all. As mentioned earlier, you really only need three ingredients to make his homemade sugar wax recipe.
It's seriously super simple! Just take a look at the DIY recipe!
Yield:

1 batch
DIY Sugar Wax
Additional Time:
10 minutes
Total Time:
1 hour
5 minutes
If you're considering giving sugar waxing a try, you just might love the results. All you need are a few simple ingredients to get started and you'll be well on your way to having your own at-home wax experience.
Materials
3 Tablespoons Sugar
3 Tablespoons Lemon Juice
1 Tablespoon Water
Tools
Medium pot
Stove top
Wooden sticks
Mixing spoon
Instructions
Combine the ingredients into a pot on the stove and cook over low-medium heat for about 45 minutes. You'll want to keep an eye on it and stir.

At the end of the 45 minutes, it should have created a "tacky" or sticky appearance that is now what you're going to use for your waxing.

Let it cool completely and then use it like you would any other type of wax.
Notes
Wooden popsicle sticks work well for applying the wax.
Related Posts