Our high fat butter coffee recipe may help you lose weight. Give it a try and see why this keto beverage is such a popular way to start the day.
Not long ago, the thought of adding butter to coffee would be regarded by most people as utterly disgusting.
Enter Bulletproof Coffee and intermittent fasting. These two health trends have become very popular. Because of both of these trends, thousands of people every morning are making a butter coffee recipe in the morning before trudging off to work.
You can even fork over $5 for a cup of butter coffee in trendy cafes.
It seems, then, that for many dieters, butter and coffee together now makes perfect sense like peanut butter and jelly.
What are the Ingredients in Butter Coffee?
Um. Butter and coffee. Actually, it depends. As you'll read a couple sections down, the inspiration for the frothy drink comes from Bulletproof Coffee. Bulletproof coffee's core ingredients includes coconut oil or MCT oil (explained below). You can also add coconut milk, vanilla extract, and or cinnamon.
To sweeten butter coffee, you can add a low-carb ingredient. Stevia, along with the sugar alcohol, erythritol, are the most popular choices.
But if you're making your own at home, you can pretty much use any ingredients you want.
How Does Butter in Coffee Taste?
Surprisingly, it doesn't actually taste that buttery. At least not when you mix it in a blender with the coffee. The main thing you'll notice about it is the creamy mouthfeel.
Are you a coffee purist? Do you like your coffee black? Want to feel the effects of the caffeine right away? Then you might want to skip the butter.
And if you're leery of how butter in coffee is going to taste, start with only a half tbsp in the blender.
How Did Butter Coffee Become Popular?
Blame it on a yak.
If this is the first you're hearing of this health trend, you're probably not familiar with Bulletproof Coffee. The trademarked product was created by a tech entrepreneur, Dave Asprey. Asprey got the idea for adding butter to coffee after vacationing in Tibet. While there, he drank teas that were fortified with yak butter.
Asprey launched the Bulletproof brand in 2013. Within a short time, Asprey has managed to convince thousands of customers that adding a couple dabs of butter to coffee is good for you. Not only that, Asprey's gospel of health includes skipping breakfast and replacing it with … you guessed it, butter coffee.
Is Butter Coffee Healthy?
But Asprey doesn't have a background in health or nutrition. Bulletproof also sells supplements, diet oils and coffee beans. So is Aspsrey just exploiting people?
After all, major health groups like the American Heart Association say consuming saturated fat raises your chances of getting heart disease. [SOURCE]
Furthermore, WebMD says many studies show heart disease risk goes down when you replace saturated fat with unsaturated.
One tablespoon of butter contains seven grams of saturated fat. Asprey's Bulletproof Coffee recipe calls for two tablespoons. Do the easy math and you get 14 grams of saturated fat. But that's not all the saturated fat. The recipe also includes coconut oil. Just one tablespoon of coconut oil contains 12 grams. Tack on another 3 grams if you're adding coconut milk.
The American Heart Association recommends limiting saturated fat intake to about 13 grams a day. But butter coffee, if you're doing it Bulletproof style, contains nearly 30 grams of saturated fat. And that's just for breakfast.
Can you see why cardiologists are shaking their heads?
Have a history of heart disease or high cholesterol in your family? Then you may want to take it easy on the butter coffee. You can add a half-tablespoon of butter. But if you're cholesterol is high, you may want to skip the coconut oil and coconut milk.
Whether or not natural sources of saturated fat is healthy or not is up for debate. But there's no doubt that many health experts caution against consuming lots of it.
What Are The Benefits of Butter Coffee?
Besides fats, butter contains several vitamins, minerals and antioxidants, including vitamin K2.
Advocates of butter coffee claim drinking it for breakfast helps with:
Improving focus, concentration and attention span
Increasing metabolism and energy levels
Eliminating brain fog and fatigue
Reducing cravings
But what about those pesky saturated fats? How do butter coffee fans get around that big mainstream-medical faux pas?
Natural health "gurus" such as Bulletproof's Asprey have a different take on saturated fat. Certain fats, even saturated ones, they believe are healthy.
Why? Let's use MCT oil as an example. It stands for medium-chain-triglycerides. Instead of getting stored as body fat like other fats, MCT oil supposedly helps you burn your own body fat for energy.
Not only that, but so-called healthy fats may raise your levels of heart-protective HDLs (the so-called "good cholesterol").
So who should you believe? Is butter bad? Not so much, according to this review of several studies, involving over 6oo,000 people.
The study concludes there is a relatively small or neutral association of butter with dying early because of heart disease. (Then again, the study didn't assess whether adding coconut oil also is bad….)
If you're ready to try it at home, here's how you can make butter coffee….
How to Make Butter Coffee
Wondering how to make butter coffee? A simple, typical butter in coffee recipe involves brewing coffee in a French press. While the coffee is steeping in the French press, you place in a blender 1-2 tbsp of butter.
Keep in mind that grass-fed butter is much healthier for you than butter that's made from grain-fed cows.
(Click here for an exhaustive research study on why grass-fed cows are healthier.)
After 3-4 minutes of steeping in the French press, the coffee should be ready to add to the blender. Blend for approximately 30-60 seconds. The end result is a frothy, rich, delicious, creamy coffee.
Butter Coffee Diet
So how did your first cup turn out?
Did it fill you up? Do you know have laser focus? Think you can skip breakfast and not eat anything for a few hours because of the butter coffee?
If so, you're not alone. Many people have adopted drinking it first thing in the morning as part of an overall diet.
One advantage of dietary fat is that it's filling. So it is possible to reduce your overall calories by skipping breakfast–without feeling deprived.
But if need solid food, butter coffee is one way to reduce how much you'll eat. Having a large breakfast and drinking a frothy fat-filled coffee with likely make you feel bloated.
Here's another advantage of skipping solid food in the morning: less carbs. Butter coffee is very low in carbohydrates, especially if you're using unsweetened almond milk and zero-calorie sweetener.
Can butter coffee really help with weight loss?
Sure, anything can.
If you eat nothing but pizza, you can still lose weight. As long as you're burning more calories than you're consuming.
But something in grass-fed butter may actually promote at least modest weight loss, according to research. And that something is Omega-3 fatty acids (omega 3's are polyunsaturated fats).
Omega-3s aren't the only type of fatty acid in butter. In fact, there are over 400 of them. Another one that may improve health and encourage weight loss is CLA (conjugated linoleic acid).
According to this study, CLA encourages at least modest weight loss results.
Another study examined a diet rich in CLA's compared to one without it. The group consuming CLA showed the greatest reduction in body mass index after consuming CLA for one year.
Butter in coffee origin
Remember, grass-fed butter is much healthier than grain-fed. In some areas, it's impossible for cows to consume grass all year. Think of Southern California, where in the summer, much of the farms are parched and green grass becomes scorched and brown.
That's why it's important to find a brand of butter like Kerrygold that's 100% grass-fed. (There's no shortage of green grass in Ireland, any time of year. As the saying goes, you know it's summer in Ireland when the rain gets warmer.)
Imported butters from Europe tend to be 100% grass fed.
If where you live has a farmer's market, ask around for a farmer who sells grass-fed butter.
What If You're Lactose Intolerant?
But what if you're one of the approximately 40 million Americans who can't digest dairy?
Instead of regular butter, try ghee. Otherwise known as clarified butter, ghee is not technically absent of dairy. However, it's safe for you because it's lactose-free. All the milk solids are removed.
So raise a cup of butter coffee and indulge in the creamy frothiness. That is, if you're not worried about saturated fat….
Kitchen Item Needed
For this recipe, you may want to have the following items on hand:
Have you tried butter coffee? Have a twist on your own butter coffee recipe you'd like to share? Don't be shy … leave a comment. And if you need more fat in your diet, make tasty fat bombs like these low carb pumpkin pie bites!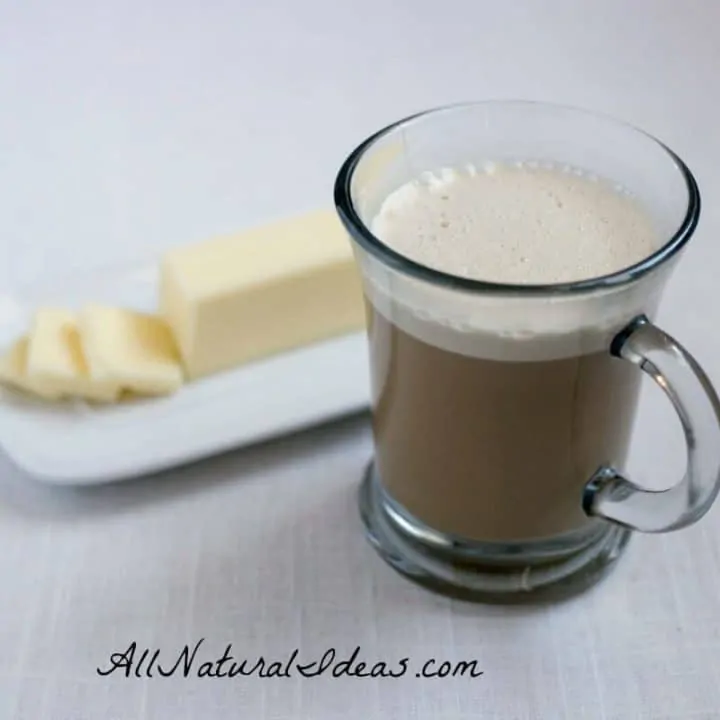 Yield:

1 serving
Butter in Coffee
Blending in butter results in a frothy, rich, delicious, creamy coffee. Why not give this butter coffee recipe a try?
Ingredients
2 tablespoons coffee beans, freshly ground
1 cup hot water
1-2 tablespoons butter, preferably grass-fed
5 drops SweetLeaf stevia drops, optional
1 tablespoon unsweetened almond milk or coconut milk, optional
1 tablespoon coconut oil, optional
dash nutmeg or cinnamon or splash of vanilla extract, optional
Instructions
Add ground coffee to French press then pour over hot water. Steep for 4 minutes.
While coffee is steeping, place butter in blender. Add optional ingredients as desired.
When coffee is done steeping, add to blender and blend for about 30-60 second until frothy.
Notes
A milk frother can be used instead of a blender so there's no need to transfer from a blender to a coffee mug.
Recommended Products
As an Amazon Associate and member of other affiliate programs, we earn from purchases at no extra cost to you!
Nutrition Information:
Yield:
1
Amount Per Serving:
Calories:

223
Saturated Fat:

19g
Cholesterol:

30mg
Sodium:

131mg
Related Posts