Turmeric, an ancient spice famous in Indian cooking, is now enjoying hipster status, particularly in the form of turmeric shots. What's the obsession with this health elixir and is there any evidence turmeric drinks can boost your health?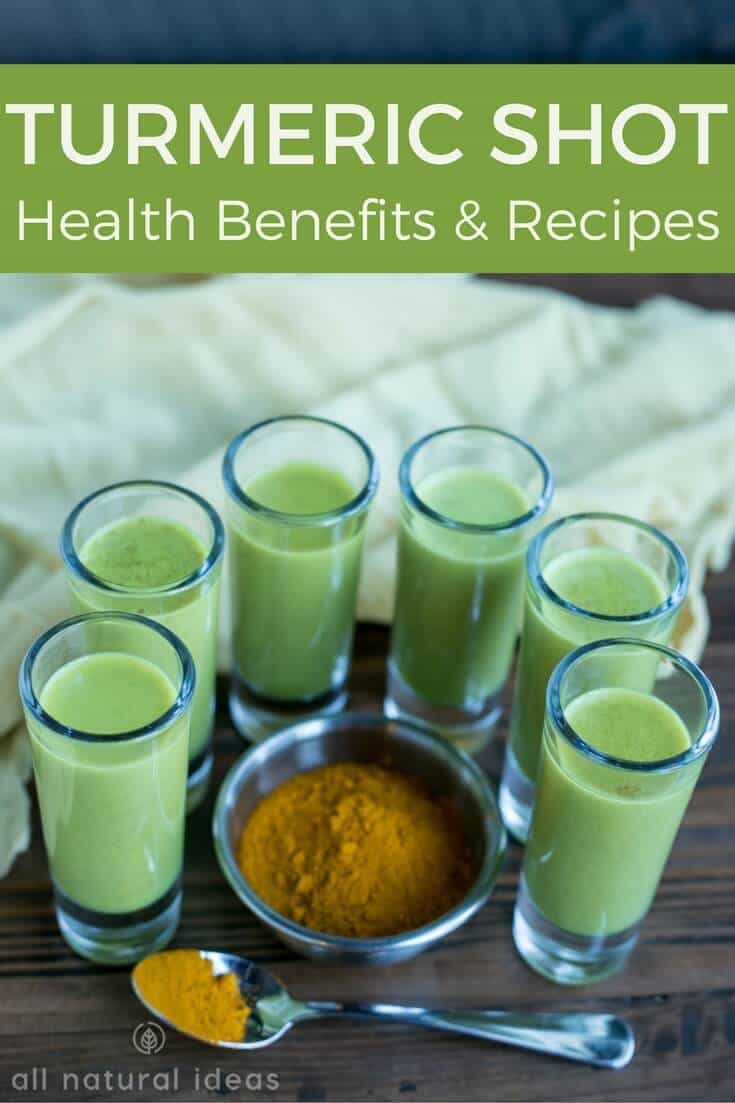 Remember your old college days pounding shots? Of course, those shots were toxic. Nowadays, more people are slamming a different kind of shot. For those that are health-conscious, each morning starts with turmeric shots or golden milk (a combo of powdered turmeric, ginger root, coconut milk and/or coconut oil and black pepper).
Why Are Turmeric Shots So Popular?
Turmeric is enjoying a surge in popularity. This is due in part thanks to a popular turmeric drink recipe featured on the Today Show (see our recipe at the end of this post). There have also been several segments about this Indian spice on the Dr. Oz show.
Apparently, turmeric is the new "kale." It's something that's been around for thousands of years but now enjoys hipster cred. Searches for turmeric continue to surge. Take for instance 2016's "Food Trends from Google Search Data: The Rise of Functional Foods." The report shows turmeric searches growing 300% over the last five years.
This, despite the fact that some recent articles, like this one on Time.com doubt its cure-all hype. Even an article from India claims that curcumin, the main compound in the spice, has no medicinal properties.
Nonetheless, "turmeric shots" yields over three million search engine results. Clearly, many people believe that it offers health benefits. Even for weight loss. In fact, "turmeric for weight loss" yields over two million results.
The main reasons why turmeric shots are trendy is two-fold. First, the spice is believed to possess high anti-inflammatory properties. So much so, some experts believe it may prevent heart disease and brain disorders. The second reason: the spice is photogenic. Its exotic saffron hue makes it Pinterest-perfect and totally Insta-worthy.
What Are Turmeric Shots?
Is it an injection of curry straight into the veins? Or, as the beginning of this post suggests something you pour in a shot glass? The answer may seem obvious (it's the latter). However, some people when hearing "shot" associate the term with something akin to a vitamin B12 injection.
And if you're not into Indian cuisine and are totally unfamiliar with the spice, let's briefly take a look at some turmeric facts….
What is turmeric?
Turmeric spice, has been used for at least a few thousand years in India. As ketchup is to the U.S, turmeric is the unofficial condiment of in India. The spice is a main ingredient in virtually every dish featuring curry powder. It's also a key ingredient in some varieties of mustard.
Benefits of Drinking Turmeric
In just the last quarter century there have been over 3,000 studies on curcumin, the main active ingredient in turmeric. That's quite a lot of studies for a spice relatively unknown in the west a decade or two ago. Here's what evidence reveals about its benefits:
It's just as powerful as drugs for anti inflammatory benefits
May help prevent heart disease, Alzheimer's Disease and dementia
High in antioxidants
Normalizes blood pressure
May help treat arthritis and cancer
As impressive as these benefits may be, can pounding shots with turmeric also help you look sexier? Let's find out….
Turmeric Drinks For Weight Loss: Fact or Fiction?
To be clear, there's no research specifically on turmeric shots for weight loss. However, there is convincing research about turmeric extract.
Curcumin is one of the 100 medicinal compounds in turmeric. This article, Therapeutic Roles of Curcumin: Lessons Learned from Clinical Trials suggests there are weight loss benefits from the active chemical compound in turmeric. Although turmeric drinks are a new health trend, it's been known since 1972 that curcumin decreases blood sugar levels. In fact, one patient with diabetes for over 15 years ingested 5 grams of turmeric powder every day.
The result? The patient's fasting blood sugar levels plummeted from 140 to 70 mg/dl. Wondering what lower blood sugar has to do with weight loss? Weight loss can only occur if your blood sugar is in a state of balance. When your blood sugar is balanced that means you have no excess insulin.
Insulin is a hormone. After you eat sugar, the pancreas releases insulin into the bloodstream. Insulin's main job is to regulate blood sugar. Love eating sugary snacks? And carb-rich foods? Your pancreas has to work harder to produce insulin. When insulin travels to your cells and in the blood, your body stops burning fat.
And when you stop burning fat as efficiently, you'll likely gain weight. See the connection? In other words, the more insulin your body needs, the less effective your metabolism is. That's why pounding turmeric shots may help you lose weight.
But only if–and this is a huge if–you add a special ingredient to it….
How to Drink Turmeric
The most important ingredient in any turmeric drink recipe is black pepper. Why? Because without black pepper, your body doesn't absorb curcumin well. But adding a pinch or two of black pepper increases the absorption factor by like a gazillion percent. Ok, not that much; it's more like 2,000% or so….
Do Turmeric Drinks For Weight Loss Really Work?
Let's revisit the study above, where the patient's blood glucose dropped by half down to 70 mg/dl. The interesting thing about this study is that when the patient stopped taking the turmeric supplement for just one week, his blood sugar level spiked back up to 140 mg/dl.
Another study, this one on overweight subjects with higher than normal blood sugar levels also supports weight loss with curcumin. In addition, the subjects also had drastic reductions in body fat, waist and hip circumference, and Body Mass Index.
And if you're a lady who experiences hormone-related weight gain, this study offers promising results.
Ginger Turmeric Shot: A Powerful Anti-inflammatory Combo
Many people who drink turmeric also add ginger. Ginger is another powerful anti-inflammatory food. Ginger root and turmeric (either in root form or powder) together can be made into a drink called "golden milk." Another couple ingredients to add to golden milk are black pepper (because it enhances the absorption of curcumin) and a healthy fat such as coconut oil. Curcumin is fat-soluble. That means you should have a little fat with it (a tablespoon is more than enough) of coconut or olive oil to help you absorb more of the therapeutic compounds in turmeric and ginger.
Ginger and turmeric weight loss
As you can see above, there are possible weight loss benefits of turmeric. But why add ginger to a turmeric shot? Can ginger enhance the weight loss effect? The research at least mildly suggests so.
Firstly, ginger, like turmeric, improves blood sugar. It does this by making you more sensitive to insulin. Insulin sensitivity means you don't need as much insulin. When your body needs a lot of insulin it means you have more fat in your tissues and blood.
This research article on ginger shows that it reduces:
Body weight

Waist/hip circumference

Fat in the blood

Cholesterol

Blood sugar
These benefits occur when ginger is added with other herbs. It makes sense then to combine ginger and turmeric. Especially considering the research on these two savory spices.
Ginger shot benefits
Besides possible weight loss benefits when ginger is added to the shots, ginger also relieves nausea and upset stomachs. Turmeric also helps with digestive upset. It even helps manufacture more bile, which is released by the gallbladder and helps break down fats.
There's no clear-cut proof that turmeric or ginger cure cancer. But both spices may inhibit tumor growth. Furthermore, ginger may also aid in the following:
Enhance immunity

Improve liver function

Reduce cholesterol
Turmeric Drink Recipe
Here's a basic recipe for the shot. You'll need either fresh turmeric or powder. Use a 2-1 ratio of turmeric to ginger. If you're using the root, two small whole turmeric pieces are enough. Or, use a couple teaspoons of powder. Along with water, you can add some lemon, honey or stevia to complete your turmeric shot.
Simply boil 3-4 cups of water. If using fresh turmeric and ginger, grate it. Add them to the water after it boils. Also add some lemon and a teaspoon of honey. Allow the brew to steep for about five minutes. Voila! There's your shot.
You can also use coconut milk instead of water as a base. Below is recipe that's great to sip before bed or for adding to a morning cup of coffee.
Yield:

6 people
Coconut Milk Turmeric Shots
A healthy shot of turmeric may help with weight loss and more. Here's a mix made with coconut milk that tastes great as a coffee creamer alternative.
Ingredients
14 ounces canned full-fat coconut milk
1 tsp ground turmeric
1/2 tsp ground ginger
1/2 tsp ground dried stevia leaves
1/2 tsp ground cinnamon
dash black pepper
1 tbsp coconut oil (optional)
Instructions
Blend all ingredients until well combined. Store in refrigerator.
Notes
Can be consumed as a shot or mixed into coffee as a creamer.
Nutrition Information:
Yield:
6
Serving Size:
1
Amount Per Serving:
Calories:

153
Total Fat:

16g
Saturated Fat:

14g
Trans Fat:

0g
Unsaturated Fat:

1g
Cholesterol:

0mg
Sodium:

9mg
Carbohydrates:

3g
Fiber:

0g
Sugar:

0g
Protein:

1g
Nutritional information for the recipe is provided as a courtesy and is approximate only. We cannot guarantee the accuracy of the nutritional information given for any recipe on this site.
How Much Turmeric Do You Need A Day?
Drinking just one shot a day may not be enough. But two might do. Experts recommend getting 5 grams a day of both turmeric and ginger. A couple shots a day yields the suggested amount. More or less, that's about a couple teaspoons a day … to possibly keep the doctor away.
Related Posts