Could it be hormones are the culprit for weight-loss resistance? Let's check out some of the root causes of hormones and weight gain issues.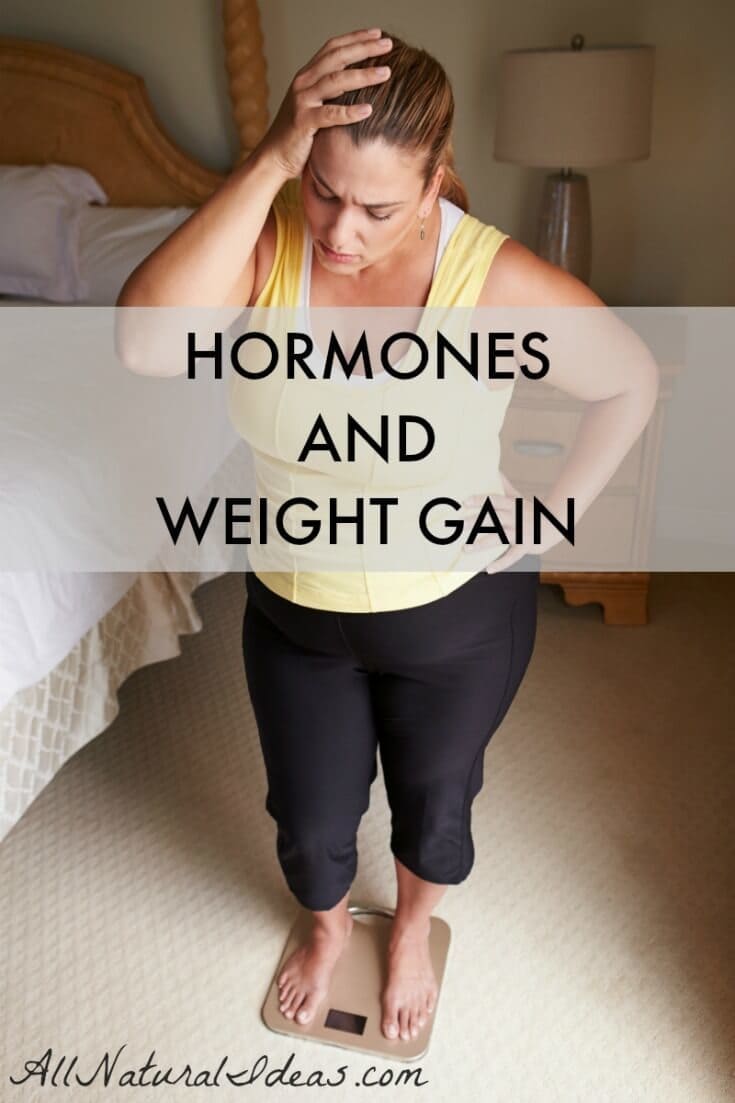 Some people can't seem to lose weight. This happens regardless of whether they're eating right and exercising. Is this happening to you? Could it be a hormonal imbalance?
You're hitting the gym, even squeezing in a couple sessions of hot yoga. You've ditched the chips and soda and pasta and have been eating balanced low-carb meals. But for some reason, those last stubborn 10-15 pounds won't melt away.
Are you exercising the wrong way? Should you be doing more high-intensity interval training? (Maybe; read the abstract of this study.) Is something off with your diet? Are you not eating enough foods that encourage fat-burning? Maybe you should try a lower-calorie fat fast?
Or maybe the reason you're having such a hard time losing excess weight has nothing to do with how you're exercising or eating. Maybe it's your hormones?
How do you know if your hormones are causing weight loss problems?
Hormones are chemical messengers that travel through the bloodstream and instruct our organs and cells to perform certain tasks. These hormones control every function in our body, from your body temperature, sexual function, metabolism and your mood. Hormones and weight gain are often related.
The only way to know for sure if your hormones and weight are related is to have them tested by a medical professional or someone who has been trained in functional diagnostic testing. You can't simply guess that your estrogen or testosterone levels are out of whack and that's why you can't lose weight. You must get diagnostic verification before blaming your hormones on weight-loss resistance.
Hormone testing is analyzed by three methods: blood, saliva, or urine.
Kim Kelly, a naturopathic doctor in Encinitas, CA, prefers blood tests.
"I find blood tests to be the most accurate," says Kelly. "The only hormone that I test using a saliva sample is cortisol."
Cortisol is one of the stress hormones, and the levels of this hormone, which is secreted by the adrenal glands, fluctuates during the day. A blood test only analyzes the cortisol level at the time of day the blood test was taken; a saliva test can provide four readings during the day.
In a healthy person, cortisol levels are highest in the morning, then gradually taper during the day, and low while sleeping.
Weight Loss Enemy #1: Cortisol
Kelly attributes the inability to lose weight on high cortisol. Cortisol is great if you need to sprint after your dog who is about to cross a busy street. It's also great if you need to sprint because a wild dog is chasing you across the street. Cortisol slows digestion and directs blood sugar into the muscles, giving you the energy you need to chase or flee.
But chronic cortisol secretion by the adrenal glands can lead to weight loss problems. That's because cortisol secretion slows digestion and takes triglycerides from storage and transports them to deep abdominal fat cells. The body does this for the same reason it did thousands of years ago: to preserve body fat for potential starvation/low-calorie periods.
High cortisol levels also lead to higher blood sugar levels. High blood sugar levels trigger a vicious cycle. During periods of high stress, your cells don't get enough glucose. That's because your muscles need them to potentially outrun a predator. But to compensate, we tend to overeat.
Cortisol and the overeating connection
Over time, your cells demand more energy. How do your cells get more energy? By signaling your brain to eat! This leads to a potential overeating scenario.
When you get hungry during times of elevated stress, what do you usually crave? Chances are, not steamed broccoli or kale. Most likely, you'll crave high calorie foods.
A study in Neuroendocrinology involving healthy premenopausal women concluded that the women exposed to psychological stress consumed more calories on the day they experienced the stressor. In later days, when the stressor was not introduced, the researchers observed the group exposed to psychological stress ate just as many calories as the day they were exposed to psychological stress.
In other words, undergoing chronic stress can lead to overeating not only during stressful times, but also after the stressor has passed. The researchers also noted that the group exposed to high stress ate significantly more sweet food for the study duration.
Increases in negative mood in response to the stressors were also significantly related to greater food consumption. "These results suggest that psychophysiological response to stress may influence subsequent eating behavior. Over time, these alterations could impact both weight and health," the researchers concluded.
Dr. Kelly says that the best way to reduce cortisol levels is not by hormone replacement therapy, but by learning to cope with stress. "It's impossible to get rid of stress, but if you learn effective stress-management techniques, you'll be able to reduce the physiological adverse effects of chronic stress, including weight gain" she says.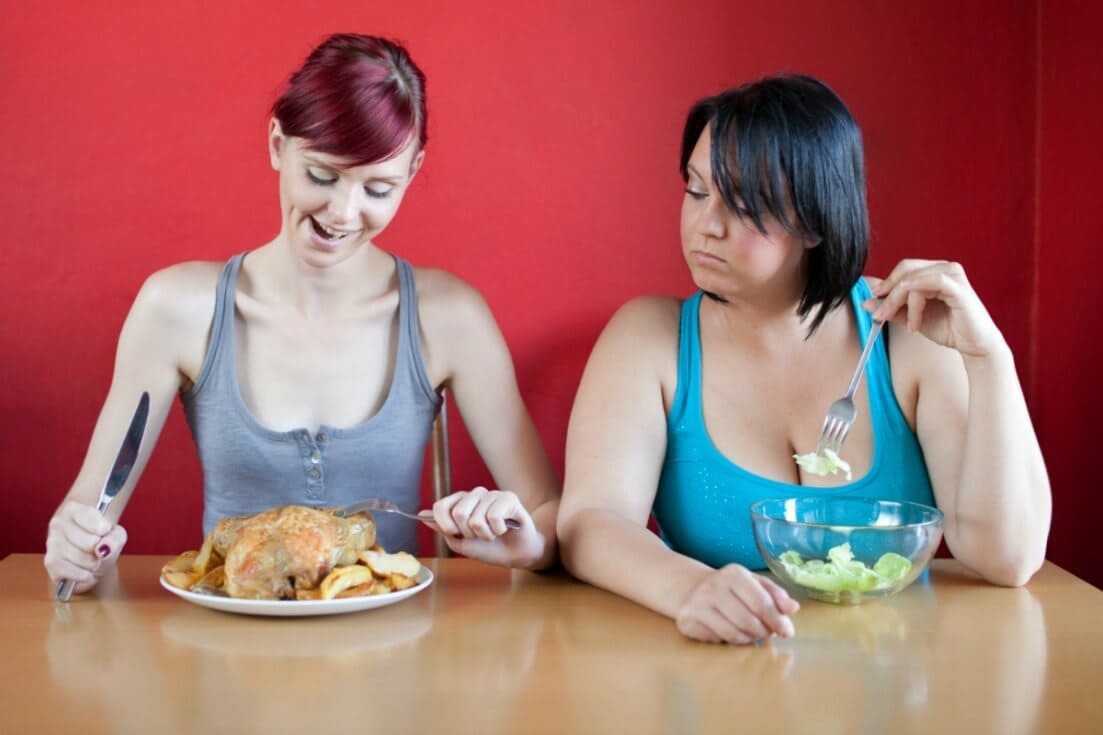 Other hormones to blame for weight-loss problems
Cortisol levels can interfere with sex hormones. A hormone blood test analyzes sex hormones (or precursors to sex-hormones) such as DHEA, testosterone, estrogen and progesterone. A blood test can also assess thyroid hormone levels. All of these hormones can wreak havoc with metabolism.
Dr. Kelly says that in her practice, hormone levels can widely vary from patient to patient. However, weight problems typically occur when cortisol is high, testosterone and thyroid levels are low, and estrogen is high.
Why not have your hormone levels tested? This can give you some insight as to whether hormones and weight gain are related.
Paper or plastic?
Chemicals introduced into the environment in recent years also can wreak havoc on your hormones. Every time a cashier hands you a receipt, ask them to throw it away. That's because receipts are coated with BPA, a toxic chemical that can disrupt normal hormonal function.
If you really need a receipt, ask the cashier to throw it in a bag. Try to use just your finger tips and grab the receipt in the corner if you absolutely must handle it.
Plastic materials can also disrupt estrogen levels. Some chemicals found in plastic mimic estrogen, driving levels too high and causing a myriad of problems, such as weight-loss resistance. These chemicals found in paper and plastic as well as canned goods are called "endocrine disruptors." Your endocrine system comprises all the glands that produce hormones.
If you are into natural living, you probably aren't using synthetic perfumes, conventional shampoo and conditioner and toxic household cleaners. But it's worth mentioning many cosmetics and beauty products and everyday cleaners contain endocrine disruptors.
Too much coffee
Excess caffeine can also interfere with normal hormone function, especially cortisol. (For more on this, read: Coffee and Belly Fat.) This could be leading to issues with hormones and weight gain.
Hunger Hormones
Most people focus on cortisol as the main hormone associated with weight gain. But few people think of the appetite hormones. One hunger hormone, leptin, is produced by fat cells and signals your brain to stop eating. But thanks to the rise of high fructose corn syrup in the American diet, our collective levels of leptin have increased.
You might think that having more leptin means more signals to the brain to stop eating. But anytime you have more hormones than you need, it's not a good thing. Your body becomes resistant to the particular hormone.
Solutions for hormones and weight gain problems
In addition to stress-management techniques (meditation, yoga, adaptogenic herbs, tai chi, etc,), bio-identical hormones can restore proper hormone levels.If you suspect hormones and weight gain issues, it's best to consult a medical professional properly trained in functional diagnostic medicine for more information.
You may want to stay away from maca. Although it's been said to help balance hormones, some say taking maca root and weight gain can be related.
Related Posts