Learn how to make zoodles to transform your spaghetti dishes healthier. Enjoy them with a simple white pasta sauce or no sugar added marinara.
When I first started making zucchini noodles, or zoodles for short, they weren't the best. The problem was that I wasn't preparing them properly to use as a replacement for spaghetti.
I used an inexpensive hand spiralizer back then, but that wasn't the issue. The thing I was doing wrong was that I was using them right after spiralizing.
There is a secret you need to know on how to make zoodles the best that they can be. But, you'll need to have some patience because it requires time.
Zucchini contains a lot of water. And, if you don't allow that moisture to be released from the zoodles before using, you'll end up with a watery final dish.
I've read several articles on how to make zoodles, like this one. And, I've experimented with the different methods. In this post, I'm sharing the one that works best for me.
How to make zoodles with a spiralizer
The best way to cut the zucchini is with a good quality spiralizer. It is possible to make them without this tool and I'll get into that in a bit.
With a spiralizer, you twist the zucchini through the blade to get perfectly cut zoodles. Most come with different blades so you can make thick, thin, and even ribbon size vegetable strips.
Because the zucchini is being twisted through the blade in a spiral, you will get very long zoodles. So, you will want to cut them down into shorter pieces that are easier to eat.
How to make Zoodles without a Spiralizer
It's a bit more involved to make zucchini noodles without using a spiralizer. You could just use a knife to cut the zucchini into long strips lengthwise. Then cut each of those strips into think strands.
I've also seen people use a julienne tool to make the thin strips. However, it's difficult to get the long spaghetti-like strands julienne peeler.
Similar to the julienne tool, you can use a regular vegetable peeler. With it, you can make thin, but wide zoodles. It would be more work to make those into thin strips.
Another tool I've seen used is a box grater. This method gives shredded pieces that are short and thin. Not really the best for noodles.
How to Make Zoodles Not Watery
When I first learned how to make zoodles after buying a spiralizer, I cut the zucchini right before eating. However, this isn't the best method to use as it can result in watery dishes.
The best thing to do is to cut your zucchini at least one day in advanced. What I do is spiralize a few zucchini and then let the zoodles sit in the refrigerator wrapped in paper towels overnight.
As the zucchini strands sit in the fridge, the water will soak out into the towels. You can change the towels as needed if you want as they will get pretty wet. But I find that isn't necessary.
How to Cook Zucchini Noodles on the Stove
Now that most of the water has been removed from the zoodles, it's time to cook them for your dish. I like to sauté them in butter or oil until they get soft, but not mushy, like an al dente spaghetti.
It doesn't take very long to cook the zoodles. They'll be done in only a few minutes. Since a lot of the moisture has been removed, there's less chance for them to get mushy.
How to Cook Zucchini Noodles in the Microwave
Some people like to use the microwave to cook their zoodles. All you do is place them in a covered dish with a tiny bit of water and cook on high power for about two minutes.
You'll want to make sure the zucchini noodles aren't cooked too long or they will get soggy. If the zoodles come out wet after microwaving, you'll want to drain or absorb out any excess water.
How to Serve Zoodles
Now that you know how to make zoodles, you'll want to have a few recipes ready for enjoying them. Once you've prepared the zucchini noodles, there are a number of ways to enjoy them.
I usually serve mine with a simple low carb white sauce made with heavy cream. I've also served them with clam sauce and low carb Alfredo sauce.
White Pasta Sauce Recipe
Below you'll find the recipe for my simple cream sauce. What's your favorite way to enjoy zoodles?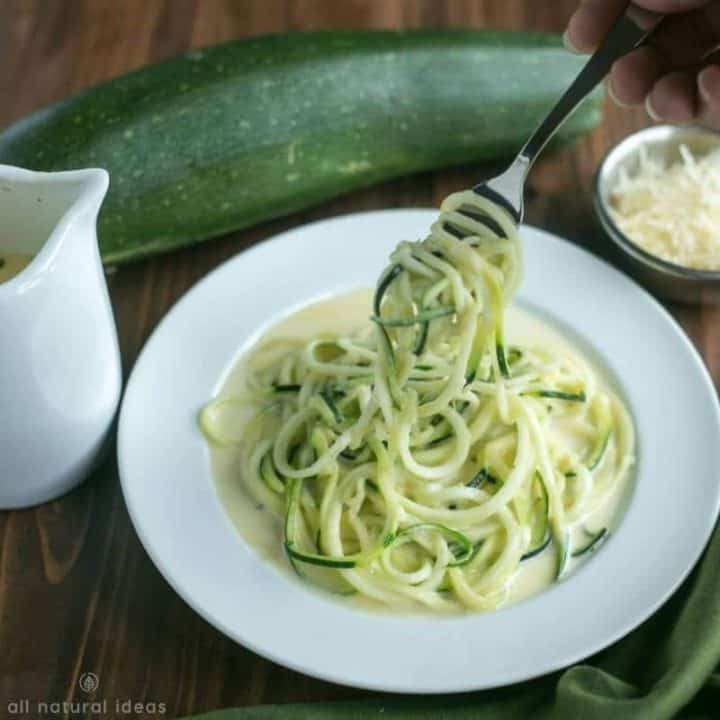 Yield:

6 people
Zoodles with White Pasta Sauce
Make your spaghetti dishes healthier with zucchini noodles. This simple white sauce is excellent served with spiralized vegetable noodles.
Ingredients
For Zoodles:
3 medium zucchini, spiralized
2 tablespoons butter
For Sauce:
2 tablespoons butter
1 clove garlic
1 cup heavy cream
1/4 cup parmesan cheese
1/4 teaspoon oregano
salt & black pepper, to taste
Instructions
For Zoodles
Use spiralizer to make vegetable noodles out of zucchini.
For best results, place zucchini noodles on paper towels to absorb moisture for several hours or overnight in the refrigerator.
Melt 2 tablespoons of butter in large skillet or pot. Add in vegetable noodles and stir fry until noodles are softened and bend easily like pasta.
For Sauce
Melt butter in medium saucepan over medium high heat. Add garlic and cook just until fragrant.
Add in cream and cheese. Stir over medium heat until cheese has melted and sauce is thickened.
Stir in seasonings.
Serve warm over vegetable noodles.
Notes
Although draining as much liquid out of the zucchini noodles as possible and stir frying them first gives the best results, they can be softened in the sauce if desired.
Nutrition Information:
Yield:
6
Serving Size:
cup
Amount Per Serving:
Calories:

229
Saturated Fat:

14g
Cholesterol:

77mg
Sodium:

201mg
Carbohydrates:

3g
Sugar:

1g
Protein:

3g
Related Posts