This post may be sponsored or contain affiliate links. We may earn money from purchases made through links mentioned in this post, but all opinions are our own. We are a participant in the Amazon Services LLC Associates Program, an affiliate advertising program designed to provide a means for us to earn fees by linking to Amazon.com and affiliates sites.
Got an abundance of zucchini in your garden? You are sure to find a new favorite recipe in this collection of 52 zingy low carb zucchini recipes.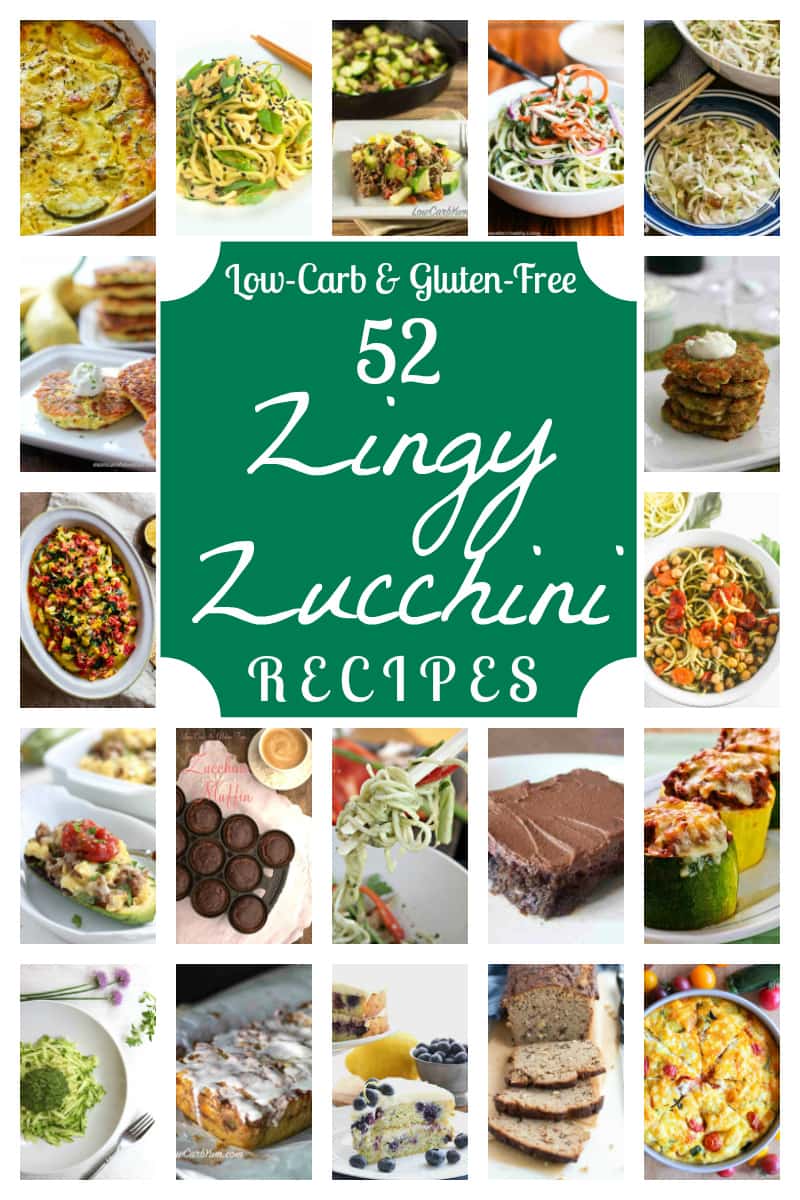 Here in New England, we enjoy an abundance of fresh garden vegetables in the summer. Zucchini is our favorite summer squash. Since we keep our diet low in carbs, I've gathered 52 low carb zucchini recipes to share.
Zucchini is a wonderful vegetable to consume if you are looking to reduce weight. This is because it's low in calories, but makes you feel full. Zucchini fills you up because it is high in water and fiber. So, eating low carb zucchini recipes are perfect for weight loss.
MY LATEST VIDEOS
You will get tons of nutritional benefit from consuming zucchini. It's a good source of manganese. You'll also get vitamin A, magnesium, folate, potassium, copper, and phosphorus from eating this popular summer veggie. It's also has a high amount of omega-3 fatty acids.
We hope that you enjoy this collection of low carb zucchini recipes to reap the benefits of this fantastic summer squash.
52 Zingy Low Carb Zucchini Recipes
Zucchini, Goat Cheese, and Tomato Frittata at The Roasted Root
Crock Pot Zucchini and Yellow Squash at Low Carb Yum
Salmon Salad Power Bowls at Cotter Crunch
Skillet Balsamic Chicken with Sweet Peppers and Zucchini at Aggie's Kitchen
Crustless Zucchini Radish Quiche – Paleo at Low Carb Yum
Zucchini Noodles With Sunflower Seed Butter Dressing at Jeanettes Healthy Living
Grilled Cheesy Bacon Hassleback Zucchini at Sugar Free Mom
Low Carb Spaghetti Bolognese at Ditch The Carbs
The Easiest Zucchini Fritters at Low Carb Maven
Squash Noodles with Kale Arugula Pesto at Lauren Kelly Nutrition
Courgette Mint Feta Fritters at Ditch The Carbs
Cold Sesame Peanut Zoodles at The Lemon Bowl
Zucchini Live Pasta With Sorrel, Basil And Hemp-Seed Pesto at The Nourished Caveman
Spiralized Zucchini Noodles and Clam Sauce at Low Carb Yum
Caprese Zucchini Noodle Pasta Salad at Sugar Free Mom
Squash Zucchini Tomato Salad at Low Carb Yum
Meat, Tomato, and Mozzarella Stuffed Zucchini Cups at Kalyn's Kitchen
German Chocolate Zucchini Cake – Gluten Free at Low Carb Yum
Bacon Cheeseburger Stuffed Zucchini Boats at Sugar Free Mom
Carbquik Zucchini Pie at Low Carb Yum
Zucchini Boats with Tomatoes and Fresh Mozzarella at Bless This Mess Please
Crock Pot Zucchini Bread – Gluten Free at Low Carb Yum
Leftover Chili Stuffed Zucchini Boats at Aggie's Kitchen
Low Carb Zucchini Bread – Gluten Free at Low Carb Yum
Zucchini and Feta Fritters – Low Carb And Gluten-Free at All Day I Dream About Food
Easy Zucchini Squash Frittata at Low Carb Yum
Coconut Flour Zucchini Fritters – Gluten Free at Low Carb Yum
Low Carb Zucchini Pancakes at Low Carb Yum
Zucchini Tortillas For Soft Tacos at Low Carb Maven
Zucchini Bake with Feta and Thyme at Kalyn's Kitchen
Roasted Summer Squash and Zucchini at Eating Bird Food
Asian Inspired Zoodles with Cilantro Pesto at The Urban Poser
Zucchini Blueberry Muffins at Low Carb Yum
Chocolate Zucchini Muffins at Maria Mind Body Health
Chocolate Zucchini Muffins at Low Carb Yum
Coconut Flour Zucchini Muffins at Low Carb Yum
Zucchini Breakfast Boats at Low Carb Maven
Mock Apple Crisp From Zucchini at Low Carb Yum
Mini Zucchini Pizza Bites at Sugar Free Mom
Low Carb Zucchini Cinnamon Apples at Low Carb Yum
Zucchini Noodle Fettuccine with Cauliflower Alfredo at Eating Bird Food
Spiralized Zucchini Casserole at Low Carb Yum
Salmon Zoodles with Kale Pesto and Feta at Ditch The Carbs
Spiralized Zucchini Asian Salad at Low Carb Yum
Mexican Zucchini and Beef at Low Carb Yum
Parmesan And Roasted Garlic Baked Hummus Dip with Zucchini at Cotter Crunch
Chicken with Zucchini and Tomatoes at Low Carb Yum
Zucchini Spice Cupcakes Gluten Free at Low Carb Yum
Blueberry Zucchini Cake with Lemon Frosting at All Day I Dream About Food
Zucchini Apple Fritter Bread – Gluten Free at Low Carb Yum
Low Carb Zucchini Bread (Coconut Flour) at Low Carb Maven
Chocolate Frosted Zucchini Brownies at Low Carb Yum
Related Posts