Eggs make a perfect meal any time of day. Try this yummy spinach tomato avocado omelette recipe for dinner and you'll be full the rest of the night!
Dietary fats are an important part of a healthy diet. Avocados are a perfect source of fats and can be easily added to every day meals.
I often eat eggs for dinner since they are quick and easy to turn into a meal. If you are looking for a yummy omelette to fill you up after work, I recommend this spinach tomato avocado omelette.
Sometimes I get really busy at work and come home starving. I could easily eat up a bunch of grab and go snacks, but prefer making a healthy dinner instead. Breakfast foods make excellent meals anytime and I often eat keto pancakes as a snack or complement to dinner.
Like most low carb eaters, I keep a large supply of fresh eggs on hand. My fridge can be almost empty, but I never let myself run out of eggs. It's always time to go to grocery shopping if there's less than a dozen in the house.
You can throw just about anything into an omelette. I like to make this vegetarian version with fruits and vegetables I typically have on hand.
You'll just need some fresh baby spinach, tomato, bell pepper, and an avocado. A full avocado is way to much for a serving so I eat one half at a time.
If don't eat avocados regularly, you should give them a try. You can see all the great health benefits of avocados here.
And, if you are afraid to eat fats, check out this post on why dietary fat is so important. Still not convinced? Find out what a popular celebrity nutritionist says about eating fat in this interview with Dr. Jonny Bowden.
The truth is that your body will run much more efficiently on fats when you cut back on carbohydrates.
A lot of people learn this the hard way after struggling with weight then turning to a low carb diet to finally lose the weight for good.
From my own experience, a low carb high fat diet is the best choice as the body becomes adapted to burning fats rather than sugars. And you don't have to give up all your favorite foods. With clever recipes, you can even enjoy keto cinnamon rolls!
Printable Avocado Spinach Omelette Recipe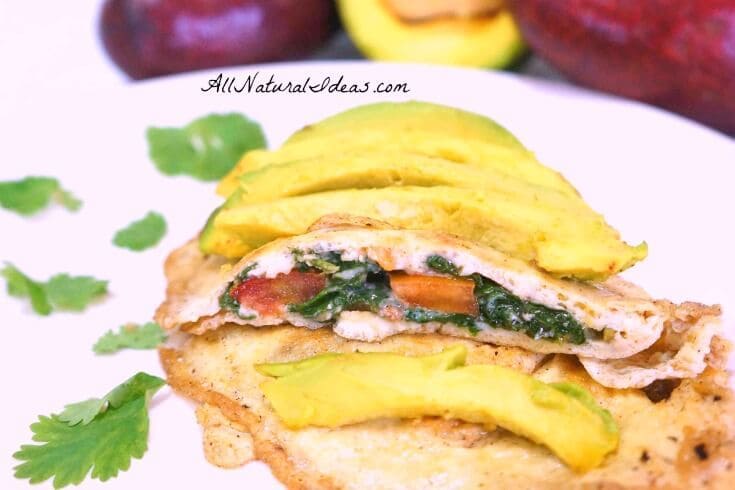 So, go ahead and enjoy this high fat spinach tomato avocado omelette. It will fuel you up and keep you full for hours. Eating one of these loaded omelettes after work will keep you full for the rest of the day!
Yield:

1 serving
Spinach Tomato Avocado Omelette
Eggs make a perfect meal any time of day. Try this yummy spinach tomato avocado omelette recipe for dinner and you'll be full the rest of the night!
Ingredients
1 tablespoon olive oil
2 eggs
1/2 avocado, ripe
1/2 cup spinach
1/2 small white onion, chopped
1/2 medium bell pepper
1/2 medium tomato
Salt & Black Pepper, to taste
Instructions
Heat pan with olive oil.
Sauté white onions until translucent. Add spinach, bell pepper and tomatoes. Season with salt and black pepper. Sauté for 2 to 3 minutes. Set aside.
In a bowl, beat eggs and season with salt and black pepper.
On the same pan with low heat, add beaten eggs and cover for 30 seconds.
Add sautéed spinach, bell pepper and tomatoes on one side of the egg omelette. Fold resembling a half moon. Cook thoroughly.
Serve immediately with avocado slices on top. Enjoy!
Nutrition Information:
Yield:
1
Amount Per Serving:
Calories:

465
Saturated Fat:

6g
Cholesterol:

327mg
Sodium:

151mg
Carbohydrates:

20g
Fiber:

9g
Sugar:

7g
Protein:

15g
Nutritional information for the recipe is provided as a courtesy and is approximate only. We cannot guarantee the accuracy of the nutritional information given for any recipe on this site.
Related Posts