This post may be sponsored or contain affiliate links. All opinions are our own. We may earn money through links (at no additional cost to you) in order to keep the information on this site free.
Healthy fat is a necessary component of any diet. But, many diets do not achieve a healthy omega-6 to omega-3 ratio to prevent common ailments.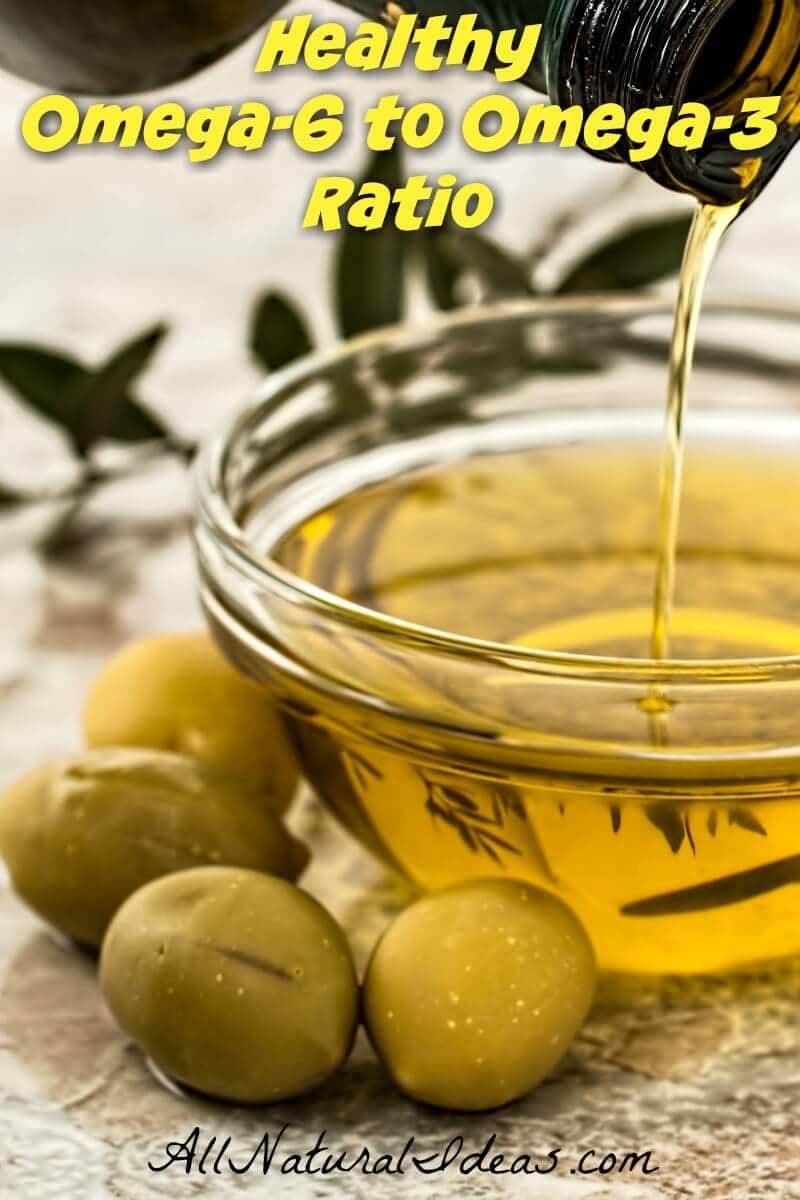 We need fatty acids from food. That's why they're called 'essential' fatty acids.You've probably heard of omega-3 fatty acids. And omega-6s. We need both for optimal health. But there's a healthy omega-6 to omega-3 ratio….
The bad news is most people are on the wrong side of this ratio. Eating heavily processed and packaged foods skyrockets omega-6 levels. Sources of omega-3 fatty acids are more limited than omega-6s. Omega-3s come from healthy food sources. It's no wonder that the average Standard American Diet (SAD) consumes too many omega-6s and not enough omega-3s.
Why are too many Omega-6 essential fatty acids bad if they are essential to the diet?
Sign-up now for our FREE Weekly Newsletter!
Every single food you eat either has a tendency to promote inflammation or reduces inflammation. Some foods may be neutral on the inflammatory scale. But the vast majority of foods either are pro- or anti-inflammatory.
Both omega-6s and 3s are polyunsaturated fatty acids. The reason why the average Western diet has far too many omega-6s is this: Processed foods are rich in omega-6s because they are made with cheap vegetable- and seed oils.
Isn't vegetable oil good for you? After all, veggies are healthy…
Yes, vegetables, especially low-starch veggies (most veggies grown above ground fall into this category) are healthy. But oils derived from vegetables or seeds are highly pro-inflammatory. The worst offenders include:
Sunflower
Corn
Soybean
Cottonseed
Peanut (technically a legume, but it's often lumped together with veggie and seed oils)
These oils are very high in omega-6 fatty acids. When you cook with these oils, they can turn rancid very easily. One reason is because veggie and seed oils tend to have low smoke points. In fact, forget about smoke points. Veggie and seed oils are usually oxidized (spoiled, rancid) before they are even poured out of the bottle for the first time! Next time you go to the market, take notice of vegetable and seed oils (including Crisco).
There are two things that make oils go bad: heat and light.
What do you notice about the bottles of vegetable and seed oils? The bottles are translucent, clear. They are easily exposed to light. And there's a good chance they've been heated during processing.
Lots of health experts also say that veggie and seed oils are bad because they are a new invention. It's only been about a century or so since humans began consuming these omega-6-rich oils. These health experts also say that our genetics have not had a chance to adapt to vegetable and seed oils.
But maybe even in a million years, humans will still not adapt to these rancid oils. How can we ever adapt when these veggie and seed oils are so highly pro-inflammatory?
What Is a Healthy Omega-6 to Omega-3 Ratio?
In a way it doesn't matter what the the healthy omega-6 to omega-3 ratio is. Unlike, say, counting carbs, it's difficult to count your ratio. The best way to make sure that you have a healthy omega-6 to omega-3 ratio is to drastically cut down on baked goods and packaged processed food. Also avoid cooking with vegetable and seed oils.
On a side note, olive oil should not be lumped in with veggie oils. Olives are fruits. Technically, olive oil is a fruit juice. Olive oil can go rancid and be of poor quality. But if you buy a reputable olive oil and don't cook with it at high heat, you'll get numerous health benefits. (Olive oil has very little omega-3s and 6s; it's mostly a monounsaturated fat.)
Still, if you are interested in knowing what's considered a healthy omega-6 to omega-3 ratio, here's some info:
According to this review of medical literature on omega-6s and 3's, human beings evolved on a diet with a ratio of omega-6 to omega-3 of approximately 1:1. Today, the ratio in Western-prevalent diets is at least 15:1.
Diets high in omega-6's, according to the review, promote the pathogenesis (how a disease develops) of many diseases, including:
Cardiovascular disease
Cancer
Type 2 diabetes
High blood pressure
Inflammatory
Autoimmune diseases
Diets with increased levels of omega-3s do the opposite. They suppress the pathogenic effects of chronic disease, concluded the researchers.
Here are some other interesting findings about healthy omega-6 to 3 ratios from the study:
A ratio of 4:1 was associated with a 70% decrease in total mortality from cardiovascular disease.
A ratio of 2.5:1 reduced rectal cell proliferation in patients with colorectal cancer.
A lower omega-6 to omega-3 ratio in women with breast cancer was associated with decreased risk.
A ratio of 2-3:1 suppressed inflammation in patients with rheumatoid arthritis.
A ratio of 5:1 had a beneficial effect on patients with asthma (a ratio of 10:1 had adverse consequences.)
The researchers concluded, "A lower ratio of omega-6 to omega-3 fatty acids is more desirable in reducing the risk of many of the chronic diseases of high prevalence in Western societies."
As you can see, it's very difficult to measure your 6 to 3 ratio. Hardly anybody knows if their ratio is a healthy 1-4:1 or very unhealthy 15:1.
What can I eat to have a healthy omega-6 to omega-3 ratio?
You've already been told what not to eat to have a healthy essential fatty acid ratio. Now it's time to learn what to eat. To get more omega-3 essential fatty acids from the diet, the easiest foods to consume more of include:
Wild salmon
Pasture-raised eggs or omega-3 enriched eggs
Fish oil or krill oil supplement
Grass-fed-sourced beef or dairy
Flax seeds, chia seeds
Take note that plant-based sources of omega-3s such as flax- and chia seeds may not be as potent sources of omega-3s as wild/pasture-raised animal sources. They still offer numerous health benefits. Make flax and chia an important part of your diet. Add them to yogurt or salads. (The reason why plant sources may not be as powerful a source of omega-3s is a topic for another article.) For vegans, a high-quality algae supplement may provide omega-3s.
What health benefits do Omega-3s offer?
Omega-3s have been proven to have anti-inflammatory properties.They also show promise to improve various mental disorders. One study concluded, "The evidence to date supports the adjunctive use of omega-3 fatty acids in the management of treatment [of] unresponsive depression and schizophrenia." Another study concluded omega-3s demonstrate promise for treating bipolar disorder.
Conclusion
Many people still buy into the media hype that saturated fat is bad for you. As a result, many people mistakenly believe it's healthy to cook with vegetable and seed oils. It's no wonder that chronic disease rates have skyrocketed since the introduction of veggie and seed oils. They are highly pro-inflammatory. Saturated fat is neither an omega-3 or an omega-6. Both 3's and 6's are polyunsaturated fats. Saturated fats are more chemically stable and are more resistant to spoilage. That's why it's better to cook with them rather than with veggie and seed oils.
To achieve a healthy omega-6 to omega-3 ratio, it goes without saying to avoid baked goods and most snack foods. That they contain a high amount of pro-inflammatory omega-6s is yet another reason to avoid them.
Related Posts