Salt processed in bamboo is used to treat several health problems, including oral ones. Discover the bamboo salt toothpaste benefits provided.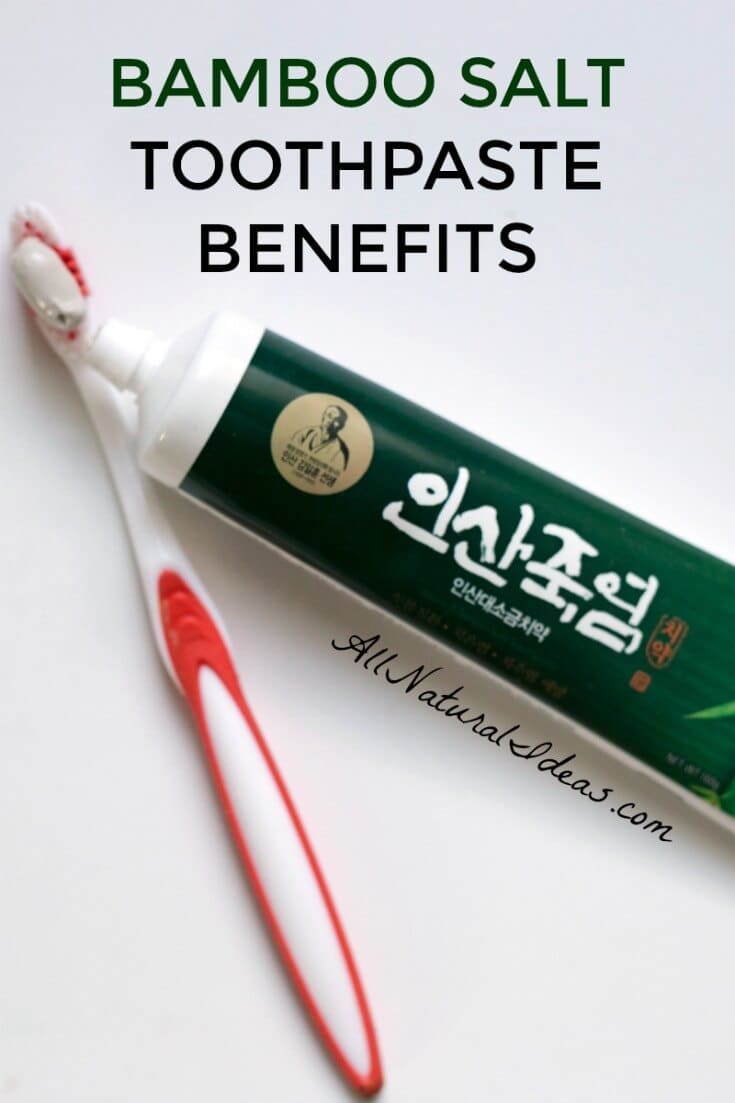 Bamboo salt is an all-natural solution for oral hygiene that's been used for over 1,000 years. As more people learn the dangers of commercial brand toothpaste, toothpaste made with natural alternatives are becoming more popular in the west.
Conventional toothpastes can contain ingredients that may potentially be toxic for human health. These dubious ingredients include fluoride, Sodium Lauryl Sulfate (SLS), triclosan, artificial sweeteners, and more.
As you can imagine, toothbrushes did not exist centuries ago. Even today, many people in developing countries don't have access to toothbrushes. And certainly not electric toothbrushes. Salt is nature's antiseptic and cavity fighter.
The idea of using salt naturally processed in bamboo for medicinal purposes originated in Korea. It was used in Korea historically by traditional healers and monks for a wide variety of illnesses.
One use of bamboo salt is to help heal canker sores in the mouth. These days, different brands of bamboo salt toothpaste are available to the public.
Even in the US, you can find an all natural toothpaste using salt from bamboo online. One popular brand is LG, but be aware that it isn't completely natural.

Sea salt is placed into cases made from bamboo trunks that have been growing for at least three years. The traditional recipe for bamboo salt includes sealing it with red clay. Then, the salt is baked in a kiln nine times at a very high temperature.
Benefits of bamboo salt
There are many benefits to using bamboo salt. One of which is its alkaline property. The average western diet contains a lot of processed food. Processed foods may contribute to excess acidity in the gut.
Bamboo salt is most often organic and its pH level is at least 9 (neutral is 7). Here are some other benefits of bamboo salt in general:
Contains 70-80 minerals
Possesses strong antioxidant properties
Hydrates the cells
May help with blood circulation
Fights inflammation
Helps manage blood sugar
Effective for some digestive issues
Uses of bamboo salt and bamboo salt toothpaste benefits
When bamboo salt is used for gurgling, it can harden the enamel and decrease the loss of minerals from the teeth. Bamboo salt toothpaste reduces dental plaque accumulation. It can also reduce the chance of developing gum disease (gingivitis).
Toothpaste containing this amazing salt kills harmful oral bacteria. That's why it's a good natural remedy for bad breath and also sensitive teeth. Using a bamboo salt toothpaste can also help with coughing, sore throats, and other pesky conditions.
Some natural health advocates regard bamboo salt as a miracle compound. Western-supported research on the health benefits of the substance and bamboo salt toothpaste is difficult to find.
Asian studies suggest that bamboo salt may contain anti-cancerous , anti-fungal, anti-bacterial and anti-viral properties. It may also help with digestive issues.
Minerals are essential for human health. Without minerals, vitamins would not be able to do perform their tasks. In the processing of bamboo salt, more than 70 kinds of minerals from bamboo tree trunks and the deep red clay are baked into the sea salt (which is harvested from South Korea's west coast).
Bamboo salt contains sulfur. You might think sulfur is bad for you. Especially because of the rotten-egg smell.
But you need sulfur. It's actually naturally-occurring in our bodies. In fact, it's one of the most abundant minerals. Our muscles, skin and bones are loaded with sulfur. Sulfur also is instrumental in the production of amino acids.
Many processed salts are acidic on the ph scale. But because of its high sulfur content, bamboo salt is very alkaline, sometimes as high as 12 on the pH scale. Bamboo salt also contains several other important minerals.
Bamboo salt side effects
You really don't need to worry about negative side effects from using bamboo salt. However, there are a couple of natural by-products found in bamboo salt because of the way it's made. These are cancer-causing dioxins, specifically PCDDs and PCDFs.
The amount of dioxins in bamboo salt is trace. That's why you really shouldn't be concerned about it. If you are concerned, check with a natural health expert.
Purple bamboo salt
Purple bamboo salt might just be the best type to use. In the processing of bamboo salt, it gets boiled nine times. It's after this ninth burn that the sea salt in the bamboo stalk becomes purple. The purple colored variety is believed to have the highest medicinal properties. This is why ancient healers often preferred to use bamboo salt because of its therapeutic value.
With each repeated cooking of bamboo salt, it's believed that the mineral content is increased. And here's another benefit of purple bamboo salt: by the time the 9th cooking step is done, all but the most minute traces of heavy metals are left.
Related Posts