Concerned about hip fractures and osteoporosis? Then consider taking a boron supplement. Little-heralded by the mainstream medical community, the mineral is critical for high bone density.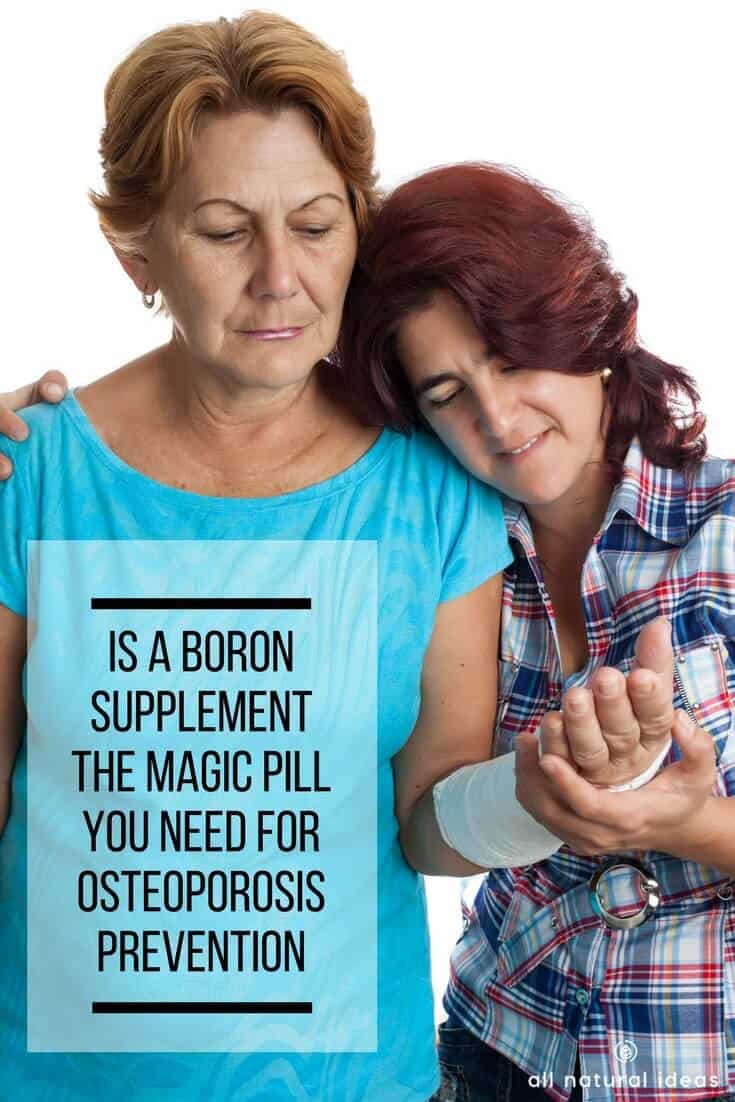 You're certainly not a moron if you take a boron. That's because the supplement may help prevent osteoporosis.
Osteoporosis or "brittle bone disease" affects over 40 million adults age 50 or older in the USA. That amounts to over 55 percent of adults age 50 or older.
This common joint disease may be preventable by simply taking the best boron supplement you can afford.
Brittle bones often result in hip or other bone fractures. These fractures obviously require hospitalization. And they can also be the cause of death for the elderly.
In light of this, can't you just drink some more milk or eat more cheese to avoid osteoporosis? After all, isn't calcium the mineral you need to consume in copious amounts to avoid brittle bones? Isn't the mainstream medical consensus that fragile bones are the result of calcium deficiency (as well as vitamin D)?
The Calcium Paradox
You might think that people who eat the most calcium have a lower risk of osteoporosis. In fact, though, it's the opposite. The USA, the United Kingdom and Sweden consume the highest amount of calcium per capita. However, these three countries also have the highest rates of bone fractures.
The World Health Organization recognizes this paradox.
One theory for this paradox is that eating a high amount of animal protein leaches calcium from the bones.
And here's how animal protein might indeed be the culprit for weaker bones:
The Physicians Committee for Responsible Medicine explains:
Animal proteins are high in amino acids that contain sulfur. These amino acids acidify the blood. This eventually leads to bone dissolving into the bloodstream.
The bone fragments then filter through the kidneys. Eventually, your urine excretes the tiny bone components. And meats and eggs contain two to five times more of these sulfur-containing amino acids than plant foods.
This is not to say you should immediately switch to a vegan diet. Without doubt, though, an optimal diet consists mostly of plant foods such as green leafy vegetables and some fruit.
However, perhaps there's more to the calcium paradox. Often overlooked in osteoporosis-prevention strategy is making sure you're getting enough trace minerals in the diet.
Plant-based foods are rich in trace minerals. But the soil from which your green leafy veggies come from might not be high enough in trace minerals that are critical to bone health.
A couple of these minerals are silica (which is why you might want to drink bamboo tea) and boron.
Boron supplement benefits
Do you get plenty of organic fruits and veggies every day? And eating just a little meat here and there? Then maybe you don't need a supplement.
However, most people aren't eating enough foods rich in boron. If you can relate, then here's why taking the best boron supplement might be in your best interest.
Studies show that boron helps develop bones. It can also regenerate bones that are fragile. Moreover, as this article shows, it can aid in the following:
Production of sex hormones and vitamin D

Wound healing

Absorption of calcium and magnesium

Pain-relief from arthritis

Brain function

Cancer treatment and prevention (prostate, cervical, and lung cancers, and multiple and non-Hodgkin's lymphoma)

Increasing antioxidant enzymes such as

superoxide dismutase

Formation of critical molecules (such as

nicotinamide

)
Not getting enough (organic) fruits and veggies? Want all these benefits of boron? The research suggests a boron supplement that provides 3 milligrams per day.
What is boron?
Boron is a trace mineral. You don't need massive amounts of a trace minerals in your diet. That's why they're called trace.
However, trace minerals are natural chemicals essential for life. In other words, if you don't get enough trace minerals, you'll die.
Boron plays a key role in the actions of calcium, magnesium, and vitamin D. These three are critical for healthy bones.
According to Life Extension Foundation (LEF), several studies prove that boron-deficient diets are detrimental to health. For example, one study tracked women for over 100 days on a low-boron diet.
Then, the women took a boron supplement for almost 50 days. While on a low-boron diet, the women had increased urinary loss of both calcium and magnesium.
However, after taking boron, there was less calcium and magnesium loss. Moreover, after taking the supplement, the women had higher levels of hormones involved in bone formation.
The key to healthy bones is a healthy bone matrix. This matrix contains inorganic salts, and collagen fibers.
If you don't get enough boron from food, the bone matrix will be poor. And according to LEF, countries that have a per capita intake of less than one mg or less of boron, have high levels of arthritis.
In fact, the estimated incidence of arthritis in areas with low boron is anywhere from 20 percent to 70 percent.
But in areas around the globe where boron is higher, the rate of arthritis is 10 percent of the population at most. In some areas, it's as low as zero percent.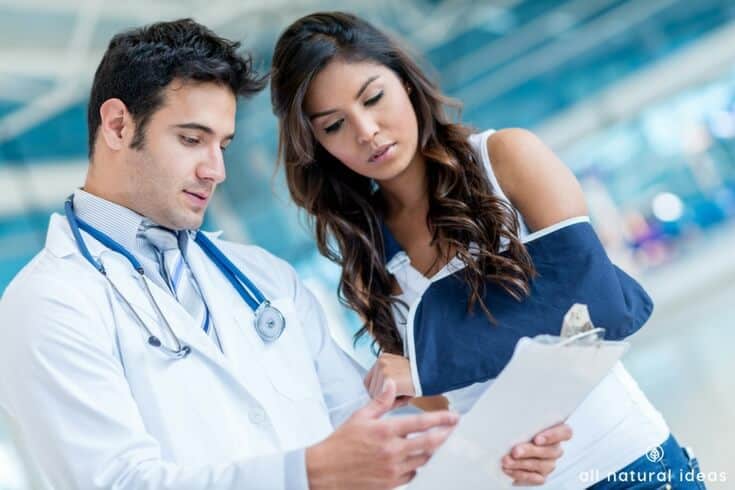 Boron uses
You can read several of the boron supplement benefits above. However, what boron is mainly used for is relieving joint pain and forming healthy bone matrix.
Moreover, postmenopausal women can especially benefit from taking the supplement. Hormonal changes oftentimes lead to calcium loss.
Boron may prevent this calcium loss. Moreover, other minerals get depleted in bones during menopause or postmenopause. Boron is a critical trace mineral for preventing mineral loss.
In addition, boron when calcium is lost, vitamin D levels can go down as well. But a boron supplement may prevent the harmful effects of vitamin D deficiency. That's because vitamin D aids in calcium absorption.
A surprising use is also in how it can help brain function. Here's how important it is. Researchers of this study conclude low boron levels results in decreased brain electrical activity.
Moreover, low boron intake results in poorer performance on tasks of motor speed and dexterity, attention, and short-term memory. Thus, hand-eye coordination, attention to detail, and memory may all be enhanced with a boron supplement.
Another critical use of boron is cancer prevention. This study suggests men who have diets higher in boron have less rates of prostate cancer.
Moreover, this supplement with boron decreases the production of reactive oxygen species (ROS). ROS can injure your cells and lead to premature aging.
Where is boron found?
One of many reasons why it's important to eat lots of fresh organic veggies (and some low-sugar fruit) is because of boron. It's essential to plant growth. And when you eat plants, you're ingesting the boron from the plants.
Avocados and grapes as well as plums are three fruits especially rich in boron. And besides veggies, nuts and legumes are also good sources.
But consider the typical western diet. Without doubt, it's boron deficient. In light of this, what factors should you consider in a boron supplement?
As with any supplement, quality can vary greatly.
According to Life Extension Foundation, their supplement with Calcium fructoborate is superior. That's because it contains calcium and boron. It's also very easily absorbed by the body.
The supplement is FruiteX B® OsteoBoron™. The brand is even mentioned in a study about using calcium fructoborate for bone and cardiovascular health.
Whether or not FruiteX is the best boron supplement is up for debate. However, LEF does make a good argument. Despite the massive amount of bone health products on the market, most do not contain boron. (As well as silica.)
In conclusion, if you want to avoid a debilitating hip fracture, eat loads of fresh, organic veggies. Also eat a handful of nuts every day. And avoid eating large quantities of animal protein. But if you can't ditch a diet rich in steaks, burgers and fries, think about taking a high-quality boron supplement.
Related Posts