A lot of people are still confused as to whether they should eat whole eggs or only whites. Are egg whites the healthier option? Let's take a look.
Craving an omelette but want to eat healthy? Should you eat all two or three egg yolks, or just one, or none at all? Seems like one year, it's ok to eat egg yolks, but then you hear something completely different the next … so which is it … should you eat whole eggs or only whites?
It's truly one of the great nutritional enigmas: to eat the yolk, or not eat the yolk. For the last several decades, we've been collectively warned by the American Heart Association (AHA), Food & Drug Administration (FDA), and virtually every other mainstream medical association, that cholesterol consumption is directly linked to heart disease, which kills over 600,000 Americans every year. About one out of every four deaths in the U.S. is caused by heart disease.
Does reading that stat make you want to rush out to the market and buy some liquid egg whites or throw away the yolks you're making for your omelette in the trash? Not so fast, there's more to the whole eggs or only whites debate.
Should You Eat Whole Eggs or Only Whites?
Egg Nutrition Facts
Before determining if dietary cholesterol, such as that found in egg yolks, should be severely limited, let's review some egg nutrition facts. Then later, we can decide whether or not to have that omelette with the whole eggs….
One egg contains over 200 mg of cholesterol, or about 70% of the FDA's recommended daily value (DV) limit.
A whole egg has 70 calories.
One whole egg contains 6 grams of protein.
There are 3 grams of fat (1.5 g saturated) in one whole egg.
About 60% of the calories in one egg are from fat; 35% from protein.
If fat-phobia has got the best of you and you frequently ditch the yolks, here's the nutrition you're missing out on:
Approximately half the protein is found in the yolk.
Yolks contain essential B vitamins.
Yolks from pastured eggs contain essential Omega-3 fatty acids.
Most vitamins and minerals are found in the yolk, including iron, calcium, vitamin A, selenium (25% DV), phosphorous, and all the fat-soluble vitamins (A, D, E, K)
Lutein, an antioxidant that promotes eye-health, is also found in the yolk
Feeling better about eating egg yolks now? Does that mean you can eat six whole scrambled eggs a day? If you don't have the stomach for six whole eggs, what would be the ok number of yolks to eat per day to make sure my cholesterol doesn't get too high?
The Great Nutrition Reversal Heard Round the World
Before revealing the number of yolks you can safely consume per day, do you remember this shocking health news headline from last year?: "Cholesterol is not considered a nutrient of concern for overconsumption."
This declaration was published jointly by the U.S. Department of Health and Human Services (HHS) and the U.S. Department of Agriculture (USDA), as part of the Federal Government's official Dietary Guidelines for Americans (revised every 5 years, most recently, last year). With the new guidelines, the government is essentially admitting dietary cholesterol has virtually no effect on serum (blood) cholesterol, and therefore, should no longer be a nutrient of concern.
The shocking headline should have been followed by at least five exclamation points … that's how huge this nutrition news was last year(!!!!!). To comprehend what a radical paradigm shift this is, take a look at the two Time Magazine covers from below:
R.I.P. Cholesterol Devil, circa 1960-2014
So how did we get from no yolks and no butter, to, "Don't worry about cholesterol anymore!"? One study, the so-called "Seven Countries Study," in the mid-20th century, concluded, high-fat intake contributes to heart disease in certain populations around the world. The study became quite influential in academic circles and became adopted as official government nutrition policy.
But the study failed to account for differences in types of fat consumed in the diet. The study had other shortcomings, such as lifestyle factors. Nonetheless, the mainstream media picked up on the headline that dietary fat causes heart disease. (You can read a candid discussion about the study and its limitations from one of the researchers here.)
Consequently, for the last half century-plus, this has been the official stance by the mainstream medical establishment. At least until last year, sort of.
Despite the HHS and USDA 180-degree reversal on cholesterol, it's not easy for mainstream medicine to admit wrongdoing after several decades of maintaining such a rigid policy on cholesterol, blaming dietary cholesterol for killing over 600,000 people a year.
In fact, many doctors are still cautioning against consuming dietary cholesterol and fat. (The influence of pharmaceutical companies and their massive profits from statin cholesterol drugs will not be discussed here.) This adds to the confusion of eating whole eggs or only whites.
The Physicians Committee for Responsible Medicine released a statement, in effect, arguing cholesterol should still indeed be a very serious nutrient of concern.
So, to eat, or not eat that omelette? Let's weigh the benefits of eating whole eggs or only whites.
In the world of nutrition, there is no black or white. For example, meat cannot be pigeonholed as being either 'good' or 'bad.' Certain types of meat are quite healthy, such as 100% grass-fed/grass-finished beef.
And so it goes with your omelette. To determine if the omelette is good or bad, ask yourself the following:
● Are the eggs from stress-free chickens (truly free-range and cage-free and pasture-raised)?
● Are the eggs cooked in a pan that's been coated with grass-fed butter (healthy) instead of vegetable oil (unhealthy when cooked)?
● Were the eggs scrambled (less healthy than poached)?
And so, too, it goes with cholesterol. Healthy meats like grass-fed beef, and eggs, do have cholesterol. But unless you have a rare genetic predisposition to heart disease, and have high cholesterol, you shouldn't worry about dietary cholesterol. But, just like with any other nutrient, or food, you should be more concerned with the quality of what you're eating.
As nutrition celebrity doctor, Jonny Bowden told Allnaturalideas.com recently in an interview, it's toxic fats that everybody should avoid. It doesn't matter if a food has cholesterol or saturated fat. As long as it's not toxic, it's fine to eat. If you overcook your eggs, then the cholesterol becomes oxidized, which is toxic. (Grain-fed meats and rancid vegetable oil are two other examples of toxic fats.)
Now, about that question from earlier: how many yolks can you safely eat per day? The general consensus is that if you consume two yolks a day, you should be fine. But the truth is, everybody is so unique, biochemically. One person might be able to eat six or even 12 yolks a day without raising triglycerides, or negatively impacting the health of HDL and LDL particles. Yet another person, though, may find their total cholesterol rise in a short time by eating just one yolk a day.
Still confused?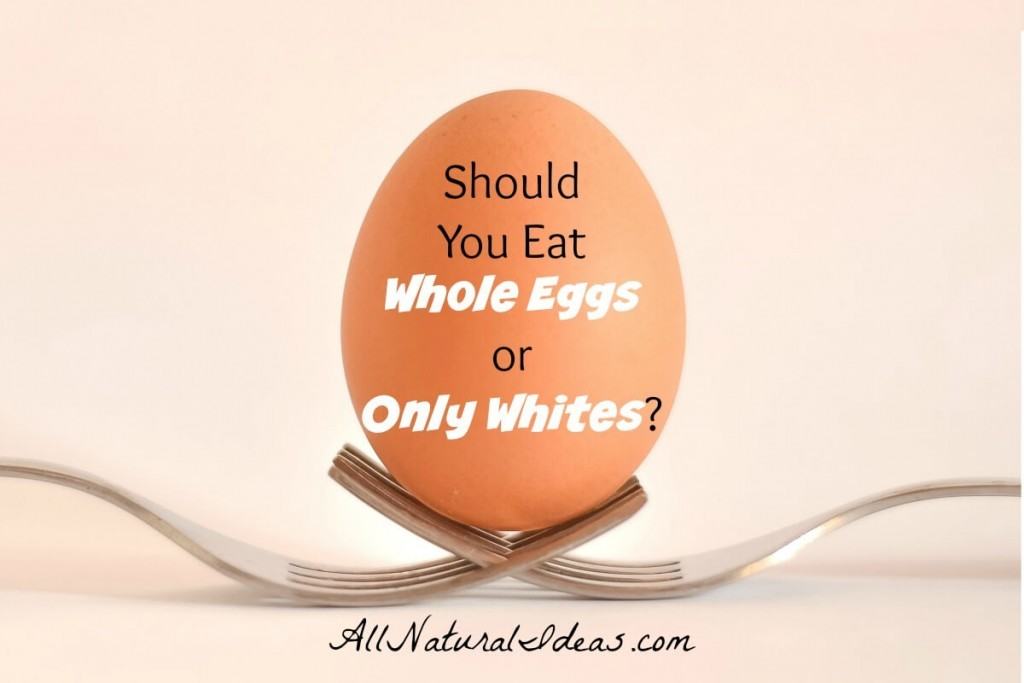 Some people get very frustrated with nutrition. Eggs are good one year. Bad the next. It's so confusing as to whether you should eat whole eggs or only whites. If you read the headlines, it's easy to see why it's so confusing. So, if you're still as uncertain about eating eggs, and cholesterol in general, as you were before reading this article, really, don't worry about cholesterol. Just worry about the quality of ingredients you're eating and cooking with and eat all-natural food. After all, a bottle of egg whites is less natural than the whole egg!
And if you're still worried about getting a heart attack from eating too much cholesterol, take it to heart (excuse the pun) that this study of over 130,000 heart attack patients revealed that over 75% of them did not have high cholesterol. And this Korean study blames low cholesterol on cardiovascular mortality. The answer is obvious as to whether you should eat whole eggs or only whites. So you might as well live it up and eat that egg yolk after all!
Related Posts