The benefits of red light therapy at home includes improved joint pain and decrease skin wrinkles. But not all therapy methods are the same. This article provides tips on what to look for in a personal use device.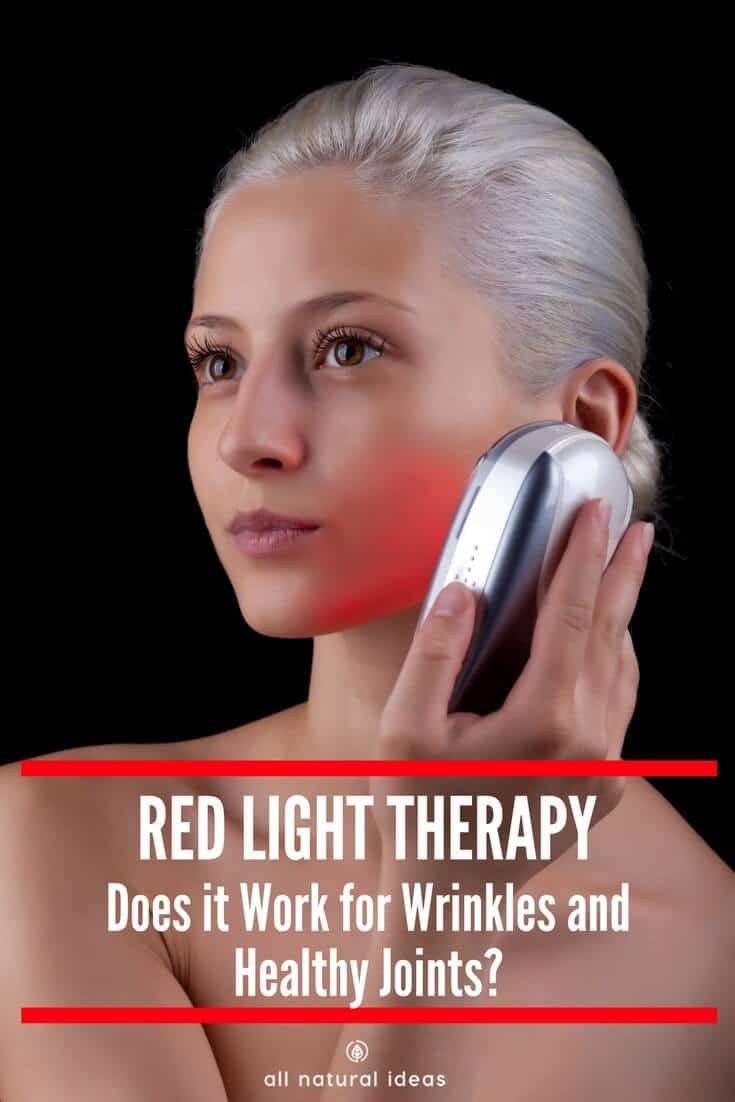 It may sound like it's a form of meditation that you do when you're stuck at a long red light. But the name involves a light-emitting diode (LED) therapy device instead.
Several studies confirm that light energy has healing properties. The different colors of the light spectrum can benefit your health. And this especially includes therapy using a red LED device.
Therapy using a special light can penetrate into your cells. Although this may sound as dangerous as your skin being exposed to harmful radiation from ultralight, red light therapy is safer. That's because it doesn't blast you with an intense amount of heat; it's subtle.
Red Light Therapy: promising benefits but several choices
The two most common reasons why people try this remedy is skin beauty and joint or muscle healing.
However, as is the case with another alternative remedy for inflammation and pain, magnet therapy, there are several types of light therapy devices. There are handheld devices, which are relatively inexpensive at under $200. In comparison, some of these special devices can run a few thousand dollars.
Take for example, this laser device disguised as a baseball hat. It targets hair follicles for hair growth. Price tag: $3,000. If this sounds like an expensive hair-growth hoax, consider this…. Most red devices, like the hair-growth red light therapy ball cap, are approved by the FDA. In comparison, health supplements such as vitamins, minerals and other nutraceuticals, are not regulated by the FDA. So you don't know if they work or if they're safe.

Red Light Therapy: what device works best?
In light of this, how do you know which therapy device to get? (You may also see red these devices referred to as an LLLT device. This means "low-level-light therapy.")
The answer depends on your health goals, budget and the amount of room you have in your home. Let's consider health goals first.
If you want better looking skin, cheaper handheld devices may help. The smaller the unit, the less of your body you'll be able to treat with red light therapy. Likewise, if you have a bum ankle from a sports injury, a small device may do.
But if your goal is to reduce inflammation in a large part of your body, you'll need a bigger, more expensive unit. Generally speaking, the more expensive the device, the more of your body you'll be able to treat at one time.
And yet another factor to consider is how much time you have for treatment. Again, the more expensive and larger LED devices require less treatment time than, say, a hand-held device. Speaking of which, experts in light therapy consider hand-held devices to largely be a waste of time and money.
The general consensus for any device, says JOOVV.com, a maker of red light therapy devices, is that it should deliver light therapy in the range of 600-800 nm (nanometers). And the power of the light should be at least 100 miliwatts per square centimeter.
Red Light Therapy and Near Infrared Therapy: For Skin and Bones
JOOVV offers three different light therapy configurations. One is an all red light device in the 660 nm range. Another configuration of light therapy the company offers is near infrared light, which is invisible to the naked eye, unlike red light (which appears red, duh!). Near infrared (NIR) has a wavelength of 850 nm.
The third combination JOOVV offers in its therapy devices is a combination of the two. The company claims that while both red light and NIR are both clinically-proven for health; the former is better for your skin while that latter is better for fighting inflammation and to enhance muscular recovery.
Red light therapy is easily absorbed by the skin and is beneficial for the production of collagen. Collagen is the glue-like protein which gives your skin integrity. By helping repair collagen, the light therapy may help reduce the appearance of fine lines and wrinkles.
But unlike NIR, which penetrates deep into the skin, red light just penetrates the dermis and epidermis of the skin. That's why it's better for beauty applications rather than skeletomuscular healing.
Red Light Therapy: can it damage your skin?
No. Not unless the device you use is a cheap knock-off that's not cleared for use by the FDA. If the LLLT (low level light therapy) device you purchase has been cleared by the FDA, it won't damage your tissues. In fact, dermatologists as well as health spa practitioners, use light therapy for acne, age spots, wrinkles and other skin conditions.
What is Red Light Therapy?
All colors in the light spectrum combine to form the light that we see as sunlight. All light visible to the naked eye has wavelengths in between 400 to 700 nm. By comparison, light that we can't see, ultraviolet measures 300-400 nm, and infrared measures 700-1000 nm.
Without doubt, exposure to UV light can be damaging. However, the human body can elicit positive responses to light. But only if it's in the 600-900 nm range. This is called the "therapeutic window" of light therapy.

Does red light therapy work?
According to University of California at Berkeley's Wellness online newsletter, at least some research supports red light therapy. Berkeley points to research from Hopkins, for example, that suggests it can improve skin texture and increase skin collagen.
A study by researchers at the Institute of Micro and Nanomaterials at the University of Ulm, in  Germany, also supports light therapy. The researchers' findings suggests red LLLT reverses elastin degeneration. Along with collagen, elastin is the skin's other primary protein.
And this study supports light therapy for joint repair. Short-term application of low-level laser therapy to specific acupuncture points in combination with exercise was shown to reduce pain and improve quality of life in patients with knee osteoarthritis.
Red light therapy may also heal wounds, according to this research. The authors say that although the therapeutic benefits of laser therapy in the treatment of wounds have been reported since the 1960s, those of LED light have only been proven by research since the 1990s. 
However, the authors add, many of the results show inconsistency, mainly due to methodology bias or lack of standardization in the studies.
Furthermore, say the researchers, light in the blue and green wavelengths range can achieve significant effects in cells. But it's the use of low power light almost exclusively in the red and near infrared wavelengths that work best to promote healing of skin wounds.
Red light therapy benefits
As you can read above, most of the benefits of red light therapy are in the realm of skin conditions as well as joint and muscular repair. However, it's worth repeating that not all light therapy devices are equal.
Basically, you need to know two things when purchasing a device. First, is the wavelength of the light. For example, 660 nm. And the second thing you need to know is the amount of energy it contains. There's no use in buying an expensive machine if it has no power. It's like buying a Porsche that runs like a Ford Pinto.
The problem is that many device manufacturers do not include the power of the device. Thus, it may be difficult to tell how long of a treatment you'll need, let alone if it will actually work. A high-quality device should be able to offer the therapeutic effects of light therapy within minutes.
Related Posts