Anyone who has sinus problems should consider saline nasal flush benefits. This inexpensive sinus treatment relieves many nasal issues naturally.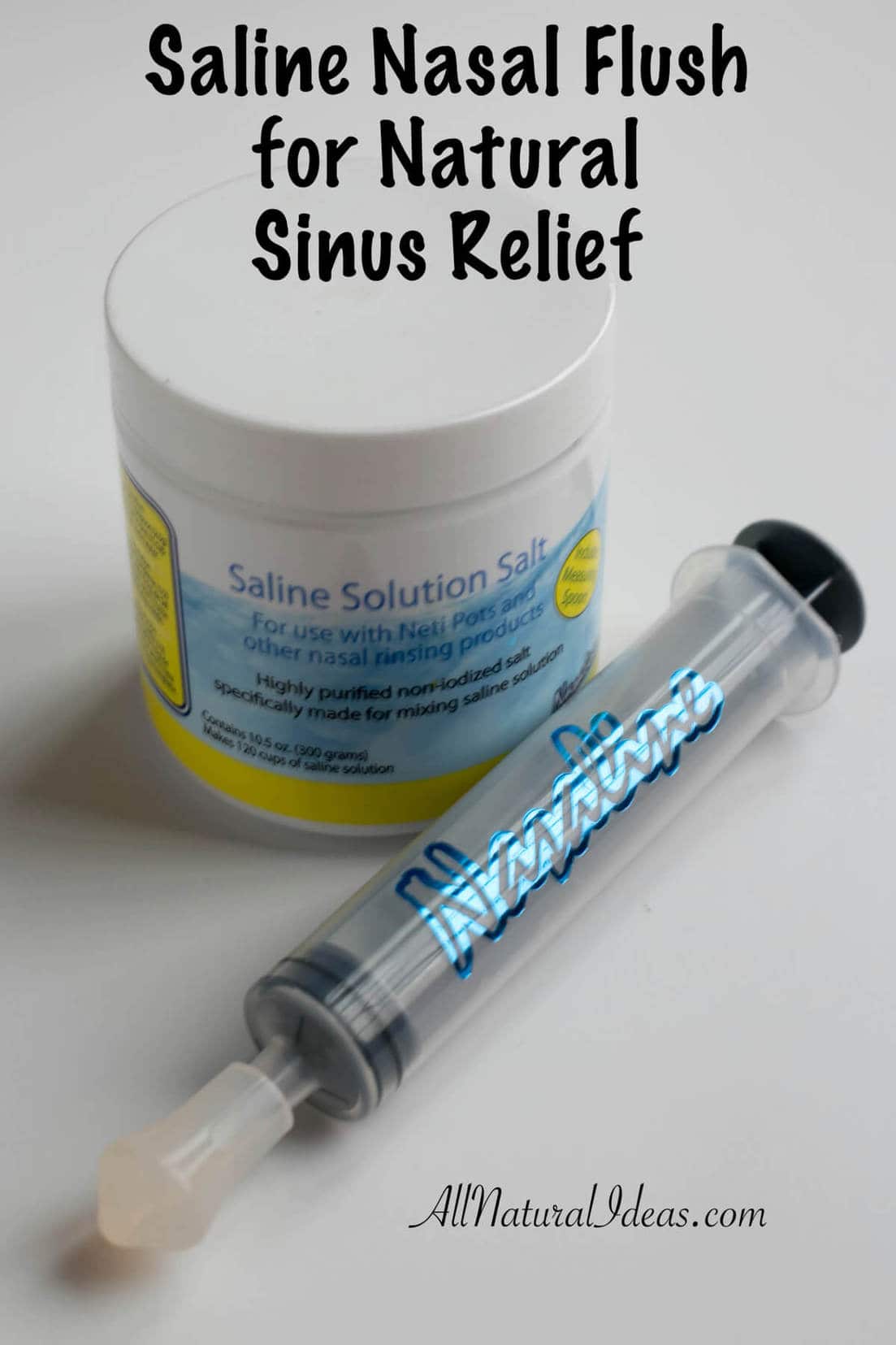 Are you one of millions of Americans suffering from sinus issues? Are you constantly congested? Always seem to have a cold? Brutal allergy issues?
There is a cheap natural method to fixing sinus issues. Many people buy over-the-counter pills or tablets. Others suffer through it. There are even some who get surgery. Many times, people are prescribed antibiotics.
Do you want a reliable at home remedy for sinus relief? Try a saline nasal flush. It is a simple saltwater mixture. Mix 1/4 teaspoon of salt with eight ounces of water. Put the mixture in a squirt bottle. Put a squirt in each nostril and you are good to go!
If possible do daily. Ensure the salt is iodine free without additives. You also want to use filtered or distilled water. This prevents impurities or pathogens from getting in your airways. There are saline solution salts sold just for sinus relief as well as a special sinus syringe just for using in the nasal cavity.
Saline Nasal Flush Benefits
So you may be wondering what exactly are the saline nasal flush benefits? Statistically speaking, about 1 in 7 Americans suffer from sinus problems. That is a lot of people. If that many people are suffering, why aren't many people using a saline nasal flush? To many, squirting fluid in their nose is gross. There exists an "ick" factor. However, we need to get over this.
The benefits of this cheap solution are profound. A study suggests sinus relief benefits from the saline nasal flush method.
121 people were chosen who exhibited sinus issues. Most had extreme issues. After eight weeks of treatment, all expressed their symptoms were reduced or disappeared. Many of the patients said starting was the hardest step. Once they felt their symptoms dissipate, they could not stop!
Besides symptoms of nasal problems dissipating, there are other benefits. This treatment has a rare point to it. It allows the patient to have control.
Unlike conventional medicine, you do not have to have a regiment. No more worrying if you "miss" a dose. Take it as a preventative or take it when symptoms arise. Regardless, the decision comes from you!
Another perk of the nasal saline solution treatment is that users rarely need surgery. Often doctors recommend surgery for chronic sinus issues.
Those who use a saline nasal flush are not compelled to surgery. And, to the lesser degree, you will no longer need antibiotics.
Many sinus infections are prescribed antibiotics. The common one is the Z pack. Reduce the need for antibiotics which are bad. You will also reduce the amount you pay to fix your symptoms.
If you suffer from sinus problems, you are not alone. Almost twenty percent of Americans suffer.
Struggling to breathe. Discomfort to your passages. Headaches. Runny nose. Itchy passages. All symptoms no one should suffer from.
You can buy an inexpensive nasal rinsing system. Better yet, make one yourself. You should not have to waste money on a solution that is almost free.
For just pennies, mix some non-iodized salt and filtered water. Then put in any spray bottle. You have yourself a solution to feeling better.
Finally, you can breathe and think again around the house and work. Just make sure to wash your bottle periodically.
Stop going through life congested. It is a discomfort no one should endure. Remember, a well-washed nose is a happier and healthier one!
Looking for other natural ways to relieve your sinus issues? Check out:
Essential Oils for Allergies and Seasonal Allergy Relief
Related Posts