Can essential oils for arthritis ease suffering for the millions people in the United States who have the debilitating condition? Is there any research to back the use of essential oils for joint pain and inflammation? If so, what are the best oils to use? 
How To Use Essential Oils for Arthritis
According to the Arthritis Foundation (AF), a staggering 54 million adults have doctor-diagnosed arthritis. And that's a conservative estimate, the AF claims.
Many people believe the disease only affects adults. However, statistics by the AF reveals that over 300,000 infants and young children have arthritis or a related condition. [SOURCE]
Of the more than 50 million cases of arthritis, over 20 million of them are classified as osteoarthritis (OA). Over two million Americans are diagnosed with rheumatoid arthritis (RA).
What is arthritis?
As people age, they are likely to experience some form of arthritis. This blanket term is not used for just one type of ailment.
In fact, it can describe more than 100 diseases and infections, according to the Centers for Disease Control and Prevention.
Arthritis problems affect the joints, the tissues around the joints, and maybe even other connective tissues as well.
The symptoms that each person experiences will depend largely on what specific form of the illness they have.
The two most common categories of arthritis are osteoarthritis and rheumatoid arthritis (RA).
Osteoarthritis happens when an individual's protective cartilage around their bones wear down as they age. The result is often a loss of flexibility, pain, and general stiffness of the joints.
On the other hand, RA occurs in instances when the body's natural immune system mistakenly starts to attack the joints. Individuals may experience pain, fatigue, and a fever during the onset of this illness.
Using Essential Oils for Arthritis
Since many essential oils have anti-inflammatory properties, many people find that using them helps to ease the effects of arthritis. These oils can be quickly absorbed through the skin, which means that they offer fast-acting relief to sufferers.
In addition, using plant oils is safe for almost everybody; they rarely cause side effects.
What are the best essential oils for arthritis?
According to the results of a study published in the U.S. National Library of Medicine, the application of these oils can significantly reduce the severity of arthritis.
A 2015 study suggests myrrh regulates the metabolic profiling and the MAPK signaling pathway in rats; both of which lead to the suppression of inflammation.
As arthritis tends to inflame the joint areas, using this essential oil on a regular basis may help to combat the situation.
The surprising and numerous health benefits of ginger have been widely reported by the Arthritis Foundation.
This particular essential oil has antioxidant, antiulcer, and anti-inflammatory properties, all of which help target the effects of arthritis.
While you can get digestible ginger capsules for this problem, using essential oils means that you can massage it directly into the affected area.
Ginger may especially be beneficial for rheumatoid arthritis. To reiterate, RA is an autoimmune disease. It especially affects elderly people. The condition can lead to substantial bone loss.
Conventional medicine only treats symptoms. But the plant compounds in ginger have therapeutic benefits that lower the inflammation response.
Researchers in the peer-reviewed journal, Arthritis, predict that ginger will play a big part in the discovery of new drugs for RA. Ginger may make it possible to stop further progress of RA or even reverse the damage caused by RA, suggest the study authors.
There's no denying the fact that citrus oils smell fantastic, but they can also help sufferers to manage the pain associated with arthritis.
Orange oil is one of the most highly effective essential oils in terms of its antioxidant properties and reducing pain.
This research paper says essential oils from orange, ginger, and black cumin hold promise for the relief of symptoms of arthritis.
Another study, (this one from India) suggests aromatherapy with orange oil can relieve pain in patients with fractured limbs. Of course having a broken bone isn't the same as arthritis. However, since pain is a symptom of many arthritis sufferers, perhaps orange oil can offer relief.
Never heard of copaiba essential oil? While it may not be as popular as lavender, rosemary, and tea tree oil, to name a few, for arthritis sufferers, it should be a household name.
According to the Updated & Revised Essential Oils Expanded guide, copaiba can be used to treat a wide variety of conditions relating to pain and inflammation. These include:
Fibromylagia
Back pain
Herniated Disc
Digestive Support
Autoimmune Diseases (such as RA)
A 2017 study in the Journal of Cellular Biochemistry examined copaiba's effects on rats with arthritis. The rats treated with copaiba all experienced less inflammation in their paws, adrenal glands and lymph nodes.
In addition, the copaiba-treated rats had less of a substance (MPO) that's associated with rheumatoid arthritis.
"Copaiba oil present[s] systemic anti-inflammatory and antioxidant actions in arthritic rats," conclude the researchers.
Research in The Journal of Alternative and Complementary Medicine says the predominant natural ingredient in wintergreen oil is methyl salicylate. This compound is closely related to acetylsalicylic acid, aka aspirin.
But unlike aspirin, which may cause side effects such as severe nausea, vomiting, or stomach pain, wintergreen has an extremely low side effect risk. Another advantage of using wintergreen over aspirin is you can apply it directly to problem areas.
When you rub wintergreen directly on to your joints or muscles, the oil can relieve the pain. This is because it contains analgesic (pain-relieving) properties. Try combining wintergreen with peppermint and capsaicin to enhance the effect.
The study above on wintergreen oil concludes it's a legitimate alternative therapy to NSAIDs. NSAIDs stands for "Nonsteroidal anti-inflammatory drugs." Designed to reduce both pain and inflammation, there are different types of NSAIDs. They include ibuprofen (Advil, Motrin) and naproxen (Aleve). But taking NSAIDs can cause side effects such as stomach irritation. They may also increase your risk of heart attack or stroke. [SOURCE]
Other essential oils for joint pain, arthritis and inflammation
The Updated & Revised Essential Oils guide also suggests taking 3-4 drops of lemon, ginger, and basil in capsule form. The guide also recommends trying the following other essential oils:
Helichrysum
Siberian Fir
Cypress
Rosemary
Douglas Fir
Blue Tansy
Frankincense
Marjoram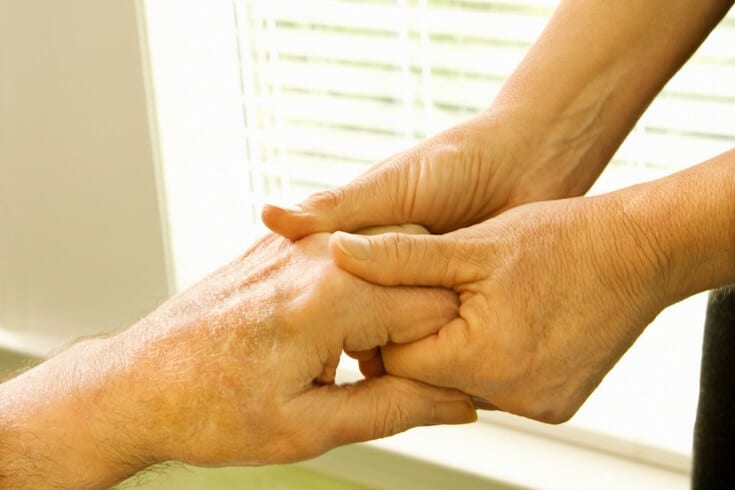 How to use the essential oils
One of the most common ways to make use of these essential oils for arthritis is to rub them directly onto the painful area. However, you will need to use a so-called 'carrier oil' to do so before you begin.
Carrier oils include almond, coconut, jojoba and olive. The purpose of a carrier oil is to dilute the potency of the essential oil. Failure to use a carrier oil can result in severe burns on the skin.
Ingesting oils is a controversial subject. Some essential oils are labeled safe for internal use. However, some natural health experts suggest not adding oils even to water. There's no long-term data that shows ingesting essential oils won't harm the digestive system.
Applying an essential oil (or a blend of them) with a carrier oil is safe. However, you may want to test a very small area of your skin with just a couple drops. If you don't notice any adverse reaction, you can increase the number of drops.
Aromatherapy for Arthritis: Does it Work?
It makes sense to rub an essential oil blend directly onto muscles and joints for pain and inflammation relief. But what about taking a whiff of essential oils? Can inhaling therapeutic plant compounds help? What does the research say about aromatherapy for arthritis? Can running a diffuser in your home help heal from arthritic pain?
According to this article on the Arthritis Foundation website, yes, aromatherapy can help.
The celebrity medical doctor, Mehmet Oz, is quoted in the article, "Aromatherapy is effective because it works directly on the amygdala, the brain's emotional center."
Moreover, aromatherapy doesn't work just on pain; it also may ease symptoms because it reduces anxiety and leads to a feeling of rejuvenation.
Conclusion: Essential Oils for Arthritis, Pain and Inflammation
Because arthritis can have more than one root cause, the Essential Oils guide also recommends taking digestive and immune supplements. These include:
A digestive enzyme complex
An antioxidant complex (Specifically one that's high in polyphenols, a type of antioxidant that in animal studies shows promise in the treatment of rheumatoid arthritis and osteoarthritis.)
Probiotics
GI (gastrointestinal) cleansing formula
Diet may also play an important role in keeping symptoms at bay. Consuming food and drinks with added sugar can contribute to pain and inflammation associated with arthritis. Thus, you may benefit by eating a diet that's lower in carbohydrates, especially refined carbs such as bread and baked goods.
While the effects of arthritis may never be reversed, managing the pain is crucial. This is why essential oils are becoming more popular. Some of the oils such as those listed above are proven in preliminary research studies to be just as effective as NSAIDs. However, essential oils rarely cause side effects.
Have you used essential oils for arthritis? Did it help? Leave a comment….
[Suggested additional reading: Best Essential Oils for Pain & Inflammation]
Related Posts