What are some of the best essential oils for earache and ear infection? Can both adults and kids use oils safely? Or should you rely on antibiotics? Let's find out….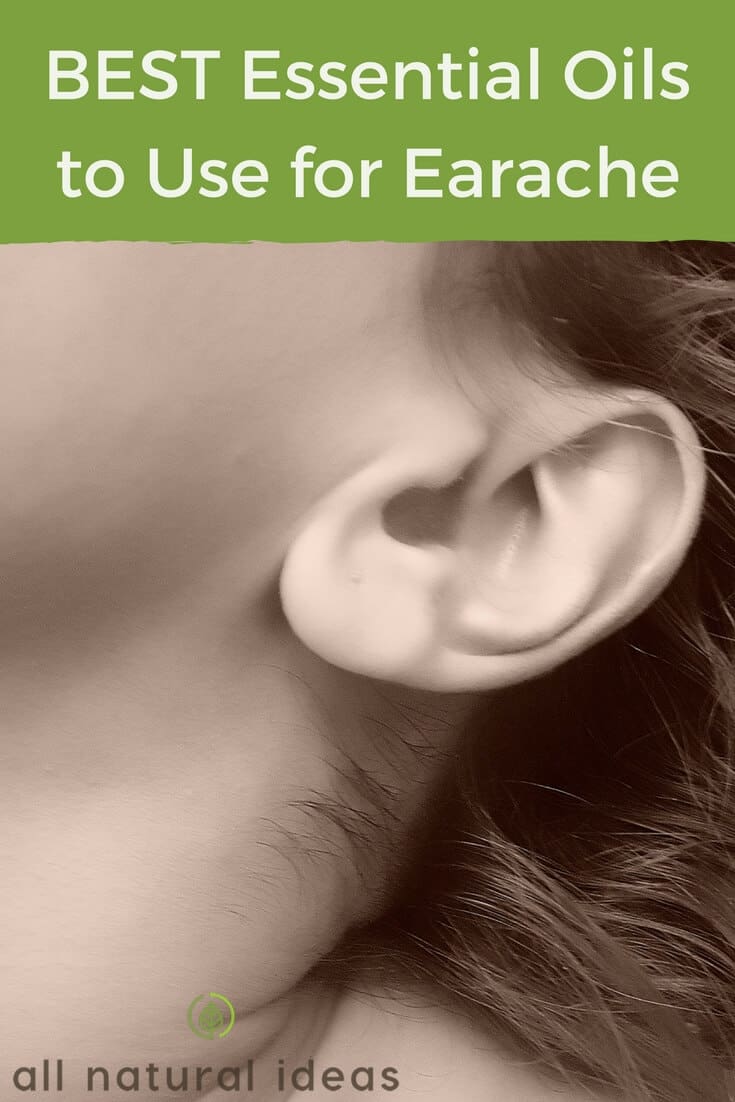 It's a heartbreaking right of passage for almost every parent: a baby's or toddler's relentless crying caused by an earache. And if the earache is caused by an infection, there might be a high fever that seems to take forever to break. Add to the suffering your little angel's inability to fall asleep because of the discomfort.
In the moment, there's little comfort for parents in knowing that over 80% of children three years of age or under develop at least one ear infection. Misery, in this case, does not love company.
To alleviate a child's suffering, many parents will turn to antibiotics. However, the American Board of Internal Medicine's (ABIM) says in most cases, antibiotics are not needed. If an earache is caused by a viral infection, antibiotics will be useless. Antibiotics won't kill the virus and they won't heal the pain.
Here's another reason to reconsider antibiotics for your young, precious one. According to the ABIM, if you give your kid antibiotics when the earache starts, your child will be more likely to vomit or have diarrhea or allergic reactions. Not to mention antibiotics will kill some of your child's good germs.
So what's a devoted parent supposed to do? Are over-the-counter (OTC) pain relievers a better choice? OTC's such as acetaminophen (Tylenol) are generally considered safe for kids by medical experts. However, a growing number of parents are turning to natural remedies to alleviate pain.
Essential oils for ear infection: a safe, effective alternative to antibiotics
Perhaps the most popular natural remedy for earaches and ear infections is essential oils (EOs). There are a few major advantages of using EOs. First, there are virtually no side effects; they are safe for almost everybody.
Another advantage of EOs is you save time using them. Instead of waiting to be seen by a doctor and then waiting some more to fill a prescription, using an oil for earache takes little time. Not only that, if you're paying out of pocket for a co-pay to the doctor, using an EO will save you money.
However, there are about 100 individual essential oils. There are also dozens of blends. In light of this, how do you know what's the best essential oils for earache? Let's take a look at some of the best. Some of these EOs have at least a minimal amount of research supporting their use for earaches.
Best essential oils for earache: Garlic and Mullein oils
Garlic oil acts as a natural antibiotic. It also fights viruses and fungi. Garlic contains compounds that dull pain and reduce inflammation.
To dull the pain of an earache even more, purchase a garlic oil that has mullein oil added to it. If you've never heard of mullein oil, it comes from a plant that's related to snapdragons. There are studies that show mullein helps fight influenza and herpes viruses. In addition, mullein kills bad bacteria. In fact, small-scale studies shows it has promise against pneumonia as well as staph infections and E. coli.
You can buy a garlic-mullein oil combo from most natural health stores.
How do you use Garlic Oil for Earache?
It's really easy to use. You just place a few drops of slightly warm oil on a cotton ball and place the cotton ball in the affected ear for about 10 minutes. The garlic oil will penetrate into the inner ear.
Make sure as with all essential oils, the directions on the bottle say it's safe for topical use. Oils for topical use most often are diluted with a carrier oil such as almond, olive or coconut oil. But individual oils that are 100% pure are often too concentrated to place directly on the skin.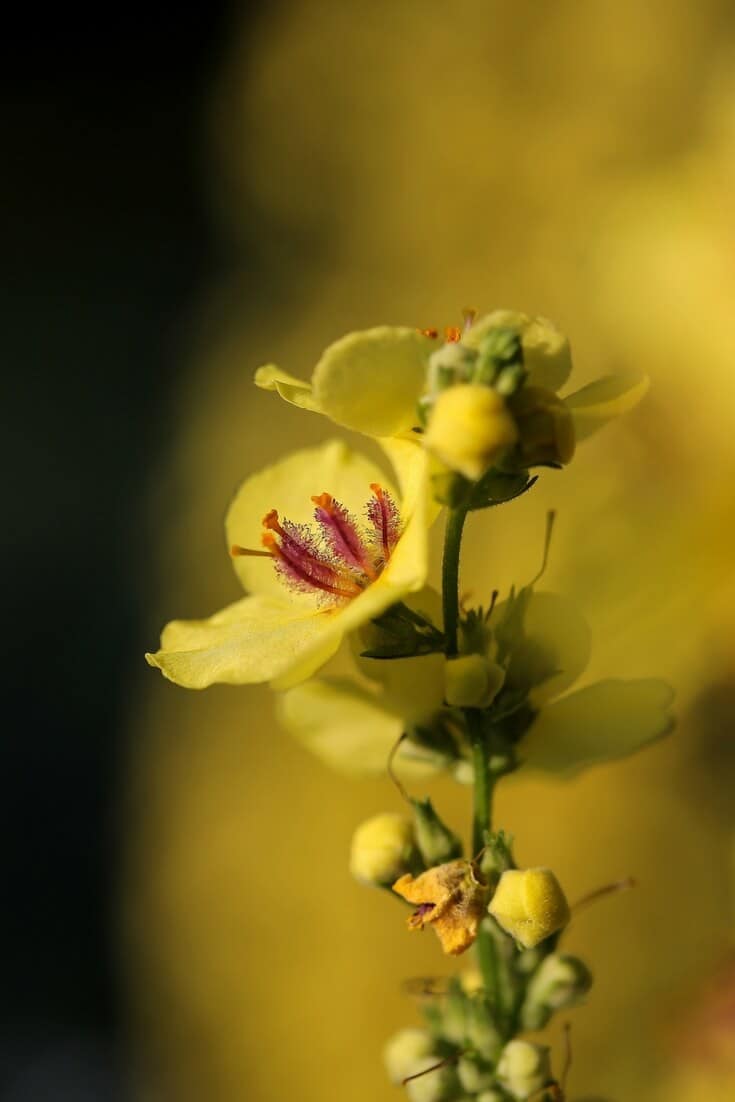 Clove
Clove oil possesses antiviral properties. Not all earaches are because of a virus. However, many people, kids especially, get earaches around the same time as a cold virus or a sinus infection. Clove has natural properties that kills fungus and harmful strains of bacteria.
Lavender
For people new to essential oils, lavender makes for a good introduction. It's relaxing and has other therapeutic uses. Healing earaches may be one of them. In fact, this clinical trial concluded lavender oil along with clove and geranium oil were just as effective for earaches as a pharmaceutical remedy ("Cipro").
Basil
Basil isn't just for pasta. In this study basil oil was given to rats with middle ear infection. Up to 81 percent of the rats treated with basil oil were healed. By comparison, only about 6% of rats in the placebo group showed improvement.
Tea Tree
Tea tree oil is beneficial for a variety of uses, from soothing an itchy, flaky scalp to treating wounds. And according to this study using tea tree oil for ear infection also works. But the researchers caution you should only use a two percent solution of tea tree oil for a maximum of 30 minutes. Higher concentrations of tea tree oil may damage auditory nerves.
In light of this, it's wise to seek out someone with professional practice in essential oils. Don't just blindly pour essential oils into your ear (or your child's) without knowing the concentration and dosage.
Tea tree oil is also known as melaleuca oil. One way to use tea tree oil for earache is to steam it and breathe in the vapors through your mouth. This method may help with earache because the vapors will penetrate the sinuses and ears. If your earache is because of your sinuses, the vapor may help clear the sinus passage. And if your earache is because of bacteria, the vapor may help kill it.
Tea tree oil is too strong to apply by itself directly into the ear. It needs to be diluted with a carrier oil. Some people also combine tea tree oil with a drop or two of colloidal silver, along with some olive oil and apple cider vinegar.
OK, moving onto the next best essential oil for earache….
Oregano oil
One of the best ways to boost your immune system is to consume a few drops of wild oregano oil in juice or water. If you start taking it before cold and flu season, you might be able to protect yourself. Remember, earaches, especially in young kids, typically present at the same time as a cold virus. But if it's too late, and you or your child already has an earache, oregano oil can help.
Oregano oil is not for the inner ear. Only apply it to the outer ear. In addition, mix oregano oil with a carrier oil such as olive or almond. The therapeutic compounds in oregano clear infections. The cherry on top is that oregano has pain-fighting properties.
Frankincense oil
Many natural remedy users love frankincense oil for earaches. The reason why is it has natural anti-inflammatory properties. When inflammation is lower, so, too, is the severity of the infection.
Essential oils for ear infection in babies
As mentioned at the start of this article, most babies will develop an ear infection. But can you just apply essential oils into their ears?
One recipe for treating a baby's ear infection calls for one drop each of: lavender, frankincense, and tea tree. You can also use basil if your baby is over six months old. You'll also need 1 tablespoon of a carrier oil. Finally, you'll need a cotton ball to administer the oil to the ear.
To use, simply blend the essential oils with the carrier oil in a small bowl. Then dip the cotton ball into the oil blend. Next, lightly rub the cotton ball around the ear. Also rub it down the sides of the neck. For extra healing, lightly tape the cotton ball in the ear. Let sit overnight. Hopefully, by morning, the infection and/or earache will be gone.
Do you use essential oil for earaches or ear infections? Share your tips below….
Related Posts