Ginger root pills are more convenient than cooking with ginger. But like the spice, the pills may offer several health benefits.
What exactly is ginger root?
Ginger root technically is not a root. Rather, it's the rhizome of the ginger plant. Rhizomes are underground stems. They grow horizontally, right above the roots. On the other hand, roots grow vertically. But enough with the botany lesson.
We're here to learn about ginger root benefits. Especially ginger root pills, which are becoming increasingly popular in alternative medicine. You can get all the health benefits of this popular spice without having to cut or chop it up. And then have to deal with messy clean up in your blender.
You're probably familiar with ginger in cooking. Moreover, it's a great palette cleanser in between bites of sushi. However, do you know about its health benefits? In the Far East, using ginger root for medicine dates back at least a few thousand years.
Ginger Root Health Benefits
There are several key health benefits, including:
Fights Cancer: Ginger root suppresses cancer cells. Researchers believe it's because it contains a high antioxidant profile. In fact, this study suggests it may fight against colorectal cancer cells.
Fights Inflammation: Many people take ibuprofen for acute or chronic pain. Pain is an indication of inflammation. However, ibuprofen can weaken your stomach lining. Especially if you take too much of it. In light of this, ginger root might be a natural alternative to ibuprofen. Many studies such as this one conclude gingerol is a strong anti-inflammatory. Gingerol is one of the main active components in this spice. Furthermore, gingerol may help alleviate arthritis. In addition, it may help lessen muscle and joint pain.
Fights Nausea: This meta-analysis says gingerol root is more effective for sea sickness than Dramamine. It also helps ease or prevent vomiting in pregnant women. Moreover, the root can combat nausea from chemotherapy.
Fights Heart Disease: The same meta analysis says it plays a protective role in cardiovascular function. It may prevent a number of other diseases, too.
Fights Fat: This study concludes consuming ginger root increases metabolism after you consume it. In addition, it also encourages satiety. Because you feel full, it might help prevent you from overeating.
There are other health benefits as well. This medicinal spice can speed up the healing process from infections. Also, it normalizes digestive tract function. And, it helps manage diabetes.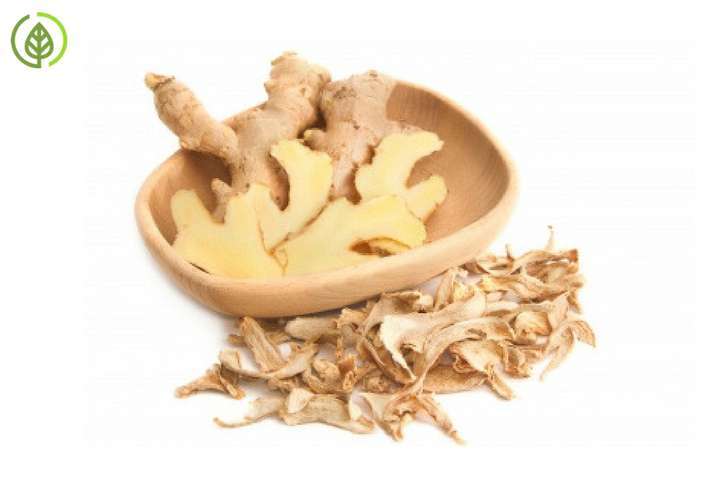 What's the Best Way to Get Ginger Root Health Benefits?
Should you eat whole ginger root? Or, should you take ginger root pills? You can also drink ginger root juice. And, there's ginger root tea. Does it matter what form to derive the health benefits? In a word, no. Some nutrition purists probably recommend eating the whole root, rather than taking pills.
However, there's no clear-cut research that proves one form is better than the other. What is clear, however, is too much of anything can be a bad thing. This includes ginger. As you'll see below, there are potential side effects of this warming spice. In light of this, as a general rule, don't take more than four grams of ginger per day. This dosage is regardless if it's ginger root pills/capsules or ginger root tea or ginger root juice.
Speaking of which, relatively speaking, not too many people are familiar with ginger root juice. Ginger root juice can refer to two different things. First, there's bottled ginger juice. Second, ginger root juice can also mean making your own juice and putting raw whole ginger root in the blender.
The nice thing about bottled ginger root juice is it contains zero sugar. Most juices contain lots of sugar. But remember, ginger is not a fruit. Technically, it's a vegetable.
Either way you take it, ginger root is one of the healthiest things you can consume. Ironically, ginger has very little nutritional benefit. It's not rich in vitamins and minerals.
Ginger capsules for nausea
Taking ginger pills for a boat joyride is one thing. But what if you're pregnant? It seems like every supplement says don't take it if you're expecting. Now, don't take the following as medical advice. However, you're most likely in the clear if you take one or two capsules once or twice a day. Try not to exceed more than 1 gram per day. This is about a fourth of the recommended maximum daily dosage for people not pregnant.
Ginger root pills for weight loss
As mentioned above, ginger may boost metabolism. And it also reduces cravings. (Although, why is it that after eating lots of sushi with ginger, you're hungry just a couple hours later?) Moreover, ginger may also help you lose weight because it controls the release of cortisol. Cortisol is one of your stress hormones. When your body releases cortisol too frequently, it interferes with fat burning. Thus, because ginger curbs cortisol release, it helps prevent stress-related weight gain. (Read: best herbs to fight stress and the belly fat cortisol connection.)
Ginger root capsules side effects
Any supplement, even an all-natural one, can interfere with prescriptions. Thus, to be safe, talk to a health professional if you take any medications and want to take ginger root. Keep in mind that not all ginger root supplements are created equal. So do your research to find a trustworthy brand.
As for specific side effects, ginger may cause mild ones. This includes heartburn, bloating or other digestive upset. Furthermore, people with low blood sugar, gallstones and bleeding disorders should use caution with ginger root or in its supplement forms. Just remember that eating whole ginger root or drinking ginger root juice isn't any safer than taking ginger root capsules.
White ginger root image courtesy of Praisaeng at freedigitalphotos.net
Disclaimer: I am not a medical professional and am not giving medical diagnostics to heal ailments. All details and facts were extracted from websites found on the internet.
Related Posts