Need an on-the-go healthy snack that won't spike your blood sugar and won't bloat your belly? This Paleo protein bars recipe is perfect fuel for a hike or post-workout recovery snack.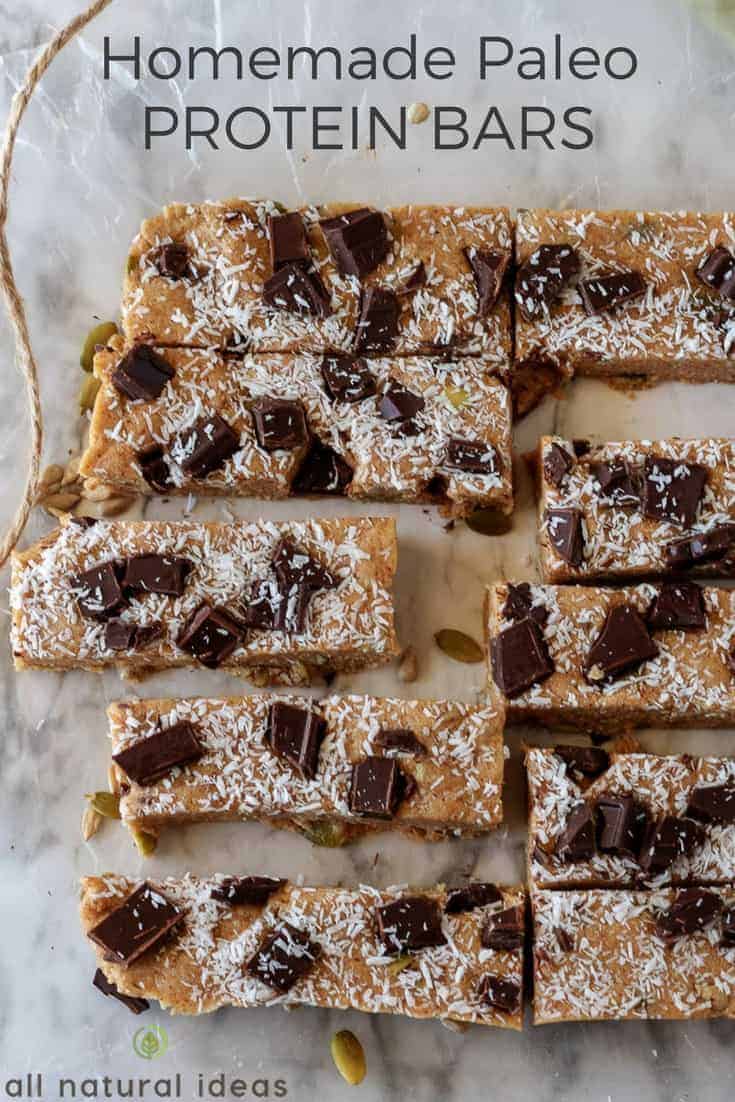 Do you need a napkin? Are you starting to drool?
I don't blame if you are. After all, take a look at the sinfully rich gobs of chocolate chunks above.
Paleo Chocolate? Isn't That An Oxymoron?
Yes, didn't you know that after cavemen successfully slew a Sabertooth tiger kill and feasted on it, chocolate chips were served for dessert.
Of course, I'm joking. But it's the makeup of the ingredients in this homemade Paleo protein bars recipe that makes the difference.
Chocolate consumption goes back perhaps as old as 4,000 years. If you're a Paleo purist, though, that's not nearly old enough to be considered Paleo.
Chocolate would need to be at least 8,000 years older to be true Paleo. But that doesn't mean chocolate can't be a part of the Paleo diet.
The true purpose of Paleo shouldn't be imitating our prehistoric ancestors because it's trendy. Rather, the intent of Paleo is to avoid inflammation as much as possible.
And as long as you're eating the right kind of chocolate, you'll not only avoid inflammation, you'll contribute to your health.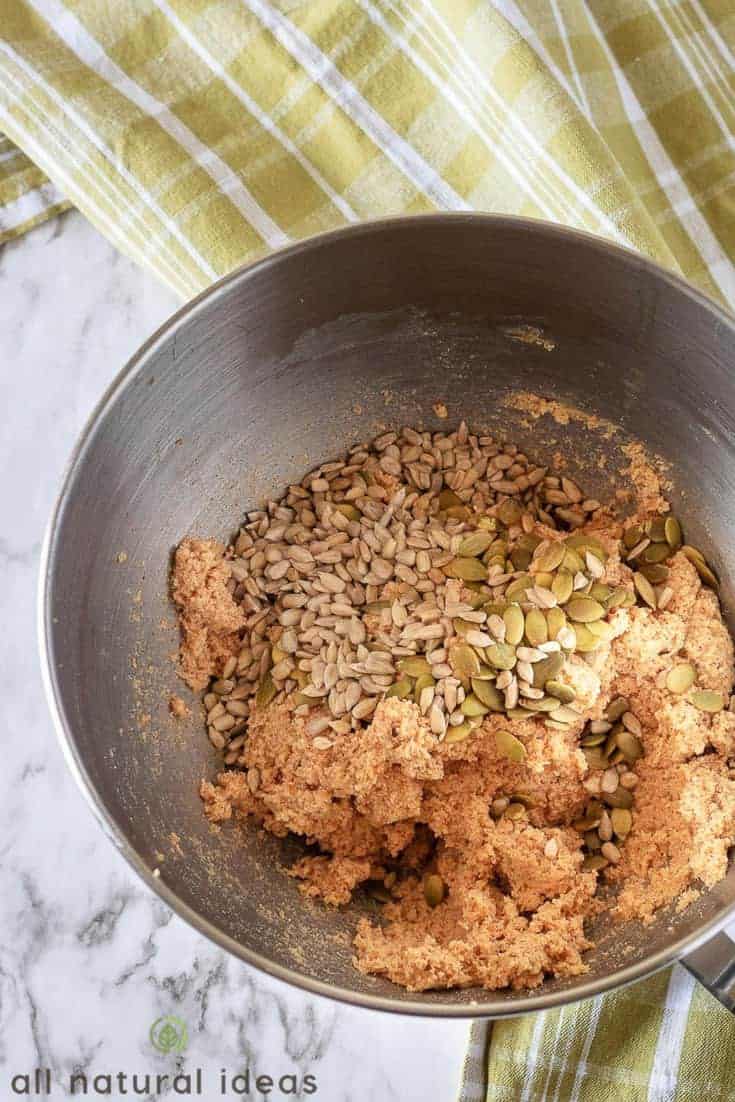 What is Paleo Chocolate?
If you take a look at the ingredients in this Paleo protein bars recipe, you'll see "Paleo Chocolate."
There are several brands of Paleo chocolate, although they aren't always easy to find.
It's always dark chocolate because milk chocolate contains dairy which is eliminated on a paleo diet. And consuming cow milk is highly allergenic for many people.
The higher the percentage of cacao, the better. As for the rest of the ingredients besides cacao, there should only be a few.
Hu Simple Chocolate Bar, for example, contains organic stone ground cacao (the ancient method of processing), unrefined coconut sugar, and organic cacao butter.
It's not real primal chocolate if it contains soy lecithin (real cavemen don't eat soy).
If you take a look at the picture of the Paleo Protein Bars recipe, you'll notice a sprinkling of seeds. There are pumpkin and sunflower.
And one more type of seed….
It's the one we're already talking about. You see, cacao actually comes from a seed.
Health Benefits of Primal Chocolate
Cacao seeds contain an abundance of nutrients….
I remember being shocked the first time I saw how much iron a serving of cacao has: 15% daily value. And, I was also surprised by seeing how much fiber is dark chocolate.
Some dark chocolates contain 5 grams or more of fiber. Does this mean that you should eat a whole bar of dark chocolate every day?
Of course not. That's not healthy regardless of what type of diet you're following.
(But if you are a chocoholic, check out my other healthy recipes featuring chocolate.)
In addition, cacao beans contain a decent amount of protein. In fact, by volume, cacao beans are at least 10% protein.
Plus, you probably already know dark chocolate is high in antioxidants. Actually, it might just be one of the best sources of antioxidants.
So don't feel guilty about eating it when you sink your teeth into a serving of this Paleo protein bar recipe!
But if you want to feel more at ease about eating chocolate, take advice not from a food blogger like myself. Rather, take it from peer-reviewed research.
Like this benefits of cocoa study, which concludes: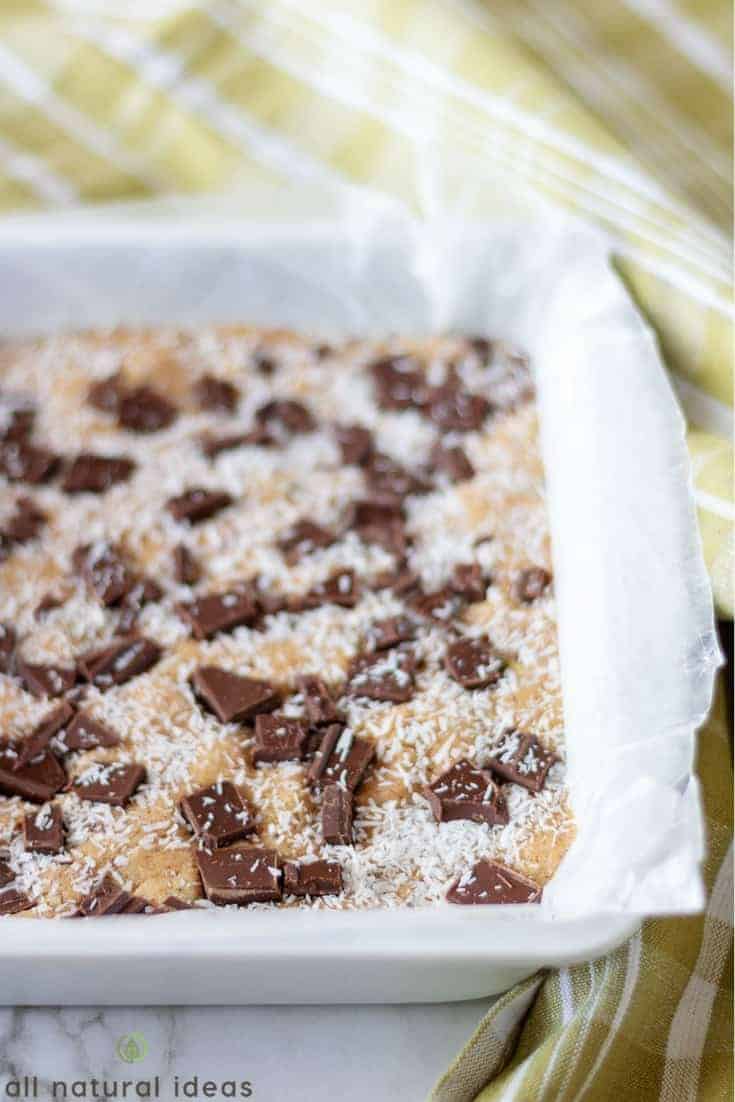 "It may have the potential to be used for the prevention/treatment of allergies, cancers, oxidative injuries, inflammatory conditions, anxiety, hyperglycemia, and insulin resistance."
Homemade Paleo Protein Bars Recipe
My recipe also suggests using a Paleo-approved protein powder.
I know, I know. Protein powder didn't exist 20,000 years ago, hence, protein powder isn't true Paleo.
I realize GNC wasn't around during the Paelolithic era. If only a hunter returned without meat, he could have walked into a GNC cave and grunted to the sales clerk, while pointing to the powder of his choice.
"Ak. Koz."
Translation: Give me 2 scoops of mastodon. I don't need a bag.
OK, if you want to be strict Paleo, that's your prerogative. That means more chocolate for me.
But remember, the true purpose of a modern primal diet is to avoid as much as possible anything you put into your mouth that may cause inflammation.
However, it is worth noting that many primal protein powder purveyors offer whey protein.
And whey in no way (excuse the lame pun) is part of a primal diet. After all, it's from dairy.
Although there may be no such thing as true primal protein powder, here's what to look for when buying one.
First, avoid any powders with sugar in any form. This especially includes maltodextrin (corn starch). Powders made from egg protein or grass-fed beef are your best options.
However, some powders contain fillers and ingredients that are potentially allergenic.
A safe bet is actually vegan-friendly protein powders such as hemp and pea protein.
Keep in mind this Paleo Protein Bars recipe is intended for those types when you actually need a larger dose of protein (post-weightlifting, for example).
If you're sedentary, you don't need that much protein. And if you do have a large serving of protein, your blood sugar level can go up. This is possible by a process known as gluconeogenesis.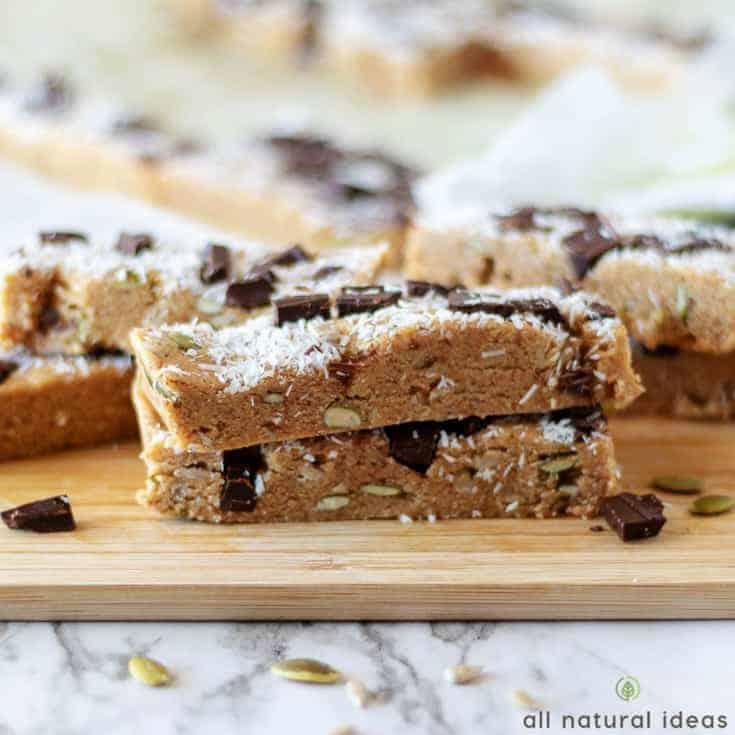 Primal Cooking
My favorite flours for making healthy Paleo snacks are coconut and almond. Coconut flour contains healthy fats while almond flour is an excellent source of additional protein.
In my homemade Paleo Protein Bars recipe, I use a little bit of honey. There's some debate in the hardcore primal community about honey.
Is it ok to eat on a low-carb diet?
I think it's ok in moderation. It's just like eating dark chocolate and protein powder; it's best used and consumed sparingly.
Plus, honey is a millions of years old by-product of bees.
It's highly likely that when Mr. Caveman visited his local GNC to buy some mastodon protein powder, he also ordered a gob of honey, haha.
I don't like to get bogged down in nutritional theocratic doctrine. And I like having fun with food.
We're not around on this planet for very long so enjoy the sweet stuff as long as it's all natural.
Enjoy the recipe!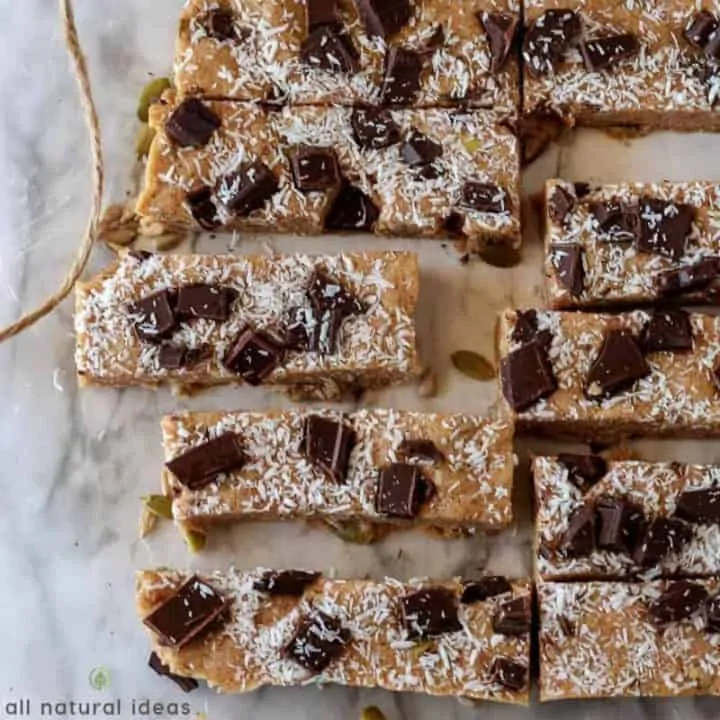 Yield:

12 people
Homemade Paleo Protein Bars
Total Time:
1 hour
10 minutes
A healthy paleo treat that won't spike your blood sugar and won't bloat your belly? These bars are perfect for a hike or post-workout snack.
Ingredients
1 ½ Cups Egg White Protein Powder , or other Paleo Approved Protein Powder
1/2 Cup Coconut Flour
1/4 Cup Almond Flour
3/4 Cup Almond Butter
3/4 Cup Pure Honey
1 Tsp. Vanilla Extract, one vanilla bean split and scraped.
1/3 Cup Almond Milk
1/4 Tsp. Sea Salt
1/4 Cup Pumpkin Seeds
1/4 Cup Sunflower Seeds
3 Ounces Paleo Chocolate, chopped
1/8 Cup Unsweetened Shredded Coconut
Instructions
First, line an 8x8 in. baking dish with parchment paper.
Next, in a stand mixer, combine the protein powder, coconut flour, almond flour, and salt. Whisk the ingredients together to mix them.
Now, in a microwave safe dish, melt the almond butter.
Then, add the butter, honey, vanilla extract, seeds, and milk to the dry ingredients.
Afterward, mix everything together on medium-low speed for 2 minutes.
At this point, you can transfer the protein powder batter from the mixer to the baking dish.
Spread the mixture evenly and sprinkle the chocolate chunks and coconut on top of the bars. Use your hands to gently press the toppings in place.
Last, place the bars into your fridge to set for at least 60 minutes. Once set, cut them into 12 equal bars.
Notes
You can store them in your fridge in a sealed container for up to 3 days.
Storage in your fridge is recommended; otherwise, they will become really soft.
Feel free to try dried cranberries or raisins instead of chocolate for the topping.
For a lower carb option, use your favorite sweetener (Honest syrup works well) in place of the honey.
Nutrition Information:
Yield:
12
Serving Size:
bar
Amount Per Serving:
Calories:

318
Saturated Fat:

13g
Sodium:

198mg
Carbohydrates:

26g
Fiber:

5g
Sugar:

20g
Protein:

30g
Related Posts