Problems pooping? Constantly constipated? Difficulty defecating? Then consider doing a Master Cleanse salt water flush! It's easy and effective.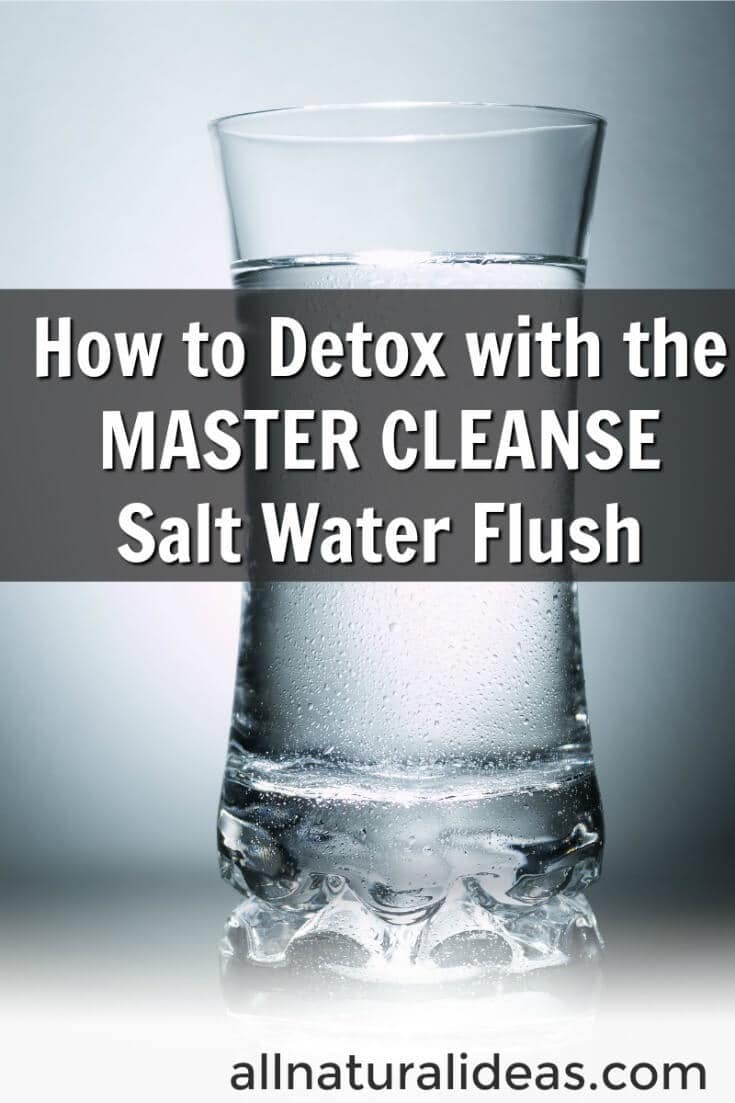 There's few things in life more frustrating than futility in the bathroom. Poor digestion and sluggish elimination may be normal for many people these days. But chronic constipation is far from normal.
Our elimination organs were designed to be effective garbage disposals. It's no wonder, then, that when the plumbing is backed up, more and more people are forcibly evacuating their bowels by doing a flush made with salt water.
Reasons people do a salt water flush
Now, before discussing what exactly this flush is, it's important to ask why so many people are clogged up in the first place? Here are some reasons:
Poor diet (especially, lack of fiber)

Chronic stress

Exposure to chemicals in household cleaners, beauty products, etc.

Not enough good bacteria in the gut

Dehydration

Lack of cardiovascular exercise

Lack of stomach acid
You might think forcibly evacuating the bowels is a recent phenomenon because of modern diet. But toxin-purging colon cleanses have been done for centuries. Colonics have been a mainstay of natural healing for countless generations.
The Master Cleanse salt water flush, though, is a more recent natural health trend. And, it's much simpler and pleasurable to do.
Unlike a traditional colonic, you don't have to stick a tube up your backside and uncomfortably irrigate your colon. (Or pay someone good money to do it for you like a colon hydrotherapist.) With this modern day flush, you simply drink a small amount of water with salt.
Sounds pretty simple, right? But before you reach for your table salt and sprinkle some in water and chug, take these important facts about doing a Master Cleanse flush into consideration.
Not all salt is created equal
The quality of salt in a salt water flush is not only important, it could be a matter of life and death. You don't want to use regular table salt.
The salt shaker sitting at most restaurant tables are heavily processed. They are stripped of minerals and contain chemicals. Without the minerals, the sodium isn't balanced and can raise blood pressure and dehydrate your cells.
Regular white table salt throws of your intracellular electrolyte balance. If you were to chug glasses full of water with regular table salt, you could potentially die.
That's why you need sea salt when doing a salt water flush. But not all sea salts are created equal either. Many sea salts are also heavily processed.
Pink Himalayan sea salt is rich in trace minerals. Real sea salt from the Great Salt Lake in Utah is another good one to use for a salt water cleanse. And so is Celtic Sea Salt. In general, the best sea salts are pink or grey or any other color besides snow white.
Sea salt does contain sodium. So if you have high blood pressure, check with a health professional to make sure it's ok for you to drink salt water. But the dozens of trace minerals in good quality sea salts help offset the sodium.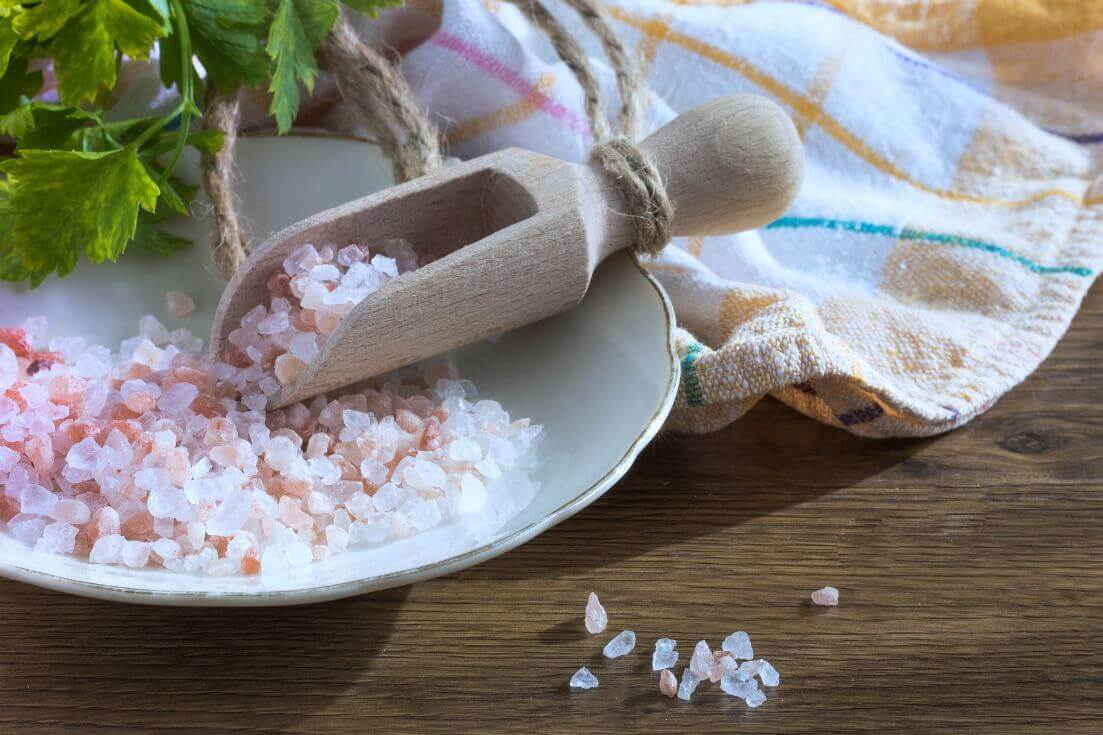 Timing is everything with a salt water flush
Going to a hot yoga class at 8 a.m.? You might want to skip the salt water drink in the morning. In fact, you may want to make sure you have a clear beeline for the toilet for at least a couple hours.
Most people who do a salt water flush do it early in the morning. That's great if you have nowhere to be. But if you do it at 7am and you leave soon after for your commute in the car to work, it might be one harrowing ride!
Most people fully evacuate their bowels within a half hour of drinking the salt water. But take no chances. The aftermath of the drink can be like a dormant volcanic eruption. And, there's no telling how long it will last.
Mix it up
Just like a cocktail mixed right, a salt water flush needs to be properly stirred. You've got to use warm, not cold, water. And make sure the sea salt is blended completely in the warm water. This way, you'll fully absorb the salt minerals, which will help initiate a glorious bowel movement.
The salt water mix should appear cloudy. If you see salt grain floaters, keep stirring! Not properly mixing the salt water could dehydrate you and raise your blood pressure.
Simple salt water recipe
Save that $75 you were thinking about spending on a colon hydrotherapist. Instead, try this simple salt water drink recipe.
The simple flush outlined, below, has become popular because of the detox method. In fact, this recipe is also called the Master Cleanse Salt Water Flush. This particular flush is an optional precursor for starting the detox diet.
The reason why the drink is recommended for those doing the Master Cleanse Diet is because the diet itself lacks fiber. When you don't eat fiber, you don't poop (or nearly as much).
In case you've never heard of the Master Cleanse Diet, here's a brief low-down. It's been around for decades. But it's been popular more recently because of celebrity endorsements.
Some actors who need to lose weight quickly for a movie role have given it a try. And other celebs have tried this no-food fast—a mix of water, cayenne pepper, lemon juice and maple syrup for several days—to periodically purge their bodies of toxins.
The Master Cleanse salt water flush recipe requires just two ingredients: pure water and sea salt. The recipe calls for 2 teaspoons of sea salt and one liter of purified water.
The Master Cleanse recipe also recommends a glass jar with a lid so you can easily shake it and make sure the salt is fully blended in the hot water. If necessary stir. And then stir again. Shake. And shake again. Do it until there is no visible sediment. It should look cloudy.
When to do the flush
Again, timing is everything. Giving a presentation at work today? Don't do a flush. Save your first time for a weekend or other day when you don't have much going on.
You can do the cleansing drink any time of day, even at night. But you want to make sure you go at least a couple hours without eating before doing a flush. That's why most people drink the salt water first thing in the morning, before breakfast.
Salt water flush for weight loss
If your hormones are low or imbalanced, you may have trouble getting rid of unwanted fat. Sea salt can actually help regulate or encourage healthy hormone function. This is one reason salt water flushes can help with weight loss.
Also, excess glucose in the bloodstream gets stored as potential usable energy by the tissues and liver. This is called glycogen. Sea salt can help break down glucose so it's not stored as glycogen and converted into body fat.
Obviously, if you're constipated, you're going to weigh a bit more than if you were regular as Old Faithful. Doing a cleansing drink once in a while can instantly help you shed a pound. And if the drink is really effective, you'll have more than one bowel movement.
Most likely, when all is said and done, you'll lose at least a couple pounds. But beware: only do the flush once in awhile. You can really mess with your electrolyte levels by doing a daily salt water flushes.
If you're optimistic about using the salt water drink for weight loss benefits, keep this in mind: a lot of the weight you lose will be water weight. Once you start eating again, you'll likely put some weight back on.
The salt water bypasses the digestive system and goes right for the elimination process. That's why it's important you try to address the root cause of your sluggish elimination.
You don't want to have to rely on salt water flushes all the time to help you lose weight and eliminate regularly. Find a health professional trained in functional medicine and holistic health.
Salt water flush benefits
Salt water cleansing drinks can help release stored metabolic waste. They can also help improve digestion by helping contract the muscles of the GI tract.
People who have trouble with elimination typically have water retention. One benefit of a salt water drink is to help clear water retention without relying on laxatives or pharmaceutical drugs.
Constipation could be also be caused by inflammation. Another benefit of the salt water is that it helps to reduce inflammation. Certain painful digestive disorders caused by inflammation could be improved with an occasional salt water drink.
Salt water flush dangers
Make no mistake about it. As mentioned, it's possible that doing a salt water flush can kill you. This is especially true if you're using table salt instead of unprocessed/unrefined sea salt.
Generally speaking, though, drinking salt water is safe. The greatest potential damage could be to your underwear if you can't get to a toilet in time.
A wee bit of trace-mineral-rich sea salt should be safe even for those with high blood pressure. But again, check with your doctor or another health professional to be on the safe side. Some common negative side effects of the salt water flush include nausea.
The salty water drinks are a great alternative to strict no-food detoxes. Instead of only juicing for a few days, you can eat real food and drink salt water to detox. When you do a juice-only cleanse, you can deprive your body of vital nutrients like protein and fiber.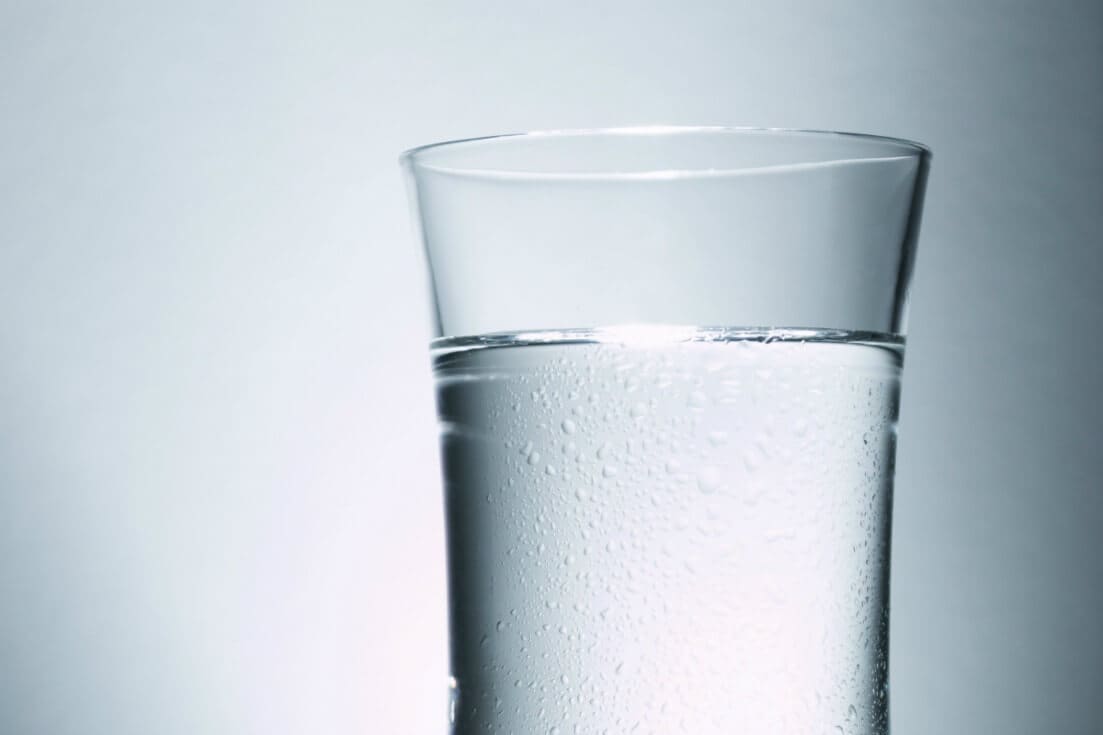 Curious about other detoxes? Check out:
Coffee Enema: Is it an Effective Detox Method?
Detoxing Your Body – How to Detox and When to Do it
10 Best Detox Drinks for Weight Loss
Related Posts