Blood-sugar crashes can occur in those with type diabetes. But for some people without the disease, low blood sugar can cause anxiety and other side effects. To prevent "hypo" the non diabetic hypoglycemia diet can help. And learning about the causes of it, too.
If you don't eat every few hours, do you start shaking? Is breakfast, lunch and dinner not enough to prevent palpitations?
Do you have to keep snacks in your purse or backpack handy to avoid getting dizzy? If so, you might have hypoglycemia (henceforth: "hypo") a condition–not a disease–caused by very low blood sugar (glucose).
Most of the time, diabetes causes low blood sugar. However, some people, even otherwise perfectly healthy individuals, experience hypo.
If you're experiencing typical symptoms of low blood sugar such as low energy or dizziness, the immediate remedy is to eat a high-sugar snack or drink. Doing so will get your blood sugar levels back to a normal level (70 mg/dl).
But this brings up two obvious points….
Firstly, you'll be better off learning how to prevent your blood sugar from getting too low in the first place.
Secondly, high-sugar snacks and drinks aren't good for your health. If you keep relying on them when you start feeling low, you might end up developing type 2 diabetes.
Non diabetic hypoglycemia diet: what to eat?
The easiest way to prevent symptoms of low blood sugar is to not go more than about three hours without eating a meal.
You might not be able to follow one of the latest health trends–intermittent fasting–which involves fasting up to 16 hours a day. However, you can still eat a clean, low-sugar diet to avoid putting on weight.
Don't use your health problem as an excuse to eat and drink high sugar. This will only lead to more health problems down the road.
Hypo is certainly more high-maintenance than intermittent fasting. You'll need to eat five or six or seven times a day, in comparison to just two or three meals.
But that's a small price to pay for avoiding symptoms of hypo as well as serious complications of diabetes.
Non diabetic hypoglycemia diet: fine-tuning macros
With this in mind, try to eat a balanced breakfast, lunch and dinner. The term "balanced" means that each meal should contain the three macros of nutrition: carbohydrates, protein and natural fat.
The best proportion of each macros depends on several factors. You might have to experiment until you learn what percentage works best for you.
For example, using a normal size dinner plate, one-quarter of the plate will be dietary fat. Think avocados, nuts, seeds, grass-fed/organic animal protein (cheese), and other smart fats.
Another quarter of the plate will be protein. There's some crossover with protein and fat. Some foods such as grass-fed beef contains both fat and protein.
And maybe the other 50% of your plate contains carbohydrates. More nutrient-dense and slower-burning carbs are better for your health.
Wild rice and quinoa and veggies are sources of carbs that will keep your blood sugar steady.
Considering the popularity of low carb diets, is it a good idea to go low carb? And what exactly does that mean?
Let's answer the second question first. Strict low carb diets allow for no more than 50 grams of net carbs (total carbs minus fiber) per day.
But according to this medical website, a low-carbohydrate diet has not proven to help hypoglycemia. If you do want to try going low carb for the sake of let's say losing weight, you'll need to make sure you increase dietary fat.
To prevent blood sugar fluctuations, it's probably safer to not eat low carb; just make sure the carbs you do eat are mostly from veggies and slow-burning grains (not rice and bread).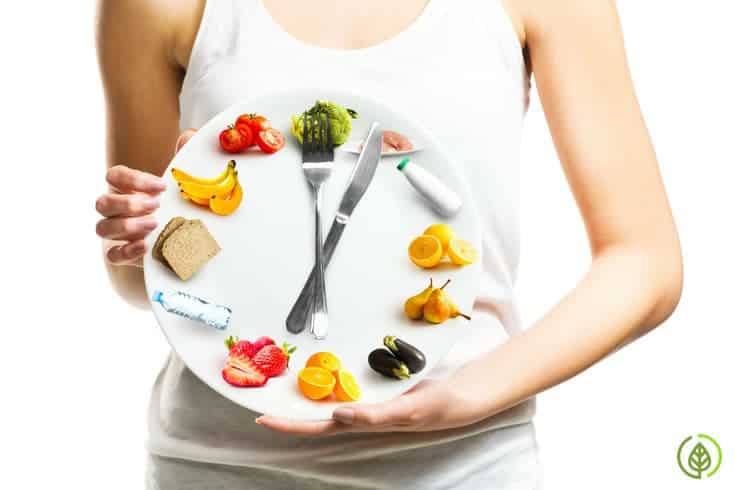 Non diabetic hypoglycemia diet: Meal timing
About three hours after your breakfast and lunch, try to have a snack. Eating a piece of fruit along with a handful of nuts (almonds, walnuts, cashews, etc.) will likely prevent your blood sugar from falling too low in between meals.
Yogurt with a tablespoon of raw honey and berries is also a great in-between meal snack. Top it off with a sprinkle of low-sugar granola.
One way to prevent weight gain is to avoid eating late at night. However, if you are prone to hypo, you might want to have a healthy snack before bed.
Apple slices with a tablespoon of almond butter will prevent any blood sugar crashes. And when you wake up in the morning, you won't feel sluggish (or worse) because of hypo.
What causes hypoglycemia in non diabetics?
It's a pretty simple strategy for avoiding hypo, right? Just eat several times throughout the day using a non diabetic hypoglycemia diet.
To avoid putting on weight, you will need to focus on really limiting foods and drinks that can pack on the pounds.
You also might need to go for a couple walks every day to burn extra calories. And make sure you're not doing vigorous exercise without eating shortly before and after.
But why are you prone to hypo in the first place?
There are several potential causes.
The human body does an ingenious job of regulating blood sugar. We come with safeguards in place to regulate glucose (blood sugar).
For example, levels of insulin, the hormone that drives glucose into the cells for energy, go down. On the other hand, another blood-sugar hormone–glucagon–activates.
Think of insulin and glucagon as a see-saw. One goes up, the other goes down.
Insulin does one of two thing. it either takes sugar from your blood and delivers it to the cells for immediate energy. Or, it stores it for future use.
To control your blood sugar, glucagon tells your liver and muscles to convert stored blood sugar into available fuel. In this way, your cells have an energy source.
Another way your blood sugar levels regulate is via stress hormones. One of them is epinephrine. You may know it as adrenaline. It raises blood sugar levels when it's necessary.
However, if you have hypo, these self-regulating mechanisms aren't working. And that's why you need to follow a non diabetic hypoglycemia diet
Blame it on your hormones
And speaking of hormones, it could be that if you have hypo, it's because of too much cortisol and growth hormone. Cortisol is a stress hormone.
If your body is producing more cortisol than normal, it will eventually lower blood sugar. Consequently, with higher than normal stress and growth hormone output, the following happens:
Your body's tissues don't utilize blood sugar as much. Furthermore, your liver starts breaking down protein and uses it for fuel instead of glucose.
And if blood sugar level further plummets, ketogenesis can occur. Now, being in ketosis is great if you have normal blood sugar levels and want to lose weight.
A goal of low carb dieters is to stay in ketosis so the body burns stored body fat.
Other causes of non diabetic hypoglycemia
Hormones aren't the only potential trigger of hypo.
According to this report, co-authored by two medical doctors, the following can also cause it:
Drugs
Critical illnesses
Cell tumors
Bariatric surgery
Alcohol
But let's get back to blaming hormones.
The co-authors say that adrenal insufficiency may cause hypo. "Adrenal fatigue" is a trendy natural health term.
To put it simply, your adrenal glands release cortisol, a hormone that helps the body deal with stress. But chronic stress can tax the adrenal glands.
Adrenal insufficiency is simple to treat, suggest the co-authors. A functional medicine doctor or other health professional can test you for adrenal insufficiency.
As for alcohol, the report says it can blunt the response of growth hormone to hypo. In addition, it can also increase the insulin response to a glucose load.
This can lead to a blood sugar crash after a meal. This is especially true if you're drinking alcohol with a small meal.
So if you're going to enjoy a glass of red wine, make sure you're eating a substantial dinner. Don't have an afternoon cocktail with a small snack. That's a recipe for hypo.
Symptoms of hypoglycemia
In addition to dizziness, fainting, shaking, and nausea there are other hypo symptoms. These include sweating, feeling hot, anxious and developing palpitations, tremors or irregular heart beat.
Far more serious consequences include blacking out, seizure and falling into a coma.
Non diabetic hypoglycemia diet and causes: testing
The best way to see what's going on is to have a blood test taken while you're experiencing hypo. That's obviously not a comfortable or pragmatic option for some people.
However, if you can take a day off work to get tested, a doctor might be able to determine the root cause of the hypo.
Perhaps it's hormones. Maybe it's pancreas cells. Or, if you're taking medication, maybe that's too blame.
A few of the tests include a 72-hour fast. Now, if that sounds like torture and certain suicide, then don't do it. Follow a non diabetic hypoglycemia diet instead.
The 72-hour fast is supervised in a medical setting.
There are several other testing options. If you want a thorough explanation of them, review this medical report.
Non diabetic hypoglycemia treatment
The best way to treat and prevent blood sugar crashes is frequent eating. And the foods you should eat are those that keep your blood sugar levels steady.
If you have hypo, you just need to eat snacks to keep your blood sugar levels high enough.
Look on the bright side … snacking is fun. Just remember to always eat healthy (low sugar) snacks.
However, let's say you're stuck in a conference for a few hours and forgot to bring food. It's ok as a last resort to drink half a can of soda to keep your glucose levels up.
In addition, certain prescription inhibitors can delay the digestion of carbohydrates. But doesn't snacking and following a non diabetic hypoglycemia diet sound more fun?
Related Posts