Using shea butter for face treatment has been used in Africa for centuries. But is it good for your skin and can it help with acne?

You are probably familiar with shea butter. It makes for a great massage oil. It can also help moisturize your lips. (Click here for a DIY lip balm recipe with shea butter.)
But is putting shea butter on your face a good idea? Shea butter for face treatment can be a greasy, oily affair. If you have experience using shea butter, you probably know it leaves a shine on your skin. That might be good if you have dry skin (more on this topic below). But if you have oily skin to begin with, is using shea butter for face treatment a good idea?
It depends.
Using raw shea butter can clear your complexion. Pure African shea butter is the best to use for face treatment. There are lots of face creams on the market containing shea butter. However, some of them barely contain any shea butter. Furthermore, the shea butter might not be raw.
Shea butter that's not raw might not offer the same benefits. Processed shea butter is usually heated. When you heat an oil or butter, the beneficial compounds deteriorate. And not only do they deteriorate, they can also turn toxic.
Are you only going to read this article on shea butter for face uses up to this point? Then the takeaway is, yes, shea butter is great for your face. But only if it's raw like this one.
Why is shea butter for face treatment a good idea?
Shea butter naturally contains anti-bacterial and anti-inflammatory properties. That means if you have skin conditions such as eczema or acne (see 'shea butter for face acne' below), shea butter can help.
Many skin conditions arise because of inflammation in your body. What causes inflammation? Well, that's a topic for another blog post.
But in general, poor diet, stress and insufficient digestion can cause inflammatory skin disorders. If you have psoriasis, another inflammatory skin condition, shea butter can help calm it. In fact, shea butter can also help if you have itchy skin.
The big reasons to use shea butter for face treatment is its deeply nourishing properties. Raw shea butter especially moisturizes and lubricates the skin.
Raw shea butter not only helps treat inflammation-related skin conditions. It also is effective for sunburns and rashes. Traditionally, in Africa, women also use it to minimize stretch marks.
Shea butter is beneficial for the skin because of what's inside the kernel of the fruit. The kernel is pressed into oil. And this oil is very nutrient dense. It's loaded with vitamins A, E, K and essential fatty acids. The nutrients found in shea butter oil regenerates skin cells. It even has a modest amount of natural UV ray protection.  
In addition to being beneficial for your face, shea butter's great for hair. Due to its deep penetrating ability, it makes for a deep conditioning agent. In fact, you don't even need to buy an expensive brand of conditioner.
On the contrary, you can just take a small amount of raw shea butter. Then, rub it in your hands to break it down. Apply the shea butter to your hair. Let it sit in your hair for several minutes. You can then rinse it out in the shower.
What brand of shea butter for face treatment is best?
There are several brands of shea butter. If you value sustainability and purity of product, here are some guideline to follow. Choose a brand that is cultivated in the traditional style in Africa.
If you select a traditionally hand-crafted brand of raw shea butter, you are helping support women with little other income-generating prospects. Not only does this socially make sense, it helps your skin. By going with raw shea butter, you are selecting a nutrient-dense oil.  If it's not raw, you're not getting all the healing properties.
Shea trees grow in savannas, in African countries such as Ghana. Selecting a traditionally-cultivated brand of shea butter is important for the environment. That's because shea trees take up to three decades to bear fruit. Because these trees are vital to traditional economies, it's easy to see why these trees need protection.
How can you tell if a product you're using that contains shea is raw? One tell-tale characteristic is color. If the shea butter looks white, it's most likely not raw.
Pure, raw shea butter is effective for your face but it's gentle enough for babies. In fact, west African traditional societies use it as a diaper rash remedy.
Shea butter for acne: does it work?
Again, if it's pure, raw shea butter, it's very likely. That's because of its natural antibacterial nature. Acne is a sign of internal upset, usually hormonal or digestive, or both. Toxins like to seep out through the skin since it's an easy exit. Acne is a manifestation of toxins. Your face has good and bad bacteria, just like your gut. Shea butter can help neutralize toxins and bad bacteria.
Furthermore, the vitamins and essential fatty acids in shea butter are proven to have anti-inflammatory properties. Shea butter can help acne without further clogging your pores.
Some skin care experts recommend first cleaning your face with a natural cleanser. That way, you will get rid of the trapped toxins (bacteria) from the acne. And even if your face is naturally oily, you still want some of your natural oils. So don't use harsh astringent cleansing pads. A natural cleanser will help remove not all your oil, but just the excess.
After cleaning your face with a facial cleanser that doesn't have harsh chemicals (see if your cleanser scores safe here), then apply shea butter for face acne.
But if you have dry skin, use shea butter after you've splashed some pure water on your face. That way, the moisture seals.
There's another tip to keep in mind when using shea butter for acne. Do not use your fingers. Again, having some natural oil on your face is normal and healthy. But dabbing shea butter with your fingers can cause excess oil to accumulate. Instead, use a cotton pad or makeup sponge. Just make sure your sponge is clean of other products that may contain harsh chemicals.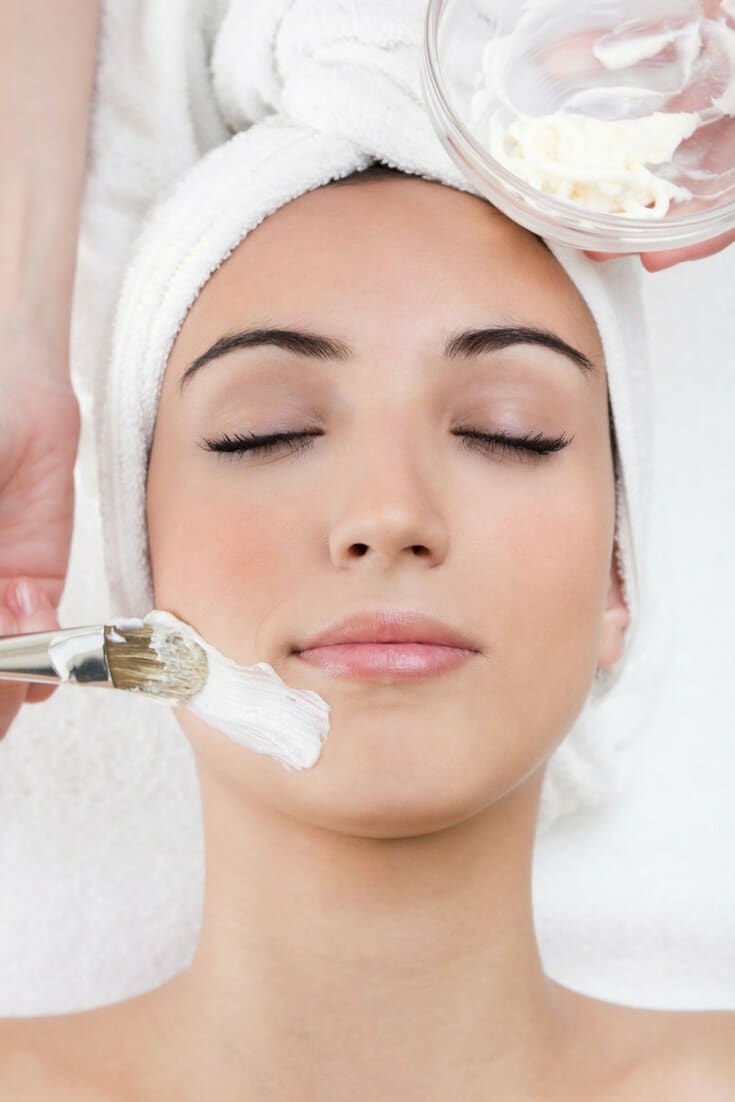 Shea butter for skin lightening
Shea butter can help with acne but can it also help with skin blemishes? There's no clinical research showing that it can. However, if you have uneven skin color, shea butter may help lighten age spots or other blemishes.
Considering its traditional use on stretch marks, burns and scars, it makes sense that shea butter can help with skin lightening.
Shea butter on face at night
Lots of face butters or oil feel greasy. Shea butter also may leave your face looking shiny, if not a bit oily. As a result, don't apply it on your face before going out on the town. Instead, apply it at night. In fact, some skin care experts say that the true benefits of shea butter come from leaving it in for several hours.
One easy way to do this is applying it to your face right before bed.  Just remember that if you're storing shea butter in cold weather it can get hard, making it difficult to apply. On the flip side, storing it in hot weather, just like coconut oil, can turn it into a soupy mess. Heat and light can spoil oils. So store your raw shea butter in a cool, dark, dry place.
Related Posts