This post may be sponsored or contain affiliate links. We may earn money from purchases made through links mentioned in this post, but all opinions are our own. We are a participant in the Amazon Services LLC Associates Program, an affiliate advertising program designed to provide a means for us to earn fees by linking to Amazon.com and affiliates sites.
It's quick and easy to make your own all natural handmade lip balm. It saves money too! Use essential oils for added scent or add natural flavoring.
My lips always seem to get chapped. This is particulary true during the dry winter months in Southern New England. To keep my lips soft, I usually keep a container of lip balm in my purse or pocket.
Since I go through so much, I thought I'd try making my own handmade lip balm. Turns out, it's super easy to do. Way easier than I thought it would be. You just need to stock up on some key ingredients.
MY LATEST VIDEOS
What do you need to make your own handmade lip balm? The key ingredient that binds the moisturizers together is beeswax. For the moisturizing ingredients, I like to use a mix of coconut oil, shea butter and sweet almond oil. Optional ingredients are essential oils or natural flavors and natural coloring. If you are making the lip balm for kids, it's best to use natural flavoring or essential oils that are safe to consume.
You can add some natural color like beetroot powder to the mix if you'd like. I don't usually bother with adding coloring as it's not needed.
You can use any blend of essential oil scents. However, you'll want to avoid citrus oils because they can make your skin photosensitive. This means that if you apply a citrus oil to your skin and then that area of skin is exposed to direct sunlight (within 12 to 24 hours of application) it will cause a reaction, creating a burn on your skin. If you want a citrus scent, it's best to stick to a natural flavoring. Peppermint oil is my oil of choice for handmade lip balm. Sometimes I replace a few drops of the peppermint with lavender.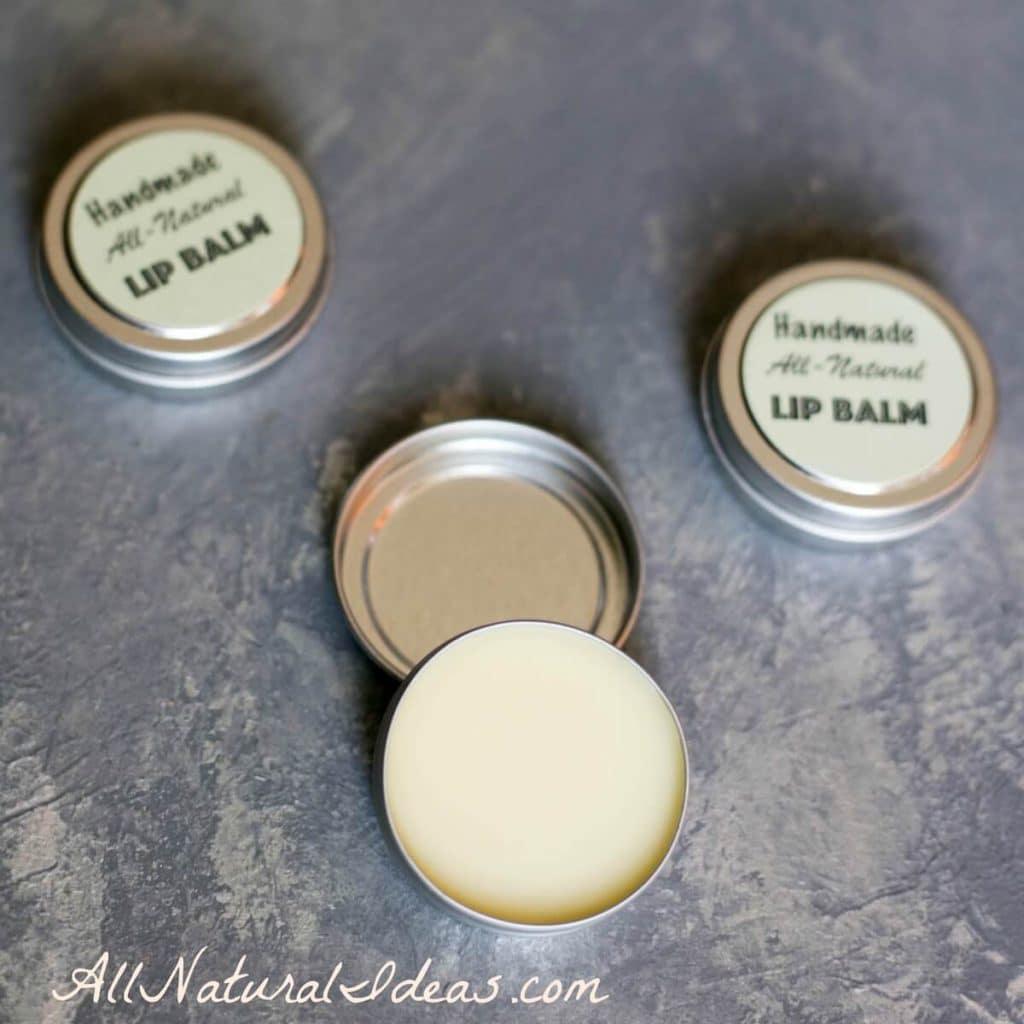 You can reuse an old lip balm container or buy new ones. I prefer the tin containers over the plastic tubes. If you want to use labels, the 1 1/4 inch circle labels fit perfectly on the tins. If you use a lot of lip balm, making your own can save you money over the long run.
Have you made your own handmade lip balm? What's your favorite essential oil or flavoring to add? I'd love to know in the comments!
Handmade Lip Balm
Ingredients
Directions
In double boiler or chocolate melter, combine coconut oil, beeswax, and shea butter. Heat until melted.
Remove from heat and add in the sweet almond oil and essential oil or flavoring (if using). You can also add natural coloring, if desired.
Pour into lip balm container and allow to harden before using.
NOTES:
Flavoring or kid safe essential oils that are okay to consume should used if making for children under 12.
Half of the sweet almond oil can be replaced with vitamin E oil if desired.
Natural coloring like beet root powder can be added as needed.
Related Posts