Is head lice a right of passage for kids, like getting chicken pox? Or, can natural remedies such as tea tree oil for lice prevention in shampoo work?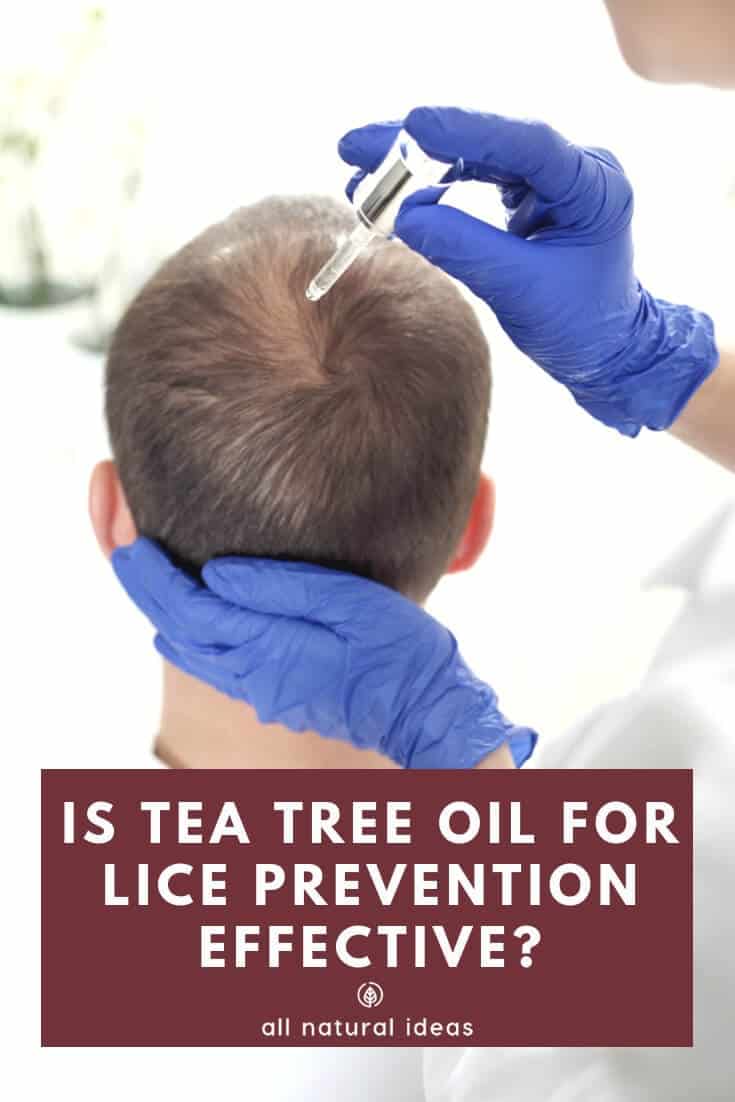 Over 12 million children each year in the U.S. get head lice. [SOURCE] Did you get lice when you were a kid? Then you may remember having to stay home from school and having your mom wash your hair with a special shampoo.
Staying home from school and being able to watch cartoons isn't so bad. But having an itchy scalp is. For parents, head lice is a major nuisance. Add to the annoyance the fact that pesticides in conventional lice shampoos are becoming less effective at killing lice eggs.
In light of this and the rise in popularity of natural remedies, tea tree oil has gained traction as a lice killer and preventative. So….
Does Tea Tree Oil Kill Lice?
There are two primary natural chemicals in tea tree oil (1,8-cineole and terpinen-4). Both these chemicals possess insect-killing properties (if you love geeking out on science, here's why). But are there any studies that prove tea tree oil shampoo works? Or, do you have to trust anecdotes and comments you read online?
If you're the kind of person who is only influenced by large clinical trials, you likely won't be persuaded it works. However, if you believe in the promise of small, preliminary studies, there's some evidence tea tree oil kills lice. (And if reader comments are all it takes to persuade you, there's no shortage of anecdotes.)
A study in a peer-reviewed parasite research journal concludes that a 1% tea tree oil solution was found to kill 100% of head lice within 30 minutes.
In 2015, this research examined the effectiveness of a few different lice remedies. Herbal and essential oils were one category. The researchers concluded, "In general, we don't know whether herbal and essential oils (the researchers evaluated eucalyptus oil, tea tree oil, and vitamin E) are effective at eradicating head lice compared with other treatments…."
The reason why the researchers conclude this is because there are few randomized controlled trials (RCTs) on these oils. RCTs are the gold standard of research. However, the researchers suggest that tea tree oil (plus lavender oil 1%) "may be more effective at eradicating lice compared with pyrethrin." Pyrethrin is a mixture of natural and man-made chemicals; it's an insecticide.
Tea tree oil for lice prevention in shampoo: more research [this one's on kids]
This study compares three products in 123 children with active head lice. The first is a combination product containing 10% tea tree oil and 1% lavender oil. The second is the natural/synthetic combo of pyrethrin. And the third is a product containing benzyl alcohol, mineral oil, and other ingredients.
The outcome? The tea tree oil product did best. At the end of treatment, the percentage of lice-free patients receiving the tea tree oil was almost 98%. The lice-free rate was only 25% for those who received the product containing pyrethrins.
As for the benzyl alcohol group, the success rate was also approximately 98%. However, considering that benzyl alcohol may produce side effects, tea tree oil is most likely a less risky intervention. According to WebMD, benzyl alcohol side effects are rare; possible negative outcomes include rash, itching/swelling (especially of the face/tongue/throat), severe dizziness, and trouble breathing.
Are there side effects to tea tree oil for lice?
According to the researchers, the tea tree-lavender oil product was well tolerated. Reported side effects were mild to moderate in severity and included stinging on the skin, flaky or dry scalp, and mild reddening of the skin.
How often should you use tea tree oil to prevent lice?
In the study, tea tree and lavender oil was applied on three occasions one week apart. If you don't want to use lavender oil for any specific reason, you will not make the shampoo less effective. In fact, the researchers state that at only one percent, lavender is "unlikely to have any real effect and is probably included as a fragrance."
There's no real clear-cut consensus on how often you should use tea tree oil shampoo to prevent lice. Use the shampoo in your child's hair every day, or every other day. Or 2-3 days per week. It's probably best to use it at least once a week in case other kids in your child's class are coming in to school with lice. If an ounce of prevention is the best medicine, use it every day if you know there's an outbreak.
Is Tea Tree Oil Better Than DEET For Lice?
This study suggests yes, it is. The researchers evaluated the effect of tea tree oil, peppermint oil and DEET. In full disclosure, none of the interventions were effective for preventing lice transmission from one hair to another. However, tea tree oil appears to have a repellent effect.
In the study, a patch of skin was treated with 100% tea tree oil. Two minutes after treatment application, a louse (one bug; similar to the difference between mouse/mice) was placed on the treated skin patch. Tea tree oil repelled 55% of the lice from the treated area, which might not sound impressive, however, tea tree oil was far superior to other interventions.
In fact, peppermint oil was only 34% effective. As for DEET: only 26%. In the study, tea tree oil also prevented 60% of the lice from feeding on the treated skin.
best shampoo to prevent lice
Do you only get advice from mainstream medical institutions? If so, don't try tea tree oil shampoo for lice prevention. That's because the American Academy of Pediatrics (AAP) currently recommends not using natural products — including tea tree oil — for killing head lice.
What does the AAP recommend? A 1% permethrin (eg, Nix®) or pyrethrins (eg, RID®) solution as a first choice. And if those two don't work, the AAP suggests manually removing the lice either through wet combing, petroleum jelly or Cetaphil®.
But if you want to go the all-natural method, as you can see above, there is research that supports tea tree oil for treating lice.
tea tree oil and coconut oil for lice
Perhaps even better than using tea tree oil as a stand-alone essential oil in a shampoo is also using coconut oil. The main fatty acid in coconut oil is lauric acid. Research (like this) says lauric acid is an insecticide. Want to try using coconut oil for lice? Healthline recommends using a plastic shower cap, enough coconut oil to thoroughly cover your hair, and a fine-toothed comb.
Healthline recommends rinsing your hair with hot water and letting it air dry. In the meantime, make sure the coconut oil is liquid. If it's very cold in your home, you may have to heat it up in a pot so you can easily spread it throughout your hair.
Once you have enough liquid coconut oil, massage it into your hair all over. Then, place a plastic shower cap. Leave it on for at least 8 hours to suffocate the lice.
After the eight hours is up, Healthline says to use the fine-toothed comb to carefully look through your hair. Comb out the dead head lice and any nits (eggs) you can find. Although the Healthline article doesn't mention tea tree oil, you may want to also place up to 10 drops of it on your scalp before combing.
how to make tea tree oil spray
In addition to adding drops of tea tree essential oil to your shampoo, you can also make a detangler-conditioner spray. All you need besides a bottle of tea tree oil is a spray bottle. To make it, use this easy remedy, courtesy of Babble.com:
Use an eye dropper to drop 2-3 drops of pure tea tree oil (per ounce of liquid) in a spray bottle full of water or detangler
Shake well
Spray on hair, rub in with your hands to distribute evenly, and style as usual
Consider how many toxic chemicals are in conventional shampoos and everyday household cleaners. If you want to reduce your child's toxic load, try tea tree oil shampoo for lice prevention. You can always switch to a synthetic insecticide shampoo if the tea tree oil remedy doesn't work.
Have you used tea tree oil to treat your child's head lice? Let us know. Leave a comment….
Related Posts