Used thousands of years ago to cast away apparitions, St. John's wort oil and extract is most often used to treat depression. Does research back the use of it?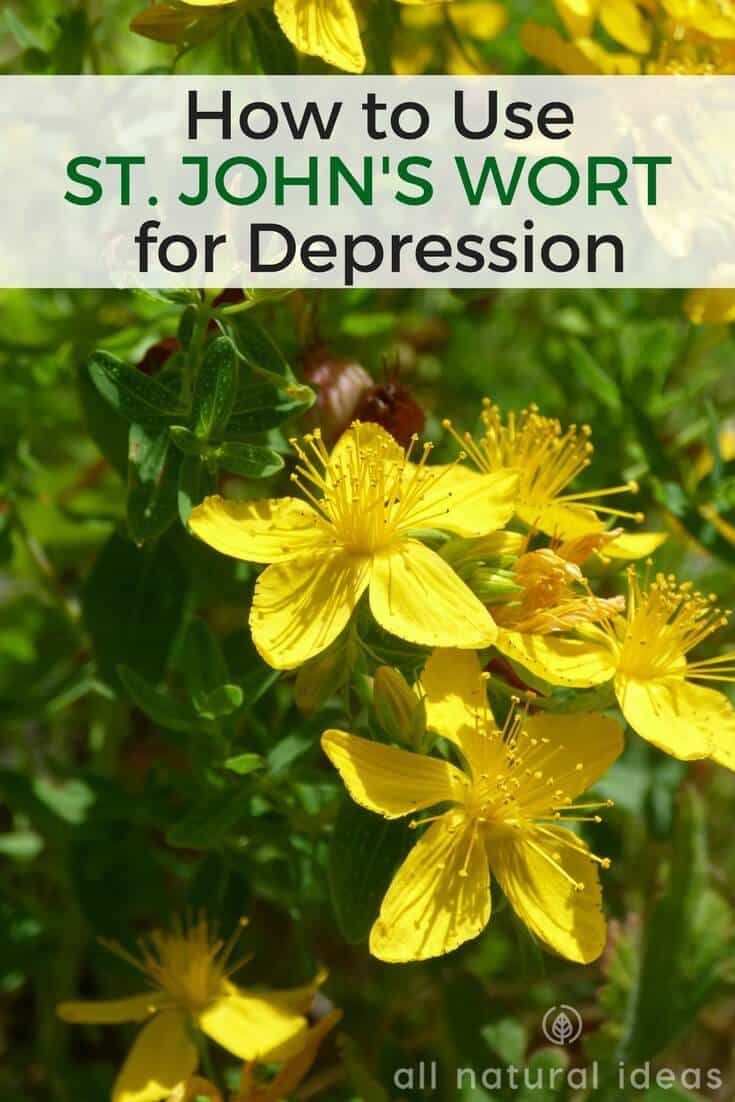 Can a plant that in ancient times was used to ward off evil spirits battle depression?
The research on St. John's Wort says yes.
St. John's wort oil comes from the plant, hypericum perforatum. As an herbal remedy, use of St. John's wort dates back to ancient Greece. Famous physicians and philosophers of the day, including Hippocrates and Pliny the Elder recommended for a variety of ailments. This includes high blood pressure, worms, wounds, menstrual pain, even snakebites.
Over 2500 years later, St. John's Wort (SJW) shines as a treatment for burns, cuts and anxiety. But where it really stands out is in treating depression. At least mild to moderate cases.
Other research suggests there's other benefits of SJW. This includes fighting cancer. SJW can also help with inflammation-related disorders. It's also beneficial for treating certain bacterias and viruses. It may even help prevent or help improve cognitive impairment disorders.
More on the research behind SJW in a bit, but first….
Where does the name St. John's Wort come from?
Ancient people thought SJW possessed protective properties. Particularly from demons. The ancient Greeks used SJW to dispel evil spirits. In fact, the botanical name of SJW comes from this superstitious belief.
Let's take a look again at the botanical name of SJW: hypericum perforatum. 'Hyper' means above. 'Eikon' means something akin to a ghost or spirit. Thus, above or powerful over an evil spirit.
But how did SJW get its name? When mixed with olive oil, SJW eventually turns red. Legend has it the bloody-looking oil was discovered on August 29. This is the day St. John was beheaded by King Herod in ancient Israel.
Another theory suggests the SJW plant offers the most medicinal effects if harvested on Saint John's Day (June 24). Ironically, St. John's Day is around the time when the plant's blooming peaks.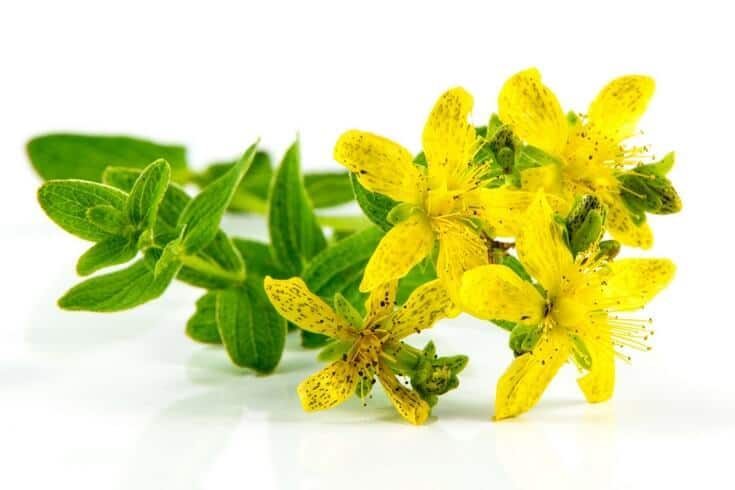 Is St. John's Wort a popular all-natural remedy?
SJW is very popular in Europe. In fact, pharmaceutical companies there use it in some of their drugs. These drugs are taken by millions of people on the continent. However, in the U.S., SJW is more common in supplements than medications. But there's a caveat to buying SJW capsules.
This New York Times article from 2015 cautions the public about buying SJW supplements. It says that brands sold at retail giant chain stores contained none of the herbs listed on their labels. In fact, here's a list of some of the SJW supplements that were found not to contain any SJW at all:
Herbal Plus brand at GNC

Up & Up brand at Target

Finest Nutrition brand at Walgreens

Spring Valley brand at Walmart
In light of this, you might want to buy a reputable brand of St. John's wort essential oil. More on this below.
Still, despite the cautionary tale of buying SJW pills, sales of it are huge. In fact, every year, sales of products with SJW extract run in the billions.
Research on SJW has exploded in the last few decades. The plant contains several medicinal compounds. But two are especially popular with researchers. These are hypericin and hyperforin. Hypericin is the main anti-depressant compound in SJW. Want to avoid buying worthless SJW capsules? And want the health benefits of hypericin and hyperforin? Saint John's wort oil contains both these medicinal compounds.
St. John's Wort Benefits
SJW offers numerous health benefits. But it's treating anxiety and depression that gets the most attention. Newer remedies on the market contain several amino acids from SJW. These aminos include cysteine, glutamine, leucine, lysine, and GABA. GABA is known as the calming neurotransmitter.
There are dozens of studies that look at how effective SJW is for depression. Naturally, some show better results than others. Some of the studies compare SJW to placebo. While others compare it to antidepressants.
This study shows that SJW extracts decrease depression scores in test subjects. And more so than those taking placebo. The study also concludes SJW is more tolerable than synthetic antidepressants. That is because SJW causes fewer side effects. Therefore, the researchers conclude, "SJW is an attractive option for treating depression."
Also, research shows SJW kills some bacteria and viruses. Moreover, this study also shows it inhibits tumor cell growth. Also, SJW may help treat Parkinson's and Alzheimer's diseases, says this study. And this research suggests it can treat opiate withdrawal symptoms.
Other recent research shows SJW can decrease oxidative stress. Oxidative stress leads to premature aging. Furthermore, it may also prevent neurotoxicity. SJW may even treat digestive disorders and reduce inflammation.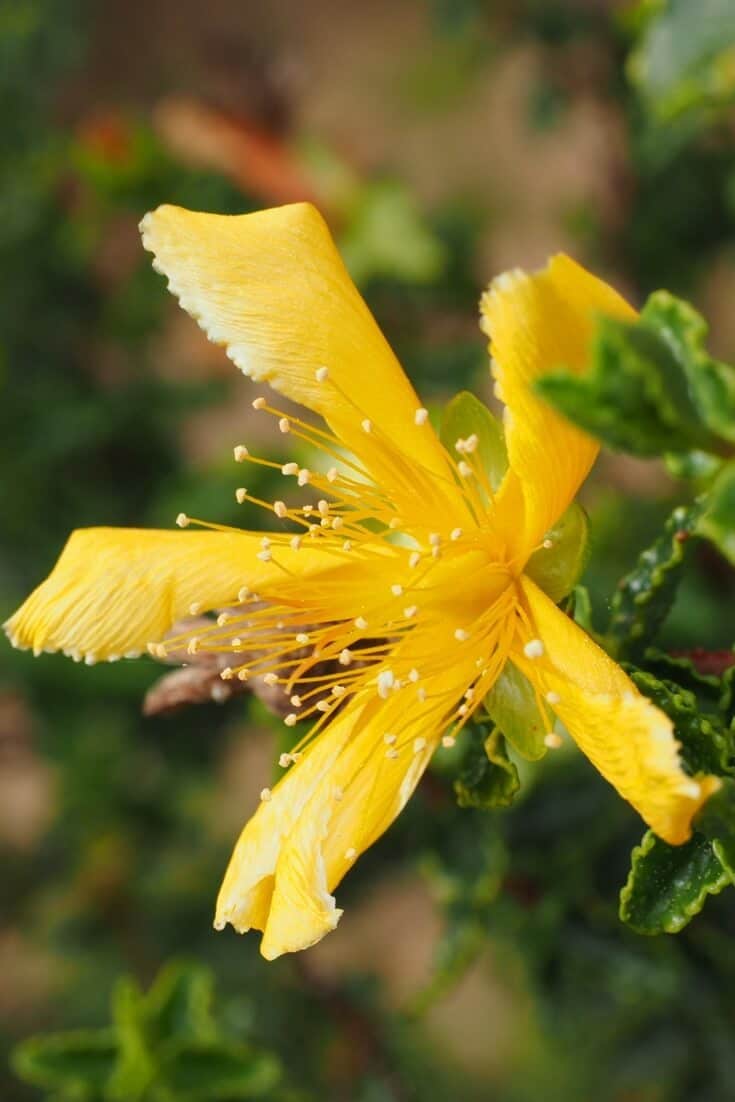 St. John's Wort Dosage
If you are going to take a SJW capsule, how much to take? First, find a reputable brand that actually contains SJW extract! As for dosage, a European commission recommends 900 mg of standardized extract per day.
Taking St. John's wort oil? Most essential oils range from 0.05% to 0.9% concentration.
According to this research on SJW, there are relatively few adverse effects. Especially when it's taken alone at the recommended dosage. However, if you're taking medications, be cautious. Adverse interactions with SJW and pharmaceuticals can and do occur. And that adverse reaction is the pharmaceuticals become ineffective. What happens is SJW causes enzymes to remove the drugs from the body. Or, SJW can metabolize the drug before it acts. This causes the prescription drug to become inactive.
In light of this, talk to a health professional before you start taking SJW.
St. John's Wort Plant Care
Originally indigenous to Europe, St. John's wort plant now grows in many parts of the world. It's also known as klamath, tipton, goat or enola weed. St. John's wort plants live at least two years (thus, it's a perennial). But only if you take care of it correctly.
According to this gardening website, St. John's wort plants are vigorous growers. They actually can be invasive. In fact, California and six other western states consider it invasive. However, SJW plants are also excellent for erosion control. They are also effective for rock gardens covers or border plantings.
The plant itself produces bright yellow flowers. They have prominent gold stamens from summer to the middle of fall. One positive about SJW plants is they are deer resistant. And once established, they can thrive in drought conditions and poor soils. Want to grow SJW plants? Do it in full sun or at most partial shade.
TheGardenHelper.com recommends planting them in soil that can drain well. The website also says to prune it back hard in the spring. This will maintain compact growth. SJW's kryptonite is rust infections. Also, SJW can damage from thrips and scale insects. But they are easy to propagate with softwood cuttings.
As for SJW seeds? Sow them in spring or summer. You can do so a couple months before the first frost of the year. The soil temperature should be about 70 degrees. It takes about a month for the seeds to germinate.
St. John's Wort Oil: conclusion
As you can read above, SJW offers many health benefits. If you suffer from the blues, consider taking it daily. But many SJW supplements do not contain enough extract. In fact, some contain none at all. In light of this, St. John's wort oil is an easy way to reap the benefits, without worrying about subpar quality. Still, it's best if you find a reputable company that sells St. John's wort oil. You can even learn to make your own St. John's wort oil.
St. John's wort oil is earthy in scent. In addition to the benefits above, there are others from St. John's wort oil. It can bring balance and comfort to skin. It can increase circulation and relax muscles. Moreover, St. John's wort oil can help with bruises and scars. You can add St. John's wort oil to a carrier oil or massage lotion for overworked and tired muscles.
Love to smell nice but don't like a strong perfume? Consider adding St. John's wort oil to an all-natural earthy scent blend. According to Floracopeia.com, St. John's wort oil blends well with:
clary sage

lavender

cedar

vetiver

rosemary

chamomile
Inhaling St. John's wort oil may increase your focus and concentration. But without feeling hyper. In fact, if you add St. John's wort oil to a diffuser, it may help calm you down.
However, be careful with applying St. John's wort oil to your skin. In fact, St. John's wort oil can damage your skin if the oil comes in direct contact with sunlight.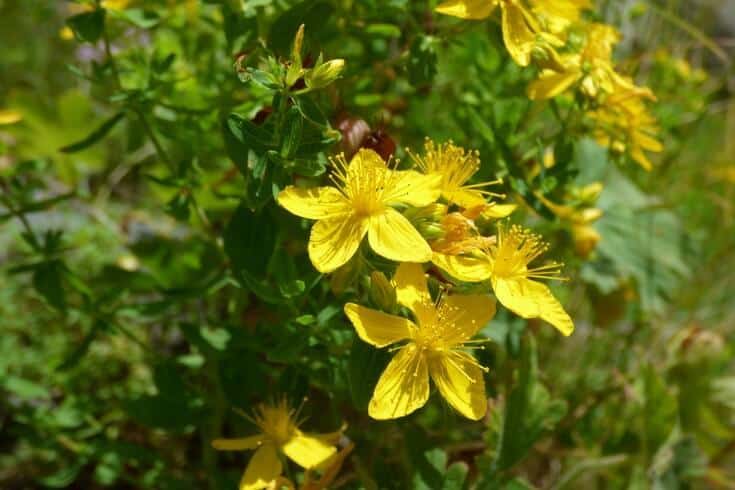 Related Posts