Vegetables are an important part of any diet. For those eating low carb, cabbage is a terrific choice. The cabbage health benefits make it hard to beat.
Cabbage is an overall powerhouse full of vitamins and nutrients. Cabbage is extremely inexpensive. It's widely available in supermarkets. Learn about cabbage health benefits. See how it can help you.
Cabbage Health Benefits
Anti-Inflammatory
Cabbage contains a high amount of glutamine. This gives it strong anti-inflammatory properties. Use cabbage to effectively combat inflammation, irritation, fever, and various skin disorders.
Weight Loss
Cabbage is extremely dense in vitamins and minerals. But, it has relatively few calories. A cup of cooked cabbage has only 33 calories! Cabbage is also very filling. This is due to the high levels of fiber. Fiber can also help regulate your body.
Brain Health
The brain benefits particularly with red cabbage. Red cabbage contains high levels of Vitamin K. Vitamin K is important for protecting nerves from damage and decay. Consuming high levels of Vitamin K can reduce the risk of acquiring neural degeneration and dementia.
Strong Bones
Cabbage contains essential nutrients that promote strong bone health. Cabbage is rich in magnesium, potassium, and calcium. These three minerals help prevent bones from degeneration or weakening. This will reduce your risk of stress fractures.
Heart Health
Cabbage is great for the heart. It has high levels of potassium. Potassium serves as a vasodilator. This means that it allows the veins to open up and reduce blood pressure. Reduced blood pressure allows for blood to pass through your veins and arteries with ease. It limits your heart from overworking.
Eye Health
Cabbage is also rich in beta-carotene. Beta-carotene is essential to helping prevent macular degeneration. Many older people look to foods containing beta-carotene to delay the formation of cataracts.
Cancer Preventative
Lastly, any food rich in vitamins and minerals can help reduce the risk for cancer. Cabbage falls in the cruciferous family of vegetables. Cruciferous vegetables are extremely rich in antioxidants. This means that cabbage can help your body remove free radicals.
Cabbage also contains a number of anti-cancer compounds. These include lupeol, sinigrin, and sulforaphane. Compounds like these have been tested to reduce the size of tumors and inhibit growth of tumors.
Why not incorporate cabbage into your daily diet? It's cheap and readily available. The cabbage health benefits are hard to beat.
Keep an eye out for cabbage in the grocery store. It may look dull from afar, but it is secretly a hidden treasure. If you aren't sure how how to serve it, read on for a collection of 49 low carb cabbage recipes.
Low Carb Cabbage Recipes
Cabbage health benefits are numerous. How can you incorporate it into your diet? There are tons of low carb cabbage recipes. You are sure to find a favorite way to eat this appetizing vegetable.
Set aside your usual cabbage side dish. There are many low-carb and gluten-free cabbage recipes around the web. You can do so much with cabbage. It can be munched on like chips. Roast it with your favorite herbs and spices. Turn it into a healthier pasta alternative. Add it to your hearty soup. My favorite is to combine it with chicken, pork or beef to create a yummy casserole.
There are so many ways to take in the cabbage health benefits. What's your favorite way to serve cabbage? Need some new ideas? Check out these 49 creative low carb cabbage recipes!
Oven Roasted Cabbage Wedges at Peace Love and Low Carb
Crack Slaw Beef at Low Carb Yum
Garlic Rubbed Roasted Cabbage Steaks at Everyday Maven
Cuban Slaw at Back To Her Roots
Sriracha Broccoli Coleslaw at A Sweet Life
Quick Cabbage Coleslaw at Low Carb Yum
Red Cabbage Mint Apple Slaw at I Breathe I'm Hungry
Minty Napa Cabbage Slaw at Healthy Seasonal Recipes
Easy Russian Slaw at Keto Diet App
Almond Butter Cabbage Chips at The Nourished Caveman
Easy Homemade Sauerkraut at Keto Diet App
Spring Rolls at Ditch The Carbs
Crock Pot Chicken Lo Mein at Low Carb Yum
Healthy Chicken Minestrone Soup at Low Carb Maven
Yakisoba Chicken at Maria Mind Body Health
Corned Beef and Cabbage Colcannon at Low Carb Yum
Low Carb Corned Beef and Cabbage at Sugar Free Mom
Sriracha Beef Cabbage at Kalyn's Kitchen
Spiralized Chinese Egg Roll in a Bowl at Everyday Maven
Spaghetti Squash Filipino Pancit Bihon at Low Carb Yum
Paleo Pesto Noodles at Maria Mind Body Health
Fried Cabbage with Kielbasa at Peace Love and Low Carb
Super Easy Sausage and Cabbage Dinner at Low Carb Maven
Pork Mushroom and Cabbage Stir Fry All Day I Dream About Food
Thai Coconut Cabbage Soup at Cotter Crunch
Crock Pot Andouille Sausage Cabbage Soup at Sugar Free Mom
Creamy Crispy Curry Cabbage at Low Carb So Simple
Roasted Cabbage Carbonara at The Nourished Caveman
Braised Red Cabbage with Walnuts at Bravo For Paleo
Cabbage Noodle Lasagna at Maria Mind Body Health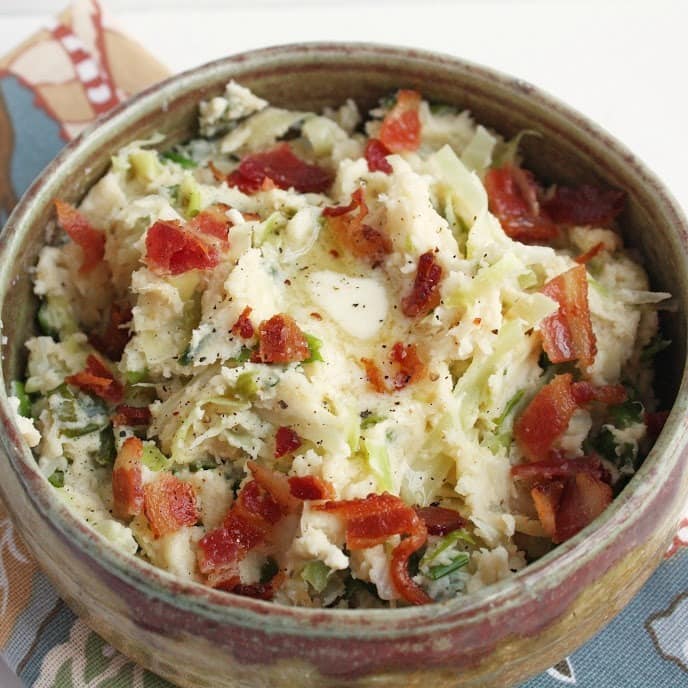 Bubble and Squeak (Colcannon) at I Breathe I'm Hungry
Cabbage Beef Tomato Casserole at Low Carb Yum
Reuben Enchiladas at Maria Mind Body Health
Creamed Cabbage and Ground Beef Casserole at Low Carb Yum
Twice Cooked Cabbage at Kalyn's Kitchen
Cabbage Chips at Maria Mind Body Health
Thai Seafood Chowder at All Day I Dream About Food
Crock Pot Low Carb Un-Stuffed Cabbage Roll Soup at Sugar Free Mom
Lasagna Rolls at Maria Mind Body Health
Spicy Mexican Slaw at Kalyn's Kitchen
Pesto Cabbage Noodles at Maria Mind Body Health
Corned Beef and Cabbage Meatballs at I Breathe I'm Hungry
Easy Sausage Cabbage Dinner at Low Carb Maven
Bacon and Garlic Cabbage at Bravo For Paleo
Unstuffed Cabbage Roll Bake at Low Carb Yum
Sauteed Red Cabbage at Low Carb Yum
Spiced Cabbage with Onions at Sugar Free Mom
Cabbage Chips at Maria Mind Body Health
Peanut Sauce Stir Fry Cauli Rice at Eat Healthy Eat Happy
Bonus Recipe:
Buffalo Glazed Grilled Salmon at Kalyn's Kitchen
Related Posts