How much fruit per day is okay? Too much fruit can be a concern for those trying to lose weight on low carb or diabetics controlling insulin with diet.
How much fruit per day is okay?
One of the most conflicting nutrition topics is "How much fruit per day for weight loss or diabetics?"
The short answer: it depends.
Nearly everybody can and perhaps should eat at least a tiny portion of fruit per day. However, there are some people who may want to avoid fruit altogether. If you are on a medically-supervised ketogenic diet, you may want to avoid fruit. That's because ketogenic diets are very low in carbohydrates. The only source of carbohydrates are often from cruciferous low-starch vegetables. Ketogenic diets may help in the treatment of cancer and seizure disorders.
How much fruit per day if you are obese, a type 2 diabetic, or have high-blood sugar? You may want to avoid fruit until weight and blood sugar levels have normalized. Or, limit fruit to only low carb berries in small quantities (less than 1/4 cup).
Why You May Need to Limit Fruit Intake
The excess sugar in fruit, fructose (also some sucrose and glucose), goes to the liver. The excess carbon in fructose is converted into triglycerides, a dangerous type of fat in the bloodstream. So, if you don't burn off that big bowl of fruit salad, the excess sugar will end up being stored around your major organs in your midsection. This type of fat, visceral fat, aka abdominal fat, is the most dangerous to have.
Because of poor blood circulation, many people with obesity are not able to walk enough (let alone run) in order to burn all the sugar from eating fruit. That's why certain populations with high blood sugar may want to be strict about how much fruit per day they consume.
For Healthy People, Some Fruit is Fine
Even people with healthy weight and blood sugar levels should moderate fruit intake. But fruit may not elevate blood sugar levels as much as some people may think. The crucial thing to remember is if you love fruit and believe it's healthy to eat, then you need to limit all other sugar intake. The average serving of fruit sugar ranks very low on the Glycemic Index (approximately 20). By contrast, sucrose (white table sugar) ranks in the 60s (out of 100; the higher the score, the more potential to raise blood sugar levels).
Processed Fructose is the Real Problem
Remember, in theory, excess fructose is converted into triglycerides. High triglycerides in the blood can lead to heart disease and diabetes (a reason why people who have type 2 diabetes may want to avoid fruit.) But eating a small amount of 'smart fruits' (we'll get to those soon) likely has very little or no effect on blood sugar.
The real problem with fructose, other than eating a huge portion of it in the form of a fruit salad at a buffet, is industrial fructose. You probably know industrial fructose by the name, high fructose or high fructose corn syrup (HFCS).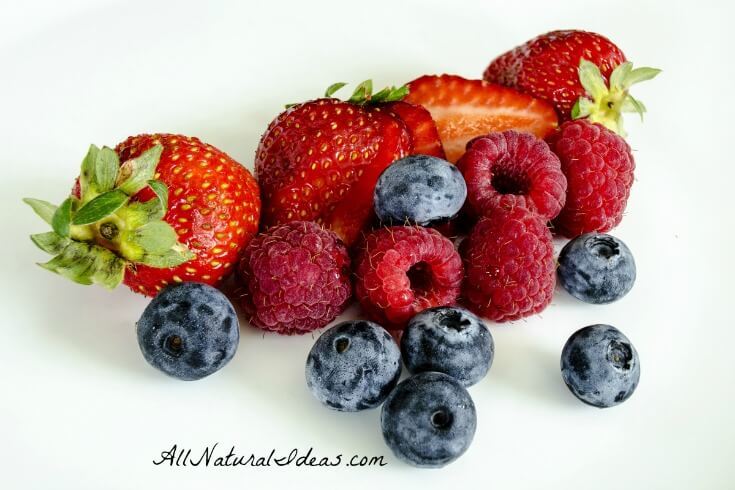 HFCS consumption can lead to many metabolic disorders, according to numerous studies, such as this one published in the Journal of Nutrition. All-natural, organic fruit contains fiber and health-protective antioxidants. So even if you eat a small piece of fruit that has, say 20 grams of carbs, the fiber will negate some of the total net carbs. But HFCS has no fiber. It's chemical nature can even disrupt the hormones that signal our brain that we've had enough to eat.
The hormone leptin signals that we've had enough to eat. HFCS lowers leptin levels. And the hormone ghrelin does the opposite, it sends us a signal that we're hungry. Guess what HFCS does? That's right, it raises ghrelin levels.
If you're going to eat fruits, which ones should you eat?
Your diet should consist of lots of foods that have a high "Oxygen Reduction Absorption Capacity" (ORAC). This simply means that a food that has a high ORAC score is a powerful antioxidant. You can eat foods with the highest ORAC scores that don't include fruit, if you want to limit your intake. The highest ranking fruits on the ORAC chart (according to this chart; different charts may show slightly different values) are:
Acai berry

Cocoa powder, no sugar added (cacao; yes, technically it's a fruit)

Clove, clove powder

Maqui berry

Goji berries

Cranberries

Currants
As you can see, the most popular fruits (apples, bananas, watermelon, blueberries) do not contain the highest level of antioxidants. Popular fruits rank toward the bottom of the ORAC chart, which doesn't mean they are bad for you. It does mean, however, that if you want to limit the total amount of sugars in your diet, but do have the conviction that eating some fruit is good for you, you may as well eat fruits that have the highest amount of antioxidants. That is, if you can find maqui berries at your local grocery store.
The question, "How much fruit per day is okay?" is not a one-size-fits-all-answer. But, like all other things in life, moderation is often the best path (unless for medical reasons, you need to restrict your carb intake).
Related Posts