It's becoming popular to use argan oil for skin and hair worldwide. Regular use of argan oil is sure to make your skin and hair more youthful and healthier.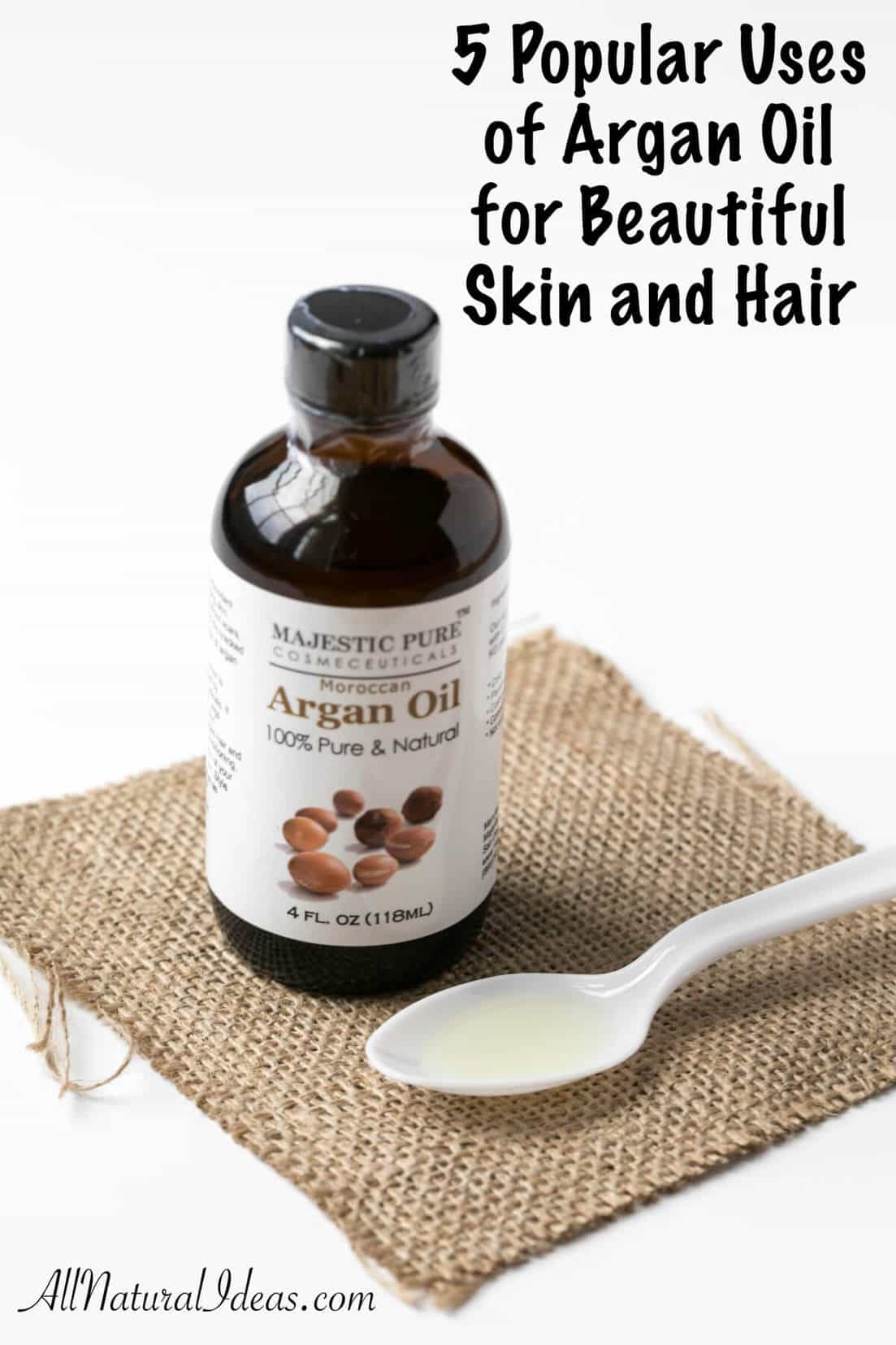 Many of you may be unfamiliar with using argan oil for skin and hair. Argan oil is not that common in Western Culture. All that aside, argan oil is derived from kernels of the argan tree. These trees are native to Morocco, Africa.
Recently, argan oil has been making headway in the United States and other countries. People are discovering argan oil for its uses in cosmetic products as well as for its heart-healthy components. Below are the popular uses of argan oil for skin and hair.
5 Uses of Argan Oil for Skin and Hair
1. Body and Facial Moisturizer
Argan oil is high in Vitamin E and fatty acids which are essential to re-hydrating dry skin. As with any moisturizer, just apply a few drops to the surface of the skin or to the palms of your hand and massage on. Argan oil is a non-irritant and is great for moisturizing any part of the body!
2. Refreshing Cracked, Frizzy Hair
Do you have the issue of dry, cracked hair from over-straightening? Do you get frizzy hair when the weather does not cooperate? Well, argan oil can tame your unkempt hair and restore it to make it shinier and softer. Simply apply to the hair as you normally would with any other conditioner!

3. Anti-Aging
Argan oil is also notorious for making your aged wrinkles disappear. By applying just a few drops to your face and skin you will notice a return to elasticity with a softer skin left behind. For the best results apply a few drops to your face and neck right before bed and massage in. Leaving on overnight will keep your skin hydrated and wipe your wrinkles away. With regular use, you will notice your wrinkles fade away. Your skin will become more hydrated and youthful.
4. Combat Acne
Many of us have experienced acne of some degree in our lives, whether it was during childhood or just bouts during times of stress. Acne creams can be expensive and they are synthetically made in the laboratory with chemicals that have not been highly researched. Acne is commonly caused by grease and oils penetrating and damaging skin cells. Argan oil is non-greasy and contains potent antibiotic components that helps cure damaged skin cells after it has cured the acne.
5. Stretch Marks
Whether you have stretch marks from a pregnancy, uncontrolled gain or loss in weight, or you just grew faster than your skin could keep up argan oil is the answer to help remove or diminish unsightly stretch marks. Due to the elasticity it brings to the skin, applying a few drops to areas prone to stretch marks will allow for the diminishing of the otherwise unsightly marks.
Although a relatively new item to Western Culture, you can use argan oil for skin and hair as a beauty product. Add just a few drops of argan oil for skin and hair to look healthier. With regular use, argan oil will make you skin and hair more youthful and healthier. So go grab a bottle of argan oil to use daily!
Looking for other natural ways to keep your hair in check? Check out our article on the use of bentonite clay to tame frizzy curls.
Related Posts