Are you experiencing hot flashes, low sex drive and other low estrogen symptoms after getting a hysterectomy? Discover what you can do to manage your symptoms…. 
There's nothing hysterical about the sexist derivation of the word "hysterectomy." The root word, "hystera," is Greek for uterus. We have much to thank the ancient Greeks for in terms of natural healing philosophy. Hippocrates' famous quote, "Let food be thy medicine and medicine be thy food," comes to mind. However, the ancient Greeks believed only women were capable of becoming hysterical. Over 2000 years later, a defect in the womb that needs to be surgically removed is called a hysterectomy.
While it's indeed sexist to pin the emotion of hysteria to just women, let alone name a surgical procedure after it, there's no denying that starting menopause early can lead to undesired side effects….
Why do women have low estrogen symptoms after a hysterectomy?
Most often, when the uterus is removed, so, too, are the ovaries. But not always. So if you didn't get your ovaries removed during surgery (or aren't going to), you might not need to worry about low estrogen symptoms.
The reason why women who have low estrogen levels after having their ovaries removed is the ovaries are where estrogen is made in the body.
Estrogen is referred to as the female sex hormone (although men produce some, too, though in smaller amounts). There are actually three primary types of estrogen: estrone, estradiol, and estriol. (This research suggests most symptoms are caused by estradiol deficiency.)
After your surgery, don't immediately try to preemptively manage low estrogen symptoms. First, get a blood test that measures all three estrogen levels in your blood. The test will confirm if you need to get a jump start on managing the symptoms.
What are symptoms of low estrogen after hysterectomy?
The most common symptoms of surgically-induced menopause are no different than menopause at a normal age. These include:
vaginal dryness
hot flashes
mood swings and/or depression
mental and physical fatigue
headaches
urinary tract infections (UTIs)
breast tenderness
Maybe there is indeed something to the Greek etymology of hysterectomy? These symptoms are indeed capable of making anybody hysterical (and not hysterical in the funny way.) In addition to these symptoms, other negative outcomes of having early menopause include increase risk of bone fracture.
Because estrogen teams up with calcium, vitamin D, silica and other minerals in maintaining healthy bones, the lower your estrogen levels, the lower your bone density will be. This puts you at greater risk of breaking bones.
If your estrogen levels drop, you're also likely to pack on extra weight. This is because female sex hormones help digest fats and control blood sugar. This is why, as this research suggests, women approaching menopause are likely to become overweight.
Is Low Estrogen Dangerous?
As if hot flashes weren't reason enough to correct hormonal imbalances, perhaps the following statistic will….
Getting a hysterectomy "has the potential for generating serious consequences in terms of health," says this research study. This includes having 2 to 7 times higher rates of heart disease. This is likely disheartening news for the more than 500,000 American women who get a hysterectomy every year.
(Most of the women who undergo the procedure are between 35 and 45 years of age. And out of the half-million procedures, more than 200,000 women have both ovaries and both Fallopian tubes. This procedure is called "bilateral salpingo-oophorectomy.")
The good news is there are a few different options of correcting hormonal imbalances….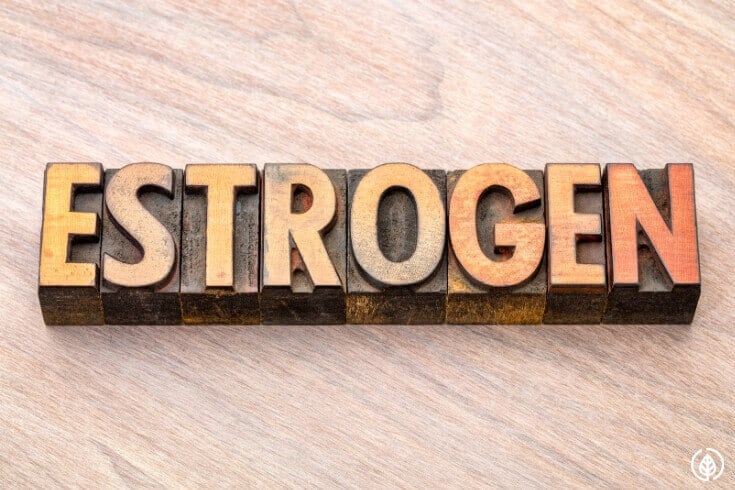 Getting Estrogen Therapy After Hysterectomy
If you've had both your uterus and ovaries removed, estrogen replacement therapy (ERT) with estrogen alone is the most common medical intervention. However, according to WebMD, if you've had your ovaries but not your uterus removed, you may need both estrogen and progestin. This is because just getting estrogen hormone replacement alone can increase the risk of cancer in the uterus. Progestin balances out the estrogen to remove the cancer risk.
How Soon After Surgery Should You Get Hormone Replacement Therapy?
Research suggests if you want to control symptoms and prevent disease, the sooner the better. Prior to 2002 more than 90% of women used estrogen therapy to manage low estrogen symptoms. But these days, the figure is less than 10%. What's the reason for the steep drop?
Doesn't Hormone Replacement Therapy Cause Breast Cancer?
The sudden drop is because of the question above. And that question stems from a large study called the Women's Health Initiative (WHI). The WHI caused some panic in the mainstream media. The study found some links to estrogen therapy and an increased risk for breast cancer and strokes, among other health concerns.
However, more than 15 years after the WHI study was published, researchers now think that the increased risk of breast cancer occurs only if estrogen therapy is used for over 5 or 6 years.
And if you've had a hysterectomy, there's good news about estrogen therapy from the WHI study. Results show a statistically significant reduction in breast cancer risk with estrogen therapy post-surgery. In fact, in the WHI study as well as the Danish Osteoporosis Prevention Study (DOPS), women using ET after hysterectomy had a 20% lower risk of developing breast cancer. (Not to mention a 60% reduced risk of dying from it).
Here's another reason not to be totally scared of getting hormone therapy. According to WebMD, treatment with hormone therapy cuts down the number of hot flashes per week by 75%.
The big takeaway, according to researchers in one of the studies linked above is this: "Fear of taking any kind of hormone therapy (HT) is pervasive despite the evidence for the safety and of estrogen therapy."
How Does Estrogen Therapy Work?
If you have surgically-induced menopause, you'll likely be prescribed a high dose of estrogen. This high dose may help lower your risk of bone weakness, heart disease, and other serious medical conditions caused by hormonal imbalances. How much hormones you'll be prescribed will depend on your levels post-surgery.
There are a few different ways your doctor may administer estrogen therapy. The options are orally, topically (as a cream), vaginally or an injection.
orally
topically
vaginally
via injection
How Long Does Estrogen Therapy Last?
If you've had a complete hysterectomy, you'll likely be on a medically-supervised hormone replacement therapy for at least a few years. This is longer than a woman undergoing regular menopause (1-2 years). This is especially true if you've already had the surgery and you're closer to normal menopause age (early 50s).
In fact, some experts recommend estrogen therapy until you hit the age of natural menopause (51 to 52). And some experts favor ET until age 60 and beyond…
Will Estrogen Therapy Help With Low Libido?
Maybe. But what might even work better is also getting a boost of testosterone. Testosterone is the major male sex hormone. But women need adequate amounts of it. This research suggests women suffer symptoms of testosterone deficiency which often go untreated.
Here's what the researchers conclude:
"Testosterone supplemental therapy for women following hysterectomy not only can improve the quality of their lives in terms of sexual libido, sexual pleasure, and sense of well-being but also can–as does supplementary estrogen–contribute to the prevention of osteoporosis."
Testosterone promotes cellular growth in every tissue of the body. Having enough of this hormone also prevents heart disease in women.
Balancing Hormones Without HRT
Some functional medicine doctors (FMD) like this one believe that bioidentical hormones are better than conventional hormone replacement therapy. One FMD, Jeffrey Dach, says,
"A cocktail of bioidentical hormones including estradiol, estriol, progesterone, DHEA and testosterone works as well or better than the horse hormones. Since all women are humans, we I consider it preferable to prescribe human hormones rather than hormones from pregnant horse urine (Premarin)."
Some alternative health experts believe bioidentical hormones are better because they're more natural than pharmaceutical hormone drugs. However, not all bioidentical hormones are regulated by the FDA.
If you're going to use bioidentical hormones, make sure you do it under the supervision of a medical doctor. Make sure the MD has an extensive history of helping patients with BHRT (bioidentical hormone replacement therapy). Do your due diligence. Check the practitioner's website and/or Yelp page. See if the functional medicine doctor is listed on HealthGrades.com.
How have you managed low estrogen symptoms? Leave a comment….
Related Posts