Health-conscious consumers looking to supplement their protein intake have been using organic whey protein powder. Are there advantages to organic whey?
Protein powders have been used as a muscle-tissue repair and growth supplement for many years. They are derived from several different sources. There's beef, egg white, pea, rice, hemp, casein (milk protein), and last but not least, perhaps the most popular type is whey.
Relatively few people have the time or know-how to research exactly where their protein supplement comes from. Therefore, an increasing number of people are purchasing organic whey protein powder.
Sales of protein powder exceeded $5 billion in 2013. If you're taking, or considering taking, a whey powder, how much do you actually know about the supplement? How was it made? Where was the milk derived from? Is the brand reputable?
Many wonder what makes for the best organic whey protein powder. Does it have to be a grass-fed? Or is raw better? And, is it even necessary to buy an organic whey powder in the first place?
First, let's discuss what whey is and how it's generally made….
Basic facts about whey protein powder
To make whey protein, milk is separated into its solid and liquid constituents. Milk solids, known as curds, is made into cheese. The liquid part of the milk that's separated from the curds is whey.
At this point, whey is not yet a protein powder. In this initial step whey contains more than just protein. There's fats, carbohydrates (lactose; milk sugar), vitamins, minerals, and micronutrients. These micronutrients, some of which will be discussed in further detail, have been clinically-proven to offer numerous health benefits.
The next step at the protein powder manufacturing plant with most conventional whey protein powders is pasteurization and filtration, with the exception of raw organic whey protein powder, which does not undergo pasteurization (more on this at the end).
The filtering and refining process of separating milk into curds and whey protein requires over 700 pounds of raw liquid whey to produce just one five-pound container of protein powder!
Next, the whey liquid goes through a network of steel tubes. The best organic and non-organic whey protein powders both use cold-temperature processing, which preserves the molecular integrity of the protein, as well as the immunity-enhancing micronutrients.
To review, whey is a byproduct of the cheese-making process. Whey is the liquid remaining from the solid curds that have been put through a strainer or filter.
Liquid whey actually has relatively little protein. That's because most of the protein in milk is found in casein.
As you can see from the statistic above, it takes a whole lot of liquid whey to make protein powder. And, this is true regardless of whether it's the best organic whey protein powder or grass-fed organic whey on the planet.
Whey protein powder benefits
Before whey is turned into protein powder, liquid whey is composed of several protein constituents, called "subfractions." Some of these subfractions (including lactoferrin, lacto-globulins, immunoglobulins, and glycomacropeptides) may boost your health. The subfractions in whey protein have been shown to have the following benefits:
Cancer reduction

Stress and blood-pressure reduction

Performance and stamina enhancement

Increase in antioxidant activity (especially glutathione, the master antioxidant in the body)

Increase in serotonin (the so-called "feel-good" chemical in the brain)

Liver function improvement
Organic grass fed whey protein
Whey protein that is sourced from organic milk ensures that no antibiotics, hormones or pesticides were administered to the cattle or on the dairy farm. Cows were meant to eat grass, not grain. That's why some people prefer their whey protein powder to come from an organic, grass-fed source.
Ethics plays a vital role in buying organic grass-fed whey protein powder. Knowing the milk comes from humanely-raised cows is of vital concern for many health-conscious shoppers.
Cows raised on organic pastures that are 100% grass-fed (or supplemented in winter with alfalfa) are not confined in cages. As a result, grass-fed, pasture-raised cows, generally have less stress hormones flooding their bloodstream. In factory-farmed, grain-fed cows, the stress hormones could theoretically be be released into the milk of the cow.
It's the grass that cows eat that provide us with nutrition. Grass-fed whey protein may offer more nutrients than conventional protein powder, depending on the brand. The benefits of grass-fed whey protein may include:
Organic grass-fed whey protein contains no fillers, synthetic vitamins, or preservatives.
Whey protein concentrate
Whey manufacturing yields concentrated, isolated or hydrolysate powder. Concentrated whey was the first-generation of protein powders, but not so much for bodybuilders as it was designed for food processors, especially for baked goods.
Whey concentrate is the most affordable form of protein powder. Concentrated whey formula can yield anywhere from 30% to 80% protein by weight. You really have to do your research when selecting a concentrated formula. If a concentrated formula contains 50% protein by weight and the amount of total protein grams listed on the bottle is 20 that means only half—10 grams—is active protein available for digestion.
Again, it's a roll of the dice unless you're doing your research. Most new-generation whey protein concentrated formulas contain higher protein than those of years ago as the manufacturing and filtration processes have improved.
Concentrate, since it is the first step in the manufacturing of whey protein, is less purified. Thus, there's more lactose (milk sugar), which could be an issue if you are lactose-intolerant, or in general prone to bloating and gas. Having more milk sugar also may play a factor if you are a strict low-carb dieter.
Another advantage to whey concentrate besides the affordability relative to other whey processing methods is they contain more of the aforementioned subfractions. Again, these protein subfractions may boost immunity as well as gut health. (Immunity and gut health are symbiotic; most of the immune system resides in the gut, so if you have a healthy gut, you'll most likely have a robust immune system.)
If you are a low-carb dieter, you may want to increase your fat intake. Whey concentrate has more fat than other whey powders, including the next major type of whey powder: Organic whey protein powder isolate
Isolation Produced
In the whey protein isolation method, hot and cold air further separates the liquid from solids, resulting in a powder that's 90% – 96% protein by volume. The best organic whey powders are randomly tested for consistency and ingredient labelling accuracy, as well as tested by independent labs.
One advantage of organic whey protein powder isolate (and non-organic isolate) is that there's virtually no lactose. That's great news if you're lactose intolerant.
Whey protein isolate powder is basically concentrated whey protein powder ultra-purified. The downside to this method is that if you're looking to incorporate more superfoods into your diet, and whey protein, especially organic whey protein, is considered by many people to be a superfood, isolates have all the fat and protein subfractions removed.
However, as we'll see below, some organic whey protein powder isolates may be made in such a way that it retains its biological value. This means that the subfractions can have not been denatured and you can reap their benefits.
Ion Exchange Produced
Another method of whey protein powder is ion-exchange. If you're thinking about buying organic whey protein powder or raw grass-fed protein powder, you'll want to avoid whey derived from ion-exchange processing. Technically an isolate method, ion exchange is used to boost the protein value by weight. But the end-result is a complete lack of the bioactive compounds that may yield the benefits mentioned above.
Ion-exchange isolate involves the use of chemicals to split the proteins into their amino acid building blocks. So, in essence, organic whey ion-exchange isolate is an oxymoron, or contradiction in terms.
Your digestive system was designed to break down proteins in their individual components. Unless you have a serious digestive issue that requires you to consume pre-digested protein, there's no real value in the ion-exchange method. If you're looking for the best organic whey protein powder, don't go for ion-exchange whey. The protein is denatured.
Other whey protein isolates
There are several methods of producing whey protein powder isolate. A fairly recently-devised method is cross flow microfiltration. Cross flow microfiltration blends the best attributes of whey concentrate and isolate. The immune-boosting micronutrients such as lactoferrin are preserved. It may depend on the individual brand if the protein subfractions are as complete as a whey protein concentrate formula. Cross flow microfiltration powders are high in protein per weight (90 percent or higher).
Finally, another recent popular method of making whey protein powder is hydrolyzed whey protein powder. The idea for this method is to make it the most easily digestible protein. This process involves breaking down the proteins into individual peptides (chains of amino acids). The advantage of hydrolyzed protein is that it's easiest to digest. But would you eat partially digested food? Unless you have a very sensitive gut, it's best to stay away from hydrolyzed protein. Because it is so easily digested, it tends to not promote a sense of fullness. Another negative mark: many people detest the taste of hydrolyzed protein.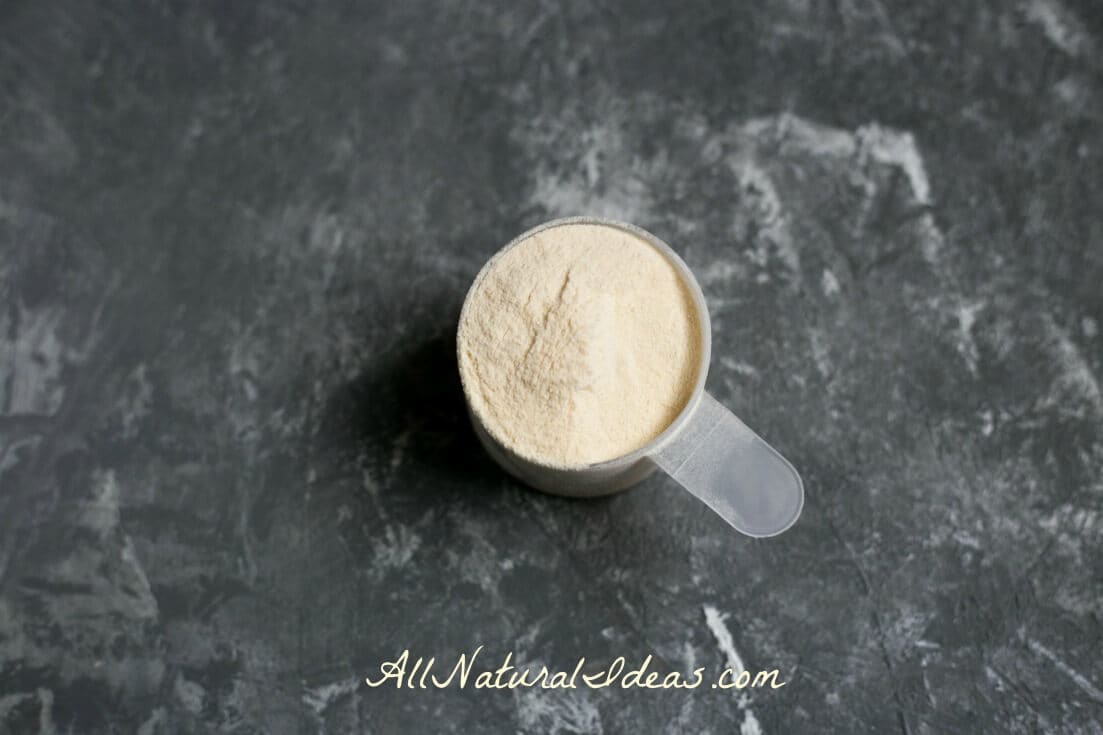 Raw organic whey protein powder
These days, most sports nutrition companies that sell protein powder use milk that comes from cows that are have not been given synthetic hormones or antibiotics. However, the protein powder industry has many players and not all of them use high-quality ingredients.
That's why for some people, the best protein powder is raw, organic whey protein. Some commercial protein powders contain chemicals or use milk that have been fed GMO corn, or have grazed on grass containing pesticides.
The milk used in the production of raw organic whey protein has not been pasteurized. Pasteurization kills the beneficial bacteria in the milk. This good bacteria can help colonize your gut and boost your immune system. For this reason, raw organic whey protein may be even better than organic grass-fed whey protein powder (that has been pasteurized).
Some people claim there's no benefit in taking organic whey protein powder versus a reputable brand of non-organic whey concentrate or isolate. It's up to you to determine what's the best whey protein for your budget, health goals, diet and ethics.
Related Posts