Not fond of drugs to induce labor late in pregnancy? Here's how to use castor oil to induce labor safely and effectively without drugs.
Castor oil is a popular all-natural solution for many things, including skin care, digestive imbalances, immunity and for inducing labor. One benefit of castor oil is increased circulation, which may be why many women use castor oil to start contractions (or speed them up).
Used for centuries to induce labor, castor oil is a vegetable oil. It comes from the castor bean.
One of castor oil's main physiological functions is to stimulate the bowels. This action is of course helpful for constipation, which is another popular thing castor oil is used for.
There's a close connection with castor oil's use for constipation and its potential ability to induce labor. That's because castor oil contains ricinoleic acid, from which deadly ricin poison is derived; we'll cover castor oil's safety factor for labor shortly.
Ricinoleic acid causes diarrhea cramps by irritating the smooth muscles of the intestine. This action can stimulate the uterus, resulting in contractions.
Despite the existence of modern healthcare facilities, many women still use the ancient remedy of castor oil to induce labor. Some women combine this natural solution with modern birthing practices. In other words, castor oil isn't just used by women who plan on having a home birth.
Pregnant women who decide to use castor oil should never use it before their due date. And, if your due date arrives and still no contractions, it's best to consult with your midwife, doula, doctor and/or nurse before using castor oil to speed up baby's arrival.
How to use castor oil to induce labor
Getting past the taste
Let's get something out of the way first. Castor oil does not smell like roses nor taste like candy. No doubt, many women who have used it to induce labor would probably say it's one of the most vile things they've ever tasted!
But using castor oil doesn't have to be an olfactory and gustatory nightmare. The smell of castor oil isn't actually that bad, although smell is relative. Most people would describe it, at best, neutral, to at worst, earthy and unappetizing.
As for taste, many people have a hard time swallowing castor oil on its own. It's not a pleasant tasting oil unlike a good-quality olive oil or coconut oil. Some women even throw up after drinking castor oil.
To make it more palatable, some people mix castor oil with juice. Depending on how the expectant mother feels or what she's craving, castor oil can be combined in a hot or cold drink. Fruit smoothies, veggie blends or teas (hot or cold) can have castor oil added.
How much to use?
As for how much castor oil to consume to induce labor, it's best left up to a natural childcare practitioner such as a midwife or doula to determine the best amount. Generally speaking, though, one tablespoon or one and a half tablespoons are a safe dosage.
Rather than having to chug a potentially large, nauseating dose of castor oil to induce labor at one time, many women break up the dosage. Typically, one tablespoon is taken first thing in the morning and repeat every few hours … until the diarrhea cramps start to kick in.
One popular way to make castor oil less nauseating to ingest is to mix it with scrambled eggs. That's assuming, however, that just the thought of eating eggs alone doesn't make you nauseous, let alone with castor oil.
How fast does castor oil work to induce labor?
Because everyone is different, there's no precise answer. The speed at which castor oil can induce contractions after the due date is not automatic, unlike, say ibuprofen's 30 minute wait-time for its pain-relief effects to kick in. (Do NOT, however, take ibuprofen during your third trimester!)
Pregnant women may have vastly different experiences using castor oil for labor. For one soon mom-to-be, castor oil may induce labor almost right away. And for another expectant mom, it could take several hours.
Although there are no definitive studies as to how fast castor oil takes to work for labor, the range can be anywhere from a couple hours to 12 hours. Some skeptics of using castor oil to induce labor might argue that contractions are just a coincidence; the castor oil had no bearing on inducing labor. Despite the naysayers, there are many women who swear by castor oil's efficacy in kickstarting contractions.
The side effects of castor oil are initially, diarrhea cramps, followed shortly thereafter by uterine contractions. This is true in many, but not all cases of pregnant women taking castor oil to speed up delivery after the due date has been reached.
If diarrhea sounds like an unpleasant side effect of castor oil, it's a small price to pay if it safely speeds up the delivery. And by the time labor begins, the diarrhea is most likely to stop. Speaking of safe delivery, let's take a look at castor oil's safety….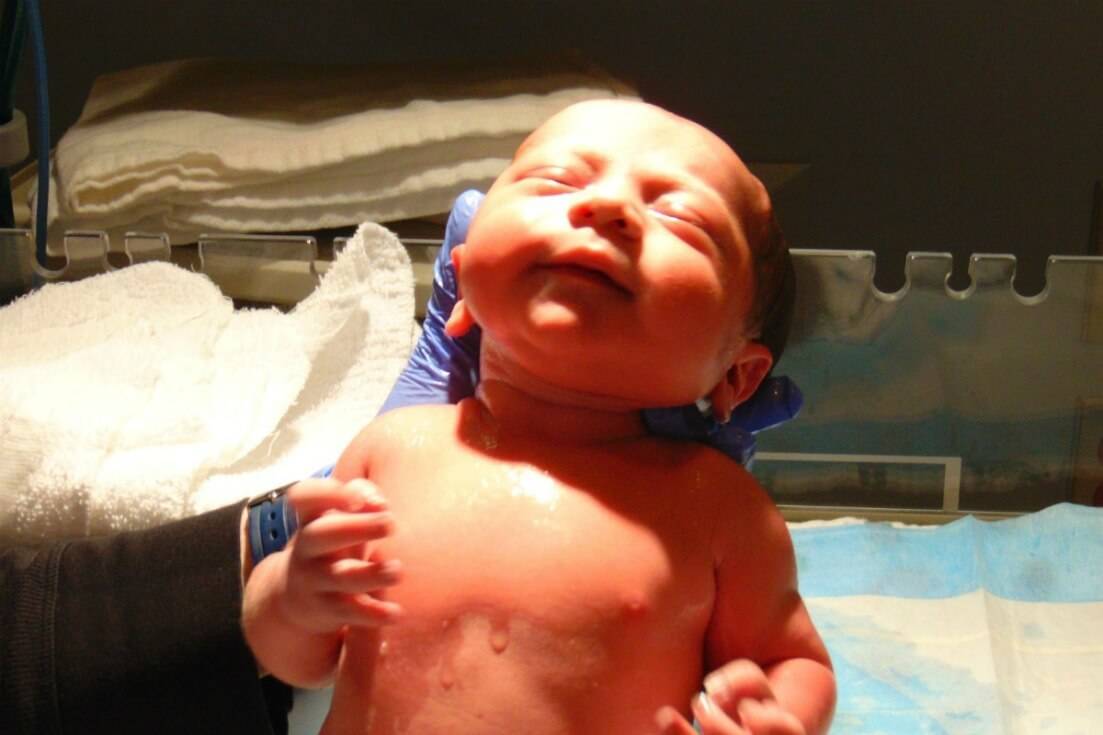 Castor oil during pregnancy – is it safe?
One analysis of the safety of castor oil for labor, published in an obstetrics and gynecology journal, concluded it's not unsafe. But then again, the study concluded castor oil wasn't very effective for inducing labor.
The study involved 612 women with a gestation of more than 40 weeks. Of the 612, 205 of them received castor oil for induction and the remaining 407 did not. The time to birth was not significantly different between the two groups, the researchers determined.
Modern hospitals, in general, do not use castor oil to induce labor. Those who believe in castor oil's use to speed up delivery may argue that the reason it's not used in hospitals is because insurance companies can charge more for pitocin, the syntheic form of oxytocin and the hormone responsible for inducing labor.
Hospitals can also bill the expectant mother more if mom stays an extra night in the maternity ward. Those factors notwithstanding, hospitals most likely do not use castor oil to induce labor, not because it is unsafe, but because it can cause some women to get nauseous. (Maybe the nurses also don't like the clean-up factor; birth is a messy enough process as it is without castor oil.)
Remember earlier, it was mentioned that a compound in castor oil is used to make the deadly poison ricin? It fact, castor beans are considered one of the deadliest plants on Earth.
A single castor bean has enough poison to kill an adult within minutes. However, if you're thinking about taking castor oil to induce labor, don't freak out.
Castor oil is generally safe. Besides cramping and nausea, there are no known major side effects to taking it for labor.
Where to buy castor oil to induce labor
Castor oil is easy to find. You can purchase it online or find it at most health markets and drug stores. Perhaps more difficult to find is castor oil that's food-grade and cold-pressed. The cold-pressing process ensures the compounds in the oil is preserved and not spoiled from heat.
Even better than cold-pressed castor oil is virgin cold-pressed castor oil. The first pressing of the bean to make the oil typically contains the highest concentration of nutrients.
It's impossible to say whether cold-pressed virgin castor oil induces labor more quickly than heat-processed castor oil. But if you're going to swallow something as hideously unpalatable as castor oil, it might as well be the healthiest.
A final word on castor oil to induce labor that's worth repeating: talk to your healthcare provider before using it.
Related Posts