You're not likely to find helichrysum oil in your local supermarket. Also known as "Immortelle Oil", it's described by some essential oil enthusiasts as "miraculous" and one of the most powerful healing plants.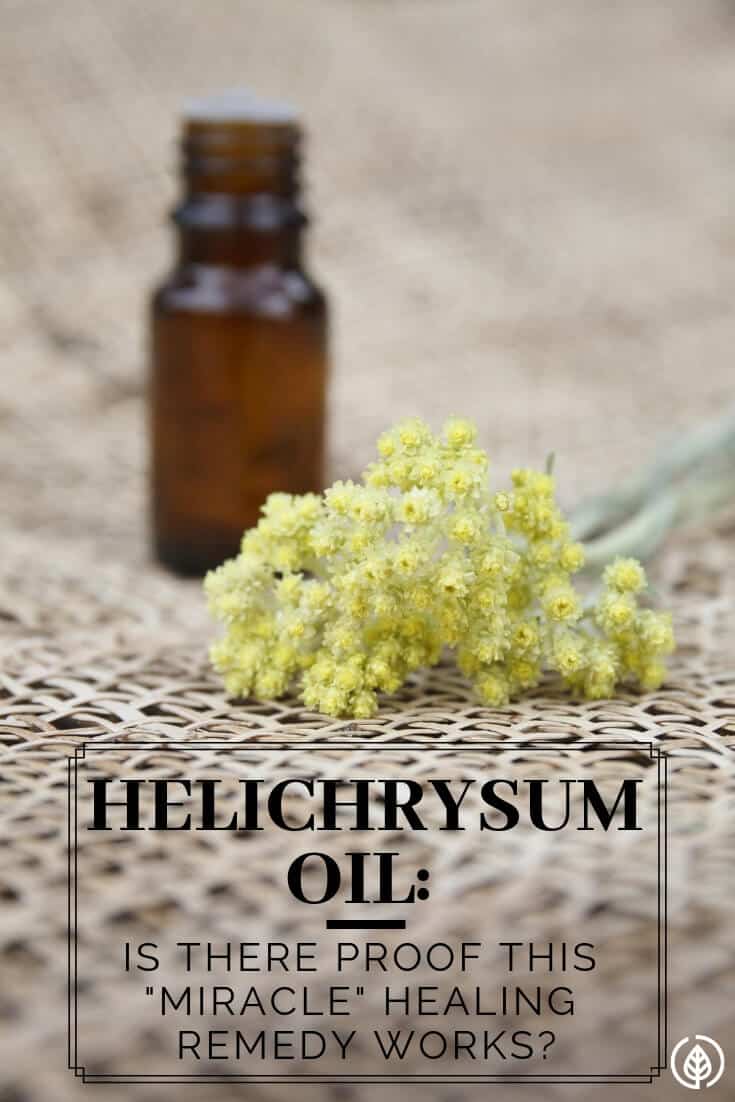 Maybe you recently had an injury that required stitches. So you're doing some research about natural things that help get rid of scars. Or maybe you've lost a lot of weight and now you have stretch marks. What gets rid of them naturally?
These two concerns, stretch marks and scars, are usually how someone finds out about helichrysum.
However, as you're about to discover, its benefits and uses are quite diverse.
Let's dive in and discover more about this precious essential oil….
What is Helichrysum?
Call it "immortelle." Or "the ever-lasting flower." These two are far easier to pronounce than helichrysum, right? Well 'heli-cry-some' as it's pronounced, is actually 600 or so different species of sunflower.
But the kind you'll likely see for sale online or in natural health stores is: H. italicum. This type of helichrysum is so-named because it grows in Italy (and other parts of the Mediterranean).
Helichrysum oil is the essential oil from H. italicum which is produced from its flowers. It requires a ton of flowers to extract the therapeutic compounds. This is true of all essential oils (which can also be derived from any part of the plant, i.e. leaves, stems, bark, roots, seeds, etc.). But it's even more so with H. italicum. That's why it costs more than popular oils such as lavender, eucalyptus, and peppermint.
But is the cost worth it? Does research suggest it's a good idea to keep it in your natural medicine cabinet?
Helichrysum essential oil uses and benefits
This self-described "therapeutic perfumer" sells Immortelle oil. She says it "instills deep peace and tranquility and provides support in releasing emotional trauma."
The perfumer adds, "It is also a useful tool to help us reconnect with the spiritual realm and opens the heart and mind to new experiences and practices." Keep it close by as a nurturing tool whenever you need a little extra aromatic love and support, she advises.
New Age-speak aside, what are its more therapeutic uses? Well, the majority of its folk uses are for skin care, like healing stretch mark and scars.
According to the Updated & Revised Essential Oils Expanded guide, here's the full list of uses and benefits:
Anti-inflammatory
Anti-coagulant (stops blood clotting)
Anti-catarrhal (for mucous)
Hematoma
Sunscreen
Detoxifier
Phlebitis (vein inflammation) and varicose veins
Hemorrhoids
Stops bleeding
Parkinson's Disease
Nerve tonic
Cholesterol
Liver problems
As you can see, this is quite an impressive list. But can it really help with serious illnesses such as Parkinson's?
Without doubt, you'll never see a doctor on TV saying helichrysum can cure it.
However, even this Parkinson's resource suggests it can at least help alleviate symptoms. Specifically, the resource says it can help alleviate pain. It also increases a sense of well-being, says the article. That makes sense because if you have less pain, you're sense of well-being is likely to increase.

Does Research Support
Helichrysum Uses?
In some European countries, it's used traditionally for several things. The most common conditions are colds, allergies, skin, liver and gallbladder disorders, inflammation, infections and sleeplessness.
But does science support these uses?
A study in the Journal of Ethnopharmacology offers limited proof. (Ethnopharmacology is the field that studies natural plant medicines). Keep in mind, however, there have been no large clinical trials on this essential oil.
Lab studies show H. italicum can kill germs. It also reduces inflammation. The research says that the compounds in it are effective against the bacteria, Staphylococcus aureus. This particular bacteria is resistant to antibiotics. It can cause the disease, MRSA, which kills 20,000 people a year.
Perhaps hospitals should stock up on H. italicum?
Another beneficial action it shows in the lab is killing Candida albicans. Furthermore, it may help kill viruses that are associated with HIV.
Outside of test tubes, helichrysum shows the ability to reduce redness caused by inflammation. And there's some evidence it can protect against UV rays from the sun.
But let's say you visit a warm, tropical climate and pick up an infection. Would treating it with H. italicum be effective? Or should you take antibiotics? Well, that choice is entirely up to you.
However, if you are going to use H. italicum for any purpose, you have to know how to use it (see below)….
Helichrysum for Skin
One of the only clinical trials available shows H. italicum can help treat the skin condition, dermatitis.
At least in dogs.
In this study 20 dogs affected by dermatitis were treated with an herbal product called Malacalm. Malacalm consists of six essential oils, including H. italicum. The research shows that the product achieved a good clinical outcome. No recurrence of dermatitis was observed after 180 days.
Some essential oil companies include it in their first-aid remedies. For example, Rocky Mountain Oils sells a blend called "Ouchie." (Cute, right?) In the product description, it says:
"Helichrysum italicum … helps lessen soreness and discomfort in strained muscles and joints."
Helichrysum oil for tinnitus
Ringing in the ears is the main symptom of tinnitus.
If you have this problem, this article suggests not using it directly in the ear. Rather, use a couple drops on the ear lobe and in back of the ear, along the crease of the head.
However, the article goes on to say that almost every single use of this oil is unproven. This includes tinnitus.
But for at least one person, helichrysum works for tinnitus. The particular person posted the comment below, in response to the article. It is edited for clarity and brevity.
"I don't need clinical studies to know what worked for me. I burst my eardrum and it was hanging by a thread. Doctors said I needed eardrum surgery. Using essential oils successfully for 24 years at that point, I had read that helichrysum healed and helped with hearing loss. I'm not religious, but this plant was known to heal in the Bible. I had nothing to lose but $25,000 on a surgery so I put a drop of oil in my ear every day with a cotton ball. After a month my ear, nose and throat specialist was shocked. Not only was my eardrum entirely healed around the perimeter, but the original scar that I had since I was a little girl that was on my eardrum from a previous burst, was completely gone."
How To Use Pure H
elichrysum

Oil

If you want the potential healing benefits, be ready to prepare more. Because it's more expensive than other plants to produce, it's often combined with other oils. But if you do a search for "pure helichrysum oil" you'll find a brand that's diluted with a carrier oil.

So, ready to try some? If you want to use it topically, you should actually dilute it with a carrier oil. If you don't, it can potentially irritate your skin.

You can also use it as aromatherapy. For this purpose, you can (and probably should) use the pure oil. The easiest way to use aromatherapy is with an oil diffuser. Or you can pour a few drops into a cloth or tissue and take a big whiff.
Are There Any Side Effects?
The above study that reinforces its folk uses in Europe says there might be one small risk. It has a compound that in one instance led to an allergic reaction. Other than that, it seems to be safe for virtually everybody. As with any other ingredient, if you're pregnant, consult a medical professional.
Do you use helichrysum oil? What for? Do you find it helpful? Leave a comment….
Related Posts