In ancient times, spikenard oil was celebrated as an expensive perfume. It is used for more than smelling lovely in today's world. Discover the benefits of spikenard essential oil….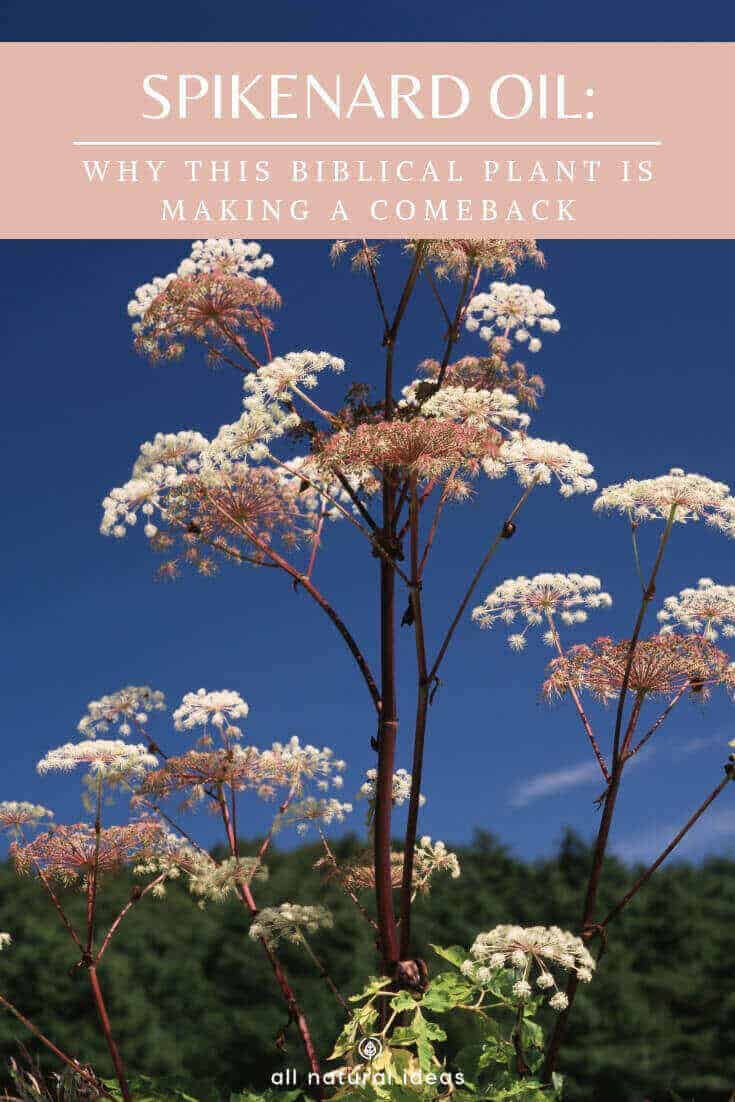 What is spikenard?
Unless you're an essential oil (EO) expert or a Bible reader, you may not be familiar with this hairy, spiky, small shrub. It was once prized like gold is today.
But, there's a good chance you're familiar with another plant which it's related to: valerian root.
Valerian root is one of the most popular herbal supplements. It's used for insomnia and anxiety. Spikenard oil, which is in the valerian family (also referred to as the honeysuckle family) also has calming, relaxing, and balancing properties.
A native plant of the Himalayan mountains in India, Tibet and Bhutan, it was used in traditional medicines and cosmetic products for centuries.
This flowering plant is not a top-shelf EO remedy like lavender, eucalyptus and tea tree. But as EOs become more popular, expect spikenard oil to become a standard remedy in natural medicine cabinets. .
The plant is mentioned in both the Hebrew Bible and the New Testament. In Biblical times, Nardostachys jatamansi, the botanic name of this plant, was an expensive, imported product.
It was mainly used as a perfume and spiritual anointing oil. (More on Spikenard in the Bible later).
Today, however, thanks to steam distillation, you don't have to be wealthy to get the benefits of this EO. And as you'll see in a little bit, the benefits of this botanical are far more than cosmetic.
More than 25 active compounds have been isolated from the "nard" plant. Let's take a look at some of the therapeutic uses this plant provides and the benefits….
Spikenard Essential Oil Uses
In traditional medicine, it's used, like valerian root (and valium), to help relax.
And in Ayurvedic medicine, (the traditional medical system of ancient India) it's used to reduce seizures and epilepsy.
Because it can help the body relax, "nard" is also used for conditions such as mental illness, high blood pressure and heart disease. It's also used for cholesterol management and skin diseases. In fact, it's one of the best essential oils for eczema.
Health Benefits of Spikenard Oil
According to the 2017 Updated & Revised Essential Oils Expanded guide, here are some of the potential health benefits:
Reduces spasms and stomach cramps
Improves digestive function, assist with cleansing and normalize cholesterol
Protects against harmful bacteria
Soothes ulcers
Lessens the severity of premenstrual syndrome pain
Supports the glands
Relieves anxiety
Benefits urinary tract health
Acts as a nerve tonic, improves nervous system conditions such as neuropathy
Repairs connective tissue and cartilage
Supports the cardiovascular system
Eases laryngitis
That's quite an impressive list of benefits. But are any of these claims valid?
As it turns out, some of them are.
Granted, there are no clinical trials on spikenard oil involving thousands of people.
However, here's what we know from research studies about the natural chemical compounds. These compounds have been isolated from the spikenard plant:
Protect the liver
Lower fat in the blood
Normalize heart pulse
Kills bacteria
Before listing other benefits backed by research, there's something important to mention about how spikenard oil kills bad bacteria.
Research shows it has potential antimicrobial activity against both gram positive and gram negative bacteria.
Why is this important?
Gram-negative bacteria are generally more resistant to antibiotics. And because antibiotics have been overprescribed, so-called superbugs have developed resistance to antibiotic drugs.
In light of this, should doctors be prescribing spikenard oil for bacterial infections? Fat chance of your regular M.D. doing that. However, it's possible a naturopathic doctor would recommend it.
Moving on, here are some other possible health benefits…
Research shows the antioxidants (phenols) in spikenard oil can also neutralize harmful viruses and cancer cells. Furthermore, it reduces several markers of inflammation of the body.
Does that mean it cures cancer? Of course not, but the compounds do show the ability to prevent cancer cells from growing.
More Proof That Supports Spikenard Oil Uses
A research study shows that it has antibacterial and antifungal activities against the following potentially harmful strains: S. pneumoniae, S. paratyphi, M. pachydermatis, T. rubrum and A. niger.
Research also supports the claim in the essential oil guide for connective tissue repair. "Spikenard EO significantly inhibits the tissue-remodeling molecules collagen I and III."
What does this mean? What is tissue modeling? No, it's not posing with a Kleenex for photo shoot. Rather, tissue remodeling can be a sign of excessive inflammation in the body, especially in obese people. Thus, the nard prevents this….
The calming and sedating effects of spikenard oil have been proven as well.
For hair growth
There's even some limited research that shows nard can help promote hair growth. Not only that, it also may help darken it.
There are three compounds in the plant that showed hair growth activity. However, before you go rubbing the roots of the plant all over your hair, keep in mind the study was done on rats.
Despite the lack of evidence on humans, people have been using this herbal medicine for hair growth for a while.
Spikenard Oil In the Bible
Now that we've talked about what spikenard oil is and what it's benefits are, let's talk about how and where in the Bible it was used.
It's mentioned a couple of times in the Old Testament. Its use as a perfume can be found in the Song of Solomon (1:12; 4:13–14).
In the New Testament, it was used to anoint the oil of Jesus (as mentioned in Mark 14:3 and John 12:3).
In John 12:3, it says:
"Mary therefore took a pound of expensive ointment made from pure nard, and anointed the feet of Jesus and wiped his feet with her hair."
Why did Mary use pure nard instead of the myriad other plant oils available to her? Why did she use it for anointing Jesus?
This speaks to how prized spikenard ointment was in Biblical times. What is now present-day Israel is thousands of miles from where spikenard grows native. It was because of the Silk Road (the original global economy), that this prized oil was available to Mary.
How to use Spikenard Oil
To use it for relaxation, apply 10 drops in a warm bath. Or pour a few drops in a diffuser.
You can also use it as a massage oil by combining it with jojoba oil or shea butter.
If you have a chest cold, you can use it as a vapor rub. Combine 5 drops with a carrier oil like coconut oil and rub it on your chest and upper back.
If you want to smell your best like the women of the Bible, you can add it to some all-natural lotion or as a deodorant.
For stomach cramps, combine it with a carrier oil and rub it on your abdomen.
And at night, you can use it as part of your skincare routine. Simply add a couple drops and combine with carrier oil and use as a facial cleanser.
Do you use spikenard oil? What's your opinion of it? Leave a comment.
References:
Orthopedic application of spikenard herbal rhizome
On the Spikenard of the Ancients
Phytochemical investigation and hair growth studies on the rhizomes of Nardostachys jatamansi
Chemical composition analysis and in vitro biological activities of ten essential oils in human skin cells
What is spikenard in the bible
Related Posts