Want to try the best essential oils for eczema to avoid side effects of medication? Find out which ones can help alleviate itchy skin and rashes.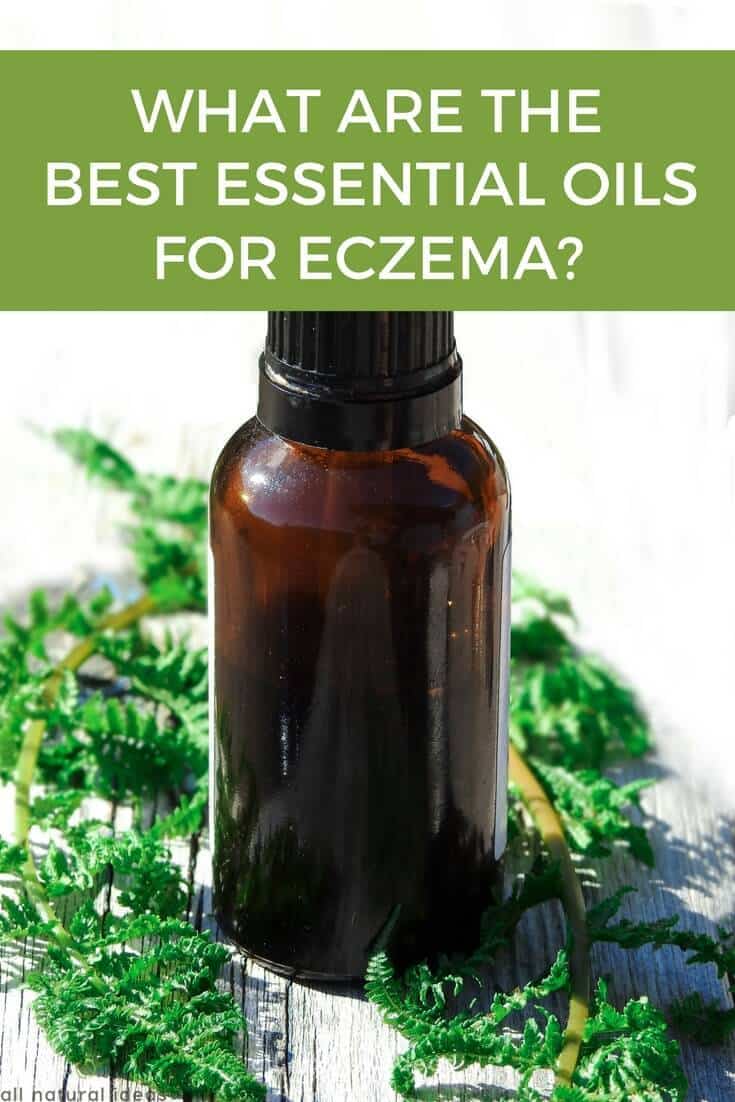 Want to dive straight in and learn what the best essential oils are for eczema?
Be patient. The list is coming up shortly.
If you are personally experiencing symptoms—dry skin; severe itching; red patches or raised bumps; sensitive skin from itching, etc—first see if you can determine the root cause.
An outbreak can occur for the following reasons:
An allergic reaction to household or body cleansers, soaps and detergents
Dust mites
Animal dander
Stress
Poor diet (i.e. too much sugar and/or dairy)
Can you identify with at least one trigger? If so, adjust your lifestyle. Stop using household products (including cosmetics and soap) that aren't at least 99% natural.
Eliminate added sugars from your diet. Vacuum more often. Manage your stress with mindfulness practices such as meditation.
Using The Best Essential Oils for Eczema: A Holistic Approach
In addition to lifestyle changes, consider strengthening your immune and digestive systems.
One of the most authoritative essential oil guides is the Updated & Revised Essential Oils Expanded guide. The guide lists some of the best essential oils for skin eczema as well as different blends for boosting your immunity and digestion.
The guide recommends the following:
Digestive enzymes
Detoxification supplement
Cellular enhancement supplement
Omega-3 (fish oil) supplement
Multi-vitamin
Probiotics
Drink 4-5 drops of Lemon essential oil in 8 oz of water daily
Apply 3-4 drops of a digestive oil blend on the abdomen 1-2 times a day
Apply 2-3 drops of coconut oil or Roman Chamomile essential oil to soothe as needed
In addition, the guide suggests the following essential oils are good for eczema (you can apply them topically on the affected areas):
Seems like a lot of stuff to have to buy, doesn't it? It is. If you do indeed want to treat eczema, following the exact recommendation of the Guide, some of the supplements can be found in combination.
For instance, the essential oil wholesale company, Doterra, offers a "Lifelong Vitality Pack." With the pack, you can pick three products a month. Choices include the multi-vitamin/mineral oil blend; essential fatty acid oil blend and digestion oil blend.
This information is not intended as a product pitch for Doterra. Rather, the important takeaway is that if you don't want to have chronic eczema, treat the problem holistically—instead of waiting for symptoms to manifest.
And you don't have to try all these holistic suggestions and products all at once. Make one change at a time. If you do that, over time, you'll likely experience less flare-ups.
Best Essential Oils for Children With Eczema
Up to 20% of children will experience atopic dermatitis. Before reviewing some of the best essential oils for baby eczema, let's get this important disclaimer out of the way….
Children can get both eczema and psoriasis. The two skin conditions are similar. However, the former involves more intense itching than the latter. Nonetheless, it's best to have a dermatologist analyze the symptoms and determine which of the two skin conditions it is.
Then, after the diagnosis, if you still want to use essential oils for the treatment, go for it. Yet, there's something else to keep in mind….
The best essential oils for eczema and psoriasis are different (at least according to the Expanded Guide).
A small research study involving 8 children with eczema was published in the journal, Phytotherapy Research. In the study, the following oils were used. The researchers concluded that massage therapy with these oils helped improve the children's symptoms.
Sweet marjoram
Frankincense essential oil
German chamomile
Myrrh
Thyme
Lavender
Litsea cubeba (aka 'May Chang' oil)
But there's a couple things to consider with the study. First, it's obvious that only 8 children is a very small test group. And second, the oils weren't given to the kids because the oils were previously proven in research studies to, for example, heal skin cells.
Rather, the oils were chosen because each individual oil was what the mother of the child preferred to use.
Research on Essential Oils For Eczema
However, there are research studies that support some of these plants for skin conditions.
For example, both frankincense and myrrh has been shown in research studies to have antibacterial properties.
Other plants used in dermatology for the condition include:
Balsam
Yarrow
Birch (white)
Marigold
Rock rose
Neroli
Bergamot
Palmarosa
Carrot seed
Helichrysum
Cade
Melissa/lemon balm
Spikenard
Oregano
Geranium
And that's not all. There are about a half dozen other plants that may help treat the condition. That's according to this research in Evidence Based Complementary and Alternative Medicine.
But you don't have to use all these to alleviate symptoms. You can use just a few. Make sure you test a small patch of skin to make sure you don't have bad skin reactions.
Evening primrose oil
Another study shows that evening primrose for the treatment of atopic eczema is considered safe. The researchers of this study mention a recently-discovered cause of eczema. It's a defect in an enzyme. The enzyme is responsible for the conversion of linoleic acid to gamma linolenic acid (GLA). GLA is an essential fatty acid.
If you're not consuming enough GLA, you could be vulnerable to an eczema outbreak. You need to get GLA from foods or supplements. Unfortunately, GLA is hard to obtain in the diet alone.
Evening primrose is one of the best essential oils for eczema. That's because it's very high in GLA.
When you apply evening primrose externally (topically), it can help reduce discomfort and heal the rash. It's also beneficial for other skin conditions, such as psoriasis.
This research demonstrates evening primrose significantly reduces the overall severity of the condition (less itching and scaling). Furthermore, the research says topical application of evening primrose oil normalizes skin barrier function.
Thyme
Thyme is also one of the best essential oils for eczema. This study concludes a 3% thyme EO cream can treat eczema-like lesions.
Chamomile
In a clinical study, the oil of chamomile helps heal eczema. A cream containing chamomile, concludes the researchers, is more superior than hydrocortisone cream.
Witch Hazel
Another name for witch hazel is hamamelis leaf. Hamamelis contains tannins. Tannins are antioxidants that help fight disease. This study says creams containing witch hazel extract are effective in treating atopic eczema in children and other eczemas.
Marshmallow Root
Marshmallows aren't just for roasting around a campfire. The root of marshmallow (Althaeae radix) has strong anti-inflammatory properties. This makes it effective for fighting eczema, says this research.
Frankincense for eczema
One simple essential oil blend for eczema is frankincense and lavender. You can use sweet almond as a carrier. This is one of the simplest essential oils for eczema recipe.
The compounds in frankincense have pain-relieving, tranquilising and antibacterial properties. Studies like this one conclude frankincense also reduces inflammation.
Carrier oils for eczema
Carrier oils dilute highly-concentrated plant compounds. They are necessary when using EOs for topical use.
Here's an example of how concentrated an EO is without a carrier oil. Just one drop of essential peppermint oil is roughly the equivalent of 25 cups of peppermint tea. (This fun fact comes courtesy of MamaNatural.com).
In general, you'll want a couple drops of EO diluted in about a teaspoon of carrier oil.
The most common carrier oils for eczema include sweet almond oil, coconut oil, olive oil, avocado, argan, and peach kernel oil. Moreover, these carrier oils are especially beneficial for dry skin. And eczema tends to dry out the skin.
Essential Oil Blend for Eczema
Dr. Axe, the mega-popular chiropractor-cum-supplement sales giant has a formula on his website. The total prep time is 40 minutes and provides 25 uses.
You'll need a half-cup raw shea butter, a half-cup of coconut oil, 1 tablespoon of local honey, 30 drops of lavender essential oil, and 8 drops of tea tree essential oil.
To make this blend, melt the shea butter and coconut oil together. Then, add the honey. Stir. Once blended, add both lavender and tea tree oils. After that, stir some more. Then, allow to cool, but keep the texture soft. Once cool, use a food processor or hand-held mixer to mix until a foamy-like texture appears. At this point, this blend should look like lotion.
Essential Oils for Scalp Eczema
Seborrheic dermatitis, aka 'scalp' eczema can cause dandruff and itchy scalp with red, scaly patches. The best natural treatments for this type of skin condition include vitamin E oil and fish oil. As for essential oils, tea tree and evening primrose are the best choices.
Got your own essential oil blend for eczema? Share it. Post a comment.
Additional References:
Evaluation of massage with essential oils on childhood atopic eczema
What's the difference between eczema and psoriasis?
Related Posts