Some of the best essential oils for eczema are ones that have the backing of research studies. This article lists some of these oils that have clinical evidence to help treat the underlying conditions that cause eczema.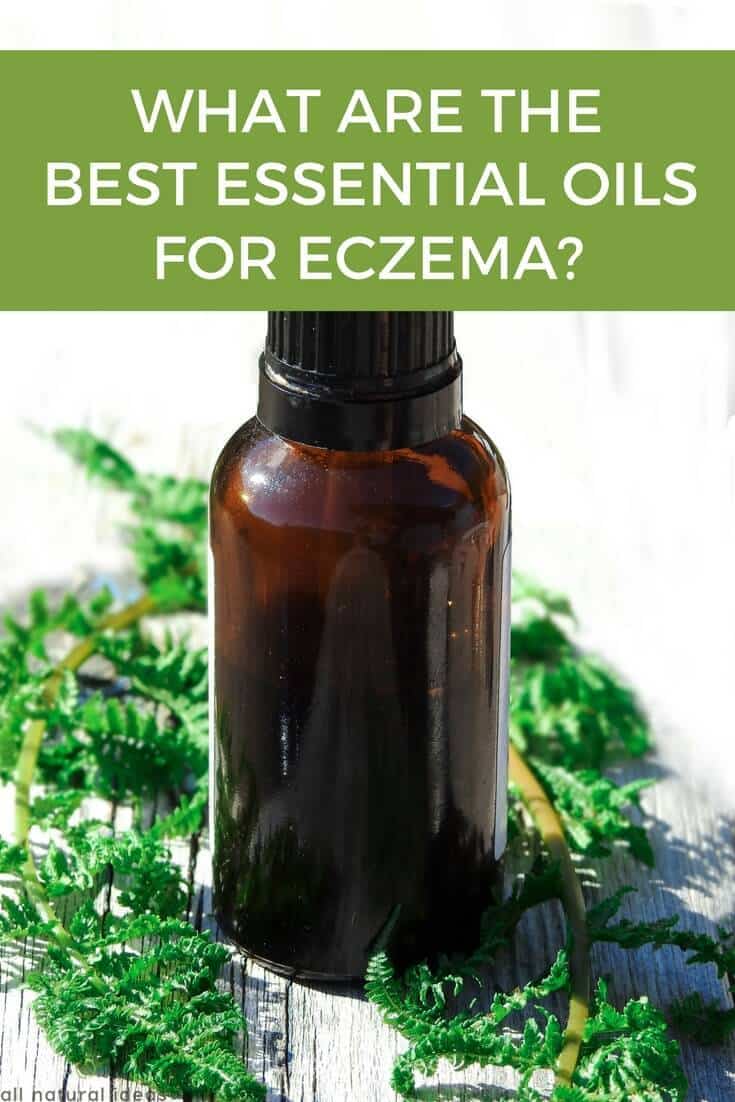 Those pesky, itchy, scaly rashes are back again. Another eczema outbreak strikes.
The temptation to itch is overwhelming. But you know that itching can make eczema worse.
There are several causes of eczema (atopic dermatitis). And besides the itching, that's one of the maddening things about it. You can't know with 100% certainty what's the cause. An eczema outbreak can occur for the following reasons, and others:
An allergic reaction to household or body cleansers, soaps and detergents

Dust mites

Animal dander

Stress

Poor diet, i.e. too much sugar and/or dairy
If you can relate to one or more of these eczema triggers, you can try to adjust your lifestyle. However, in the meantime, what's the best way to nip an eczema outbreak in the bud?
Sure, you could try a steroid cream. A prescription cream may stop eczema quickly. However, this isn't solving the root cause.
If you're looking for an all-natural solution to eczema, what are your options?
Dr. Andrew Weil suggests hypnotherapy. But come on, really? Hypnotherapy? Who has time for that when eczema is driving you crazy.
Essential Oils for Eczema
Instead, try essential oils.
Skeptical? Think that oils may not work as well as, say, hypnotherapy? Well, dear skeptic, science does support the use of essential oils to help relieve eczema.
This study, albeit a very small one, examines if a collection of essential oils works for childhood atopic eczema. This condition, according to the researchers, is becoming increasingly common. The children with eczema were massaged with essential oils of:
sweet marjoram

frankincense

German chamomile

myrrh

thyme

lavender

Litsea cubeba (aka 'May Chang' oil)
The results showed a significant improvement in the eczema in the children following therapy with essential oils.
Evening primrose oil
Another study shows that evening primrose oil for the treatment of atopic eczema is considered safe. The researchers of this study mention a recently-discovered cause of eczema. It's a defect in an enzyme. The enzyme is responsible for the conversion of linoleic acid to gamma linolenic acid (GLA). GLA is an essential fatty acid.
If you're not consuming enough GLA, you could be vulnerable to an eczema outbreak. You need to get GLA from foods or supplements. Unfortunately, GLA is hard to obtain in the diet alone.
Evening primrose oil is one of the best essential oils for eczema. That's because it's very high in GLA.
When you apply evening primrose oil externally (topically), it can help reduce eczema discomfort and heal the rash. It's also beneficial for other skin conditions, such as psoriasis.  
This research demonstrates evening primrose oil significantly reduces the overall severity of eczema. For example, a big decrease of itching and scaling. Furthermore, the research says topical application of evening primrose oil normalizes skin barrier function.
Thyme
Thyme is also one of the best essential oils for eczema. This study concludes a 3% thyme essential oil cream can treat eczema-like lesions.
Chamomile
In a clinical study, the oil of chamomile helps heal eczema. A cream containing chamomile, concludes the researchers, is more superior than  hydrocortisone cream.
Best essential oils for eczema: Witch Hazel
Another name for witch hazel is hamamelis leaf. Hamamelis contains tannins. Tannins are antioxidants that help fight disease. This study says creams containing witch hazel extract are effective in treating atopic eczema in children and other eczemas.
Marshmallow root
Marshmallows aren't just for roasting around a campfire. The root of marshmallow (Althaeae radix) has high anti-inflammation compounds. This makes it effective for fighting eczema, says this research.
Frankincense for eczema
One simple essential oil blend for eczema is frankincense and lavender. You can use sweet almond oil as a carrier. Speaking of frankincense, is it one of the best essential oils for eczema? Is there any research that backs it?
The compounds in frankincense have pain-relieving, tranquilising and antibacterial properties. Studies like this one conclude frankincense also reduces inflammation. Thus, you can see why many people use frankincense for eczema.
Carrier oils for eczema
Carrier oils dilute plant oils. They are necessary when using essential oils for topical use. You need an oil blend that's less concentrated. Otherwise, you might end up doing more harm than good to your skin.
Here's an example of how concentrated an essential oil is without a carrier oil. Just one drop of essential peppermint oil is roughly the equivalent of 25 cups of peppermint tea. (This fun fact comes courtesy of MamaNatural.com).
In general, you'll want a couple drops of essential oil diluted in about a teaspoon of carrier oil.
The most common carrier oils for eczema include sweet almond oil, coconut oil, olive oil, avocado, argan, and peach kernel oil. Moreover, these carrier oils are especially beneficial for dry skin. And eczema tends to dry out the skin.
Essential oil blend for eczema
Dr. Axe, the mega-popular chiropractor-cum-supplement sales giant has a formula for eczema on his website. The total prep time is 40 minutes and provides 25 uses.
You'll need a half-cup raw shea butter, a half-cup of coconut oil, 1 tablespoon of local honey, 30 drops of lavender essential oil, and 8 drops of tea tree essential oil.
To make this essential oil blend for eczema, melt the shea butter and coconut oil together. Then, add the honey. Stir. Once this anti-eczema concoction is blended, add both lavender and tea tree oils. After that, stir some more. Then, allow to cool, but keep the texture soft. Once cool, use a food processor or hand-held mixer to mix until a foamy-like texture appears. At this point, this blend should look like lotion.
Got your own essential oil blend for eczema? Share it. Post a comment.
Related Posts