Some thermogenic supplements may contain stimulants that can cause anxiety and heart attacks. The good news is there's ones that can be safely used to burn fat.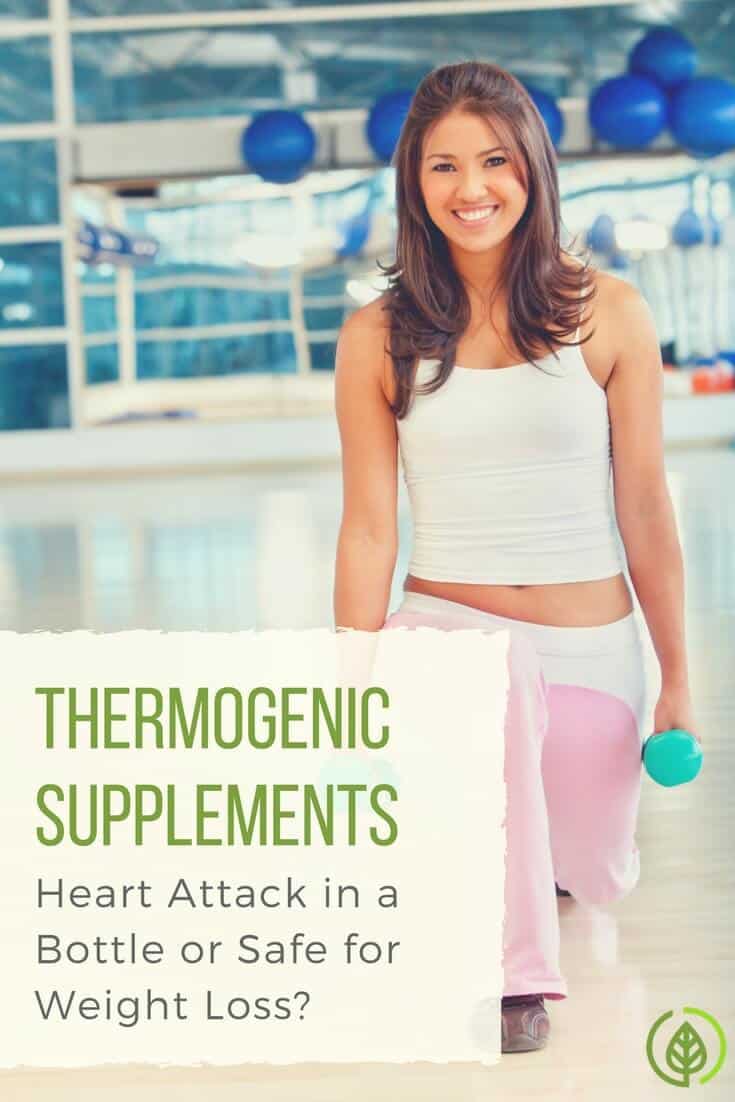 When you hear about supplements that are thermogenic, perhaps you think steroid-fueled bodybuilding monsters with biceps the size of bowling balls. But fear not, there are natural supplements, foods, herbs and spices that can help you melt spare body fat.
What are thermogenic supplements?
If you've heard the term but you're not sure what it is, here's the simple definition….
Thermogenic supplements increase your core (internal) body heat. As a result, your metabolism increases. And when you're metabolism increases, you burn more calories.
Now, many people assume that just because you burn more calories you're going to magically get a chiseled six pack that would make a Greek statue blush. However, these supplements will only melt your stored body fat when you also engage in regular activity/exercise and eat a sensible diet.
In other words, if you're eating a couple fast food meals a day and popping them, you're most likely not going to look like a competitive bodybuilder.
You certainly don't have to be a bodybuilder or competitive athlete to benefit from a thermogenics. On the contrary, whether you're a CrossFit fanatic, weekend warrior, or Monday through Friday desk jockey that only has time for walks, a thermogenic supplement can boost your overall health.
What is are natural thermogenic supplements?
Some thermogenics contain stimulants. Caffeine is the most common stimulant. But there's a Catch-22 with caffeine (or coffee).
If you drink too much coffee, levels of the stress hormone, cortisol, can increase in your body. Consequently, this can actually lead to belly fat.
And more than a decade ago, a widespread stimulant in thermogenic supplements was Mua Huang (ephedra). In 2004, the FDA banned ephedra for commercial use. That's because more than 16,000 reports of negative side effects from products containing ephedra.
The negative side effects even included death, including that of a 23-year old Major League Baseball pitcher, Steve Bechler, who was 23 years old when he died from a supplement containing this natural stimulant. (This goes to prove that not all natural ingredients, including herbs and supplements are 100% safe 100% of the time.)
In light of the harmful side effects of some stimulants, natural thermogenics have filled the void for those seeking a flab-burning edge.
Some natural health experts urge their followers to avoid thermogenics. Take for example, the popular, bushy-bearded Dr. Weil, who says on his website:
"I can sum up my thoughts on thermogenics in two words: stay away!"
Dr. Weil lists cortisol blockers as one fat-burning supplement to avoid like plague. To reiterate, cortisol is a stress hormone. If you're cut off in traffic, it's great that cortisol raises your blood pressure so you can make a quick-reacting decision such as swerving your vehicle to avoid a collision.
However, when cortisol floods your bloodstream because of chronic stress (say, anxiety about how you're going to pay the bills), cortisol can interfere with digestion. Hence, more body fat.
Anyway, Dr. Weil says there's no proof that the amount of cortisol produced by relatively-healthy people leads to more body fat.  
Benefits of Thermogenic Supplements
However, Dr. Weil fails to address two key points in his post about cortisol blockers and thermogenic supplements. As for the former, how many people are truly very healthy? It's hard to say for sure.
But suffice it to say, many people are not pictures of perfect health. In fact, according to WebMD, a whopping 75 percent to 90 percent of all doctor's office visits are for stress-related ailments and complaints.  (SOURCE)
Consequently, with so many people sick from stress, perhaps there's a corollary relationship as to why over 70 percent of American adults are overweight. (SOURCE)
Dr. Weil does not mention in his article another key fact. And that is that there's several safe, natural thermogenic supplements, foods and herbs and spices.
Moreover, Dr. Weil could have also pointed out the benefits of natural foods that have thermogenic (heat-building) effects. These benefits include increased metabolism.
Also, when your metabolism increases, you usually notice an uptick in your energy level. And obviously, when your metabolism rises, you're better able to manage your weight.
And yet another positive effect of natural thermogenics: it can boost your muscular and cardiovascular endurance.
Yet, Dr. Weil is correct in suggesting (very loosely verbatim) that if you're a couch potato, you're not really going to benefit from thermogenic supplements. Rather, you'll have better results, he says, exercising regularly.
Another great way, by the way, to increase your core temperature, is to practice what's called in Sanskrit (ancient Indian language), the yogic art of deep "Pranayama" breathing.

Thermogenics pros and cons
If you read the section above, "benefits of thermogenics" you already know by now what the pros are. And, if you don't take a natural thermogenic, the disadvantage is this….
Thermogenics, if they contain stimulants, can tax your adrenal glands. That is, if they don't kill you from a severe panic or anxiety attack. Or heart attack.
It's really important to pay attention to how much caffeine (in milligrams) a supplement might contain. If you notice you can't fall asleep at night, ditch the thermogenic supplement.
Natural thermogenic foods
With apologies to you, dear reader, we're over 900 words into this post and you have yet to learn one natural thermogenic food. Well, hang on tight for a wee bit longer because first, some herbs and spices that contain natural thermogenic properties will be listed.
One of the most famous spices that increases your core body temperature is ginger. Ginger also aids in digestion and helps normalize cholesterol in the blood. These are just a few ways ginger can help ignite your inner fire.
Garlic, too, since time immemorial, has been used for a variety of therapeutic purposes. Research proves that garlic helps make you more sensitive to insulin. This is a good thing. The less insulin you need to regulate your blood sugar, the better for your health.
Likewise, cumin (aka: curcumin) heats up your core. It also is great for nutrient absorption.  
Other herbs and spices that are natural thermogenics include: cayenne, nettles, cardamom, cloves, black pepper, dandelion, and cinnamon. Large doses of cinnamon essential oil can help kill candida bacteria overgrowth. (It's hard to lose weight if you have too much yeast like candida in your gut.)
Best thermogenics
Now that you know which herbs and spices to both sprinkle liberally on your meals and to supplement with, it's time to review some of the best natural thermogenic supplements.
Hopefully, you engage in regular exercise. You can take a few of these thermogenics about an hour before exercising to enhance the fat-burning effect.
However, if you're just going for a mellow walk, there might not be that much of a benefit. You may have to engage in high intensity exercise to notice a fat-burning effect.

L-Carnitine:
This is every bodybuilder's favorite natural thermogenic. It's an all-natural amino acid derivative. It brings fat into the mitochondria of cells. Here in the mitochondria, excess fat is burned as energy.
The conventional advice by supplement "gurus" is to take 2-3 grams a couple times a day. Red meat is the richest all-natural food source of L-carnitine.
Yohimbine:
Yohimbe bark is from the Yohimbe tree in Africa. It's best known as a male-performance supplement. Not necessarily in the gym as much as in the bedroom.
Yohimbine is the chemically active part of Yohimbe. Supposedly, it targets stubborn belly fat. At least one study (this one) concludes claims "yohimbine supplementation appears to be suitable as a fat loss strategy in elite athletes."
People with low-functioning thyroid glands have sluggish metabolism. Sea vegetables such as seaweed and kelp are stimulant-free, natural and powerful thyroid modulators.
Omega 3-rich foods such as oily cold water fish (salmon, mackerel, sardines) increase insulin sensitivity. They also release enzymes to help with fat burning. Moreover, they can help normalize blood sugar.
You may have heard of MCT oil from Bulletproof coffee. MCT oil is a dietary fat.
For those on an ultra low carb diet, MCT oil is effective to get into ketosis. And therefore, use stored body fat as the primary source of fuel to function.
Who would have thunk it? Raspberries to burn fat. It turns out the chemicals in them prevents and improves obesity and fatty liver.
Garcinia Cambogia:
Say what? Jerry Garcia in Cambodia? Not quite. It's a small fruit that looks like a pumpkin. You won't find it in the U.S. It's only in Southeast Asia. The bioactive component in it is hydroxycitric acid (HCA). HCA comes from the rind of this fruit.
This study suggests Garcinia fruit exhibits anti-obesity activity including reduced food intake and body fat gain. It does this by regulating serotonin levels related to satiety. It also increases fat burning.  So, it's one of the best known natural thermogenic supplements.
CLA:
Conjugated linoleic acid or CLA is actually a trans fat. Trans Fats are the worst kind of fat you can consume. But like most things in life, there's an exception to every rule.
CLA is a healthy trans fat. Especially if you get it from pasture-raised, lamb, bison, grass-fed beef, cheese, and yogurt. CLA might help burn peripheral fat (that's extra flab around the arms and legs).  
Bone broth:
Bone broth contains amino acids that are hard to get enough of in the diet from other sources. And these amino acids, such as glycine, are
proven to increase key metabolic markers
.
Ashwagandha:
An adaptogen, ashwagandha can help your body produce lower amounts of stress hormones. In particular, it can help lower cortisol levels.
Grapefruit oil:
Created by pressing the rind of grapefruit, essential grapefruit oil is an effective natural detoxification agent. So much so that it should never be taken within an hour of any medication.
Indeed, if you do take medication, check with your doctor that grapefruit oil will not have an interaction with your prescription medication. As for its fat-burning ability, this research says grapefruit oil prevents fat cells from, well, getting fatter. (That's not the exact scientific explanation of course.)
There are several other thermogenic natural supplements, foods and herbs and spices out there. But this list will hopefully be a good starting point for you. Good luck melting those pounds away … without stimulants!
Related Posts