Breast thermography is an alternative method to detect conditions that lead to breast cancer. But, is it an effective tool in cancer screening?
A plethora of pink ribbons and NFL players sporting pink cleats in October hasn't made a dent in it. And neither have all the walks, fundraisers and nonprofits dedicated to stopping it.
Nope. Despite all the awareness and the money raised in its name, breast cancer is still the the most frequently diagnosed cancer of women in North America. And breast cancer is currently the second leading cause of cancer death, behind lung cancer.
If the breast cancer awareness industrial complex rakes in lots of money, why is the disease still a leading killer among women?Blame it on mammograms.
Mammograms are the most popular method of screening for breast cancer. But mammograms aren't especially reliable. And, if you're under 50, mammograms might do more harm than good.
An alternative to mammograms
There is an alternative solution to mammograms. It's non-invasive, totally safe, and may be more accurate at detecting abnormalities in the chest cavity. This alternative solution is called a thermography scan.
Compared to mammograms, a thermography body or breast scan is not well known. That's because the overwhelming majority of medical doctors still recommend getting a mammogram. This, despite the fact that for women under 50, mammograms are roughly only 50% accurate in detecting breast cancer.
NOTE: The reasons why the mainstream medical community still pushes mammograms could be tied to special interests, politics and profit (or a combination of the three). But this speculation is better left for other health websites to tackle. Let this article just highlight for women that there's a safe alternative to mammograms.
Thermography body scans, unlike mammograms, emit no radiation. And when you get a thermography breast scan, it doesn't feel like a 50-pound bowling ball is smashing your breast.
If you don't have a lump or diagnosed tumor, a thermography breast scan is a viable form of prevention. It may be especially beneficial at early detection of breast and other forms of cancers.
What is a thermography scan and why should women consider getting one?
Have you ever seen an image through night vision goggles? Have you ever watched an action movie that has a scene in it where a heat-seeking camera detects a villain (or an unfortunate protagonist)?
That heat-seeking detection system is essentially what a thermography scan is. A thermography screening uses infrared technology to record temperature distribution of your body using infrared radiation emitted by the surface of your body. Even though it's infrared radiation, it's not the same as potentially-harmful X-ray radiation.
Your body emits heat. Always. Even if you live in Duluth, Minnesota and go streaking outside on a frigid February day, an infrared imaging scan can detect subtle differences in body temperature. It's these subtle temperature fluctuations that provide clues to potential problem areas in the body.
The amount of the energy that is recorded is converted into an energy signal. This signal is used to calculate the actual temperature of the object.
With this information it is possible to create a visual map or thermogram of the distribution of temperatures on the surface of the object imaged, according to this report on thermography scans, published in Integrative Cancer Therapies.
If a certain area in the chest cavity has a higher temperature, this may be an early indication that cancer cells are developing. This is because cancer cells require more blood flow.
Thermography vs mammograms
Many women complain about how uncomfortable mammograms are. And then there's the radiation factor. The most recent advancement in mammography, which uses 3D technology (called "tomosynthesis"), exposes you to even more radiation than a 2D scan.
Because of this radiation, mammograms might actually increase your risk of developing breast cancer. Mammograms are not that efficient in detecting cancer cells long before they develop into tumors (which can take up to 10 years to show up on a mammogram). Furthermore, mammograms can also overdiagnose, which leads to overtreatment, i.e. getting unnecessary surgery.
One of the largest studies on the effectiveness of mammograms analyzed over 600,000 women. The statistics concluded that for every 2000 women who had a mammogram over the course of 10 years, one will have her life prolonged. But 10 healthy women, who would not have been diagnosed if there had not been screening, will be treated unnecessarily.
And more than 200 women out of the 2000 will experience important psychological distress for many months because of false positive findings. This is why researchers of this meta analysis concluded, "It is thus not clear whether [mammography] screening does more good than harm."
Because of these dubious findings, breast infrared thermography may be a better alternative. This is especially true of early detection.
Thermography cancer screening
Thermography can screen for many diseases, not just breast cancer. Other types of cancer can be screened for as well.
But just to be clear, thermography scans does not diagnose cancer. The body image scans merely record temperature readings.
If there's a temperature abnormality in one area, such as the breast, further evaluation is needed. A medical professional will use other diagnostic procedures to determine if there is indeed a serious problem such as cancer cells or a tumor when abnormalities are detected.
How is thermography performed?
Preparing for the scan
If you're going to get a thermography scan, there are a few factors you need to consider. Technological advances in thermography have made the screening more accurate. Especially since the test first became approved by the FDA in 1956. But not all medical settings are the same.
The temperature of the room needs to be between roughly 65 and 77 degrees Fahrenheit for the reading to be accurate. The temperature of the room also shouldn't fluctuate.
Before you get your thermography scan, ask if the air conditioner is going to kick on during the reading. Although that question might throw off the person setting up the scan, this is a valid question. If the A/C kicks in and cools the room to a significant degree, the reading of your thermograph scan may not be reliable.
Also, the curtains, shades or blinds should be closed in the imaging room. Imaging rooms, if well designed, won't have any windows. That's because heat generated by the sun coming in through the windows can also throw off the readings.
Once the imaging room environment is suitable for an accurate reading, here's what typically happens next:
If you're getting a thermographic scan of the breasts, you'll need to sit undressed in a private room that's cooled to a maximum of about 72 degrees. You're going to have to sit in the room, breasts fully exposed for about 15 minutes. This will ensure that the surface of your breasts are sufficiently cool to detect temperature fluctuations.
The scanning method
When it's finally time for the scan, you'll stand about 10 feet in front of the camera with your arms raised over your head. The infrared camera will take three views of your breast (from the front, and two side views).
Some thermal imaging centers use a method called a "cold challenge." This involves placing your hands in cold water at 50 degrees for one minute. This might feel like an eternity. But one minute of dunking your hands in seemingly ice-cold water is probably far more tolerable than 50 pounds of pressure on your boobs from a mammogram.
After the one minute is up, three images are taken to compare the temperature readings. An increasing number of thermal imaging centers have stopped using the cold water challenge.
Cold-water challenge or not, the total amount of time you'll spend getting tested is only around 15 minutes.
Thermography full body scan cost
You can get a thermography scan of your breasts. Or, you can get the whole body package. A thermography full body scan may be able to determine if there are potential abnormalities elsewhere.
The problem is many insurance plans do not cover full body thermography. Nor do some insurance companies cover thermograph breast scans. According to this website dedicated to total body thermography, the medical code (CPT Code) for a breast scan is 93740. The code stands for Breast Thermography/Temperature Gradient Study.
If you are uninsured or if your insurance does not cover a digital thermal scan, you may qualify for assistance. The United Breast Cancer Foundation can cover all or a portion of the cost. You might think that a full body digital thermography scan would cost thousands of dollars. But the price is actually relatively affordable.
According to the Total Body Thermography website, the cost for the first breast thermogram series of 6 images is $195. A follow-up thermogram is recommended 3 months later to establish the baseline. The follow-up scan costs $150. A half body consisting of 32 images costs $295 and a full body is 42 images for $415.
Is thermography reliable?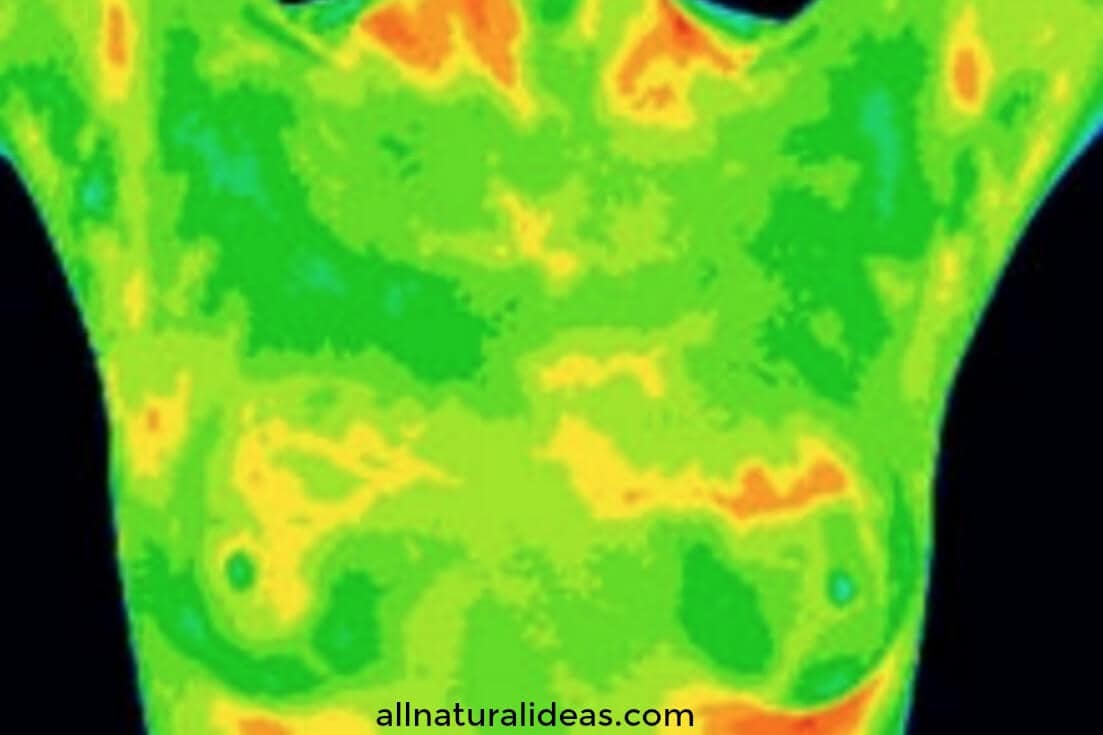 As mentioned above, thermography does not detect cancer. But neither does a mammogram. Only further testing, such as a biopsy, reveals whether cancer is present. But thermography does seem to be more accurate. Studies show it can detect the underlying conditions that give rise to cancer much earlier than a mammogram.
One study revealed that digital infrared thermal imaging detected 58 out of 60 breast malignancies. That's a 97% success rate. However, this study was relatively small in participants compared to the previously-referenced 600,000 patient mammography study.
Related Posts