What is Thyromegaly? It's the term for an enlarged thyroid gland or goiter. The condition can be mild or serious and can adversely affect metabolism.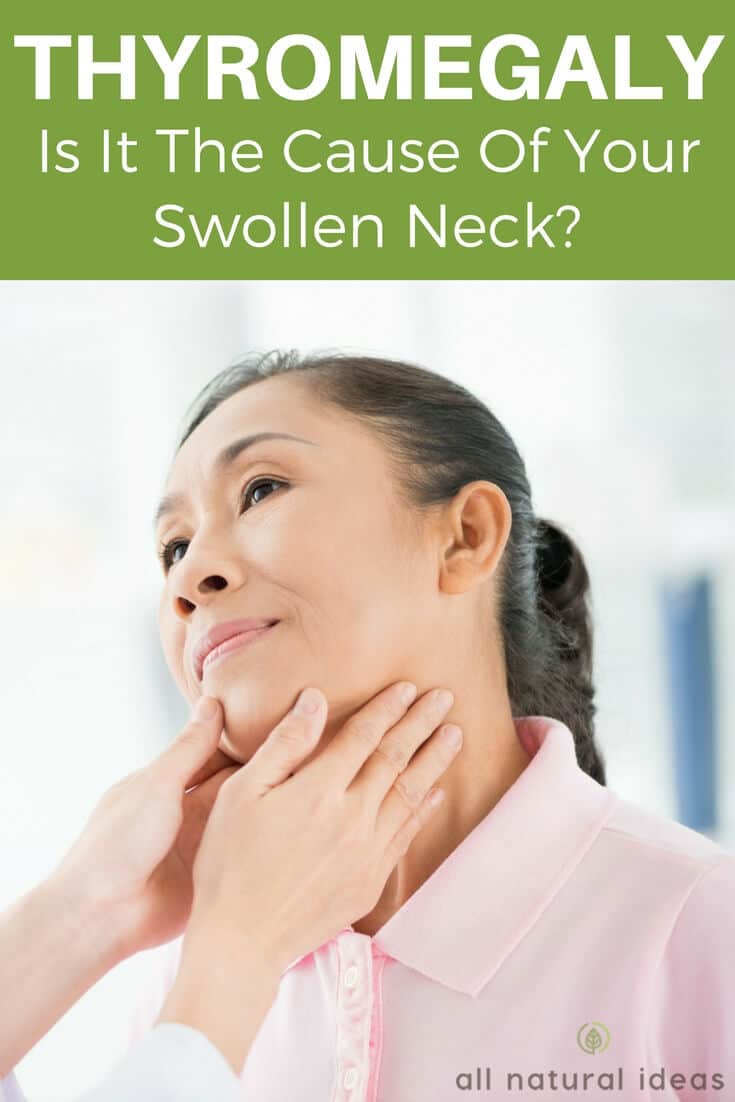 Have you ever seen a picture of someone in a poor country with a lump the size of a softball in their neck? This condition is called goiter. However, an enlarged thyroid gland isn't isolated to those in developing countries. Even people living in the States can develop the condition.
To put it simply, the definition of thyromegaly is an abnormally large thyroid gland or goiter.
Seeing someone with this abnormal condition where the neck is severely swollen is rare, at least in the west. This is because one major cause is iodine deficiency. Most Americans eat lots of processed food with added salt. Most salt consumed in the west contains iodine. This is why a swollen neck caused by iodine deficiency is relatively rare in the U.S.
Thyromegaly Causes
However, there are other things that can cause the condition. These include the following:
Genetics (thanks for the poorly functioning thyroid, mom and dad!)

Certain medications

Exposure to radioactivity

Autoimmune disease (such as Grave's Disease; a condition of an overactive thyroid)

Under-functioning thyroid gland

Over-functioning thyroid gland
Why Your Thyroid Gland is Important for Overall Health
Here is the reason why the thyroid gland is important to overall health. Hormones are chemical messengers that instruct the glands or organs to perform certain tasks. However, hormones do a delicate dance. In other words, you need just the right amount of hormones for optimum health. Too little of a certain hormone or even a tad too much can throw off your body's metabolism.
Moreover, the thyroid gland greatly affects your metabolism. Actually, your thyroid produces two hormones. These hormones are released into the bloodstream. The two thyroid hormones are T4 and T3. The former is inactive, while T3 is active thyroid hormone.
So what's so important about these thyroid hormones? They determine how active the body's cells are. And to get help with this function, it receives a signal from a nearby gland. This gland is the pituitary, which is located at the base of the brain. In fact, the pituitary releases thyroid stimulating hormone if the thyroid gland needs to produce more hormones.
Remember how iodine deficiency can cause thyromegaly? Well, the cells in your thyroid gland are the only cells in the body which absorb iodine. Your thyroid cells combine iodine with your thyroid hormones (T3 and T4). These thyroid hormones circulate in your blood. Ultimately, they play a major factor in how efficient your metabolism is. For this reason, the thyroid is known as the body's furnace (your pituitary: the thermostat).
As a result, you can see why an abnormally large goiter may be a serious condition. However, not all cases of it require serious medical attention.
Mild thyromegaly
In fact, some people may have mild thyromegaly. It is possible to have a goiter yet have normal thyroid hormone levels. For example, you might have a slightly enlarged thyroid gland because of genetics. In this case, your pituitary gland would have to work extra hard to produce more thyroid stimulating hormone.
However, if no symptoms are present and the swelling of the thyroid is not severe, no treatment is needed. In addition, to swelling size, the presence of lumps or lack thereof is crucial. And if no lumps are present, the condition may be mild.
Thyromegaly symptoms
For more serious cases of an enlarged thyroid, there are usually symptoms. Firstly, there's the obvious swelling of the neck. Usually, the swelling is at the bottom of the neck below the Adam's apple. This is where the thyroid gland is located.
As you may imagine, having an enlarged gland may cause neck stiffness. In addition, serious cases of thyromegaly include difficulty swallowing and breathing.
Another symptom of a serious case includes a raspy, hoarse voice. Moreover, an increase in coughing may arise. Furthermore, serious swelling can result in choking. Finally, the most serious symptoms can include headaches, dizziness, vomiting sensation and fever.
Thyromegaly treatment
As you can see here, there are over 20 different types of goiter. Thyromegaly treatment depends on the type of goiter. A medical professional decides if treatment is necessary. Doctors use four different methods to assess treatment:
Manually feeling the thyroid gland to determine if swelling is excessive.

Blood test – This determines if the swollen gland is producing enough thyroid hormone.

Ultrasound – A high-resolution medical imaging procedure. It takes a picture of the thyroid to detect masses.

Thyroid scan – The patient swallows radioactive iodine. This is harmless. The scan determines a couple things. Namely, if and how much iodine the thyroid cells are converting into thyroid hormone
In certain cases, an ultrasound can reveal masses on the goiter. These masses could be cancerous. A biopsy on the masses can confirm whether the thyromegaly is cancerous or not.
However, as mentioned, not all goiters are serious. And some people who have mild goiter do not get any treatment.
For more serious cases, the following treatments are available:
Radiation treatment or surgery

Iodine supplementation (Although with some people who have trouble utilizing iodine, this treatment does not always work.)

Medication (Especially the drug,

Levothyroxine

; used often in cases of a low-functioning thyroid. For an overactive thyroid, Thiamazole is often prescribed.)



Natural Foods To Treat Thyromegaly
In addition to conventional medical treatment, certain foods that can help relieve goiter. However, this is more so for people who do not get enough iodine in their diet. One example of a food naturally rich in iodine is kelp. Kelp is a seaweed. Another example is watercress. So, too, is seafood.
Moreover, certain plants can help reduce goiter swelling. One example is dandelion leaves. Also, garlic may help reduce swelling of the thyroid gland.
Want to first try all natural ideas for goiter? Then consult an ayurvedic doctor. In addition, a naturopathic doctor can help. Or, someone highly trained in functional medicine.
Related Posts