Using the best organic shampoo and conditioner may prevent health problems that are the result of overexposure to harsh chemicals. But, it can be difficult to find a true organic product.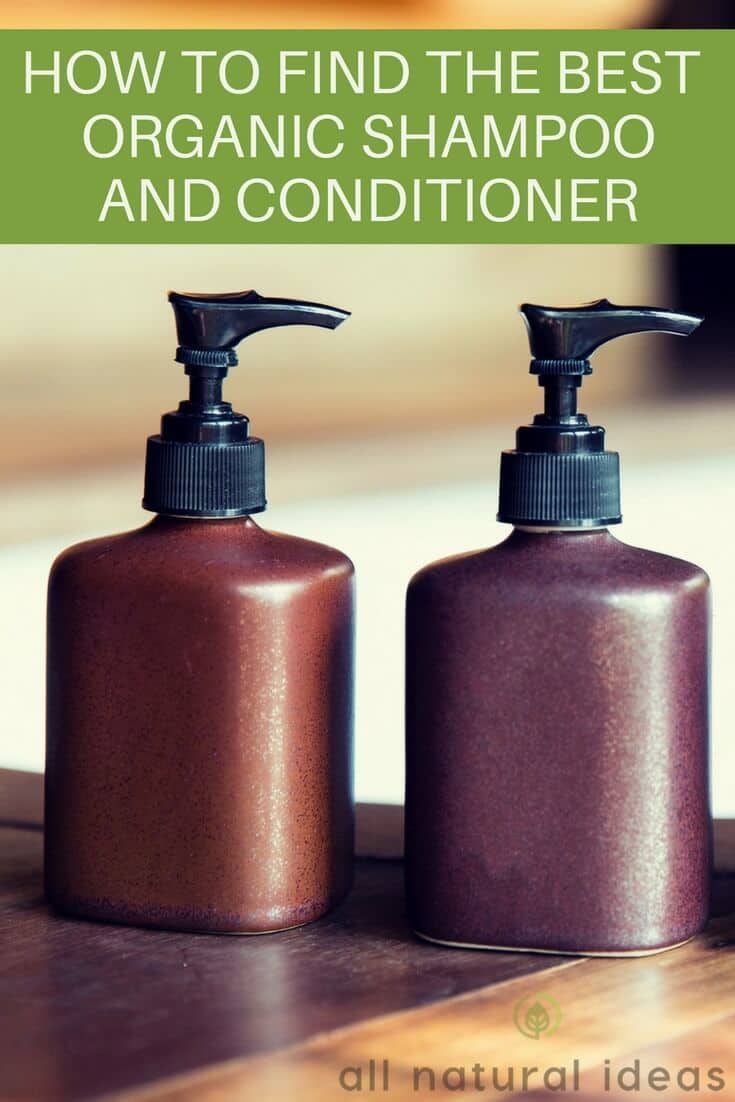 Lather. Rinse. Repeat.
These pithy instructions on many shampoo bottles are followed blindly by millions of people. But what many people are not conscious of is how some of the ingredients that give shampoo and conditioner their sudsy texture may negatively impact health.
In fact, many shampoos and conditioners contain harmful chemicals. A handful of potentially harmful ingredients in your haircare products may include the following:
Sodium lauryl/laureth sulfate

Polyethylene glycol (PEG)

Propylene glycol

Ammonium laureth sulfate

Cocamide DEA
Rising consumer awareness of these and other harsh chemicals has led to an increase in sales of organic shampoos and conditioners.
And this rising consciousness isn't just an American market trend. On the contrary, organic shampoo products are the most widely used organic hair care products globally.
However, before you clear your bathroom of conventional shampoos, there's a dirty secret about organic shampoos….
Is your organic shampoo and conditioner really organic?
According to the website of Beauty Counter, a company which claims to use safer ingredients in its products, the terms "organic" and "natural" do not have legal definitions in the cosmetic industry.
What does that mean for you, the consumer, when you buy a bottle of organic shampoo and conditioner?
Before you dish out dozens of dollars for organic hair care products, realize that companies can market a product as organic when in fact there are no certified organic ingredients in it.
Or, perhaps out of 10 or 15 ingredients in a shampoo, only a couple are organic. The rest could be a toxic bubbling cauldron of petrochemicals.
To elaborate on this paradox, the organic label approved by the United States Department of Agriculture (USDA) covers only how food is grown and handled.
However, the law does not apply to personal care products, save for a couple exceptions. The first exception is when a product contains at least 95 percent organic ingredients.
Unfortunately, the overwhelming majority of hair care products do not contain this high a percentage of organic ingredients.
And so far, only one state—California—has its own organic standards for cosmetics. And this is where the second organic labelling exception comes into play. If a certain shampoo or conditioner contains at least 70 percent certified organic ingredients, the branding may include the California state-approved organic seal on its product.
How can you be sure your shampoo is safe to use?
In light of this, how do you know if your organic shampoo and conditioner is free of harmful ingredients?
What guarantee do you have that the ingredients do not act as hormone-disrupting xenoestrogens?
An easy way to see if your haircare products are safe is going on the Environmental Working Group's (EWG) Skin Deep database. Products are scored on a 1-10 scale. The lower the number, the EWG's researchers deem the product safer to use. (Beauty Counter's Daily Shampoo's score is 2, rendering it a low-hazard product.)
To be sure, not all chemicals are hazardous to your health. In fact, pure water is technically a chemical. If organic shampoos and conditioners were 100% organic, they would have a very short shelf life and require refrigeration.
That's why the best shampoos and conditioners contain ingredients such as tocopherols (vitamin E), potassium sorbate and grapefruit seed extract. These ingredients act as antibacterial agents and help preserve the shelf life of the shampoo and conditioner.
Best organic shampoo for hair loss
If you're trying to regrow hair, the best organic shampoos for hair loss share certain characteristics. First, they contain DHT blockers. DHT is a hair follicle killer.  The more DHT blockers a shampoo has, the less hair you'll likely lose. To gain more hair, the best organic shampoos contain follicle stimulators. In addition, they also contain argan oil, which is also sometimes called Moroccan oil. Argan oil strengthens hair follicles.
Pura D'Or Hair Loss Prevention Therapy Shampoo meets these standards for organic hair regrowth. Additionally, this shampoo also contains niacin and biotin. These two potentially beneficial ingredients may encourage hair regrowth. The ingredients in Pura D'Or are free of harsh chemicals, though not all ingredients are organic. (Remember, it's virtually impossible for a shampoo to be 100% organic.)
Another reputable brand of organic shampoo for hair loss is Phytoworx Organic Hair Recovery Shampoo. This shampoo contains plant stem cells and essential oils. Plant stem cells may revive dead hair follicles. Other ingredients in this 'poo include tea tree oil, peppermint, eucalyptus, and rosemary.  In small studies, some of these oils show the ability to promote hair growth. (Here's a study on peppermint oil for hair regrowth on mice.)  
How to make organic shampoo
If you're a do-it-yourselfer, don't trust another company's organic claims. Instead, make an organic shampoo at home. You'll need some Dr. Bronner's soap, water and some olive oil and your favorite essential oils. Combine about a half cup of soap with a similar amount of water. Add about a tablespoon of olive oil and about 10 drops of essential oil. Stir the ingredients. Pour the mixture into a container and use it like a shampoo.
Best natural shampoo for fine hair
If you're looking for the best natural shampoo for your fine hair, consider some natural shampoo alternatives. Rather than using using shampoo, even if it's organic, try natural, food-grade ingredients such as coconut oil, blackstrap molasses, babassu oil, and vitamin E.
You can even try dry shampoo, which is a powder you spray into your hair and later brush out. This water-free method of hair care has been used for countless generations.
To make sure the ingredients in a dry shampoo are safe, make your own.
You can try combining baking soda with vinegar. Other ingredients for a dry shampoo include ground oatmeal, cornstarch and essential oils.
Lavender provides a pleasant scent for your homemade dry shampoo. Try the dry shampooing method once or twice a month in place of your normal shampoo routine.
In fact, you may want to also try the no 'poo trend. This involves shampooing your hair much less regularly, as little as once per week. The idea behind the no 'poo movement is that daily washing of hair with shampoo may strip your scalp of its natural oils, among other reasons.
Organic shampoo and conditioner: conclusion
Due to the Wild West nature of labelling standards, finding a reputable organic shampoo and conditioner is like finding the proverbial needle in a haystack. However, there are more and more brands using safer ingredients in their products. Whether or not certain chemicals are indeed harmful is up for debate. However, with 80,000 on the market today (source), it's better to be safer than sorry. That's because there's a dearth of safety data on many of these chemicals. Some of these chemicals are likely lurking in your bathroom, in conventional shampoo and conditioner bottles. The less exposure you have to these chemicals, the safer you may be.
Related Posts