Medications to control anxiety often come with negative side effects so they may not be the best option. What are the ways to reduce anxiety naturally?
Looking for ways to reduce anxiety naturally? Are you afraid of taking an anti-anxiety medication because of side effects? Who could blame you? More people are aware of the potential dangers of taking prescription drugs to reduce anxiety.
Side effects for one of the most popular anti-anxiety drugs includes: nausea, dry mouth, insomnia, constipation, lethargy, drowsiness, dizziness, increased sweating and reduced sex drive.
With side effects like that, it's no wonder it's become more popular to naturally reduce anxiety. Anxiety sucks. It's not like a light switch that can easily be turned off. Some people may know why they have anxiety. Maybe it's a stressful job. Or maybe a messy divorce. Dire financial straits can also produce anxiety. But sometimes, anxiety is a chronic condition with no discernable cause. Anxiety can be like an unwanted, unruly houseguest who never leaves. Anxiety can feel claustrophobic like the walls are closing in. But you may not know why; there's no obvious catalyst such as recently having gotten laid off from work.
So how can you reduce anxiety naturally, even if it's gnawing at you like a festering wound? It may not be as easy as drinking a cup of chaga mushroom tea, but relaxing with a warm beverage like tea can have a calming effect.
Set an intention
Some people who have depression or anxiety actually become addicted to the state of being depressed or anxious. If you're used to feeling a certain way, it may feel comfortable, even if it doesn't make you feel good. Anxiety, like alcoholism or sugar addiction, may trick the brain. You obviously know donuts aren't good for you. But if you're in a vulnerable mood, you may eat a few. It's a misfiring of the brain's reward mechanism. Anxiety may cling to you like a familiar raggedy blanket. The feeling may not serve your best interests. But it's familiar.
If you can relate, you may need to first set an intention: "I feel calm, peace and tranquility throughout my day." Repeat this to yourself. Believe that it's possible. Know that anxiety does not serve your best interests. Or, recite the mantra of your choice. Just make sure you set a clear intention to live a beautiful life, free of anxiety.
Avoid Overstimulating the Sympathetic Nervous System
Your autonomic nervous system (ANS) performs functions, as the name implies, automatically. You don't have to think about them. The ANS has two branches: sympathetic and parasympathetic. Sympathetic in this case does not mean you're able to show sympathy for someone who has anxiety. Rather, it's your body's response to flight or fight situations.
When someone cuts you off in traffic your body releases epinephrine (adrenaline). In this situation, you either "flip the bird" to the other driver. Or yell. Or chase after them. This is an example of a situation that you want to avoid at all costs. This stimulates the sympathetic nervous system.
When the sympathetic nervous system is over-stimulated, negative outcomes may occur. When the sympathetic nervous system is stimulated, digestion slows down because the blood flow gets shunted from your stomach and goes to your muscles (just in case you decide to hit the driver that cut you off.) That's why some people who have chronic anxiety have trouble burning fat.
A chronic state of sympathetic nervous stimulation can lead to adrenal fatigue. That's when your adrenal glands work overtime to produce stress hormones like cortisol. Over time, your adrenals don't produce cortisol as effectively. When adrenal fatigue occurs, your thyroid can become sluggish. So can many other organs and systems in your body.
So when you do find yourself in a situation like getting cut off in traffic, there is another solution: don't react. What's the use in reacting when it will only exacerbate anxiety? That's why you need to stimulate another branch of your nervous system….
Stimulate the Parasympathetic Nervous System
Better known as the "rest and digest" nervous system, the parasympathetic branch of the ANS is what you want to stimulate.
Meditation, Tai-Chi, Qigong, many forms of yoga, gardening, walking in nature, and playing with babies or puppies, and laughing all stimulate the parasympathetic side of your nervous system. That is to say, doing these activities helps you relax and may calm anxiety. Many of these activities (or more accurately, healthy lifestyle enhancers) have been clinically-proven to reduce anxiety.
Not all forms of exercise are good for reducing anxiety naturally. Let's say someone is a type "A" personality. They have a high-paying but high-stress job. Anxiety goes with the territory. Most type A people are attracted to intense physical fitness because that's their personality. Kickboxing, CrossFit, triathlon training and CardioHipHopHOTYoga (that's probably a thing in New York City and L.A.) fit the type A mold.
But these high-intensity activities further stimulate the sympathetic side. Remember, if you have anxiety, you want to avoid stimulating the sympathetic side as much as possible. If you find yourself trapped in a room with your mother in-law and she's annoying the be-Jesus out of you, here's what you do: excuse yourself from the room (bathroom is a good excuse) and find somewhere quiet to take a few deep calming breaths.
You might not get in as good kick-ass shape doing a restorative yoga class (compared to CrossFit or CardioHipHopHOTYoga). But what's more important … being able to squat more weight, or calming anxiety naturally?
Eat Turkey to Reduce Anxiety Naturally
There are obvious things that will help control anxiety: eating and sleeping well, having meaningful relationships and intimacy, and getting enough vitamin D (several studies like this one have linked vitamin D deficiency to depression and anxiety).
One other way to reduce anxiety naturally is to boost your serotonin level naturally. Serotonin is a chemical in your body that allows your brain and nervous system to communicate with each other. Researchers believe serotonin levels are directly linked to mood. One way to boost serotonin naturally is to eat slow-burning carbohydrates. If you're on a low-carb diet, this option may not seem attractive. But if you have anxiety, it might be worth a try to eat some whole grains like oatmeal. Whole grains contain the amino acid tryptophan. Tryptophan converts into serotonin.
A tryptophan-rich Thanksgiving favorite is turkey. Perhaps that's why we feel so content after eating turkey? Avoid sugary snacks. They actually elevate serotonin, but only for a very short time. Remember that misfiring of the brain's reward mechanism? Excess sugar may actually contribute to anxiety.
Conclusion
Anxiety is a recognized psychological disorder. This article is not intended to diagnose or treat. Nor does it suggest that these are the only ways to help reduce anxiety naturally. Use this information only as a reference. Consult with a medical health professional or a natural health expert for best results.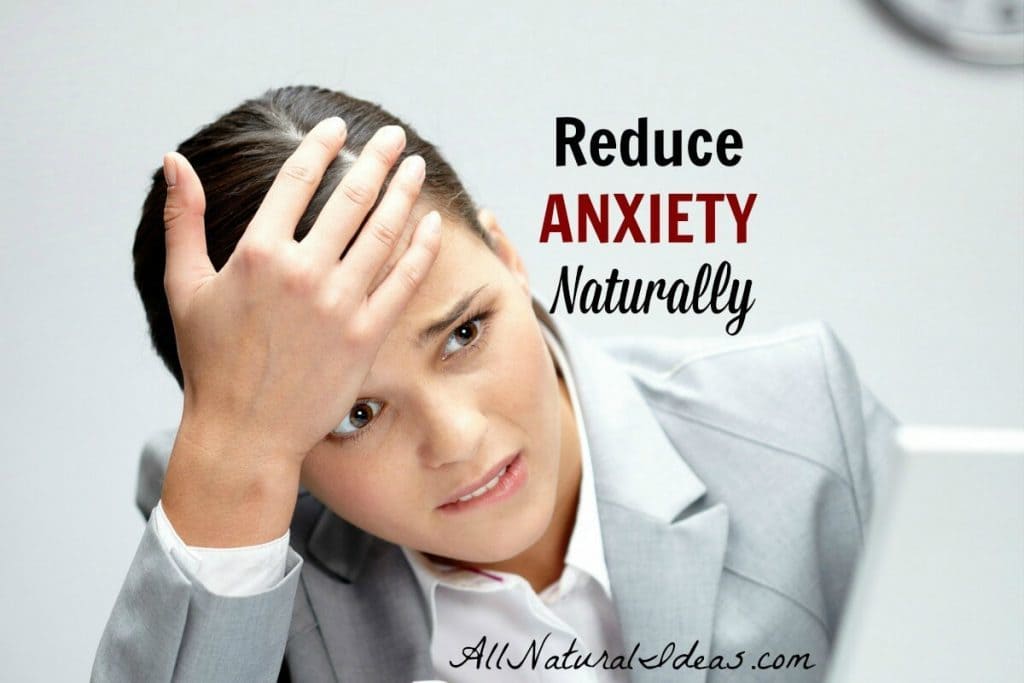 Looking for other ways to relieve anxiety naturally? Check out:
Orange Oil Uses for Pain & Anxiety Relief and More
Benefits of Reiki Healing Treatment
Related Posts